Carnival Inspiration
Ship Facts
Gross tonnage: 70,367
Length: 855 feet
Max Beam: 103 feet
Draft: 25 feet
Cruising Speed: 21 knots
Passenger Capacity: 2056
Crew: 920
Registry: Bahamas

Orange County Gay Pride Cruise 2018
3 nights from/to Long Beach (Los Angeles), California, US
September 28 – October 1, 2018
Carnival Cruise Line Carnival Inspiration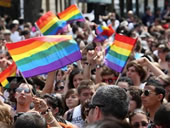 Join Orange County Pride as we head to Mexico on our first OC Pride cruise! The OC Pride Cruise will include exclusive parties and events... Proceeds will go towards the OC Pride LGBT Festival. So close, yet so deliciously far. Mexico might be right down there, but it exists in another world entirely. Experience a whole enchilada's worth of rich culture and fun on a cruise to Mexico.
Each year Pride celebrations happen all over the world. In cities large and small people gather to publicly express their love, compassion, sexuality, and so much more. Our OC Pride celebration is for the community, about the community, and put on by the community.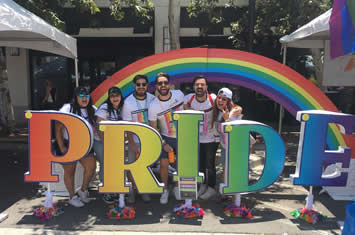 Thanks to its stunning coastline, Ensenada will give you plenty of postcard-worthy moments…, and it couldn't be easier to get there. Escape to Mexico's original seaside getaway with Carnival cruises to Ensenada. Once a favorite hideaway for high-rolling Hollywood stars, Ensenada is now one of Mexico's most popular ports of call. You can sightsee, shop or kayak at Punta Banda… but the true pleasures of this festive city are culinary. That's why a cruise to Ensenada, Mexico should top every foodie's wish list. Have your fill of fresh oysters and sip a rich Baja merlot. Soak up the richness of the local culture as you enjoy the journey.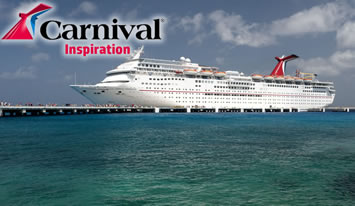 Carnival Cruise Line's Carnival Inspiration
Come aboard and get pampered on Carnival Inspiration
! Newly renovated, the fun never stops - especially with the new 9 -hole mini-golf course, resort-style swimming pool, WaterWorks water park, and the adults-only Serenity Retreat! Inspiration only offers the best dining, accommodations and service - and combine this with the on-board entertainment (which includes a casino, a nightclub, and much more!), Inspiration is the only place you'll want to be when you take your next cruise to the Mexico!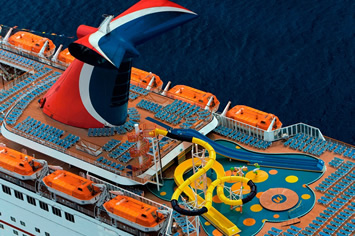 Activities on Carnival Inspiration
The Waterworks park is great for all ages with its Twister Slide and Splash Park, relax at the Serenity Retreat with its serene view of the water; grab a lounge, or enjoy one of the hot tubs! Grab a drink and a lounge, and lounge around the resort-style pool complete with palm trees! If you really want to pamper yourself, Carnival Inspiration
Spa Carnival is the perfect place to do it. If you feel like wandering around the ship, check out the Fine Art gallery, or the photo gallery where you can see your favorite pictures of the fun you have been having on your cruise! Want a memento? Grab something to remember your trip in the shops on the Atlantic deck - and there are even duty-free stores! Get inspired by a great novel in the Shakespeare Library, or take a book and relax at one of the three outdoor pools. Inspiration also offers two children's playrooms, a card room, a Nautica jogging track (1/8th mile), a spa and massage room, a beauty salon and a barber shop. On top of all this, there is a radio room, closed circuit TV and satellite TV, shuffleboard, table tennis, VCR rentals... you'll always have something to do, no matter what time of day it is!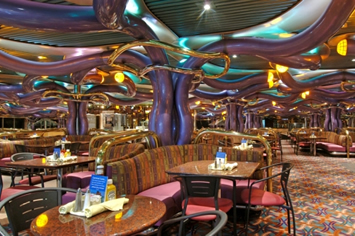 Dining / Food on Carnival Inspiration
If food is your thing, check out these dining options: The formal dining rooms on Inspiration offer an exquisite culinary experience including fresh lobster and a huge variety of wines, as well as great service! Fascination offers the Supper Club, which is a reservations-only, chic Manhattan-restaurant setting. Offering your favorite menu items from the steakhouse, the Supper Club guarantees to please you with every bite. For the more casual diner, there are midnight buffets, a 24-hour pizzeria and even European Cafés so that you can satisfy whatever craving you have! For the youngest members of your family, the kids menu offers all of their favorites including pizza, spaghetti and meatballs, hamburgers, hotdogs, and much more!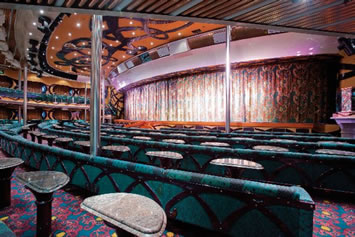 Entertainment on Carnival Inspiration
Enjoy the company of your friends in one of the several bars and lounges onboard Inspiration! Check out a Vegas-style show in the Paris Lounge, which features a 2-level showroom, or for a more low-key night try the Avante-Garde Lounge, which also features a dance floor! There's the Candlelight Lounge which has more intimate shows, the Rhapsody in Blue Piano Bar, the Violins Bar, and the Chopin Lounge (which is also a piano bar)! If you want to try your luck, go to the Monte Carlo Casino! The ship also features two discos - an adult nightclub called the Rock & Roll Dance Club (one of the most popular nightspots) as well as a Teen Disco Club for the younger crowd. You can also walk down Inspiration Boulevard, or enjoy a drink at the Café des Artistes.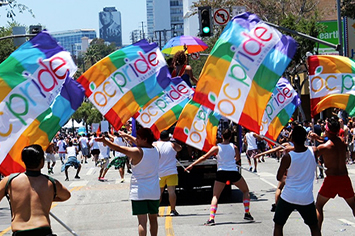 OC Gay Pride Cruise 2018 Itinerary


Date

Port

Arrive

Depart

28 Sep
Long Beach (Los Angeles), California
5:30 PM
29 Sep

A Day at Sea!

30 Sep
Ensenada, Mexico
8 AM
6 PM
01 Oct
Long Beach (Los Angeles), California
7 AM
Long Beach (Los Angeles), California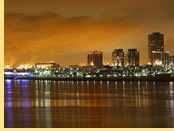 Just 50 years after Columbus discovered America, Cabrillo and his crew of explorers anchored off the present site of Long Beach. Vast clouds of smoke were rolling high in the sky from burning grass and brush ashore where the native Indians were conducting one of their periodic rabbit drives. Cabrillo named the area Bahia de los Fumos - the Bay of Smokes. The first modern identity for Long Beach began with the sprawling rancho awarded Manuel Nieto in 1784. Time and descendants divided the old Spanish Land Grant until the bulk of what is now Long Beach was contained in two ranchos, Los Cerritos and Los Alamitos.
Visit many historic sites including Rancho Los Alamitos, the Tailship Californian, and the Long Beach Museum of Art. Check out the Queen Mary Hotel, rumored to be haunted.
Ensenada, Mexico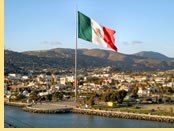 Once a sleepy fishing village, Ensenada and its sheltered bay are popular as a haven for weekend sailors and a site for "Gringo" vacations resorts. Its dusty streets bustle with the promise of duty-free shopping that features Mexican crafts and folk art.
For one of the most amazing sights in Ensenada, travel through the city and into the countryside, past farms and olive groves, to "La Bufadora," or blowhole. This fascinating natural phenomenon shoots water through crevices formed in the rock face of the cliff.
Experience the unique art of wine making and sample some of the local favorites on an informative tour of Mexico's finest wineries. Enjoy some sightseeing and shopping in downtown Ensenada, then take in the excitement of a Mexican Folkloric Fiesta featuring singers, dancers, and a mariachi band.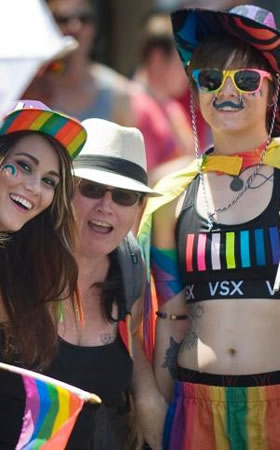 Guests: 2,056 • Gross Tonnage: 70,367 • Length: 855' • Beam: 103' • Draft: 25' • Cruising Speed: 21 knots • Crew: 920

Orange County Gay Pride Cruise 2018 Rates

6E - Ocean View Stateroom
You'll be delighted with how large our stateroom windows are, giving you excellent views of the ocean and each destination. When sleeping late or planning an afternoon nap, the room-darkening draperies glide closed in seconds. Every Carnival guest is assured of spacious, comfortable accommodations. All staterooms have carpeting, ample drawer and closet space, private facilities (shower, basin and toilet), telephone and color television showing first-run films. Our SuperLiners all feature staterooms above ocean level for a more comfortable cruise.
$ 524

6C - Ocean View Stateroom
You'll be delighted with how large our stateroom windows are, giving you excellent views of the ocean and each destination. When sleeping late or planning an afternoon nap, the room-darkening draperies glide closed in seconds. Every Carnival guest is assured of spacious, comfortable accommodations. All staterooms have carpeting, ample drawer and closet space, private facilities (shower, basin and toilet), telephone and color television showing first-run films. Our SuperLiners all feature staterooms above ocean level for a more comfortable cruise.
$ 494

6B - Ocean View Stateroom
You'll be delighted with how large our stateroom windows are, giving you excellent views of the ocean and each destination. When sleeping late or planning an afternoon nap, the room-darkening draperies glide closed in seconds. Every Carnival guest is assured of spacious, comfortable accommodations. All staterooms have carpeting, ample drawer and closet space, private facilities (shower, basin and toilet), telephone and color television showing first-run films. Our SuperLiners all feature staterooms above ocean level for a more comfortable cruise.
$ 484

4D - Interior Stateroom
Interior staterooms are excellent vacation values. These spacious accommodations include most of the same generous amenities as their ocean-view neighbors. Some even feature an extra pull-down bed, which makes these staterooms ideal for families. All staterooms have carpeting, ample drawer and closet space, private facilities (shower, basin and toilet), telephone and color television showing first-run films. Our SuperLiners all feature staterooms above ocean level for a more comfortable cruise.
$ 449

4C - Interior Stateroom
Interior staterooms are excellent vacation values. These spacious accommodations include most of the same generous amenities as their ocean-view neighbors. Some even feature an extra pull-down bed, which makes these staterooms ideal for families. All staterooms have carpeting, ample drawer and closet space, private facilities (shower, basin and toilet), telephone and color television showing first-run films. Our SuperLiners all feature staterooms above ocean level for a more comfortable cruise.
$ 439

4B - Interior Stateroom
Interior staterooms are excellent vacation values. These spacious accommodations include most of the same generous amenities as their ocean-view neighbors. Some even feature an extra pull-down bed, which makes these staterooms ideal for families. All staterooms have carpeting, ample drawer and closet space, private facilities (shower, basin and toilet), telephone and color television showing first-run films. Our SuperLiners all feature staterooms above ocean level for a more comfortable cruise.
$ 434

All prices are per person, occupancy selected, and include all meals, accommodations and entertainment!

Taxes & fees of $130.08pp, gratuities and optional insurance are additional.

First deposit of $200 per person is required upon booking.

Optional shore excursions will be offered.

Prices are cruise only and DO NOT INCLUDE return airfare! Please ask for airfare add-ons back to your home city.

Fares are subject to availability and may change without prior notice.

Also included are the traditional Bearibbean Bear Cruise activities, subject to minimum participation. To enjoy Bearibbean Group functions and excursions you must reserve room with us.

Please ask for further details.

Special Airfares








Pre-Cruise Hotels







Post-Cruise Hotel