Liberty of the Seas
Ship Facts
Gross Tonnage: 160,000
Length: 1,112 feet
Beam: 185 feet
Draft: 28 feet
Cruising Speed: 21.6 knots
Guests: 3,634
Crew: 1,360
Staterooms: 1,817
Passenger Decks: 15
Ships Registry: Bahamas
17th Annual Caribbean Halloween Aquafest Gay Cruise
7 nights from/to Galveston, Texas
October 28 – November 04, 2018
Royal Caribbean Cruises Liberty of the Seas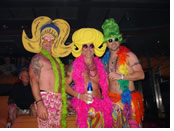 We are back for our 17th Anniversary Halloween Cruise on the spectacular Liberty of the Seas
, one of the highest rated cruise ships in the world. Aquafest promises to deliver our best yet Halloween Cruise during our 17th Anniversary with Top LGBT Celebrity entertainment, private parties, dances, group dining, optional excursions, social gatherings, and so much more. Join us and see why our Halloween cruise is the largest Halloween private cruise event with 500 annual attendees from all over!
With Prizes up to $1000 & Top GLBT Celebrity Entertainment!
Discover true paradise in the Caribbean. On our Western Caribbean cruise you'll find beautiful white sand beaches, warm sea, and tropical sunshine on each unique port. Your Caribbean cruise will take you on a journey filled with vibrant sights, sounds, tastes and colours. You'll find endless beaches, a range of activities and exotic wildlife wherever you turn.
It's easy to just think of the Caribbean as just one beautiful paradise. However, its range of islands all have distinct personalities that offer up a variation of experiences that you might not expect from this stunning region.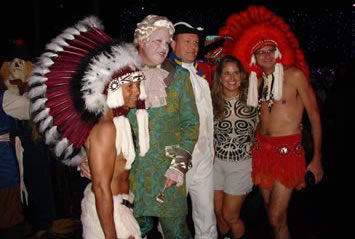 More Aquafest Value
• Private shows with LGBT guest celebrities on the Halloween Cruise
• $1000 Grand Prize for BEST Halloween Costume!
• Gay and Lesbian GayMe Shows
• Gay DJ on the Halloween Cruise
• Themed Dance Parties
• Group Dining
• Aquafest Staff & Cruise Directors
• Gay Sporting Events
• Optional Gay Beach Parties on the Halloween Cruise
• Singles Get-togethers, Couples Get-togethers, Lesbian Get-togethers
• Afternoon T-Dance on the Halloween Cruise
• Private Optional AquaQuest Shore Excursions
• Activities and Amenities vary by sailing date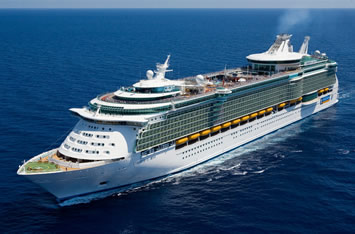 Your Ship Liberty of the Seas
The Liberty of the Seas
is one of the world's largest ships of its kind, and as part of the Freedom Class of Royal Caribbean International, it's chock full of fun! There are unlimited opportunities for exploration as you travel to an exotic location on this ship. With a water park, a surf park, swimming pools, a fitness center, and even a full-size boxing ring, the Liberty of the Seas is the place you want to be for your next ocean adventure!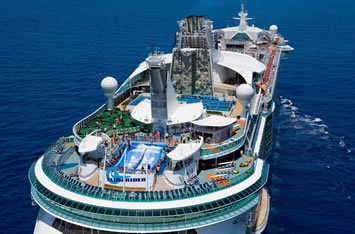 Activities on Liberty of the Seas
The Liberty of the Seas has so many activities onboard that you'll never want to stop exploring, even for a second! There's an ice skating rink, a rock-climbing wall, Adventure Ocean® for the kids, a full fitness center and day spa, and even a full-size Everlast boxing ring! There's a sports pool, a FlowRider® surf simulator so you can hang ten, H2O Zone (a fully loaded water park), and a 9-hole miniature golf course. If that's not enough, go play some sports on the full-size sports court! On top of all this, you can enjoy many other organized activities and win prizes in contests! All in all, the Liberty of the Seas has everything you need to stay occupied for hours and hours! So step on board, because fun awaits!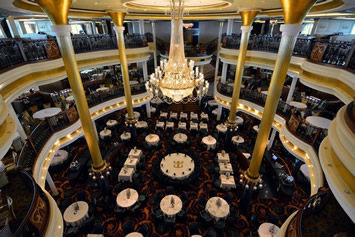 Dining / Food on Liberty of the Seas
On the Liberty of the Seas, your mouth will start watering when you see the array of food available! Choose from your regular dining options for breakfast, lunch and dinner and enjoy delicious food prepared to your taste! Or, check out the Johnny Rockets® on the ship for 50's style diner food! There's a Portofino Italian Restaurant, a Chops Grille, Sorrento's Pizza and even a Ben and Jerry's® Ice Cream parlor! Don't forget, there's 24-hour room service as well, serving the full menu!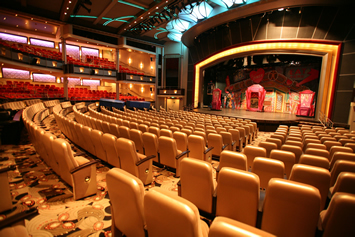 Entertainment on Liberty of the Seas
Once you've explored the ship and enjoyed your day, the fun continues all night long! Go dancing in the nightclub and groove to the beat. Check out one of the great live performances - Broadway-style shows, musical plays, and much more - or kick back with a cocktail and listen to some great live music! The bars and lounges on the Liberty of the Seas each have a different theme - so you can explore and indulge yourself to your heart's content! There's even a latin-themed lounge! If you're feeling lucky, you can also go try your luck in the Casino Royale! With all of your favorite casino games - and so much more floating entertainment? It could only be a cruise on the Liberty of the Seas!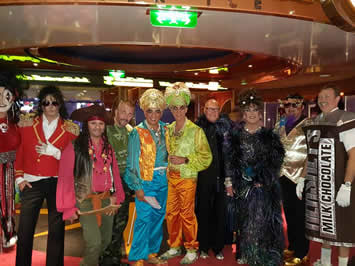 Western Caribbean Halloween Cruise Itinerary


Date

Port

Arrive

Depart

28 Oct
Galveston, Texas
4 PM
29 Oct

Day at Sea!

30 Oct

Day at Sea!

31 Oct
Roatan , Honduras
8 AM
5 PM

01 Nov

Costa Maya , Mexico
8 AM
5 PM
02 Nov
Cozumel, Mexico
7 AM
5 PM
03 Nov

Day at Sea

04 Nov

Galveston, Texas
6:30 AM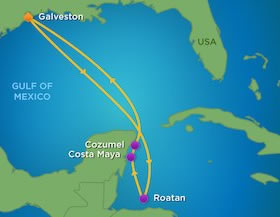 Days 1 & 8 - Galveston, Texas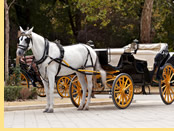 Galveston has a way of enticing visitors to linger longer. A delightful destination, this island offers sandy beaches, boutiques and top-notch dining. Take a carriage ride through the Historic District or wander the Strand District. Discover the giant pyramids at Moody Gardens in Galveston, Texas, designed to educate visitors about the rainforest and oceans. Test your mettle on the thrilling high ropes or have fun in the amusement park. Swim, bird watch, hike, bike or relax in the Galveston Island State Park, with its unspoilt beaches and nature trails. Galveston Island has 14 museums, including the Ocean Star Offshore Drilling Rig and Museum.
Days 2 & 3 - Day at Sea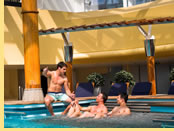 Whether you seek an adrenaline rush or total tranquility, our ships have it all. Try rock climbing, ice skating and surfing 200 feet above the waves. Melt away land-based stress with a spa massage, build a scrapbook of memories or simply relax poolside.
Day 4 - Roatan, Honduras

Roatan welcomes divers and snorkelers eager to explore the thriving coral reef. Boaters, beachgoers, and water-sports fans enjoy the sparkling seas, too. The island also has a multicultural population, some descended from pirates. Soar through the skies on a zip-line, snorkel in turquoise waters or soak up the sun on an idyllic private beach. It's your choice on the beautiful island paradise of Roatan, home to the second largest coral reef in the world. Dive among the colourful corals, sponges and fish or swim with dolphins for the experience of a lifetime. See 2,000 iguanas or pet capuchin monkeys and macaws at Iguana and Gumbalimba Parks.
Day 5 - Costa Maya, Mexico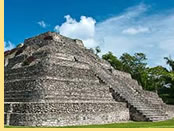 With sparkling sands and turquoise seas, Costa Maya is a relaxing destination where you can swim and sun, explore the coral reef offshore or Maya ruins in the jungle. The nearby fishing village of Mahahual is even more laid-back. For aqua fun with visit Maya, the Lost Mayan Kingdom waterpark in Puerto Costa Maya in Mexico. The paradise beaches and translucent lagoons make for some dream outdoor activities such as snorkelling, sailing and scuba diving and inland there are real Mayan ruins to explore. Look out for toucans, spider monkeys, and iguanas on a 4x4 adventure into the jungle interior.
Day 6 - Cozumel, Mexico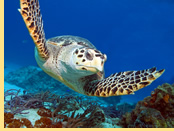 Cozumel features great diving, snorkeling and beaches, marine-life encounters, botanical gardens, trails and shopping in the town of San Miguel. The nearby mainland is home to Tulum, Mayan cliffside ruins overlooking the Caribbean. Drive your own mini submarine, snorkel on world famous reefs or see the colourful underwater world by glass bottomed boat in lovely Cozumel, on the Caribbean coast of Mexico. There are fascinating Mayan ruins to explore too and abundant wildlife, including brightly-hued tropical birds. Look out for dolphins, manatees and sea turtles in the lovely lagoon and underwater caverns of the Chankanaab eco-park.
Day 7 - Day at Sea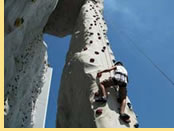 Sit back, kick off your shoes and put your feet up during our 'at sea' days, where you can chill in the bar, lounge by the pool or enjoy a relaxing beauty treatment in the spa. For simple pleasures, why not try a game of table tennis? Or if you're feeling energetic, now's the chance to explore all the amazing activities the ship has to offer, from spectacular, West-End-style entertainment to adrenalin-charged sports.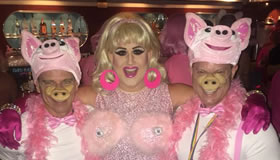 Guests: 3,634 • Gross Tonnage: 160,000 • Length: 1,112' • Beam: 185' • Draft: 28' • Cruising Speed: 21.6 knots

Caribbean Halloween Aquafest Gay Cruise Rates

GS - One Bedroom Grand Suite
The ultimate in luxury onboard Liberty of the Seas, our Grand Suite offers guests opulent interiors, exclusive benefits, and one of the most incredible accommodation experiences available at sea. Two twin beds (can convert into queen-size), private balcony, sitting area (some with sofa bed) and private bathroom. (387 sq. ft., balcony 126 sq. ft.)
$ 2,013

$ 3,576

J4 - Junior Suite
Two twin beds (can convert into queen-size), private balcony, sitting area (some with sofa bed) and private bathroom. (287 sq. ft., balcony 101 sq. ft.)
$ 1,719

$ 2,988

6B - Superior Balcony Stateroom
Two twin beds (can convert into queen-size), sitting area (some with sofa bed), private balcony and private bathroom. Rates vary from deck to deck. (214 sq. ft., balcony 68 sq. ft.)
$ 1,279

$ 2,108

1Q - Interior Promenade Stateroom
A view of the Royal Promenade with bowed windows, two twin beds (can convert into queen-size) and private bathroom. (169 sq. ft.)
$ 1,249

$ 2,048

2D - Balcony Stateroom
Two twin beds (can convert into queen-size), sitting area (some with sofa bed), private balcony and private bathroom. Rates vary from deck to deck. (177 sq. ft., balcony 74 sq. ft.)
$ 1,219

$ 1,988

5D - Balcony Stateroom
Two twin beds (can convert into queen-size), sitting area (some with sofa bed), private balcony and private bathroom. Rates vary from deck to deck. (177 sq. ft., balcony 74 sq. ft.)
$ 1,169

$ 1,888

6D - Balcony Stateroom
Two twin beds (can convert into queen-size), sitting area (some with sofa bed), private balcony and private bathroom. Rates vary from deck to deck. (177 sq. ft., balcony 74 sq. ft.)
$ 1,109

$ 1,768

3N - Oceanview Stateroom
Two twin beds (can convert into queen-size) and private bathroom. (183 sq. ft.)
$ 939

$ 1,478

8N - Oceanview Stateroom
Two twin beds (can convert into queen-size) and private bathroom. (183 sq. ft.)
$ 859

$ 1,318

4V - Inside Stateroom
Two twin beds (can convert into queen-size) and private bathroom. (152 sq. ft.)
$ 699

$ 1,118

Please ask about other cabin categories not listed.

All rates are cruise only in $USD and per person, based on double occupancy subject to availability at time of booking.

Port charges, taxes and fees: are $272.60 per person additional based on double occupancy. Single taxes are $462.60. Prepaid gratuities are additional.

A non-refundable $30 Booking Processing Fee will be charged at the time of your deposit.

Minimun Deposit $650 ($300 for Inside & Oceanview) per person due at the time of booking. Singles deposit: $1200 ($1150 for Inside & Oceanview).

Final Payment: Due on July 16, 2018

All advertised events are exclusive to guests who book through us only. Aquafest Cruises are group events and not chartered vessels.

Non-discountable fees and taxes, airfare, air taxes and transfers are additional.

Events based on a minimum of 50 group passengers.

Pricing and other information may change without notice

All cancellations are subject to a $50 per booking cancellation fee from Aquafest in addition to any vendor cancellation penalties.

Trip Cancellation Insurance is strongly recommended for all reservations.

More information will be provided to you at the time of booking confirmation. Please contact us for a more detailed description of restrictions, cancellations, and penalties.

Cancellation Policy:
All Cancellations are subject to a $150 per guest cancellation fee
More than 100 Days before sailing 20% of Gross Fare
100-46 days before sailing 50% of Gross Fare
45-30 days before sailing 75% of Gross Fare
29-0 days before sailing 100% of Gross Fare






Pre/Post-Cruise Hotels







Special Airfares