Celebrity Summit
Ship Facts
Occupancy: 2158
Tonnage: 91,000
Length: 965 feet
Beam: 105 feet
Draught: 26 feet
Cruise speed: 24 knots
Inaugural Date: Oct 01, 2001
Refurbished: 2016
Ship's Registry: Malta
17th Annual Caribbean Halloween Aquafest Gay Cruise
7 nights from/to San Juan, Puerto Rico
October 27 – November 03, 2018
Celebrity Cruises Celebrity Summit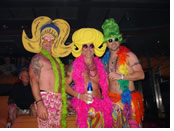 We are back for our 17th Anniversary Halloween Cruise on the spectacular 5-Star Rated Celebrity Summit
, one of the highest rated cruise ships in the world. Aquafest promises to deliver our best yet Halloween Cruise during our 17th Anniversary with Top LGBT Celebrity entertainment, private parties, dances, group dining, optional excursions, social gatherings, and so much more. Join us and see why our Halloween cruise is the largest Halloween private cruise event with 500 annual attendees from all over!
With Prizes up to $1000 & Top GLBT Celebrity Entertainment!
Discover true paradise in the Caribbean. On our Southern Caribbean cruise you'll find beautiful white sand beaches, warm sea, and tropical sunshine on each unique Island. Your Caribbean cruise will take you on a journey filled with vibrant sights, sounds, tastes and colours. You'll find endless beaches, a range of activities and exotic wildlife wherever you turn.
It's easy to just think of the Caribbean as just one beautiful paradise. However, its range of islands all have distinct personalities that offer up a variation of experiences that you might not expect from this stunning region.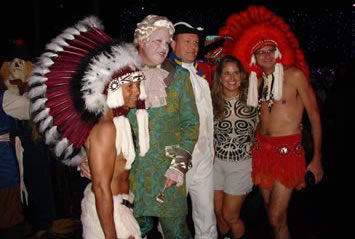 More Aquafest Value
• Private shows with LGBT guest celebrities on the Halloween Cruise
• $1000 Grand Prize for BEST Halloween Costume!
• Gay and Lesbian GayMe Shows
• Gay DJ on the Halloween Cruise
• Themed Dance Parties
• Group Dining
• Aquafest Staff & Cruise Directors
• Gay Sporting Events
• Optional Gay Beach Parties on the Halloween Cruise
• Singles Get-togethers, Couples Get-togethers, Lesbian Get-togethers
• Afternoon T-Dance on the Halloween Cruise
• Private Optional AquaQuest Shore Excursions
• Activities and Amenities vary by sailing date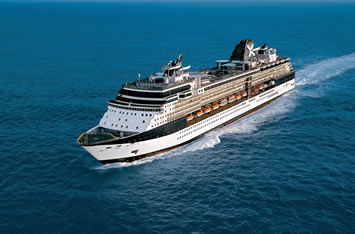 Your Ship Celebrity Summit
The Celebrity Summit
reached the peak of modern luxury with a grand makeover in March 2016. This included a Rooftop Terrace that provides a chic new way to experience the great outdoors with creative cocktails, favorite snacks, and movies alfresco.
Craving Italian? Tuscan Grille serves up fresh pasta and succulent dry-aged steaks. Enjoy an unordinary dinner at the innovative Qsine®, then top off the night with a chilled Peartini at the ice-topped Martini Bar.
The Penthouse and Royal suites have limmering new marble touches, elegant fixtures, plush seating, and more. Guests in Aqua Class balcony accommodations will dine in the exclusive BLU Restaurant and all Suite guests will dine in the NEW private Luminae Restaurant...
Celebrity Summit has the privilege of being captained by first American woman to command a cruise ship, Captain Kate McCue.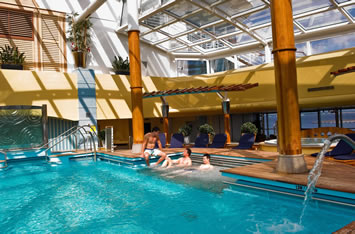 Activities on Celebrity Summit
On Celebrity Summit, the best amenities are yours for the asking. Relax by the swimming pool on deck, and soak up the sun with a nice drink. Take away the stress in the whirlpool, or pamper yourself at the AquaSpa. Enjoy the Conservatory, a stunning and meticulously designed garden with flourishing plant life. Go to the library and read a book in the peace and quiet, or just wander around the ship and take in the ocean views. There are also internet stations on the ship, where you can catch up on your emails, or send pictures home to make your friends and family jealous.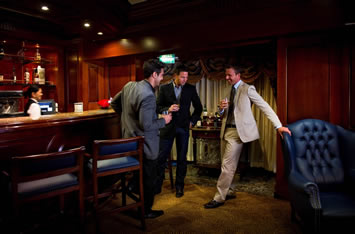 Dining / Food on Celebrity Summit
Celebrity Summit will treat you to the best food you can imagine. Get ready for an explosion of flavor and class - check out the main dining room, and dine in style while feasting on your favorite foods, all prepared to order. Head over to the SS Normandie Restaurant, where you can sample food prepared tableside in an atmosphere reminiscent of the famous old ocean liners such as the Titanic. Do not forget - there is also 24-hour room service available, which offers great food from the dinner menus.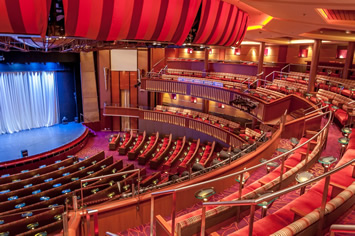 Entertainment on Celebrity Summit
An excellent ship like Celebrity Summit offers world-class entertainment. Your night will be full of memorable activities, so where to begin? Head over to one of the bars and lounges and enjoy a cocktail with great company - you can decide what to do next while you are relaxing. The ship offers great live performances - live music, Broadway-style performances, and even current movies. You can also dance the night away at the nightclub, where the DJ will play your favorite tunes. If you feel lucky, head over to the casino onboard and try your luck.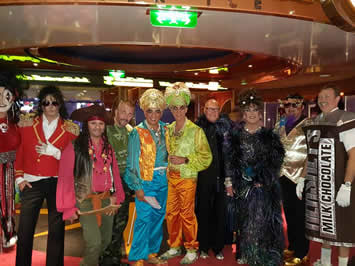 Southern Caribbean Halloween Cruise Itinerary


Date

Port

Arrive

Depart

27 Oct
San Juan, Puerto Rico
8:30 PM
28 Oct
St.Croix, USVI
8 AM
5 PM
29 Oct
Philipsburg, St. Maarten
8 AM
6 PM
30 Oct
Roseau, Dominica
8 AM
5 PM

31 Oct

Bridgetown, Barbados
8 AM
6 PM
01 Nov
St. George's, Grenada
8 AM
5 PM
02 Nov

Day at Sea

03 Nov

San Juan, Puerto Rico
6 AM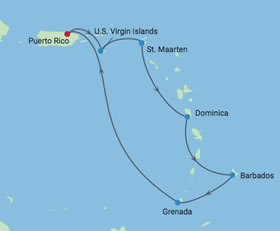 Days 1 & 8 - San Juan, Puerto Rico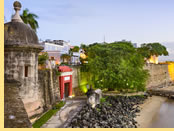 Hulking Spanish forts with dungeons ripe for exploration guard the beautifully preserved Old City. Lose yourself in its warren of cobbled streets, full with cafés and shady squares. One of the largest islands in the Eastern Caribbean, Puerto Rico's landscape encompasses mountains, underground caves, coral reefs, white-sand beaches and an incredibly massive rain forest that supplies fresh water to most of the island. At the same time San Juan, the capital of the commonwealth, is a big city with a bustling business district, glitzy resorts and casinos, as well as one of the most stunning examples of colonial life in the Western world.
Day 2 - St.Croix, USVI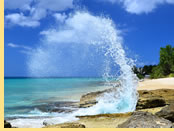 St. Croix, the largest of the U.S. Virgin Islands, is a tropical dreamland complete with stunning beaches, clear aqua-blue ocean water, a small rain forest and rolling green hillsides. The Danes purchased St. Croix in the 1700s at which time the slave trade and sugar cane fields thrived. Today, the Danish influence is still apparent in the island's architecture and language. Most of the sugar mills lie in ruins. Yet you can still get a taste of the island's history in freshly squeezed sugar cane juice or Cruzan Rum. Escape to paradise and the charms of 'Big Island', ringed by beaches of all shapes and sizes. Attractions like the bioluminescent cove at Salt River Bay make it hard to leave!
Day 3 - Philipsburg, St. Maarten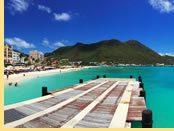 When the Spanish closed their colonial fort on St. Maarten in 1648, a few Dutch and French soldiers hid on the island and decided to share it. Soon after, the Netherlands and France signed a formal agreement to split St. Maarten in half, as it is today. Philipsburg displays its Dutch heritage in its architecture and landscaping. The island offers endless stretches of beach, beautiful landscapes and great shopping. This is an island with a split personality. Start your day lazing on Orient Beach, then cross the island to the French capital, Marigot, with its chic shops and sidewalk cafés.
Day 4 - Roseau, Dominica

Access the largely untouched interior of Dominica via an extensive network of nature and hiking trails, which will take you on an odyssey through the lush landscape past waterfalls, clear-running streams, and bubbling hot springs. If you'd prefer swimming to hiking, try the world-class scuba diving.
Day 5 - Bridgetown, Barbados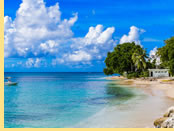 A Caribbean 'Little England' - except this one comes with emerald seas and warm breezes! Visit the Jacobean plantation house, St. Nicholas Abbey, or snorkel through the shipwrecks at Carlisle Bay. For the ultimate day of fun-in-the-sun Barbados-style, cruise on the MV Harbour to a spectacular sandy beach. Snorkel on reefs teeming with tropical fish. Enjoy the rope swing, sun tanning or walking on the beach. Cruise back along the scenic coast while dancing the calypso or limbo, or just relax on deck.
Day 6 - St. George's, Grenada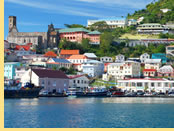 A beautiful horseshoe-shaped harbour welcomes you to the fragrant 'Isle of Spice'. Tour nutmeg plantations, sample diverse cuisine, or simply laze on the white sands of Grand Anse Beach. From the moment you set your eyes on St. George's, you'll see why it's considered one of the most picturesque ports in the Caribbean. Lush vegetation, mountainous terrain and colorful colonial architecture make up the landscape. And if the sights don't wow your senses, the aroma will. Grenada is also filled with spice trees and is a leading source of many different spices, including nutmeg, cloves, ginger, cinnamon and cocoa.
Day 7 - Day at Sea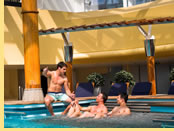 Get closer to the stars at the Rooftop Terrace on our top deck. Catch an alfresco movie in chic, intimate surroundings accompanied by themed drinks and snacks. Cruising in Style while relaxing at sea, Modern Luxury Lives here.
Guests: 2,158 • Gross Tonnage: 91,000 • Length: 965' • Beam: 105' • Draft: 26' • Cruising Speed: 24 knots • Ship's Registry: Malta

Caribbean Halloween Aquafest Gay Cruise Rates

CS- Celebrity Suite
It's time you got the Celebrity treatment. Your personal butler will assist you at every step and you'll receive exclusive restaurant and lounge access. Plus, you'll have exclusive access to dining and lounge experience reserved exclusively for suite guests. Stateroom: 467 sq.ft. Veranda: 85 sq.ft.
$ 3,574

$ 6,698

S1 - Sky Suite
Take your Celebrity vacation to new heights in a Sky Suite. Be welcomed with a bottle of sparkling wine and enjoy the luxury of personal butler throughout your stay. Enjoy exclusive access to dining and lounge areas reserved only for suite guests. To top it off, the VIP Luminae restaurant and exclusive Michael's Club lounge with dedicated concierge are there for all your dining and relaxation needs. Stateroom: 251 sq.ft. Veranda: 57 sq.ft.
$ 2,574

$ 4,698

S2 - Sky Suite
Take your Celebrity vacation to new heights in a Sky Suite. Be welcomed with a bottle of sparkling wine and enjoy the luxury of personal butler throughout your stay. Enjoy exclusive access to dining and lounge areas reserved only for suite guests. To top it off, the VIP Luminae restaurant and exclusive Michael's Club lounge with dedicated concierge are there for all your dining and relaxation needs. Stateroom: 251 sq.ft. Veranda: 57 sq.ft.
$ 2,374

$ 4,298

A2 - AquaClass Balcony Stateroom
Our AquaClass staterooms are perfectly suited for those with a focus on wellness and pure relaxation. Enjoy luxurious spa elements infused into the stateroom experience, savor clean cuisine with priority seating at Blu restaurant, and escape to the Relaxation Room and Persian garden for stunning sea views. Relax with AquaSpa treatments arranged by your personal spa concierge and feel rejuvenated with wellness classes such as meditation and yoga. Stateroom: 194 sq.ft. Veranda: 54 sq.ft.
$ 1,724

$ 2,998

C3 - Concierge Class Balcony Stateroom
Little details make a world of difference, and now our meticulously thought out Concierge Class staterooms are even better. Featuring new services, amenities, and exclusive events, step inside and discover a space that is so much more than a room—it's an experience. As a Concierge Class guest, your team of dedicated professionals will take care of all your vacation needs. From Priority Check-In—when you're greeted by your Concierge—to the moment you head back home, we're there to assist you. Stateroom: 204 sq.ft. Veranda: 42 sq. ft.
$ 1,624

$ 2,798

2B - Balcony Stateroom
A Balcony Stateroom is a luxurious home away from home with both indoor and outdoor space. Enjoy your spacious lounge with spectacular views, or step through the sliding glass doors onto your own private balcony with a front row seat of the horizon.
$ 1,474

$ 2,498

2C - Balcony Stateroom
A Balcony Stateroom is a luxurious home away from home with both indoor and outdoor space. Enjoy your spacious lounge with spectacular views, or step through the sliding glass doors onto your own private balcony with a front row seat of the horizon.
$ 1,424

$ 2,398

7 - Oceanview Stateroom
Ocean View Staterooms include a large window and comfortable lounge area, making them the perfect place to sit back and enjoy the view. Whether it's a breathtaking seascape or the first glimpse of your next port of call, a room with a view adds so much to your cruise.
$ 1,094

$ 1,788

8 - Oceanview Stateroom
Ocean View Staterooms include a large window and comfortable lounge area, making them the perfect place to sit back and enjoy the view. Whether it's a breathtaking seascape or the first glimpse of your next port of call, a room with a view adds so much to your cruise.
$ 1,074

$ 1,748

11 - Inside Stateroom
An Interior Stateroom is your cosy home away from home. These comfortable staterooms include a sofa and sitting area, and have been thoughtfully designed with ample space to sleep and relax. They provide the perfect retreat after a day exploring the ship or shore.
$ 924

$ 1,448

12 - Inside Stateroom
An Interior Stateroom is your cosy home away from home. These comfortable staterooms include a sofa and sitting area, and have been thoughtfully designed with ample space to sleep and relax. They provide the perfect retreat after a day exploring the ship or shore.
$ 799

$ 1,348

Please ask about other cabin categories not listed.

All rates are cruise only in $USD and per person, based on double occupancy subject to availability at time of booking.

Port charges, taxes and fees: are $249.75 per person additional based on double occupancy. Single taxes are higher. Prepaid gratuities are additional.

A non-refundable $30 Booking Processing Fee will be charged at the time of your deposit

Minimun Deposit $350 ($400 for balcony) per person due at the time of booking. (Suites require a higher deposit).

Final Payment: Due on July 10, 2018

GO Big! Book an Oceanview stateroom or higher and get two of the following: a complimentary Classic beverage package, complimentary gratuities, unlimited onboard internet, or an onboard credit of $300 per stateroom!

GO Best! Book an Oceanview stateroom or higher, and for only $45 per person, per day extra, receive all of the following: a complimentary Premium beverage package, complimentary gratuities, unlimited onboard internet, or an onboard credit of $300 per stateroom!

Suite deal! Book a suite and get all of the complimentary perks at no additional charge!

GO promotions are capacity controlled and offer may be withdrawn at any time without prior notice.

All advertised events are exclusive to guests who book through us only. Aquafest Cruises are group events and not chartered vessels.

Non-discountable fees and taxes, airfare, air taxes and transfers are additional.

Events based on a minimum of 50 group passengers.

Pricing and other information may change without notice

All cancellations are subject to a $50 per booking cancellation fee from Aquafest in addition to any vendor cancellation penalties.

Trip Cancellation Insurance is strongly recommended for all reservations.

More information will be provided to you at the time of booking confirmation. Please contact us for a more detailed description of restrictions, cancellations, and penalties.

Aquafest Cancellation Policy:
All Cancellations are subject to a $50 per guest cancellation fee
More than 100 Days before sailing 20% of Gross Fare
100-46 days before sailing 50% of Gross Fare
45-30 days before sailing 75% of Gross Fare
29-0 days before sailing 100% of Gross Fare






Pre/Post-Cruise Hotels







Special Airfares