MSC Seaview
Ship Facts
Occupancy: 5,179
Tonnage: 154,000
Length: 1,060 ft
Beam: 135 ft
Crew: 1,413 ft
Year Built: 2018

Mediterranean Gay Group Cruise 2019
7 nights from/to Barcelona, Spain
June 29 – July 6, 2019
MSC Cruises MSC Seaview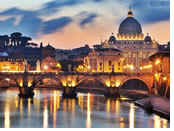 Join us on Aquafest gay group cruise to Mediterranean hotspots. Cruising the Mediterranean on MSC Cruises means coming within reach of the best in culture, tradition and monuments that have for centuries enriched its shores. This cruise offers the opportunity to visit and learn about countries and peoples facing this sea and their millenary history just like ancient mariners did.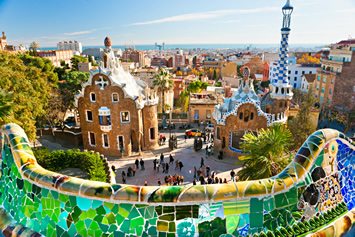 Travelling on brand new MSC Seaview
will give you the opportunity to get a closer look at the historic ports of Italy, from Genoa to Rome, to appreciate the picturesque and refined French town of Cannes in famous Cote d'Azur, to immerse yourself into Spanish culture in Barcelona and Palma de Mallorca.
The historic ports of Italy, important archaeological sites and delicious food with unexpected flavours. Enjoy the Italian and Catalanian sun and the refined French towns.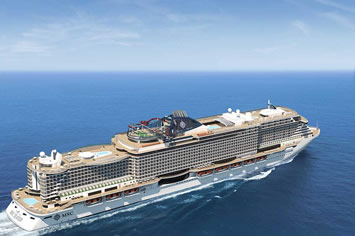 Your Ship - Brand New MSC Seaview
Innovative design MSC Seaview
- The ship that follows the sun! A new concept in cruising offering a holiday experience that's closer to the sea.
MSC Seaview rewrites the rule book of cruise ship design, blending indoor and outdoor areas to connect you with the sea like never before. Circling the ship as low as Deck 7 is a unique seafront promenade lined with places to eat, drink, shop, swim and sunbathe. And you can enjoy superb views from the two glass-floored catwalks and panoramic elevators.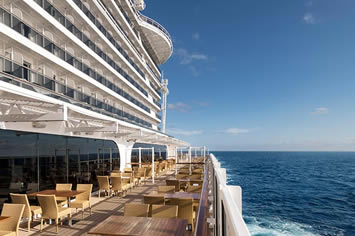 Waterfront Boardwalk
The MSC Seaview Waterfront Boardwalk on deck 8 circumnavigates the ship and offers access to a wide variety of restaurants and bars. From the glass skywalk on deck 16, guests can enjoy a jaw-dropping view of the sea from above.
Four-deck atrium
The multi-level glass-walled atrium stretch over four decks, creating an atmospheric venue for live entertainment while the two glass-floored catwalks will give guests spectacular ocean views.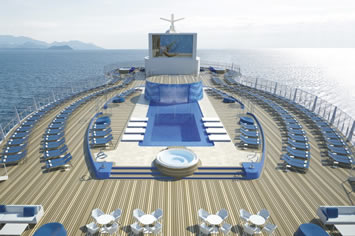 Panorama Pool
The unique MSC Seaview Panorama Pool offers breathtaking sea views and sun loungers specially designed to give guests the chance to stay close to the pool like never before creating an immersive connection with water.
Sunset Beach Pool
Connected to the top deck by two panoramic lifts, the Sunset Beach Pool offers plenty of space in the sun as well as breathtaking views.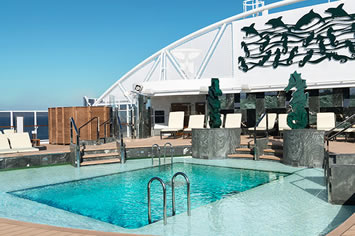 An exclusive haven of refinement
Discover a ship within a ship. A place where you can savour exclusivity and privacy in a world of choice. Where you can indulge in the luxury of a private club, while enjoying access to the myriad recreation and entertainment possibilities that the rest of the ship affords.
MSC Aurea Spa
The MSC Aurea Spa on MSC Seaview is a luxurious Balinese spa offering signature relaxation treatments to revitalise body and soul. Complete with a thermal area, beauty salon and nail boutique, the MSC Aurea Spa will leave you feeling pampered from head to toe.
State-of-the-art gym
Equipped with state-of-the-art Technogym cardio and strength-training equipment, the MSC Seaview gym offers a wide range of original fitness courses and training programmes.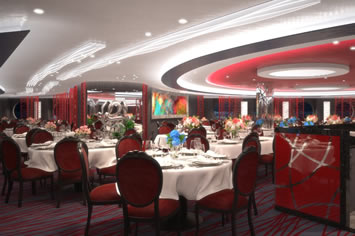 Elegant dining with breathtaking sea views
On MSC Seaview, you can enjoy the spectacular ocean views while you eat. And with 10 delightful eateries to choose from, including five sophisticated speciality restaurants, dining on MSC Seaview is as varied as it is delicious. . For the perfect pre-dinner aperitif, late night drink or daytime refreshment, there is a choice of 19 smart bars and lounges, each with its own unique atmosphere.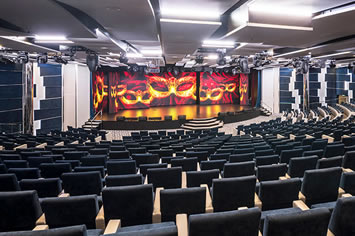 Fun and excitement for everyone
MSC Seaview offers endless fun for everyone, with two full-sized bowling alleys, a dedicated restaurants, and the most interactive, multi-storey water park at sea featuring 5 different water slides, an AquaPlay area designed for tots and an adventure trail.
Forest Aquaventure Park
With its multi-storey aqua park, MSC Seaside offers one of the largest and most interactive water attractions at sea. It prides itself on its five different water slides, including two racing slides with clear loops extending over the side of the ship and a 367-foot water slide with lights and music going down in single and double slide tubes. Also boasts an AquaPlay™ area for tots and an adventure trail, the aqua park truly has something for everyone.
Odeon Theatre
The stunning high-tech theatre is the ideal venue to enjoy spectacular Broadway-style shows, with a varied programme offering compelling entertainment every evening of your cruise.
Mediterranean Gay Group Cruise 2019 Itinerary


Date

Port

Arrive

Depart

29 June
Barcelona, Spain
6 PM
30 June
Ajaccio, Corsica (France)
12 PM
7 PM
01 July
Genoa (Portofino), Italy
7 AM
6 PM
02 July
La Spezia (Cinque Terre), Italy
7 AM
6 PM

03 July

Rome (Civitavecchia), Italy
7 AM
6 PM
04 July
Cannes (Cote d'Azur), France
9 AM
6 PM
05 July
Palma de Mallorca, Spain
2 PM
11 PM

06 July

Barcelona, Spain
8 AM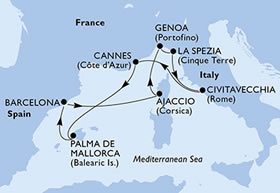 Barcelona, Spain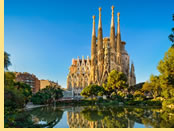 Gay friendly Barcelona – Spain's second city, and the self-confident capital and port of Catalunya – vibrates with life, and there's certainly not another city in the country to touch it for sheer style, looks or energy.
Barcelona city centre will take you to discover its world-class art museums and its fashionable designer restaurants, bars, galleries and shops. And in Antoni Gaudí's extraordinary church of the Sagrada Família and the world-famous boulevard that is the Ramblas, you have two sights that are high up on any Mediterranean cruise sightseeing list.
Ajaccio, Corsica (France)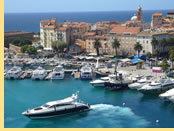 Ajaccio is a relaxed and good-looking place for a visit to Corsica, with an exceptionally mild climate, and a wealth of smart cafés, restaurants and shops. The core of the old town of Ajaccio – a cluster of ancient streets spreading north and south of place Foch, which opens out to the seafront by the port and the marina – holds the most interest.
Nearby, to the west, place de Gaulle forms the modern centre and is the source of the main thoroughfare, cours Napoléon, which extends parallel to the sea almost 2 km to the northeast. West of place de Gaulle stretches the modern part of town fronted by the beach, overlooked at its eastern end by the citadelle. Once the site of the town's medieval gate, place Foch lies at the heart of old Ajaccio.
Genoa (Portofino), Italy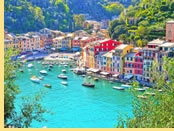 Genoa is marvellously eclectic, vibrant and full of rough-edged style; it's a great cruise excursion. Indeed "La Superba" (The Superb), as it was known at the height of its authority as a Mediterranean superpower, boasts more zest and intrigue than all the surrounding coastal resorts put together.
Just 35 km south of Genoa, there's no denying the appeal of Portofino, tucked into a protected inlet surrounded by lush cypress- and olive-clad slopes. It's an A-list resort that has been attracting high-flying bankers, celebs and their hangers-on for years, as evidenced by the flotillas of giant yachts usually anchored just outside. It's a tiny place that is attractive yet somehow off-putting at the same time, with a quota of fancy shops, bars and restaurants for a place twice its size.
La Spezia (Cinque Terre), Italy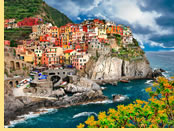 The port at the head of the majestic Gulf of La Spezia, an impressively sweeping panorama of islands and rough headlands renamed the Gulf of the Poets, is workaday La Spezia. A major naval and shipbuilding centre, it has a fine art gallery, the Museo Amedeo Lia, probably the finest collection of medieval and Renaissance art you can enjoy on a holiday to Liguria.
Before continuing your holiday around Italy you have to stop off at the breathtaking folded coastline of the Cinque Terre (Five Lands) that stretches between the beach resort of Levanto and the port of La Spezia. It's named for five tiny villages – Monterosso, Vernazza, Corniglia, Manarola and Riomaggiore – wedged into a series of coves between sheer cliffs, whose comparative remoteness and dramatic positions make the region the principal scenic highlight of the whole Riviera.
Rome (Civitavecchia), Italy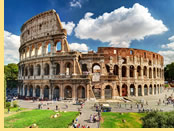 The port of Civitavecchia is one of the largest in Italy and is, of course, a destination of MSC Cruises in the Mediterranean. Civitavecchia enjoys a millenary history due to its coves along the coast, which offered a perfect shelter for vessels, making it a natural port long before cruise ships sailed the seas, and in fact the port was known to the Romans as Centumcellae.
During your holiday in Civitavecchia you can easily visit its centre on foot. Amongst the most important monuments to visit are the Forte Michelangelo, built by Bramante in the 16th century, the ancient walls of the old port, where there is a fountain in travertine marble by Vanvitelli, and the Rock, an inexpugnable fortress that has been looming over the city and port for over a thousand years.
Cannes (Cote d'Azur), France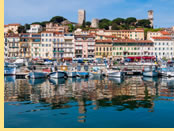 With its immaculate seafront hotels and exclusive beach concessions, glamorous yachts and designer boutiques, Cannes is in many ways the definitive Riviera resort, a place where appearances count, especially during the film festival in May. The not particularly attractive seafront Palais des Festivals is the heart of the film festival but also hosts conferences, tournaments and trade shows.
Despite its glittery image, Cannes works surprisingly well as a big seaside resort, with plenty of free, sandy public beaches. Promenade de la Croisette is certainly the sight to see during your excursions, with its palace hotels – the Martinez and Carlton – on one side and their private beaches on the other. It's possible to find your way down to the beach without paying, but not easy (you can of course walk along it below the rows of sun beds).
Palma de Mallorca, Spain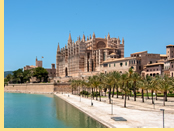 Palma is a vibrant place and a world away from the heaving tourist enclaves of the surrounding bay. Finding your way around Palma is fairly straightforward once you're in the city centre. The obvious landmark to see in Palma on your cruise holiday is the Catedral, which dominates the Mediterranean Sea waterfront and backs onto the oldest part of the city, a cluster of alleys and narrow lanes whose northern and eastern limits are marked by the zigzag of avenues built beside – or in place of – the city walls.
Five hundred years in the making, Palma's Catedral is a magnificent building and a surprising one, too, with its interior featuring modernista touches designed by Antoni Gaudí. The original church was built following the Christian reconquest of the city, and the site taken, in fulfilment of a vow by Jaume I, was that of the Moorish Great Mosque.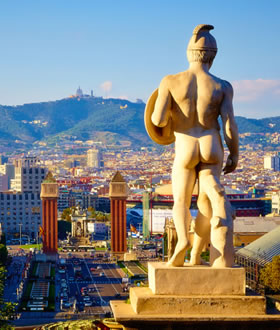 Occupancy: 5,179 • Tonnage: 154,000 • Length: 1,060 ft • Beam: 135 ft • Crew: 1,413 ft • Year Built: 2018

Mediterranean Gay Group Cruise 2019 Rates

YC1 - Yacht Club Balcony Suite
Double bed can be converted into two single beds (on request). Spacious wardrobe. Bathroom with large shower. Interactive TV, telephone and safe. Wifi connection available (for a fee. Mini bar, espresso coffee machine. Air conditioning. Surface approx. 25 sq.m., with balcony.
Unlimited Beverages Included & Spa
$ 2,779

S3 - Aurea Class Suite with Balcony
Double bed can be converted into two single beds (on request). Wardrobe. Bathroom with shower. Interactive TV, telephone and safe. Wifi connection available (for a fee). Mini bar. Air conditioning. Surface approx. from 17 sq.m. to 28 sq.m., with a balcony up to 38 sq.m.
Unlimited Beverages Included & Spa
$ 2,289

B3 - Aurea Class Balcony Stateroom
Double bed can be converted into two single beds (on request). Wardrobe Bathroom with shower or tub. Interactive TV, telephone and safe. Wifi connection available (for a fee). Mini bar. Air conditioning. Surface approx. 17 sq.m., with balcony.
Unlimited Beverages Included & Spa
$ 2,069

B2 - Balcony Stateroom
Double bed can be converted into two single beds (on request). Wardrobe Bathroom with shower or tub. Interactive TV, telephone and safe. Wifi connection available (for a fee). Mini bar. Air conditioning. Surface approx. 17 sq.m., with balcony.
$ 1,579

B1 - Balcony Stateroom
Double bed can be converted into two single beds (on request). Wardrobe Bathroom with shower or tub. Interactive TV, telephone and safe. Wifi connection available (for a fee). Mini bar. Air conditioning. Surface approx. 17 sq.m., with balcony.
$ 1,489

O2 - Oceanview Stateroom
Double bed can be converted into two single beds (on request). Wardrobe. Bathroom with shower. Interactive TV, telephone and safe. Wifi connection available (for a fee). Mini bar. Air conditioning. Surface approx. 17 sq.m.
$ 1,349

O1 - Oceanview Stateroom
Double bed can be converted into two single beds (on request). Wardrobe. Bathroom with shower. Interactive TV, telephone and safe. Wifi connection available (for a fee). Mini bar. Air conditioning. Surface approx. 17 sq.m.
$ 1,289

I2 - Inside Stateroom
Double bed can be converted into two single beds (on request). Wardrobe. Bathroom with shower. Interactive TV, telephone and safe. Wifi connection available (for a fee). Mini bar. Air conditioning. Surface approx. from 14 sq.m. to 28 sq.m.
$ 1,149

IB - Inside Stateroom
Double bed can be converted into two single beds (on request). Wardrobe. Bathroom with shower. Interactive TV, telephone and safe. Wifi connection available (for a fee). Mini bar. Air conditioning. Surface approx. from 14 sq.m. to 28 sq.m.
$ 1,089

Please ask about other cabin categories not listed.

All rates are cruise only in $USD and per person, based on double occupancy subject to availability at time of booking.

Port charges, taxes and fees: are $148 per person additional based on double occupancy. Single taxes are higher.

A non-refundable $30 Booking Processing Fee will be charged at the time of your deposit

Minimun Deposit $400 per person due at the time of booking ($450 for Aurea & $500 for Yact Club).

Final Payment: Due on March 15, 2019

All advertised events are exclusive to guests who book through us only. Aquafest Cruises are group events and not chartered vessels.

Non-discountable fees and taxes, airfare, air taxes and transfers are additional.

Events based on a minimum of 50 group passengers.

Pricing and other information may change without notice

All cancellations are subject to a $50 per booking cancellation fee from Aquafest in addition to any vendor cancellation penalties.

Trip Cancellation Insurance is strongly recommended for all reservations.

More information will be provided to you at the time of booking confirmation. Please contact us for a more detailed description of restrictions, cancellations, and penalties.





Pre/Post-Cruise Hotels







Special Airfares