Regal Princess
Ship Facts
Gross Tonnage: 141,000
Length: 1,083 feet
Height: 217 feet
Guests: 3,560
Crew: 1,346
Staterooms: 1,780
Service Speed: 22 knots
Decks: 19
Ships Registry: Bermuda
Adventure Bears Western Caribbean Gay Group Cruise 2017
7 nights from/to Fort Lauderdale, Florida, United States
November 5 – 12, 2017
Princess Cruises Regal Princess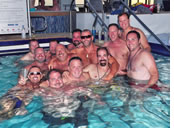 Join Adventure Bears gay group as we sail to Western Caribbean on the magnificent Regal Princess, one of the newest ships in the fleet. We will be sailing roundtrip from Ft. Lauderdale to Princess Cay, Falmouth, Grand Cayman and Cozumel. Princess is renowned for excellent international cuisine, great service, very comfortable cabins, and some of the best entertainment at sea.
Adventure Bears, is perhaps, the friendliest group of Bear, Cubs & Friends at sea. For several years in a row, have hosted a really great group of guys who embrace each other as well as first time sailors to our group. We do not strive to be the biggest that can be very clique-ish. We prefer a smaller group that can really get to know each other and make life long friends.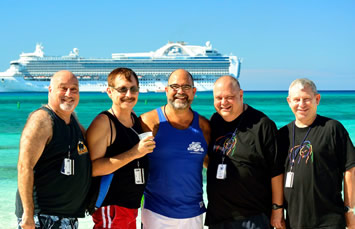 Beyond its beautiful beaches and deep within the tropical jungle, you'll find jaw-dropping ruins left behind by the ancient Maya that rival those of the ancient Romans and Egyptians. Named one of the top travel destinations in 2012 by USA TODAY, intriguing discoveries await in gems like Princess Cays, Grand Cayman, and the Island of Cozumel. Experience the mystery and intrigue of the once mighty Mayan civilization beyond the palm-covered shores of the Western Caribbean with 7-day cruise departure sailing from Ft. Lauderdale.
Discover the tranquility of Princess Cays, Princess Cruises exclusive Bahamas playground and your own private island for the day. From snorkeling to kayaking, sport fishing and paddle boating, shopping for island keepsakes, steelpan bands, tropical cocktails and an island-style barbecue, the activities are endless. Or perhaps simply unwind within your own private cabana for a secluded retreat!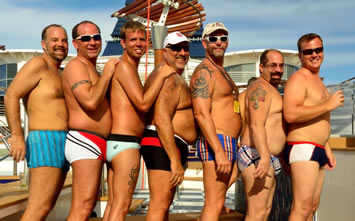 Music and dance as colorful as the reefs, tranquil waters just a shade deeper than the sky, and a rich history as diverse as the breathtaking landscapes make Caribbean cruises one of the most popular vacations to find both discovery and relaxation. The stories of the Caribbean are captivating, the beaches mesmerizing and the carefree charm intoxicating. With Princess Cruises you can experience it all.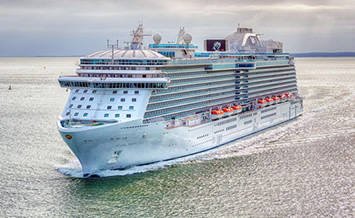 Your Ship - Regal Princess
Princess Cruises has a successful history of more than 50 years. Once known from the original "Love Boat" TV-series, today Princess Cruises is renowned for a modern and luxurious way of travelling. Guests enjoy great service, first-class catering and interesting itineraries. Because of the international guests and English as the on board language we recommend travellers to have a fairly good command of the English language to make the cruise a pleasant experience.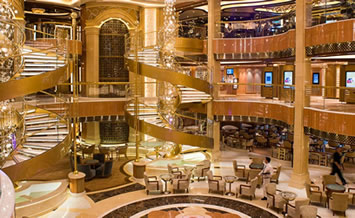 Built in 2014 the Regal Princess offers space for up to 3,560 passengers. With a length of 330m she is one the largest cruise ships in the world. Thanks to Princess Cruises' "Big Ship - Small Ship Feel" concept guests nevertheless enjoy a feeling of intimacy on board. A special feature on the Regal Princess is the "SeaWalk" - a glass-paneled walkway extending several meters beyond the edge of the ship.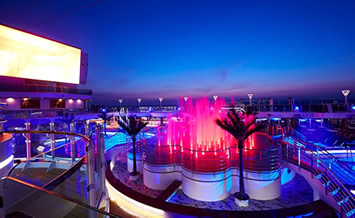 On the Regal Princess you will enjoy all amenities of a large and modern ocean liner, but at the same time get the intimate feeling of much smaller ships. Many small bars, lounges and public areas are one reason - the crew's individual and discreet service is another. Though most guests are English native speakers the travellers come from all over the world and create an international and classy atmosphere. This is reflected in the dress code: casual during the day and elegant in the evenings.
All staterooms are spacious, comfortably equipped and provide enough storage room for your luggage. Staterooms have a minimum size of 16m². Most of the cabins on board feature a private balcony.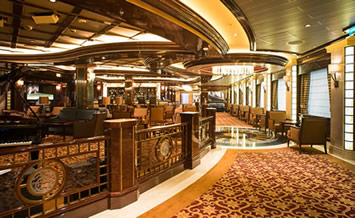 Gourmets will be delighted by the excellent food on board Regal Princess. No matter if you dine in the included buffet and à la carte restaurants or in one of the specialty restaurants - quality and taste have a superior level. Guests may choose between the traditional early and late dining with assigned tables or "anytime dining", where you are free to dine whenever it suites you best.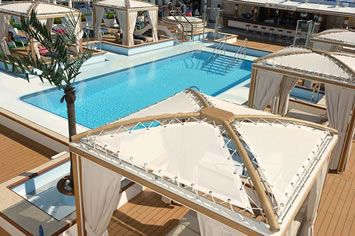 Princess Cruises is famous for their "movies under the stars" where the pool deck turns into a romantic cinema. Daily shows are entertaining the audience in the evening, the Casino invites all who love to play and several lounges and bars are ideal places to socialize. On the other hand the Regal Princess offers wonderful places to relax and enjoy calmness. The large Spa area is the perfect place to revitalize yourself. For all those who enjoy sports the fitness center, a jogging track, the court for volleyball, basketball and tennis are some of the places to be.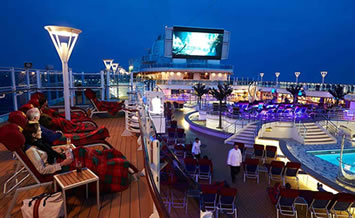 Adventure Bears Gay Cruise
Adventure Bears provides a stress free, fun, upscale memorable vacation experience and gives like-minded gay men an opportunity to make lasting friendships. You can choose be social and active or just chill out and relax. Our cruises will appeal to the more relaxed yet fun loving guys.
We offer the best of both worlds with rates far lower than gay chartered ships. Enjoy exotic ports of call, exclusive group on-board activities, entertainment, and of course outstanding cuisine and service. We also offer our own private shore excursions available only to our guests.
In order to participate in our events you must make reservations with us. Unfortunately people booked through a different source cannot be included as part of our gay group.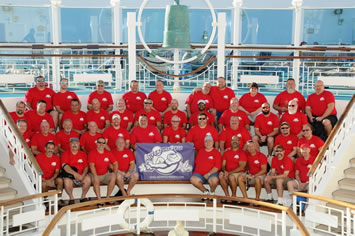 Adventure Bears Western Caribbean Gay Group Cruise Itinerary


Date

Port

Arrive

Depart

05 Nov
Ft. Lauderdale, Florida
4 PM
06 Nov
Princess Cays, Bahamas
9 AM
5 PM
07 Nov

Day at Sea!

08 Nov
Falmouth, Jamaica
8 AM
5 PM

09 Nov

Grand Cayman, Cayman Islands
7 AM
4 PM
10 Nov
Cozumel, Mexico
10 AM
10 PM

11 Nov

Day at Sea!

12 Nov
Ft. Lauderdale, Florida
6 AM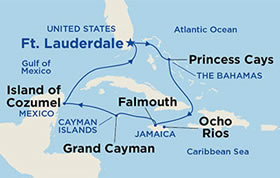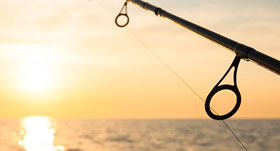 Fort Lauderdale, Florida, US
Known as the "Venice of America," Fort Lauderdale has 165 miles of canals that wind through this waterfront city. With plenty of sun and sand, you'll find the beaches inviting and only minutes from elegant shops and championship golf courses. After dark, the town offers many five-star restaurants and exciting nightclubs, all set in a lush tropical environment.
People have been flocking to Fort Lauderdale's beaches for decades. And with good reason. Fort Lauderdale Beach is a two-mile strip of beautiful beach featuring the recently renovated Promenade, which offers all sorts of bars, restaurants and shops.
• Take a 30-minute airboat ride across the Everglades, one of the most breathtaking natural areas in America. Discover a variety of fish and birds that inhabit the area, and perhaps see the most famous Everglades inhabitant - the alligator. Enjoy Sawgrass Reptile Exhibit after your ride and take the opportunity to touch or possibly hold a small alligator. Discover the replica of a Seminole Indian village. See tropical birds, rare snakes, and even the endangered Florida panther.
• Take a narrated drive through Port Everglades over the Intercoastal Waterway and along the famous Fort Lauderdale Beach. Explore the International Swimming Hall of Fame, Las Olas Boulevard, the Riverwalk area and more. Stop and see Esplanade Park, the crossroads of the Center for Performing Arts and the Museum of Discovery and Science. Take a 90-minute Intercoastal Waterway cruise, and hear a lively commentary from the boat's captain on the history of the New River and Fort Lauderdale's historic sites.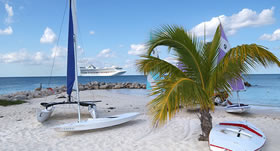 Princess Cays, Bahamas
Join us at Princess Cruises exclusive port of call, Princess Cays, where you'll enjoy a private beach party on the island of Eleuthera in the Bahamas. One hundred miles long and only two miles wide, Eleuthera offers unspoiled beaches. Princess private resort at Princess Cays is situated on more than 40 acres and features over a half-mile of white-sand shoreline, all at the southern tip of the island. The resort boasts outstanding amenities while carefully preserving this natural paradise. Take in the views from the observation tower. Enjoy a complimentary beach barbecue. Sip a cool drink or browse the shops and the local craft market. All of Princess Cays' facilities are linked by walkways. Recreational activities abound. Enjoy volleyball and a full range of water sports, or simply relax on the beach.
Note: Snorkel equipment, sea boards, floats, kayaks, paddle wheelers, the banana boat rides, aqua chairs, beach clamshells, bungalows, etc. can be pre-reserved.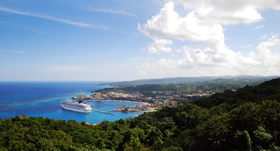 Falmouth, Jamaica
Falmouth is the chief town and capital of the parish of Trelawny in Jamaica. It is situated on Jamaica's north coast 18 miles east of Montego Bay. It is noted for being one of the Caribbean's best-preserved Georgian towns. Founded by Thomas Reid in 1769, Falmouth flourished as a market centre and port for forty years at a time when Jamaica was the world's leading sugar producer. It was named after Falmouth, Cornwall in the United Kingdom, the birthplace of Sir William Trelawny, the Governor of Jamaica, who was instrumental in its establishment. The town was meticulously planned from the start, with wide streets in a regular grid, adequate water supply, and public buildings. It even had piped water before New York City.
• Dunn's River Falls - Jamaica's world-famous waterfall cascades 600 feet down a giant rock staircase to the Caribbean Sea. Climb to the top or use the adjacent walkways if you prefer not to get wet.
• Coyaba Gardens - Explore the lush tropical jungles, waterfalls and sparkling pools of this beautifully landscaped garden and adjacent historical museum built on grounds dating back to British colonial times.
• Dolphin Encounter - Don't miss an unforgettable opportunity to interact with bottlenose dolphins at Dolphin Cove, a magnificent ocean-themed property. Interact with these playful mammals, learn training secrets and enjoy a host of water-related activities.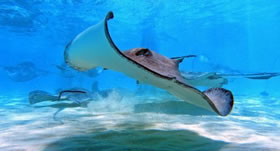 Grand Cayman, Cayman Islands
When Columbus made his landfall in the Caymans in 1503, he found tortoises and sea turtles in such profusion that he promptly named the islands Las Tortugas. But the name that stuck for the islands was the Carib word "Caimanas." Fitting, since the caiman is a New World crocodilian and the islands were long the lair of pirates, buccaneers, and assorted freebooters. Despite their past, the Caymans are a Caribbean demi-paradise of white-sand beaches, coral gardens, and offshore waters harboring spectacular shipwrecks. Grand Cayman, Cayman Brac and Little Cayman also boast the highest standard of living in the entire Caribbean. This union of natural beauty and cosmopolitan style makes Grand Cayman a spectacular port of call for today's adventurers.
Experience a once-in-a-lifetime adventure: snorkeling with stingrays at Stingray City Sandbar. These relatively tame creatures will swim right into your arms and eat from your hand. They have velvety soft skin and love to have their bellies rubbed. Despite their frightening name, they are very gentle and won't hurt you as long as you stay away from their tails.
• The Blow Holes are an amazing natural wonder. These geologic formations on Grand Cayman provide a wonderful photo opportunity. Waves crash on to rocks, forcing water into caverns and sending geysers shooting up through the ironshore.
• At the Cayman Island Turtle Farm you can see turtles in various stages of growth, and some can be picked up from the tanks -- a real treat for children and adults.
• The tiny village of Hell is little more than a patch of incredibly jagged rock formations called ironshore. The big attraction here are the small post office and a nearby gift shop, where you can get cards and letters postmarked from Hell.
Note: Grand Cayman is an anchorage port. Passengers transfer to shore via ship's tender. In certain sea conditions, an alternate pier is used to transfer passengers ashore. This may cause tour durations to vary.
Cozumel, Mexi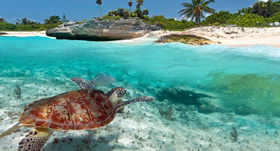 co
Mayan myth claims that Cozumel was home to the gods. Truly Cozumel is a place fit for the gods, with its dazzling white-sand beaches, ruined Mayan temples, exotic jungle wildlife, and crystalline waters teeming with tropical fish. Just offshore lay Palancar Reef, considered one of the most spectacular coral formations in all the Caribbean. Of course, the gods weren't the only individuals attracted to this terrestrial paradise: during its long and colorful history, Cozumel has been home to pirates, buccaneers, and freebooters, including Sir Henry Morgan and Jean Lafitte. Today's traveler will discover the same ravishing beauty and relaxation that entertained gods and pirates alike.
Don't miss the opportunity to explore the ruins of the ancient Mayan city of Tulúm, majestically perched above the turquoise Caribbean. The site was occupied as far back as 600 A.D. However, it was most densely populated around 1200 A.D. You will be struck by the pyramid-shaped El Castillo, which dominates the city from atop a forty-foot cliff. The nearby Temple of the Descending God provides equally excellent insight into the architecture of the Mayan people, who gained considerable achievements in the arts and sciences, only to decline and vanish for no apparent reason.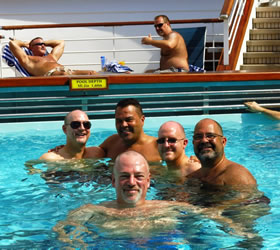 Guests: 3,560 • Crew: 1,346 • Gross Tonnage: 141,000 • Length: 1,083' • Height: 217' • Guest Cabins: 1,780 • Registry: Bermuda

Adventure Bears Western Caribbean 2017 Gay Group Cruise Rates

Interior Cabin
Decks 8 – 15 midship
The Interior stateroom is approximately 166 to 175 square feet and richly appointed with fine amenities. Twin beds that convert to a queen size bed*. Private bathroom with shower. Shampoo, conditioner, body lotion. 100% Egyptian cotton linens. Satellite TV, refrigerator, hair dryer, safe, closet, phone and desk. 110V, 60-cycle alternating current (AC) with standard U.S. plug fittings. Daily housekeeping service. Evening bed turn-down, chocolates on your pillow.
$ 939

Balcony Cabin
Decks 9 – 14 midship
The spacious approximately 222 square foot Balcony stateroom is appointed with fine amenities and outstanding views from an approximately 41 square foot private balcony. Balcony with patio furniture. Twin beds that convert to a queen size bed. Private bathroom with shower. Shampoo, conditioner, body lotion. 100% Egyptian cotton linens. Satellite TV, refrigerator, hair dryer, safe, closet, phone and desk. Daily housekeeping service. Evening bed turn-down, chocolates on your pillow.
$ 1,209

Deluxe Balcony
Decks 9 – 12 midship
Larger than Standard Balcony staterooms, Deluxe Balcony cabins provide approximately 233 square feet of comfort, and an approximately 41 square foot balcony and includes all the same features of the Balcony stateroom, plus an additional sofa bed for lounging or sleeping a third passenger. Seating area with a sofa bed. Balcony with patio furniture. Twin beds that convert to a queen size bed. Shampoo, conditioner, body lotion. 100% Egyptian cotton linens. Private bathroom with shower. Satellite TV, refrigerator, hair dryer, safe, closet, phone and desk
$ 1,309

Mini Suite
Decks 10 – 14
The luxurious Mini-Suite offers approximately 299 square feet of comfort and an additional, separate seating area with a sofa bed for lounging or sleeping a third passenger. The spacious balcony is approximately 41 square feet and the bathroom offers a combination tub and shower. Welcome glass of champagne. Separate seating area with a sofabed. Twin beds that convert to a queen size bed. Private bathroom with combination tub and shower. Shampoo, conditioner, body lotion. 100% Egyptian cotton linens. Two flat-panel televsions
$ 1,579

All prices are per person, based on double occupancy, and include all meals, accommodations and entertainment!

Taxes and charges of $235 pp, pre-paid gratuities, and optional insurance are additional.

First deposit $450 per person is required upon booking, Full payment is due on or before August 10, 2017

Optional shore excursions will be offered.

Prices are cruise only and DO NOT INCLUDE return airfare! Please ask for airfare add-ons back to your home city.

Rates are only an example of starting rates and are subject to availability.

Also included are the traditional Adventure Bears activities, subject to minimum participation.

Please ask for further details.

Special Airfares








Pre-Cruise Hotels







Post-Cruise Hotel