Reflection
Ship Facts
Occupancy: 3046
Tonnage: 126,000
Length: 1047 feet
Beam: 123 feet
Draught: 27 feet
Cruisespeed: 24 knots
Inaugural Date: Oct 12, 2012
What's Included
Shipboard accommodations
Ocean transportation
Most meals
Some beverages
Most entertainment aboard the vessel
What's Not Included
Air transportation
Transfers
Shore excursions
Specialty restaurant fees
Some beverages
Photographs
Gratuities/service fees
Medical services
AquaSpa service, etc.

Greek Isles, Malta & Italy Gay Group Cruise 2018
10 nights cruise, roundtrip from/to Rome (Civitavecchia), Italy
July 20 – 30, 2018
Celebrity's Reflection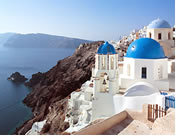 Happy Gay Travel & Pied Piper once again offers our popular gay cruise to Greek Isles and Italy on the ultra stylish new ship, Celebrity Reflection
! A journey to this sun-drenched part of the Mediterranean is an unforgettable mix of ancient culture and contemporary relaxed society. The beauty of the region is undeniable. On this PIED PIPER gay group cruise, you will sail out of Civitavecchia (Rome) through the calm and cerulean blue waters of the Mediterranean visiting the romantic and picturesque islands of Santoríni and gay friendly Mykonos. Join us on this cruise into ancient history in modern comfort. A highlight of this cruise is a visit to historic Athens!
All this is yours while you are pampered with gracious service, gourmet dining, and numerous venues for entertainment on the brand new and most up-to-date luxury cruise ship.

Celebrity Reflection
Relax like never before on board Celebrity Reflection
, the newest ship in the Celebrity fleet, where a host of innovative features add up to a cruise experience you will not forget. Relax on real grass on the top deck, lie back in superb spa facilities and much more. You can have it all on Celebrity Reflection.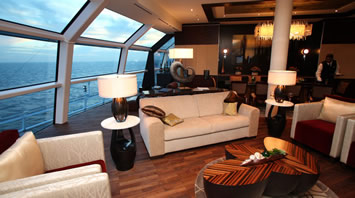 The newest ship which joined Celebrity Solstice® Class fleet, the chic Celebrity Reflection is the ultimate escape – no matter how you enjoy spending your time. Experience some luxurious alone time at the Canyon Ranch SpaClub®, with treatments that will lead you to a state of complete tranquility. Up on top deck, The Alcoves sit on the real grass of the fantastic Lawn Club. These cabana-style hideaways are the perfect place to unwind with up to three friends, enjoying a picnic basket from one our speciality restaurants, entertainment on iPad® and optional spa treatments. If all the alfresco dining has you in a creative mood, head to the Art Studio where a trained artist is on hand to show you how to master new crafts, painting and more. When the day is done, pay a visit to the fascinating and fresh Molecular Bar for contemporary cocktails crafted using intriguing modern mixology methods.
At the exciting Lawn Club Grill our expert chefs are on hand to freshly cook a great range of seafood and meat over the specially-made grill – right at the side of your table. If you fancy yourself as a Grill Master yourself, then you can take the reins and grill your food to perfection, with our friendly chefs at your side. Nearby is The Porch where you can gather for paninis, drinks and fresh, light bites throughout the day. You will find the interactive menu at speciality restaurant, Qsine®, is just as fun as eating the fascinating food itself. You will experience modern tastes and presentation amid inviting and exciting décor. For complete sophistication, head to Murano for a modern take on classic French cuisine. Chic and smart, the menu offers expertly-crafted classics and artisan cheeses.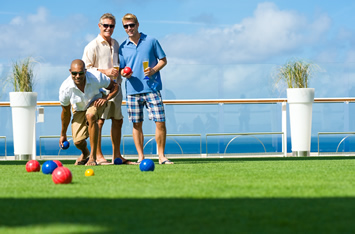 Staterooms on board Celebrity Reflection
are stylishly fitted with forward-thinking design in every aspect. The experience is indulgent from the moment you step on board – and there are accommodation options to suit the tastes of every guest. A stateroom is more than just a room. It is a place where guests can lie back, relax and take in the unmistakable luxury of a Celebrity Cruises holiday. Most of our staterooms include a private balcony for a personal open space, while others offer a superb sea view. Unique to Celebrity Reflection, there's an extra beautifully crafted deck, dedicated to our 34 AquaClass® Suites complete with spacious 79 square foot balconies and stunning panoramic views. Select an Inside Stateroom for a cosy stay, or a luxurious Penthouse Suite for incredible views and European-style butler service. All staterooms include en-suite facilities and luxurious bed linen.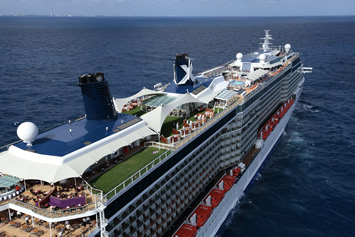 Rome (Civitavecchia), Italy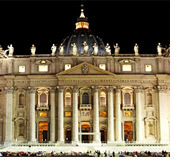 Rome, the 'Eternal City', capital of Italy and the Catholic Church, is a modern, lively and fashionable city. It lies roughly in the center of the region of Lazio (Latium), between the Tyrrhenian Sea to the west and the Apennine Mountains to the east. The Tiber River curves through the City and Ancient Rome is situated on the left bank, as are the original Seven Hills of Rome and the more modern shopping areas, while the Vatican City is on the right bank of the Tiber.
Many Romans today are employed in tourist related industries, as well as in government, film-making and some other small-scale industries. The citizens of Rome still enjoy a relaxed way of life, and live and love life to the fullest. It is believed locally that on the last day of the world the Romans will throw a great farewell party, a gastronomic feast with wine flowing from the City's many fountains – "La Dolce Vita!".
Rome is unique because of its many fine buildings that span so many centuries of history and it is richer in masterpieces, both architectural and artistic, than most any other city in the World. According to legend, Romulus and Remus, twin sons of the War God; Mars and Rhea, a Vestal Virgin, were abandoned as babies and brought up by a She-Wolf. They grew up to lead a band of outlaws and adventurers before Romulus killed his brother and founded Rome in 753 B.C.
Colosseum
Though there may no longer be gladiators and staged naval battles at Rome's iconic Colosseum, it's still a great hive of activity in central Rome. Built by Emperor Vespasian in 72 A.D. on the site of Nero's palace, the Colosseum entertained Romans with spectacles and contests until the fall of the empire. Since then, it's served as a cemetery, castle, convent, and quarry.
Roman Forum
The ruins of the forum stand in mute testimony to what Byron described as the "grandeur that was Rome".
Sistine Chapel
The gem of the Vatican Museum is the celebrated chapel that is home to Michelangelo's frescoes 'The Creation' and 'The Last Judgement'.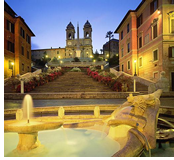 Spanish Steps
The heart of Rome's old Bohemian Quarter (Keats and Shelley lived nearby), the steps take their name from the 16th century Spanish Embassy to the Holy Sea. Today the area surrounding Piazza Espagna is the city's chic shopping district.
St.Peter's Basilica
By far the largest church in the world, St. Peter's Basilica took more than 100 years to build. Some of the greatest figures of the Renaissance were employed in its creation, from Bramante and Bernini to Michelangelo and Raphael.
Trevi Fountain
Blue-green water cascades over the Baroque figures of Rome's most famous fountain. Follow custom and toss a coin into the fountain, a gesture that insures your return to the Eternal City.
Vatican City
The spiritual and administrative centre of Roman Catholicism is also one of the smallest independent states in the world. The Vatican mints its own coins, prints its own stamps, and maintains its own army of Swiss Guards.
Messina (Sicily), Italy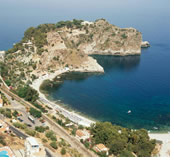 Located in northeastern Sicily on the slopes of the Peloritani Mountains, Messina is an ancient place with a fascinating history. Walk by the ruins of the Santa Maria Alemanna Church, built in 1220 A.D. You'll also want to see the Duomo, a Romanesque and Norman cathedral that includes a display of artifacts in its treasury.
Founded by the ancient Greeks, the 'Door of Sicily' is also the setting of Shakespeare's 'Much Ado About Nothing'. Linger over a glass of the renowned local red wine in dramatic Duomo Square, or take a panoramic trip to the active Mt. Etna volcano.
Valletta, Malta
In the middle of the Med, tiny Malta is packed with history. You won't want to miss St John's Co-Cathedral, or the Grand Master's Palace with its impressive frescoes.
In addition to a number of significant works of art, this town is known for the many fortifications built by the Knights of Malta, who for years helped care for European pilgrims and crusaders en reoute to and from the Holy Land.
Explore the city's main square and pass many of its ancient buildings. Then head to St. John's Cathedral, founded by the Knights of the Order of St. John during the 16th century. Today the cathedral is the final resting place for many of the knights - their headstones line the cathedral floor.
Mykonos, Greece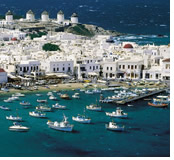 With an area of just 33 square miles, Mykonos is one of the smallest islands to belong to the Cyclades group. Its population of 5,000 residents is out-numbered by an annual pilgrimage of 900,000 visitors that swarm the streets, nightclubs, and beaches. Mykonos' beaches are unsurpassed and Mykonos Town is a charming village of winding streets with a traditional atmosphere, interesting shops, great restaurants, and the most exciting and sophisticated nightlife in Greece. These factors and its close proximity to Delos have made it the most popular island in its chain. Governing the scene is the unlikely town mascot, Petros II, the pelican. There was a Petros I, but he died ten years ago when struck by a car. So if you see a large pelican while eating at a taverna, or visiting with residents, take a picture. He is a local celebrity.
The main town is known as Mykonos Town or Chora, which simply means "capital," and it is the administrative center of the island. Its whitewashed houses, maze of shops, and typical windmills stand out against the brown earth and blue skies, forming a perfect postcard setting. The most outstanding feature of the town is its dazzling brightness; blazing sunlight reflects off the freshly whitewashed churches and houses. Keep in mind you will get lost in the maze of streets constructed to confuse attacking pirates. This design helped foil would- be attackers by confounding them and enabling villagers to maneuver them into ambush. Such layouts are repeated throughout the Mediterranean region for this very reason. Those that live in the town can get around easily since they are used to the puzzle of twisting streets and alleys. But don't worry. If you can find the sea, you will easily find the pier and taxi stand.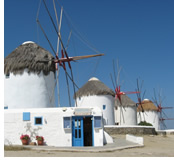 Church of Panagia Paraportiani
Rising up from its surrounding slate stones, the holy site is actually a collection of five Byzantine-style churches connected by whitewashed walls. It's also one of the most photographed buildings in Mykonos.
Little Venice
Make time for a romantic stroll through this waterfront neighborhood, where a modest sidewalk or seawall is the only thing separating storefronts and café tables from the Aegean Sea. Mykonos's whitewashed windmills, built by the Venetians in the 16th century, whirl overhead.
Psarou Beach
This ritzy coastline provides the best of both worlds: soft, golden sand and a shallow sea for relaxing, and glamorous people-watching for those who want a bit more of a scene.
Rhodes, Greece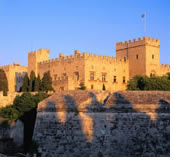 Rhodes, the friendliest city in the Mediterranean, is situated at the island's northernmost point. This sunny retreat is also home to many historic sites, such as the ruins of the Temple of Venus and the medieval Street of Knights.
Two millennia ago, you'd have been awestruck by the 100ft Colossus of Rhodes. Today, many diverse sites remain, such as the Temple of Venus and a palace fortified by the Knights of St John. One thing that hasn't changed is the sunshine – lots of it.
Santorini, Greece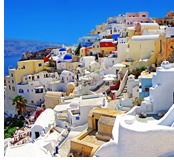 In 1450 BC, this volcanic island erupted forming Santoríni's spectacular crescent shape. Santoríni now consists of three main islands, Thíra, Thirasia and Aspronisi. Originally named Thíra by the Dorians, the island's name was later changed to Santorini, after St. Irene, during the 13th century Venetian settlement
Santoríni is one of the many popular islands that comprise the Cyclades; the chain of islands surrounding the once sacred island of Delos. Delos (now uninhabited) is one of the most important archaeological sites in Greece and is considered the mythological birthplace of Apollo and Artemis. This chain of islands is best known for its beaches and whitewashed cliff-top villages with stunning views. Santoríni is the southernmost island of the chain and is considered to be one of the most beautiful of all the Greek islands.
The ship drops anchor off of Skala, which is 890 feet (270 m) below the small town of Fira (Thíra), the island's capital. It can be reached from Skala by cable car, donkey or climbing the more than 600 steps. Firá overlooks the caldera and the island of Nea Kameni.
Devastated by an earthquake in 1956, Firá was re-built, and engraved into the volcanic cliffs with domed churches and barrel- roofed cave houses. The terraces are packed with hotels, bars and restaurants. With a population of about 2000, it is the largest community on the island.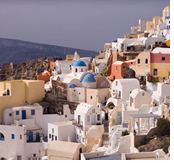 Akrotiri of Thera
Excavated in 1967 after more than 3,000 years, the ancient Minoan city is the most famous ruin in the Cyclades. Streets and houses—some three stories high and with intact staircases—are remarkably well preserved; artifacts recovered from the site (including Neolithic pottery and weapons from the 17th century B.C.) are also on display at the Museum of Prehistoric Thera, in Fira.
Kostas Antoniou Jewelry
Jeweler and winemaker Kostas Antoniou puts a modern twist on classical Minoan pieces. His shop also stocks wine and offers tastings, but drinking and shopping could be dangerous: Antoniou's gold necklaces don't come cheap.
Volcan Winery
Learn about the island's viticultural history at the quirky Koutsoyannopoulos Wine Museum, set in a cave 20 feet underground at this fourth-generation winery. Head to the tasting room to sample the island's dry whites and dessert wines, made from grapes that grow in volcanic soil.
Athens (Piraeus), Grecce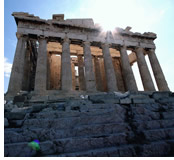 Throughout history, Athens has been one of the most important and influential cities of the western world. The peak of this civilization occurred during the 70-year Golden Age in the fifth century BC. It was during this period that great strives were made in architecture, literature, math,science, philosophy and medicine. History gave witness to some of the most celebrated men of our time including Sophocles, Euripides, Hippocrates, Socrates, Plato, and Aristotle.
Despite its vast history, the Athens of the 20th century is a bustling modern city with overcrowded streets, traffic jams, pollution, and characterless modern cement buildings. The city has been criticized for lack of overall planning during an enormous population growth in the 19th and 20th centuries. When Athens became the Capital of Greece in 1834, it was a mere village of 6,000 residence. The Athens of today is home to 4.5 million people and covers an area of 165 square miles.
Located 7 miles from the center of Athens, Piraeus has been Athen's port since the early 5th century BC. The city became an economic center in the 1920's with the construction of over 75 steam powered factories. The population has now reached 600,000.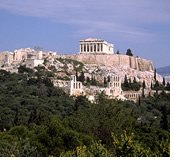 Acropolis and the Parthenon
The world's most famous acropolis (which means "city at the top") stands 500 feet high, with a 484,000-square-foot flat plateau. Atop it is the Parthenon, designed by Pericles in the fifth century B.C. A few tips for first-time visitors: don't bring a large bag (you'll have to check it), and hold on to your ticket-it allows you entry to many sights in the area, including the Temple of the Winds, the Temple of Zeus, and the Ancient Agora.
Anafiotika
Wander the alleys of this whitewashed, 19th-century village, built by refugees from the Cycladic island of Anáfi. Located along the northern slope of the Acropolis, it's a quiet, residential oasis in the heart of teeming Athens.
National Archaeological Museum
This recently renovated cultural center has the eye-popping Greek collection you'd expect, from Neolithic clay figurines and treasures unearthed at Mycenae to a prehistoric antelope fresco from Santorini. Its Egyptian collection is also one of the world's best, spanning the 30th century B.C. to the Roman era.
Naples, Italy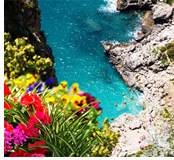 Naples is the third largest city in Italy, with a population of over 1.5 million. It lies at the foot of a range of low hills on the west coast of southern Italy. Since the destruction inflicted during World War II, Naples has become an important industrial and commercial center. The Bay of Naples makes it Italy's second most important sea port, surpassed only by Genoa.
The Neapolitans have a great fondness for music and with such songs as 'Santa Lucia', 'O Sole Mio' and 'Funiculi Funicla', the City's music has become familiar throughout the world. The great tenor Enrico Caruso was a native of Naples.
Naples and the surrounding area attracts both tourists and artists with its wealth of historical monuments, its proximity to the beauty of the Amalfi Coast and the famous Isle of Capri, and the archaeological treasures of Pompeii and Herculaneum.
Da Michele
Since opening in 1929, this has been one of the most famous pizza places in Naples, passed down through five generations of chefs. There are only two items to order—pies with cheese, and pies without. Save yourself from the anguish of making the wrong decision and order both.
Pompeii
The ancient Roman resort was buried in ash during the eruption of Mt. Vesuvius in 79 A.D.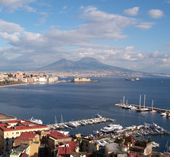 Capri
This gem in the Bay of Naples has been a popular destination since the days of the Caesars.
Amalfi Coast
The Amalfi Coast, stretching from Sorrento to Salerno, is one of the most stunning coastal drives in the world.
Positano
Jumbles of whitewashed and pastel-coloured houses make this one of the most photogenic villages on the Amalfi Coast.
Sorrento
Set along the cliff tops, the flower-filled town is the gateway to both Capri and the Amalfi Coast.
Villa San Michele
This lovely garden villa is found in Capri's village of Anacapri.
Herculaneum
Like Pompeii, Herculaneum was buried during the eruption of Vesuvius in 79 A.D.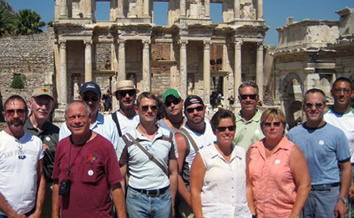 Greek Isles, Malta & Italy Cruise 2018 Itinerary


Date

Port

Arrive

Depart

20 Jul
Rome (Civitavecchia), Italy
5 PM
21 Jul
Messina (Sicily), Italy
10 AM
7 PM
22 Jul
Valletta, Malta
8 AM
6 PM
23 Jul

A Day at Sea!

24 Jul

Mykonos, Greece
7 AM
6 PM
25 Jul
Rhodes, Greece
7:30 AM
6 PM

26 Jul

Santorini, Greece
7 AM
6 PM
27 Jul
Athens (Piraeus), Greece
6 AM
6 PM

28 Jul

A Day at Sea!

29 Jul
Naples, Italy
7 AM
6:30 PM

30 Jul

Rome (Civitavecchia), Italy
5 AM
Just a few Reflection onboard highlights in a long list of many
Celebrity Reflection is Celebrity Cruises newest marvel. She boasts an expanded deck, 72 additional staterooms overall, more seating in the main and specialty restaurants, more sun lounges on the pool deck, and more seats in the theatre. Celebrate the flavorful joys of outdoor grilling in the new Lawn Club Grill. Enjoy more than 20 delicious options in the Main Restaurant. Unwind in your own cabana-style haven, The Alcoves, on the Lawn Club. And check out all the new spa innovations in the enhanced Canyon Ranch SpaClub®. Your vacation time is precious. Time aboard Celebrity Reflection will make the most of it.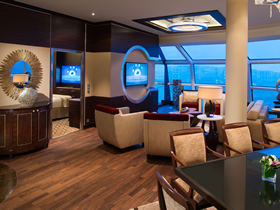 Reflection Suite
The Reflection Suite-our fleet's first two-bedroom suite-is located in a private area accessible only to guests carrying a special SeaPass card. You'll sleep on a premium Reverie Dream Sleep System mattress you can customize, experience the luxury of European-style butler service, and shower in a spectacular sea view bathroom with cantilever, all-glass shower.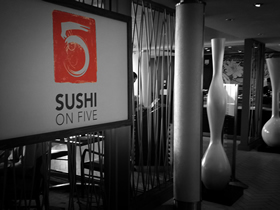 Sushi on Five
Our modern luxury take on traditional sushi and Japanese favorites, paired with imported sakes and beers. The extensive menu is created by our Master Sushi Chef, Yoshikazu Okada, a fourth-generation sushi chef.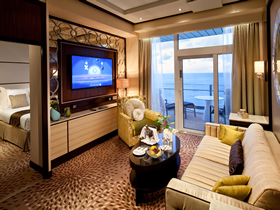 Signature Suite
In a spacious Signature Suite, you'll relax in airy, high-ceiling rooms with floor-to-ceiling glass doors and windows, sleep on a premium Reverie Dream Sleep System mattress you can customize, enjoy the European-style butler service, and relax on a veranda with lounge seating. Located in a private area accessible only to guests carrying a special SeaPass card.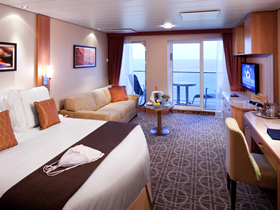 AquaClass Suites
These 34 new AquaClass Suites cater to your love of the spa life. They include all your favorite spa and suite amenities along with priority access to an exclusive restaurant, Blu, featuring flavorful "clean cuisine." They also feature stunning 79 square foot verandas, so you can relax like never before.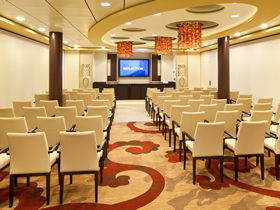 Conference Center
This multi-functional space serves as a spacious ballroom or conference area for weddings, business meetings, and cocktail parties. The full layout accommodates 220 guests, or it can be reconfigured for smaller groups. Our James Beard-featured culinary team offers traditional catering options or you can select from an array of pre-set, multi-course menus. Artful presentation is always on the menu.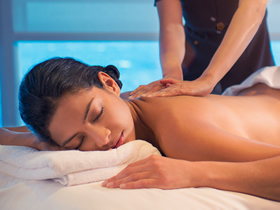 Canyon Ranch SpaClub
Relax and rejuvenate in our serene spa at sea. Experience the unique services of Canyon Ranch in a breathtaking setting—aboard Celebrity's modern luxury ships. Enhance your vacation with a complete wellness and lifestyle program that increases resilience, restores serenity, and helps you feel rejuvenated.
Lawn Club Grill
Fire up your culinary passion. The bright and modern Lawn Club Grill celebrates the flavorful joys of outdoor grilling. The highlight of dining at the Lawn Club Grill is the opportunity to serve as your party's "Grill Master," by being paired with a Celebrity chef to assist in preparing the menu for your table over custom-built, ventilated grills.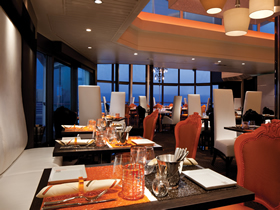 Qsine
Qsine is a uniquely unordinary experience with elements of surprise and delight. Our concept behind Qsine was to give you something you've never experienced before on land or sea. Leave any preconceived notions behind. Dig in and try new things. It's time your palate got a wakeup call. Our iPad menus are fun, interactive, and full of surprises.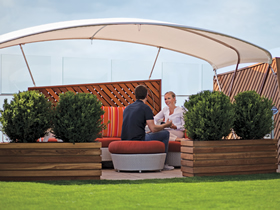 The Alcoves
A cool, cabana-style private retreat on The Lawn Club for two to four guests. By day, filtered sunlight and breathtaking ocean views. By night, ambient lighting for drama and star status. A la carte foods and beverages arrive in picnic baskets. Alcoves are even equipped with Wi-Fi. Rental fee applies.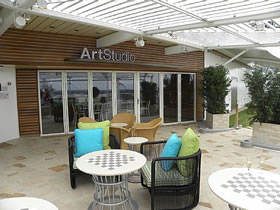 The Art Studio
Get creative. The Art Studio, our new venue on The Lawn Club, is home to two Master Artists from The ArtCenter/South Florida. They'll host interactive classes and hands-on demonstrations in jewelry making, beading, sketching, painting, even drink mixology, culinary lessons, taste tests and chef-prepared dinners.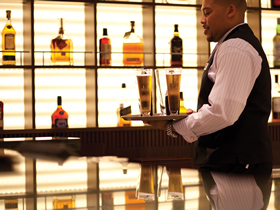 Michael's Club
A premium, private lounge for those in Reflection, Penthouse, Signature, Royal, and Celebrity Suites, as well as for Captain's Club Zenith members. This luxurious club features a large-screen TV, reading areas stocked with magazines, newspapers, and books, plus a continental breakfast. Complimentary drinks are available throughout the day and canapés are served with evening cocktails. Michael's Club is available 24 hours a day with selected service hours from the Michael's Club Concierge.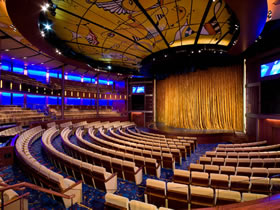 Main Theatre
The grand Reflection Theater is the premier venue for live performances aboard Celebrity Reflection. While accommodating a generous audience, it retains a comfortable, intimate atmosphere, bringing you production shows, beautiful musical arrangements, and sidesplitting comedy. On your cruise, make sure you take in a show in our Main Theatre. Cutting-edge productions from fairy tales to comedies, stadium-style concerts to musical theatre. There's something for everyone.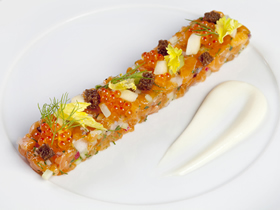 SPE-Certified Dining
Reflection is the first in our fleet— and we're the first cruise line in the world—to offer SPE-certified dishes in our Main Restaurant. SPE certification ensures that each dish is not only nutritious, but also incredibly delicious. Unique sourcing, preparing and enhancing preserves foods' nutritional integrity from farm to table. Choose from up to 60 dishes, all identified on the menu by the SPE logo.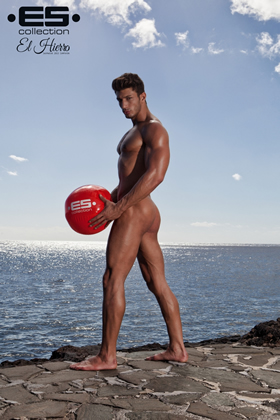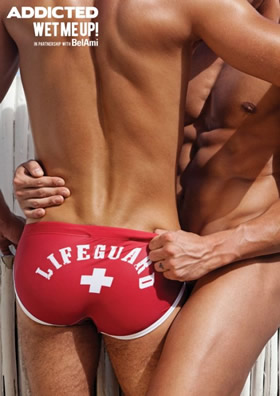 Guests: 3,046 • Gross Tonnage: 126,000 • Length: 1047' • Beam: 123' • Draft: 27' • Cruising Speed: 24 knots

Greek Isles, Malta & Italy Cruise on Reflection Rates
(Updated 06.01.18. - Current prices/availability.)
12 - Inside Double Stateroom
183–200 sq. ft. Inside Staterooms offer outstanding value for money, and are tastefully designed with a comfortable sitting area where you can relax after a day exploring the ship or the shore. Your luxurious stateroom includes bathrobes and a tote bag for your use, interactive TV and luxury toiletries. We have been sure to include everything you need for your comfort and convenience, like a hair dryer, private mini-bar, water and wine glasses, private safe and dual voltage power outlets.

$ 2,299

11 - Inside Double Stateroom
183–200 sq. ft. Inside Staterooms offer outstanding value for money, and are tastefully designed with a comfortable sitting area where you can relax after a day exploring the ship or the shore. Your luxurious stateroom includes bathrobes and a tote bag for your use, interactive TV and luxury toiletries. We have been sure to include everything you need for your comfort and convenience, like a hair dryer, private mini-bar, water and wine glasses, private safe and dual voltage power outlets.

$ 2,349

10 - Inside Double Stateroom
183–200 sq. ft. Inside Staterooms offer outstanding value for money, and are tastefully designed with a comfortable sitting area where you can relax after a day exploring the ship or the shore. Your luxurious stateroom includes bathrobes and a tote bag for your use, interactive TV and luxury toiletries. We have been sure to include everything you need for your comfort and convenience, like a hair dryer, private mini-bar, water and wine glasses, private safe and dual voltage power outlets.

$ 1,749

9 - Inside Double Stateroom
183–200 sq. ft. Inside Staterooms offer outstanding value for money, and are tastefully designed with a comfortable sitting area where you can relax after a day exploring the ship or the shore. Your luxurious stateroom includes bathrobes and a tote bag for your use, interactive TV and luxury toiletries. We have been sure to include everything you need for your comfort and convenience, like a hair dryer, private mini-bar, water and wine glasses, private safe and dual voltage power outlets.

$ 2,399

8 - Ocean View double stateroom with window
177 sq. ft. Ocean View Staterooms include large windows, as well as a comfortable seating area where you can settle down and relax after a day exploring the ship or the shore. Bathrobes and a tote bag for your use, interactive TV and luxury toiletries. We have included everything you need for ultimate comfort and convenience, including a hair dryer, private mini-bar, water and wine glasses, private safe and dual voltage power outlets.

$ 2,189

7 - Ocean View double stateroom with window
177 sq. ft. Ocean View Staterooms include large windows, as well as a comfortable seating area where you can settle down and relax after a day exploring the ship or the shore. Bathrobes and a tote bag for your use, interactive TV and luxury toiletries. We have included everything you need for ultimate comfort and convenience, including a hair dryer, private mini-bar, water and wine glasses, private safe and dual voltage power outlets.

$ 3,499

2d - Deluxe ocean view double stateroom with veranda (obstructed view)
Stateroom: 194 sq. ft. Veranda: 54 sq. ft. Balcony Staterooms each have a private balcony, offering breathtaking views and sea air to be enjoyed at your leisure. Bathrobes and a tote bag for your use, interactive TV and luxury toiletries. We have included everything you need for your comfort and convenience, like a hair dryer, private mini-bar, water and wine glasses, private safe and dual voltage power outlets.

$ 3,399

2c - Deluxe ocean view double stateroom with veranda (partially obstructed)
Stateroom: 194 sq. ft. Veranda: 54 sq. ft. Balcony Staterooms each have a private balcony, offering breathtaking views and sea air to be enjoyed at your leisure. Bathrobes and a tote bag for your use, interactive TV and luxury toiletries. We have included everything you need for your comfort and convenience, like a hair dryer, private mini-bar, water and wine glasses, private safe and dual voltage power outlets.

$ 3,399

2b - Deluxe ocean view double stateroom with veranda
Stateroom: 194 sq. ft. Veranda: 54 sq. ft. Balcony Staterooms each have a private balcony, offering breathtaking views and sea air to be enjoyed at your leisure. Bathrobes and a tote bag for your use, interactive TV and luxury toiletries. We have included everything you need for your comfort and convenience, like a hair dryer, private mini-bar, water and wine glasses, private safe and dual voltage power outlets.

$ 2,529

2a - Deluxe ocean view double stateroom with veranda
Stateroom: 194 sq. ft. Veranda: 54 sq. ft. Balcony Staterooms each have a private balcony, offering breathtaking views and sea air to be enjoyed at your leisure. Bathrobes and a tote bag for your use, interactive TV and luxury toiletries. We have included everything you need for your comfort and convenience, like a hair dryer, private mini-bar, water and wine glasses, private safe and dual voltage power outlets.

$ 3,549

1c - Deluxe ocean view double stateroom with veranda
Stateroom: 194 sq. ft. Veranda: 54 sq. ft. Balcony Staterooms each have a private balcony, offering breathtaking views and sea air to be enjoyed at your leisure. Bathrobes and a tote bag for your use, interactive TV and luxury toiletries. We have included everything you need for your comfort and convenience, like a hair dryer, private mini-bar, water and wine glasses, private safe and dual voltage power outlets.

$ 3,169

1b - Deluxe ocean view double stateroom with veranda
Stateroom: 194 sq. ft. Veranda: 54 sq. ft. Balcony Staterooms each have a private balcony, offering breathtaking views and sea air to be enjoyed at your leisure. Bathrobes and a tote bag for your use, interactive TV and luxury toiletries. We have included everything you need for your comfort and convenience, like a hair dryer, private mini-bar, water and wine glasses, private safe and dual voltage power outlets.



1a - Deluxe ocean view double stateroom with veranda
Stateroom: 194 sq. ft. Veranda: 54 sq. ft. Balcony Staterooms each have a private balcony, offering breathtaking views and sea air to be enjoyed at your leisure. Bathrobes and a tote bag for your use, interactive TV and luxury toiletries. We have included everything you need for your comfort and convenience, like a hair dryer, private mini-bar, water and wine glasses, private safe and dual voltage power outlets.

$ 3,239

SV - Sunset Veranda stateroom
These are some of our most desirable locations-found at the aft of the ship with a similar layout to AquaClass® Staterooms. Stateroom: 192 sq. ft. Veranda: 54 sq. ft. Balcony Staterooms each have a private balcony, offering breathtaking views and sea air to be enjoyed at your leisure. Bathrobes and a tote bag for your use, interactive TV and luxury toiletries. We have included everything you need for your comfort and convenience, like a hair dryer, private mini-bar, water and wine glasses, private safe and dual voltage power outlets.

$ 3,419

C3 - Concierge Class double stateroom with veranda
Spacious accommodations complete with special privileges like priority check-in, personalized Concierge service, priority seating time preferences in the main dining room and specialty restaurants, upgraded room service menu, evening hors d'oeuvres, plush Frette bathrobes, and veranda with lounge seating. Stateroom: 194 sq. ft. Veranda: 54 sq. ft.

$ 3,649

C2 - Concierge Class double stateroom with veranda
Spacious accommodations complete with special privileges like priority check-in, personalized Concierge service, priority seating time preferences in the main dining room and specialty restaurants, upgraded room service menu, evening hors d'oeuvres, plush Frette bathrobes, and veranda with lounge seating. Stateroom: 194 sq. ft. Veranda: 54 sq. ft.

$ 3,849

C1 - Concierge Class double stateroom with veranda
Spacious accommodations complete with special privileges like priority check-in, personalized Concierge service, priority seating time preferences in the main dining room and specialty restaurants, upgraded room service menu, evening hors d'oeuvres, plush Frette bathrobes, and veranda with lounge seating. Stateroom: 194 sq. ft. Veranda: 54 sq. ft.

$ 2,959

A2 - Aqua Class stateroom with veranda
The AquaClass® staterooms offer a tranquil retreat and provide unlimited access to many of the AquaSpa amenities. Stateroom: 194 sq. ft. Veranda: 54 sq. ft.

$ 3,049

A1 - Aqua Class stateroom with veranda
The AquaClass® staterooms offer a tranquil retreat and provide unlimited access to many of the AquaSpa amenities. Stateroom: 194 sq. ft. Veranda: 54 sq. ft.

$ 3,109

S2 - Sky Suite with floor-to-ceiling windows and veranda
When you stay in a Sky Suite, you'll enjoy the luxury of European-style butler service. This includes assistance with unpacking and packing. In-suite lunch and dinner service. Afternoon tea. Evening hors d'oeuvres and complimentary in-suite espresso and cappuccino from Cafe al Bacio. Stateroom: 300 sq. ft. Veranda: 79 sq. ft.

$ 4,999

S1 - Sky Suite with floor-to-ceiling windows and veranda
When you stay in a Sky Suite, you'll enjoy the luxury of European-style butler service. This includes assistance with unpacking and packing. In-suite lunch and dinner service. Afternoon tea. Evening hors d'oeuvres and complimentary in-suite espresso and cappuccino from Cafe al Bacio. Stateroom: 300 sq. ft. Veranda: 79 sq. ft.

$ 5,049

CS - Celebrity Suite with floor-to-ceiling windows
When you stay in a Celebrity Suite, you'll enjoy the luxury of European-style butler service. This includes assistance with unpacking and packing. In-suite lunch and dinner service. Afternoon tea. Evening hors d'oeuvres and complimentary in-suite espresso and cappuccino from Cafe al Bacio. Stateroom: 394 sq. ft. Veranda: 105 sq. ft.

On Request
RS - Royal Suite with floor-to-ceiling windows and veranda
When you stay in a Royal Suite, you'll enjoy the luxury of European-style butler service. This includes assistance with unpacking and packing. In-suite lunch and dinner service. Afternoon tea. Evening hors d'oeuvres and complimentary in-suite espresso and cappuccino from Cafe al Bacio. Separate living room and dining area and a veranda with whirlpool and luxurious lounge seating. Stateroom: 590 sq. ft. Veranda: 158 sq. ft.
On Request
PS - Penthouse Suite
When you stay in one of our Penthouse Suites, you'll enjoy the luxury of European-style butler service. This includes assistance with unpacking and packing. In-suite lunch and dinner service. Afternoon tea. Evening hors d'oeuvres and complimentary in-suite espresso and cappuccino from Café al Bacio. We're sure you will be more than happy with the grandeur and scale of the space, along with all the amenities, like the butler's pantry and two interactive audio/visual entertainment systems. Stateroom: 1291 sq. ft. Veranda: 389 sq. ft.
On Request
SG - Signature Suite
You'll relax in airy, high-ceiling rooms and sleep on a Premium Reverie mattress with the ground-breaking Reverie Dream Sleep System. An iPad with Reverie Remote app acts as a remote control allowing you to easily operate the lights and TV in the stateroom, massage features, and elevation of the mattress. European-style butler service 24/7 for assistance with unpacking, in-suite lunch and dinner, afternoon tea, evening hors d'oeuvres plus complimentary espresso and cappuccino. Veranda has luxe lounge seating and the bath offers a shower/tub combination. Located in a private area accessible only to Signature Suite and Reflection Suite guests carrying special cardkeys. Accommodates four. Stateroom: 441 sq. ft. Veranda: 118 sq. ft.
On Request
RF - Reflection Suite
Two-bedroom suite with sea-view bathroom-is nestled in the highly-desirable corner location near the new Signature Suites. This private section is accessible only to guests carrying a special cardkey. Here you'll sleep on a Premium Reverie mattress with the ground-breaking Reverie Dream Sleep System. An iPad with the Reverie Remote app acts as a remote control allowing you to easily operate the lights and TV in the stateroom, massage features, and elevation of the mattress. European-style butler service 24/7 for assistance with unpacking, in-suite lunch and dinner, afternoon tea, evening hors d'oeuvres plus complimentary espresso and cappuccino. Sea-view bathroom extends out over the edge of the ship, veranda tubs offer a soothing rain shower, expansive veranda has lounge seating. Accommodates six. Stateroom: 1636 sq. ft. Veranda: 194 sq. ft.
On Request
All prices are per person, double occupancy, and include all meals, accommodations and entertainment!

Taxes of $85.91pp, gratuities, and optional insurance are additional.

A deposit of $500.00 per person is required upon booking.

Optional shore excursions will be offered.

Prices are cruise only and DO NOT INCLUDE return airfare! Please ask for airfare add-ons back to your home city.

Fares are subject to availability and may change without prior notice.

Also included are the traditional PIED PIPER escort and activities, subject to minimum participation.

Traveling alone? Ask about our single roommate share program to help you avoid the single supplement of 200% of the per person double occupancy rate.

Please ask for further details.

GO Big! Book an Oceanview stateroom or higher and get two of the following: a complimentary Classic beverage package, complimentary gratuities, unlimited onboard internet, or an onboard credit of $300 per stateroom!

GO Best! Book an Oceanview stateroom or higher, and for only $45 per person, per day extra, receive all of the following: a complimentary Premium beverage package, complimentary gratuities, unlimited onboard internet, or an onboard credit of $300 per stateroom!

Suite deal! Book a suite and get all of the complimentary perks at no additional charge!

GO promotions are capacity controlled and offer may be withdrawn at any time without prior notice.

Special Airfares








Pre-Cruise Hotels







Post-Cruise Hotel