Constellation
Ship Facts
Occupancy: 2170
Tonnage: 91,000
Length: 965 feet
Beam: 105.6 feet
Draught: 26 feet
Cruisespeed: 24 knots
Inaugural Date: May 12, 2002
What's Included
Shipboard accommodations
Ocean transportation
Most meals
Some beverages
Most entertainment aboard the vessel
What's Not Included
Air transportation
Transfers
Shore excursions
Specialty restaurant fees
Some beverages
Photographs
Gratuities/service fees
Medical services
AquaSpa service, etc.
Israel & Mediterranean, Holy Land Gay Group Cruise 2018
12 nights cruise from/to Rome (Civitavecchia), Italy
October 30 – November 11, 2018
Celebrity's Constellation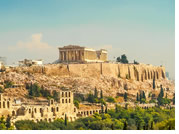 Join Pied Piper Travel on our most exotic itinerary when our gay group on the classic ship, Celebrity Constellation
, cruises to Italy, Greece and Israel! You'll sail round trip from Rome (Civitavecchia), Italy to experience firsthand the mysteries of the ancient world. Your cruise will sail the beautifully cerulean blue Mediterranean Sea en route to experience the ancient civilizations of Rome, Turkey, Greece, and Israel. On your Pied Piper cruise, you'll visit the holy city of Jerusalem and the beautiful port of Naples, Italy! Experience this history and natural beauty onboard Celebrity's classic ship, the incomparable Constellation
!
All this is yours while you are pampered with gracious service, gourmet dining, and numerous venues for entertainment on the stylish and most up-to-date luxury cruise ship.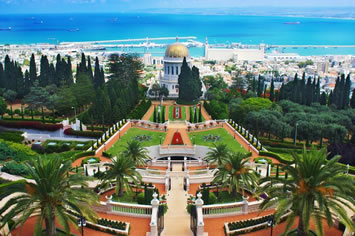 Celebrity's Constellation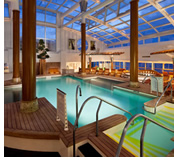 A spectacular experience throughout, Constellation
offers the impeccable service and exceptional amenities of a grand hotel, along with a voyage you'll never forget.
"Solsticization" came full circle aboard Celebrity Constellation when she received the rest of the Solstice Class® enhancements enjoyed by guests aboard her Millennium Class® sister ships.
Enjoy 66 new staterooms including spa-inspired AquaClass® accommodations and Blu restaurant with a healthy and delicious "clean cuisine." Share vacation photos with your social networks through the Celebrity iLounge or the enhanced Wi-Fi on board the ship. Celebrity Suites were refreshed with the addition of their own private verandas.
Restful sleep is ensured on new Reverie® mattresses in all staterooms and suites. New sun loungers on both pool decks plus a fresh color scheme, carpeting and upholstery all contribute to Celebrity Constellation's
modern, new vibe.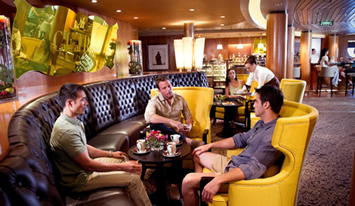 Rome (Civitavecchia), Italy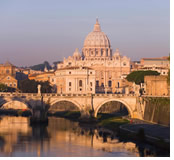 For centuries the ancient port of Civitavecchia has served as the gateway to magnificent Rome. Its a city so immersed in history, you'll find yourself drifiting back to a distant time. Home of Michelangelos Sistine Chapel, Rome flourishes today as she did in her Golden Age. Experience Rome, a city of colossal ruins, majestic cathedrals and a golden past, worthy of many return visits.
Experience the history of Rome as you wander around the Colosseum and Roman Forum. Explore the amazing history and culture of Rome. Stop at the Ara Pacis, or Altar of Peace, a Roman sacrificial altar enclosed in a screen of Parian marble.
Visit the Vatican Museum, where you can walk through the many rooms that house the largest art collection in the world. Travel through magnificent St. Peter's Basilica, the largest church in the world. View the Sistine Chapel, a masterpiece of Renaissance art, the ceiling of which was painted by Michelangelo. Toss a coin in the famous Trevi Fountain - a way to ensure that you'll always return to Rome.
Chania (Souda), Crete, Greece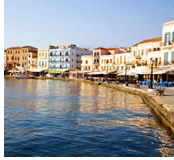 Chania is a city of unique beauty, filled with an abundance of fragrant flowers, and boasting a rich cultural heritage. In a tradition of hospitality. Ancient and modern monuments, the Venician Harbour and the Old Town, colourful neighbourhoods, a traditional lifestyle and the friendly inhabitants warmly invite you on a step by step journey to become acquainted with the city, promising you unforgettable moments.
Like many ports in this part of the world, archeological ruins dating back to antiquity are found everywhere. There are also hundreds of gorges around the island and over 1,500 land and sea caves, including Elefantos, noted for its remarkable white and red stalactites.
Haifa, Israel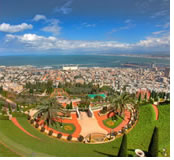 This spectacular city rises dramatically from the Mediterranean on terraced hillsides, which culminate with Mount Carmel. From that viewpoint all the world seems to lie at your feet. On a clear day you can see north all the way to the Lebanese border, as well as the snowcapped Mount Hermon to the east.
Israel's third largest city and one of its prettiest, Haifa has a lot to offer visitors. It has the country's largest port, a particularly active beach and is the home of the World Center of the Bahai Faith. Surrounded by abundant nature sites, the city contains an interesting mix of modern neighborhoods and older districts; churches and mosques; mountain and sea.
Ashdod (Jerusalem), Israel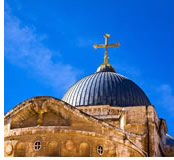 The best place to begin your visit to the vibrant port city of Ashdod is at Givat Yonah, the towering hill the traditional site of the tomb of the sea-faring Jonah the prophet, who was swallowed by a whale. A wonderful overview of Ashdod awaits you here: You'll see Israel's busiest cargo port, where over 100,000 tourists also enter and leave the country. Givat Yonah is also an archaeological mound, which makes it the best place to appreciate how this city, which started out in the Bible as a Philistine town, has expanded.
Sacred to three of the world's major religions, Jerusalem is one of the world's oldest cities, with a history dating back to 4000 BC. Gaze at the Western Wall, which is all that's left of the fabled Second Temple, or watch the sunlight bounce off the golden-roofed Dome of the Rock or the shimmering silver al-Aqsa Mosque.
Mykonos, Greece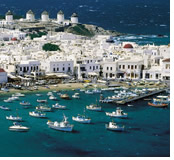 With an area of just 33 square miles, Mykonos is one of the smallest islands to belong to the Cyclades group. Its population of 5,000 residents is out-numbered by an annual pilgrimage of 900,000 visitors that swarm the streets, nightclubs, and beaches. Mykonos' beaches are unsurpassed and Mykonos Town is a charming village of winding streets with a traditional atmosphere, interesting shops, great restaurants, and the most exciting and sophisticated nightlife in Greece. These factors and its close proximity to Delos have made it the most popular island in its chain. Governing the scene is the unlikely town mascot, Petros II, the pelican. There was a Petros I, but he died ten years ago when struck by a car. So if you see a large pelican while eating at a taverna, or visiting with residents, take a picture. He is a local celebrity.
The main town is known as Mykonos Town or Chora, which simply means "capital," and it is the administrative center of the island. Its whitewashed houses, maze of shops, and typical windmills stand out against the brown earth and blue skies, forming a perfect postcard setting. The most outstanding feature of the town is its dazzling brightness; blazing sunlight reflects off the freshly whitewashed churches and houses. Keep in mind you will get lost in the maze of streets constructed to confuse attacking pirates. This design helped foil would- be attackers by confounding them and enabling villagers to maneuver them into ambush. Such layouts are repeated throughout the Mediterranean region for this very reason. Those that live in the town can get around easily since they are used to the puzzle of twisting streets and alleys. But don't worry. If you can find the sea, you will easily find the pier and taxi stand.
Athens (Piraeus), Greece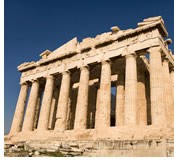 Piraeus is the main port of Athens, the biggest in Greece, and one of the most important in the Mediterranean Sea. Piraeus is walking distance from Kastella, a hill strewn with beautiful houses that offers a majestic view of the Saronic Gulf. Other points of interest include an archaeological museum, Mikrolimano, where you can enjoy an ouzo accompanied by seafood mezedes.
Athens brought the world drama, history, poetry, and philosophy. Once home to the world's most powerful and civilized empires, Athens is now the world's foremost archaeological playground. The towering columns of the Parthenon still stand in homage to the virgin goddess Athena.
The birthplace of democracy and western civilisation, with the crowning glory, the Acropolis, perched atop its plateau under a burnished blue sky. Your best memories may come from losing yourself in the twisting streets of the ancient Plaka district.
Naples, Italy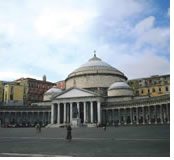 Framed by Mount Vesuvius along a dramatic skyline, the 2,800 year-old port city of Naples is chock full of historical sites, churches, and museums that make it an incredible place for you to explore. And in the region where pizza was first invented, you know the food is going to be incredible. Just 35 miles down the coast, Salerno offers you a rich history but also boasts a marvelous collection of parks, natural wonders, and unique vantage points to take in the beauty of the Tyrrhenian Sea. Two cities. One incredible stretch of Italian coastline.
While you're in the area, you'll want to visit Pompeii, one of the most famous excavation sites in the world. A thriving city 1,900 years ago, it was devastated by the eruption of Mount Vesuvius in 79 A.D. when 30 feet of volcanic ash and pumice stone covered it. Enter Pompeii by the sea gate and take a short walk to the hub of the city: the Forum. View the lavish temples and porticoes that lay beneath the ash for centuries.
Take a short boat trip to the entrancing Isle of Capri, and explore Capri Town. Wander its quaint streets and explore its shops and cafés. Discover the Gardens of Augustus, overlooking the famous Faraglioni of Capri and Marina Piccola. Take a ride up the Amalfi Coast. With its ocean views and beautiful vistas, it's one of the most breathtaking stretches of road in the world.
A Pied Piper gay group cruise to Israel & Mediterranean makes for the ultimate cruise experience!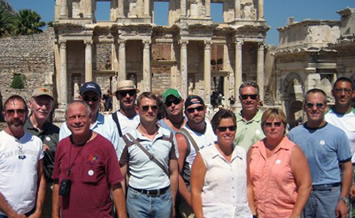 Israel & Mediterranean
Holy Land Cruise 2018 Itinerary


Date

Port

Arrive

Depart

30 Oct
Rome (Civitavecchia), Italy
5 PM
31 Oct

A Day at Sea!

01 Nov
Chania (Souda), Crete, Greece
12 PM
7 PM
02 Nov

A Day at Sea!

03 Nov

Haifa, Israel
7 AM
8 PM
04 Nov
Ashdod (Jerusalem), Israel
7 AM
05 Nov
Ashdod (Jerusalem), Israel
5 PM

06 Nov

A Day at Sea!

07 Nov
Mykonos, Greece
7 AM
6 PM

08 Nov

Athens (Piraeus), Greece
6 AM
6 PM
09 Nov

A Day at Sea!

10 Nov

Naples, Italy
7 AM
6 PM
11 Nov
Rome (Civitavecchia), Italy
5 AM
Just a few onboard highlights
Once you enter the Grand Foyer on Celebrity Constellation with its stunning atrium and marble staircase, the tone has been set for your cruise. Then add in other features like the big, bold flavors of the rustic Tuscan Grille, the Canyon Ranch SpaClub where you'll be pampered beyond belief, or Crush, were you can sample caviar and vodka pairings at an ice-filled table—this is one cruise you'll never want to end.
Canyon Ranch SpaClub®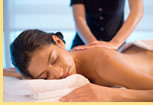 Relax and rejuvenate in our serene spa at sea. Experience the unique services of Canyon Ranch in a breathtaking setting—aboard Celebrity's modern luxury ships. Enhance your vacation with a complete wellness and lifestyle program that increases resilience, restores serenity, and helps you feel rejuvenated.
AquaClass® Staterooms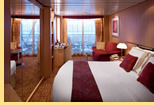 Spa-inspired staterooms featuring indulgent amenities like a Hansgrohe® shower tower and custom blended bath products to help you feel restored and renewed. Complimentary access to our relaxing Persian Garden. Plus, priority access to Blu restaurant serving breakfast and dinner.
Celebrity iLounge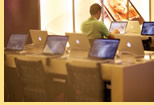 Keep in touch 24 hours a day in the Celebrity iLounge, our one-of-a-kind hip Internet lounge that is the first Apple® Specialist at Sea. Celebrity iLounge also offers various iLearn classes to help you master the latest photography, video and audio skills.
Michael's Club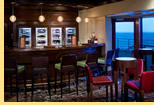 A private lounge for those in Celebrity, Signature, Royal, Penthouse and Reflection Suites, as well as for Captain's Club Zenith members. This luxurious club features a large-screen TV, reading areas stocked with magazines, newspapers, and books, a premium continental breakfast, light lunch, and self-service snacks. Pre-dinner drinks are complimentary between 5:30 and 8 PM daily. Its dedicated Concierge can help arrange your specialty dining, shore excursions, even handle inquiries about various ports of call. Desk hours vary by itinerary. Michael's Club is available 24 hours a day.
Blu Restaurant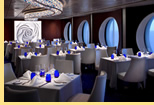 As an AquaClass® guest, you can enjoy Blu, your own exclusive restaurant for breakfast and dinner. If the concept of "spa restaurant" causes you or your significant other to think you'll never see a steak or a rich dessert on the menu, that is definitely not the case. The cuisine at Blu is simply an imaginative way of preparing popular dishes without fussiness or pretense. Tender steak is served with a flavorful truffle vinaigrette instead of a heavy béarnaise. We call it "clean cuisine."
Concierge Class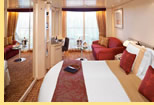 Designed for the traveler who settles in nicely to veranda staterooms where little details make a big difference. Savor unexpected delights such as fresh flower arrangements and complimentary shoeshine service. The attention to detail will amaze you, even as you sleep on the perfect pillow you've selected from our pillow menu. If personalized Concierge service, priority check-in and early disembarkation appeal to you, Concierge Class is your clear choice.
Tuscan Grille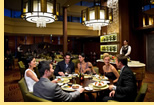 An Italian steakhouse with a nouveau twist. An outgoing waitstaff ensures tableside service that's personal as well as professional. And the food? Take the traditional style and artisanal flair of Italy, add contemporary influences, and serve the cuisine in abundance. It's all part of the expansive character of Tuscan Grille.
Cellar Masters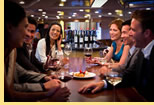 Immerse yourself in the culture of wine within the inviting atmosphere of Cellar Masters, our wine bar. Cellar Masters offers you the opportunity to try a bold collection of both familiar and unknown wines from around the world. To help you explore these wines, we feature the state-of-the-art Enomatic® wine-by-the-glass dispensing system. With a simple swipe of your SeaPass card, it will pour your choice directly from the bottle in a 1-ounce, 2.5-ounce or 5-ounce portion. Our Sommeliers will guide you in the use of the Enomatic® system and offer further insight into the fine art of wine selection, an integral part of an epicurean lifestyle. Then, you'll be ready to begin your travels through the world of wine.
Bistro on Five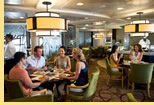 The open kitchen provides its own bit of theatre, night and day. Stop by whenever you wish; Bistro on Five is open from six o'clock in the morning until late at night. The friendly, open nature of Bistro on Five is reflected by the chefs. Whether you need a fast breakfast before a shore excursion or a relaxing lunch after you've returned, the service at Bistro on Five is as quick as you need it to be. The attentive waitstaff will introduce you to the globally inspired crêpes on the menu and the panini, soups, salads and desserts that are featured as well.
Café al Bacio & Gelateria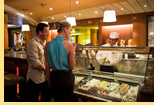 The warm atmosphere, comfortable furniture and the sweet scent of the Gelateria's freshly baked waffle cones create an instant emotional connection. Café al Bacio is a great place to relax, any time of day. Many guests like to stop by in the evening for one of the specialty dessert cocktails, and chat about a great meal that they had or a wonderful show they just enjoyed. There's always something to talk about at Café al Bacio.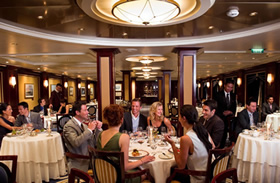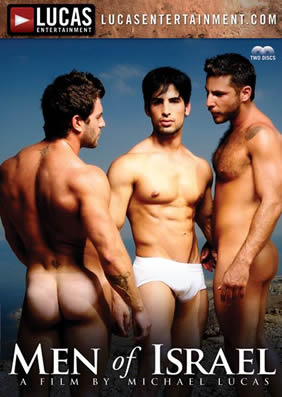 Guests: 2,170 • Gross Tonnage: 91,000 • Length: 965' • Beam: 105.6' • Draft: 26' • Cruising Speed: 24 knots

Israel & Mediterranean, Holy Land Cruise 2018 Rates
(Updated 01.04.18. - Current Prices/Availability)
12 - Inside Double Stateroom
Our Inside Staterooms have been thoughtfully designed, with ample space to sleep, relax and enjoy your private space on board. Like all our Staterooms, you will find we have done all we can to ensure ease and comfort. Your room includes 100% Egyptian cotton linens, plush bedding and mattresses, and lots of finishing touches that will make your stateroom feel like a real home from home.
On Request
11 - Inside Double Stateroom
Our Inside Staterooms have been thoughtfully designed, with ample space to sleep, relax and enjoy your private space on board. Like all our Staterooms, you will find we have done all we can to ensure ease and comfort. Your room includes 100% Egyptian cotton linens, plush bedding and mattresses, and lots of finishing touches that will make your stateroom feel like a real home from home.


10 - Inside Double Stateroom
Our Inside Staterooms have been thoughtfully designed, with ample space to sleep, relax and enjoy your private space on board. Like all our Staterooms, you will find we have done all we can to ensure ease and comfort. Your room includes 100% Egyptian cotton linens, plush bedding and mattresses, and lots of finishing touches that will make your stateroom feel like a real home from home.


9 - Inside Double Stateroom
Our Inside Staterooms have been thoughtfully designed, with ample space to sleep, relax and enjoy your private space on board. Like all our Staterooms, you will find we have done all we can to ensure ease and comfort. Your room includes 100% Egyptian cotton linens, plush bedding and mattresses, and lots of finishing touches that will make your stateroom feel like a real home from home.


8 - Ocean-view double stateroom with window
Ocean View Staterooms have ample space to sleep, relax and enjoy your private space on board, with large windows offering spectacular views. Like all our Staterooms, you'll find they have been designed with your comfort in mind. Inside your room you will find 100% Egyptian cotton linens, plush bedding and mattresses, and lots of extra special finishing touches.


7 - Ocean-view double stateroom with window
Ocean View Staterooms have ample space to sleep, relax and enjoy your private space on board, with large windows offering spectacular views. Like all our Staterooms, you'll find they have been designed with your comfort in mind. Inside your room you will find 100% Egyptian cotton linens, plush bedding and mattresses, and lots of extra special finishing touches.


6 - Ocean-view double stateroom with window
Ocean View Staterooms have ample space to sleep, relax and enjoy your private space on board, with large windows offering spectacular views. Like all our Staterooms, you'll find they have been designed with your comfort in mind. Inside your room you will find 100% Egyptian cotton linens, plush bedding and mattresses, and lots of extra special finishing touches.


5 - Deluxe Ocean-view double stateroom with window
Ocean View Staterooms have ample space to sleep, relax and enjoy your private space on board, with large windows offering spectacular views. Like all our Staterooms, you'll find they have been designed with your comfort in mind. Inside your room you will find 100% Egyptian cotton linens, plush bedding and mattresses, and lots of extra special finishing touches.
On Request
4 - Deluxe Ocean-view double stateroom with window
Ocean View Staterooms have ample space to sleep, relax and enjoy your private space on board, with large windows offering spectacular views. Like all our Staterooms, you'll find they have been designed with your comfort in mind. Inside your room you will find 100% Egyptian cotton linens, plush bedding and mattresses, and lots of extra special finishing touches.


2c - Deluxe ocean-view double stateroom with veranda (partially obstructed)
Balcony Staterooms each have a private balcony, offering breathtaking views and sea air to be enjoyed at your leisure. Like all our Staterooms, you will find we have gone the extra mile to ensure your comfort, with 100% Egyptian cotton linens, plush bedding and mattresses, and lots of finishing touches that will make your stateroom feel like a real home from home.


2b - Deluxe ocean-view double stateroom with veranda
Balcony Staterooms each have a private balcony, offering breathtaking views and sea air to be enjoyed at your leisure. Like all our Staterooms, you will find we have gone the extra mile to ensure your comfort, with 100% Egyptian cotton linens, plush bedding and mattresses, and lots of finishing touches that will make your stateroom feel like a real home from home.


2a - Deluxe ocean-view double stateroom with veranda
Balcony Staterooms each have a private balcony, offering breathtaking views and sea air to be enjoyed at your leisure. Like all our Staterooms, you will find we have gone the extra mile to ensure your comfort, with 100% Egyptian cotton linens, plush bedding and mattresses, and lots of finishing touches that will make your stateroom feel like a real home from home.


C3 - Concierge Class double stateroom with veranda
Concierge Class staterooms each have a private balcony, and are located in the most desirable locations of each ship. You will find all the in-room features of our standard Staterooms, but with high-end furnishings and lots of extra touches that make them a little bit special, like welcome sparkling wine, fresh fruit and flowers, personalised stationery, and a pillow menu so you can enjoy the perfect night's rest.
On Request
C2 - Concierge Class double stateroom with veranda
Concierge Class staterooms each have a private balcony, and are located in the most desirable locations of each ship. You will find all the in-room features of our standard Staterooms, but with high-end furnishings and lots of extra touches that make them a little bit special, like welcome sparkling wine, fresh fruit and flowers, personalised stationery, and a pillow menu so you can enjoy the perfect night's rest.


C1 - Concierge Class double stateroom with veranda
Concierge Class staterooms each have a private balcony, and are located in the most desirable locations of each ship. You will find all the in-room features of our standard Staterooms, but with high-end furnishings and lots of extra touches that make them a little bit special, like welcome sparkling wine, fresh fruit and flowers, personalised stationery, and a pillow menu so you can enjoy the perfect night's rest.


A2 - Aqua Class stateroom with veranda
You will find an AquaClass Stateroom offers all the in-room features of our standard Staterooms, but with a spa-inspired twist. Our AquaClass rooms all have a private balcony, and are located high above it all, nestled comfortably close to the AquaSpa Relaxation Room, the Solarium and the Persian Garden.
On Request
A1 - Aqua Class stateroom with veranda
You will find an AquaClass Stateroom offers all the in-room features of our standard Staterooms, but with a spa-inspired twist. Our AquaClass rooms all have a private balcony, and are located high above it all, nestled comfortably close to the AquaSpa Relaxation Room, the Solarium and the Persian Garden.


S2 - Sky Suite with floor-to-ceiling windows and veranda
When you stay in a Sky Suite, you'll enjoy the luxury of European-style butler service. This includes assistance with unpacking and packing. In-suite lunch and dinner service. Afternoon tea. Evening hors d'oeuvres and complimentary in-suite espresso and cappuccino from Cafe al Bacio. 251 sq. ft. Veranda - 57 sq. ft.


S1 - Sky Suite with floor-to-ceiling windows and veranda
When you stay in a Sky Suite, you'll enjoy the luxury of European-style butler service. This includes assistance with unpacking and packing. In-suite lunch and dinner service. Afternoon tea. Evening hors d'oeuvres and complimentary in-suite espresso and cappuccino from Cafe al Bacio. 251 sq. ft. Veranda - 57 sq. ft.


CS - Celebrity Suite with floor-to-ceiling windows
When you stay in a Celebrity Suite, you'll enjoy the luxury of European-style butler service. This includes assistance with unpacking and packing. In-suite lunch and dinner service. Afternoon tea. Evening hors d'oeuvres and complimentary in-suite espresso and cappuccino from Cafe al Bacio. 467 sq. ft. Veranda - 85 sq. ft.
On Request
RS - Royal Suite with floor-to-ceiling windows and veranda
When you stay in a Royal Suite, you'll enjoy the luxury of European-style butler service. This includes assistance with unpacking and packing. In-suite lunch and dinner service. Afternoon tea. Evening hors d'oeuvres and complimentary in-suite espresso and cappuccino from Cafe al Bacio. Separate living room and dining area and a veranda with whirlpool and luxurious lounge seating. 538 sq. ft. Veranda - 195 sq. ft.
On Request
PS - Penthouse Suite with floor-to-ceiling windows and veranda
When you stay in one of our Penthouse Suites, you'll enjoy the luxury of European-style butler service. This includes assistance with unpacking and packing. In-suite lunch and dinner service. Afternoon tea. Evening hors d'oeuvres and complimentary in-suite espresso and cappuccino from Cafe al Bacio. We're sure you will be more than happy with the grandeur and scale of the space, along with all the amenities, like the butler's pantry and two interactive audio/visual entertainment systems. 1,432 sq. ft. Veranda - 1,098 sq. ft.
On Request
All prices are per person, double occupancy, and include all meals, accommodations and entertainment!

Taxes of $115.71pp, gratuities, and optional insurance are additional.

A deposit of $500.00 per person is required upon booking.

Optional shore excursions will be offered.

Prices are cruise only and DO NOT INCLUDE return airfare! Please ask for airfare add-ons back to your home city.

Fares are subject to availability and may change without prior notice.

Also included are the traditional PIED PIPER escort and activities, subject to minimum participation.

Traveling alone? Ask about our single roommate share program to help you avoid the single supplement of 200% of the per person double occupancy rate.

Please ask for further details.

GO Big! Book an Oceanview stateroom or higher and get two of the following: a complimentary Classic beverage package, complimentary gratuities, unlimited onboard internet, or an onboard credit of $300 per stateroom!

GO Best! Book an Oceanview stateroom or higher, and for only $45 per person, per day extra, receive all of the following: a complimentary Premium beverage package, complimentary gratuities, unlimited onboard internet, or an onboard credit of $300 per stateroom!

Suite deal! Book a suite and get all of the complimentary perks at no additional charge!

GO promotions are capacity controlled and offer may be withdrawn at any time without prior notice.

Special Airfares








Pre-Cruise Hotels







Post-Cruise Hotel