Safari Explorer

Ship Facts
Ship's Registry: United States
Passenger Capacity: 36
Cabins: 18
Crew: 15
Length: 145 feet
Beam (width): 36 feet
Cruising speed: 10 knots
Hawaii Adventure All-Lesbian Cruise 2018
January 20 – 27, 2018
Un-Cruise Adventures Safari Explorer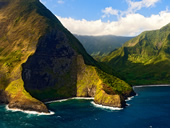 Sailing from Molokai to the Big Island, you will have the opportunity to discover the richness Hawaii has to offer! Get a sense of Hawaii long ago. During a week of kayaking, snorkeling, paddle boarding, hiking and cultural visits, the history of this ancient homeland unfolds.
We are going during prime humpback season, and will have an opportunity to visit the Humpback National Marine Sanctuary with front-row seats as we cruise these breeding grounds keeping watch for whales, dolphins and other marine life.
By skiff, you'll enjoy the lava tubes and coconut-fringed bays. Discover coral gardens chock-full of underwater life, snorkel in a known sea turtle habitat by day and at night, with Giant Pacific Manta Rays. All in the company of Olivia women!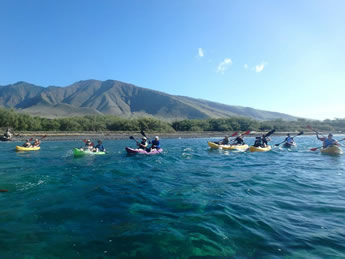 Cruising between four islands-Moloka'i, Lana'i, Maui, and Hawaii, the Big Island-experience a new Aloha about a 36-guest boutique yacht.
Included Hawaii Lesbian Adventure Cruise Highlights
• Night snorkel with Giant Pacific Manta rays
• Marine life search in the Humpback National Marine Sanctuary
• Evening pa'ina (feast) and Hawaiian jam session with Moloka'i locals
• Snorkel among coral gardens and at a sea turtle habitat
• Visit Moloka'i's ancient Halawa Valley
• Discover island history at the Lana'i Culture and Heritage Center
• Snorkeling, kayaking, paddle boarding, and skiff exploration
• Exclusive & unforgettable all-lesbian yacht getaway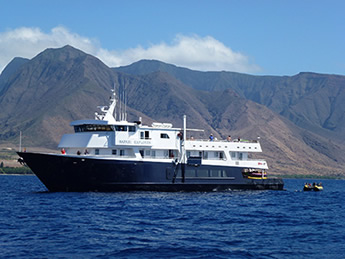 Your Ship - Un-Cruise Adventures Safari Explorer
Designed for comfort, with an elegant atmosphere, and in the spirit of adventure, the Safari Explorer is a perfect platform of discovery. Three public decks make it easy to see action in the water and provide plenty of room for relaxing and breathing fresh air. An intimate Wine Library, salon, and inviting dining room encourage mingling and camaraderie among guests.
The Safari Explorer is adventure equipped: kayaks; paddle boards; inflatable skiffs; snorkel equipment (Hawaii only); and hiking poles and a full-beam swim step for easy access in the water. A hydrophone provides the opportunity to listen to below-surface sounds and a bow-mounted underwater camera pipes the action to the lounge and to TVs in each cabin. The spa area includes a large on-deck hot tub, fitness equipment, yoga mats, and complimentary massage.
Common to all cabins are: Heated tile floors in bathroom; air conditioning; Tempur-Pedic® memory foam mattresses; flat-screen TV/DVD; iPod docking station; view windows (no portholes); private bath with shower.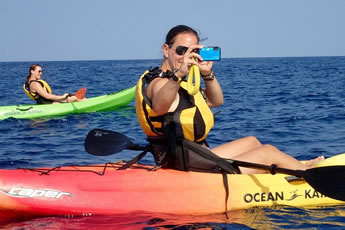 What's Included?
• Transfer from the Moloka'i airport to our host hotel on January 20, 2018
• Day use of host hotel resort facilities on embarkation day
• Transfer from host hotel in Moloka'i to the ship in late afternoon of embarkation day
• Transfer from the ship to either the host hotel or the Hawaii-Kona airport on January 27, 2018
• Accommodations on board ship
• All meals on board, beginning with dinner on January 20, and ending with breakfast on January 27
• Premium alcoholic beverages, beer, wine, coffee, tea & soft drinks; excursions on board the ship
• Services of Un-Cruise Expedition Leader
• Enthusiastic staff who are familiar and knowledgeable with the region we visit
• Use of paddle boards, kayaks and snorkeling equipment
• Free 30-minute massage to be scheduled during the trip
• SPF-30 sunblock (environmentally safe for people and critters)
• All port charges and service taxes
• Gratuities to the ship's crew
• Olivia Staff assistance throughout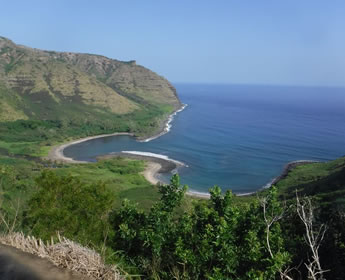 Hawaii Lesbian Adventure Cruise Itinerary


Date

Port

Meals

20 Jan

Moloka'i
D
21 Jan
Moloka'i

B, L, D

22 Jan

Lana'i
B, L, D

23 Jan

Olowalu / West Maui
B, L, D
24 Jan
Captain's Choice Exploration
B, L, D

25 Jan

Kealakekua Bay / Kailua-Kona
B, L, D

26 Jan

Honomalino Bay
B, L, D
27 Jan
Hawai'i, The Big Island
B

Itinerary is guideline; variations in itinerary and the order days may occur to maximize your experience.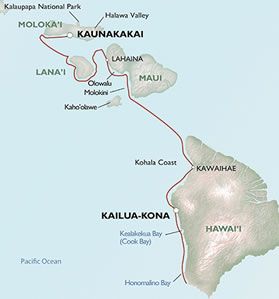 Moloka'i (Embarkation)
Saturday, January 20, 2018

Welcome to Hawaii! You'll be transferred to our hospitality area to gather with fellow travelers and meet your Olivia staff and Expedition Leader. Following an introduction to the week ahead, a private transfer takes you to the Safari Explorer, awaiting dockside. Set sail and enjoy the sunset before dropping anchor for the evening.
Moloka'i
Sunday, January 21, 2018

A warm Aloha spirit gives you a sense of Hawaii long ago. No stop lights, no high-rises–just a welcome slower pace. "Talk story" with locals and experience their land and traditions as few visitors do. You'll hear legends and lore, then take in a cultural lesson in taro patches and poi making, or hike to a towering waterfall in Halawa's cathedral valley–one of the island's most historic places. At the Moloka'i Museum, discover the history of this ancient homeland as you enjoy an evening pa'ina (feast), complete with a home-style Hawaiian jam session.
Lana'i
Monday, January 22, 2018

Gear up for a day of play on the "private island." Thousand-foot sea cliffs line the shore and ancient volcanic plugs sit both above and below the water's surface as host to a wide diversity of marine life. Snorkel, paddle board, kayak, and explore by skiff. Choose a long or short hike–whichever suits your fancy–to Sweetheart Rock, a sea stack jutting 80 feet above the crashing surf, and discover the legend of the princess Puu Pehe. Learn about the island's plantation days with a visit to the quaint Lana'i Culture and Heritage Center.
Olowalu / West Maui
Tuesday, January 23, 2018

In ancient times, Olowalu was considered a place of refuge. Today, it delivers a treat of snorkeling among coral gardens teeming with underwater life and a known sea turtle habitat. The Humpback National Marine Sanctuary—located between Lana'i, Moloka'i, and Maui—provides front-row seats as you cruise through these productive marine breeding grounds searching for dolphins, whales, and other marine life. Cap off the day and celebrate this evening with the Captain's Dinner.
Captain's Choice Exploration
Wednesday, January 24, 2018

Leave it to your Captain and crew to seek out and unveil the best opportunities the islands hold in store today. Dramatic volcanic backdrops, marine life sightings, and chances for snorkeling, kayaking and paddle boarding are all possible!
Kealakekua Bay / Kailua-Kona
Thursday, January 25, 2018

The search is on as you set sail through an area known to be favored by marine mammals. Lava tubes, skiff tours and kayaking are in store for a day of ultimate adventure. Fringed by coconut palms, Honomalino Bay offers opportunities for snorkeling, paddle boarding and more kayaking. The bay reveals a diversity of colorful corals, sponges and tropical fishes. This evening, you'll anchor at an offshore location to search for and night snorkel with Giant Pacific Manta Rays.
Honomalino Bay
Friday, January 26, 2018

Skiff to Kealakekua Bay, where Captain Cook was slain in 1779, for some of the island's best snorkeling. On a guided exploration by kayak and skiff, your expedition team shares their knowledge about the marine life and history of the bay. At Kailua-Kona, stroll through town at your own pace, and uncover the charm of this historic town.
Hawai'i, The Big Island (Embarkation)
Saturday, January 27, 2018
Gather for breakfast before the Safari Explorer docks on Kawaihae Harbor, where you'll be transferred to the Kona Airport or to your extended host hotel stay.