Wind Surf

Ship Facts
Ship's Registry: Bahamas
Passenger Capacity: 310
Crew Members: 191
Decks: 6
Gross tonnage: 14,745
Length: 535 feet (162 meters); 617 feet (187meters) including bowsprit
Beam (width): 66 feet (20 meters)
Draft: 16.5 feet (5 meters)
Masts: 5 at 164 feet (50 meters)
Sails: 7 sails with 26,881 square feet (or 2,600 square meters)
Cruising Speed: 10 to 12 knots with engines only; up to 15 knots wind and engine assisted
/center>
Italy & Amalfi Coast All-Lesbian Cruise 2017
October 13 – 20, 2017
Windstar msy Wind Surf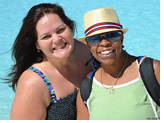 Let Olivia and Windstar's msy Wind Surf whisk you away to charming villages and pristine beaches that allow you to discover Italy as it was meant to be seen. Dramatically beautiful and seductive, the Amalfi Coast is the definition of an Italian luxury escape. From the picturesque pastel towns that line the Amalfi Coast to the world-class cities of Rome and Barcelona, you'll explore breathtaking sights in the charismatic small ports and beautiful hidden harbors, such as Sorrento, Capri, Amalfi, and Positano, without missing the remarkable history of the larger cities.
Enjoy the world's premier yachting playgrounds in a beautiful small ship that feels like your own private yacht. These beautiful ports string together like perfect pearls, each glowing with its own special beauty. Sparkling cities and charming villages. Secluded harbors and immaculate beaches. Discover the mystique and magic of the Italian Riviera that only an intimate yacht can show you.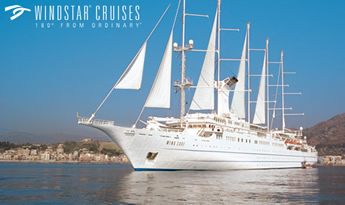 Your Ship - Windstar Cruises msy Wind Surf
Crisp white sails and friendly faces abound on the Windstar's casually elegant Wind Surf, which carries just over 300 guests. You'll enjoy wide-open, uncrowded teak decks. Newly-refurbished staterooms and public areas will make your onboard experience just as special as your time in port. Imagine a small luxury ship with amazing cuisine and an attentive staff, where casual attire, a relaxed attitude, and little luxuries are the norm and you're beginning to get the idea!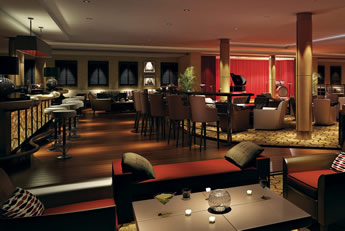 Have a fabulous five-star dinner and great bottle of wine in AmphorA, Stella Bistro or Candles. Treat yourself to an aromatherapy massage at WindSpa. Work out on state-of-the-art equipment in the fitness center. Enjoy live music and cocktails at the Compass Rose. Take a refreshing dip in the pool. Read your favorite book on a comfortable chaise lounge on deck. Test your luck in the casino. On Windstar, you're as free as the wind to experience the smallest of wonders and the greatest of joys.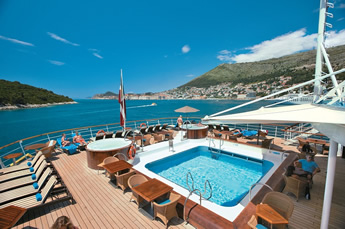 Wind Spirit Ship Amenities
Windstar's award-winning service and style gives you the luxury of choice to enjoy what you like, when you like and with whom you like.
The features and amenities you'll enjoy onboard include a convenient reception area, fine and casual dining including AmphorA, Stella Bistro, Candles, The Veranda, Yacht Club Sandwich and Espresso Bar; places to enjoy a drink with friends like Compass Rose, The Lounge, Terrace Bar, and Pool Bar; a casino, two saltwater pools, two hot tubs, a fitness center, the WindSpa, and a photo gallery.
• Wind Surf Lounge
• Casino
• The Yacht Club Sandwich and Espresso Bar
• Compass Rose Lounge
• Pool Bar
• Terrace Bar
• Two salt-water pools
• Two hot tubs
• Wind Spa
• 24-hour Reception Desk
• Fitness Center
• Signature Shops
• Photo Gallery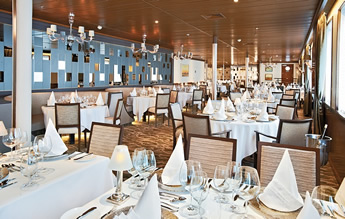 Exquisite Dining and Service
Windstar offers a wide array of gourmet dining options. In the evening, fragrant aromas waft up from the kitchen, offering a tantalizing preview of the dinner to come. Dine in the romantic Restaurant on gourmet fare made with fresh ingredients and served on Rosenthal china. Sip vintage wine from classic Riedel stemware while dining alfresco on grilled kabobs and other delights at Candles, the new deckside dining option. The Restaurant features a culinary journey of simple cooking and seasonal preparations, and Candles offers poolside grill options of fine steaks and skewers. The Veranda and Terrace serve breakfast and lunch.
Amphora
Features a Mediterranean culinary journey of simple cooking and seasonal preparations.
Stella Bistro
French-inspired bistro offering traditional dishes and an excellent wine list.
Candles Grill
The poolside café features grill options of seafood, chops, fine steaks and skewers.
The Veranda Café
Offers a breakfast and lunch buffet.
Compass Rose
Offers continental breakfast and afternoon tea.
Yacht Club
Offers espresso drinks, cookies, specialty sandwiches and bottled water.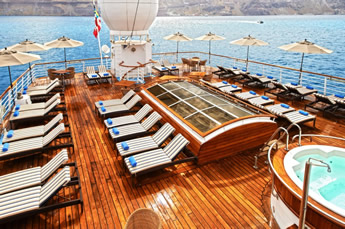 Wind Spirit Accommodations
The beautifully appointed staterooms on Wind Surf feature romantic ocean views, comfortable beds with soft leather headboards, subtle linen wall coverings, and stylish artworks.
Every inch of your stateroom is designed for comfort. Luxurious Egyptian cotton linens wrap you in pleasant sleepiness as you stretch out in your queen bed (can be separated into twins if you prefer). Your spacious bath features granite counter tops, ample storage, and a roomy shower with massage shower head. L'Occitane®
bath products invite you to indulge, while comfy waffle-weave robe and slippers entice you to relax. You'll find fresh fruit and flowers always waiting for you after a day of sun or sightseeing. And, of course, everything else you need and expect — flat-screen television and DVD, Bose® SoundDock, wireless Internet access, private safe. And always at your fingertips, anything you wish from room service.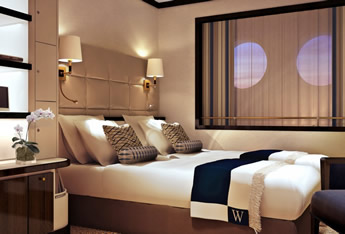 All rooms are comfortably appointed with:
• LCD flat-screen television
• DVD/CD players
• Fresh flowers (bud vase)
• Fresh fruit basket
• Hair dryer
• Vanity with magnifying mirrors
• Euro-top mattresses
• Luxury bedding
• Egyptian cotton towels
• Waffle weave robes & slippers
• Equipped with one standard U.S. 110- and European 220-volt outlet
• Personal safe
• Refrigerator
• Mini-bar
• International direct dial phones
• Wireless internet (extra charge)
• Bose SoundDock speakers for use with iPod
• Cell phone service (extra charge)
• Private bathrooms with shower
• L'Occitane
toiletries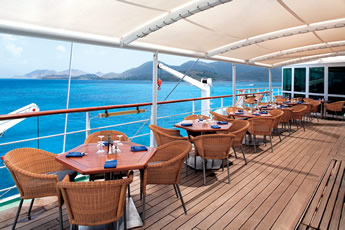 What is included?
• Accommodations for 8 days/7 nights on the elegant and refurbished Windstar ms Wind Surf
• All meals on board the ship's restaurants featuring gourmet fare, including room service
• Complimentary soft beverages including bottled water, sparkling water, sodas, fresh juices, milk, fruit smoothies, tea, coffee, cappuccinos, lattes, mochas and espresso
• Airport transfers from Rome (FCO) and to Barcelona (BCN) airports on arrival (October 13) and departure day (October 20)
• Olivia's signature entertainment and programming
• Olivia staff assistance throughout
What's not included?
• Boutique, casino and spa services
• Alcohol such as wine, beer and cocktails
• Internet access, phone calls and other incidentals
• A wide menu of optional excursions in all ports of call (extra charge)
• Airfare
• Travel insurance
• Personal Items
• Medical attention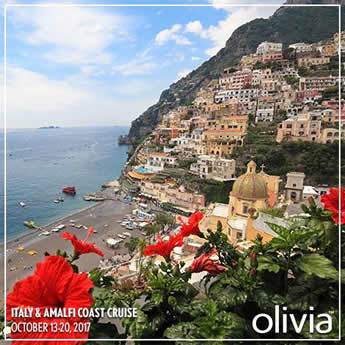 Italy & Amalfi Coast All-Lesbian Cruise Itinerary


Date

Port

Arrive

Depart

13 Oct

Rome (Civitavecchia), Italy
5 PM
14 Oct
Sorrento, Italy

10 AM

10 PM

15 Oct

Positano, Italy
8 AM
10 PM

16 Oct

Capri, Italy
8 AM
10 PM
17 Oct
Amalfi, Italy
8 AM
10 PM

18 Oct

Day at Sea

19 Oct

Day at Sea
20 Oct
Barcelona, Spain
7 AM

Embarkation and check-in will be available at 11 am on October 13, 2017.

We suggest you book your flight after 11 am on Friday, October 20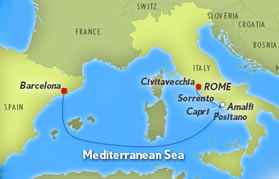 Rome/Civitavecchia, Italy


Friday, October 13, 2017
2,500 years of history are woven into the fabric of modern Rome. You can feel it in the glory of the Sistine Chapel in the Vatican and as you wander side streets that open onto piazzas, fountains, Bernini sculptures and elegant courtyards. Famous treasures are legion in Rome: the Colosseum, the Forum, St. Peter's Cathedral, the Pantheon, Trevi Fountain, the Spanish Steps. Take time out between sights to do as the Romans do: enjoy a three-hour lunch, shop, people-watch or savor the best gelato in the world.
Sorrento, Italy


Saturday, October 14, 2017
Perched on a terrace on the spectacular Amalfi Coast, Sorrento offers exceptional views whether approaching by sea, or looking out towards the Bay of Naples and Mount Vesuvius. Follow Corso Italia through town to the medieval Sedile Dominova, where city fathers once gathered to discuss civic policy. Think your eyes are playing tricks on you? The frescoes of columns and a coat of arms created with trompe-l'oeil art make the loggia appear larger than it really is. Sorrento has plenty of history and pleasant piazzas filled with buskers and cafés, but it's hard to come here and not visit nearby Pompeii or Herculaneum, both frozen in time by the eruption of Mount Vesuvius in 79 A.D. While hot ashes consumed Pompeii' buildings, Herculaneum was covered in mud, preserving its marble floors, mosaics, and paintings for you to feast your eyes upon.
Positano, Italy


Sunday, October 15, 2017
Positano is the coast's most picturesque and photogenic town, with houses (built into the mountainous coast) tumbling down to the sea in a cascade of sun-bleached peach, pink and terracotta colors. No less colorful are its steep streets and steps lined with wisteria-draped hotels, smart restaurants and fashionable boutiques. An artistic vibe remains from decades' past and today the town is a UNESCO World Heritage site. Fresh produce is abundant, which, when combined with fresh seafood, makes dining here a feast for the senses. Trees bearing olives, lemons, limes, oranges scent the air with a perfume that mixes with the salty sea air. Positano has plentiful shops, ristorantes (restaurants) and cafés -- allowing plenty of opportunities to enjoy a taste of la dolce vita (the good life) when stopping for a quick visit.
Capri, Italy


Monday, October 16, 2017
The Isle of Capri has a resort tradition dating back to the ancient Roman emperors and continuing on through royalty-slash-celebrities including Jackie Onassis and Grace Kelly. There is so much to see on this captivating island — from the ruins of Roman villas to gorgeous private residences surrounded by flower-filled gardens. Climb to the Gardens of Augustus for a wonderful view of the Faraglioni, three huge limestone stacks that jut from the sea. Wander along little lanes scented with the aromas of bougainvillea, plumbago, grapevines, and mandevilla. Don't miss an opportunity to explore the famous Blue Grotto, with its intense azure interior and ethereal silvery light.
Amalfi, Italy


Tuesday, October 17, 2017
There's a reason they named one of the most stunning coastlines in the world after this town: "La Vita e Bella" in Amalfi! It's also one of the largest towns in the region, so take some time to explore it. Rub shoulders with the Italian elite as you walk the pedestrian streets, ducking into shops and galleries. Grab a seat on a café patio and order the drink the region is best known for—limoncello. Spend time at the beach sunbathing, and bring a pair of water shoes if you plan on spending any amount of time down at the lidos—the beaches are rocky!
Day at Sea

Wednesday, October 18, 2017
Time to relax, today. Sip a glass of wine or sparkling water and chat with friends. Get a massage at the spa, sunbathe at the pool, or just sit and enjoy gorgeous views of the Mediterranean.
Day at Sea


Thursday, October 19, 2017
Sunbathe on deck with some friends or join in one of the dozens of activities the Olivia team has planned just for you! Take a dance lesson, play bingo, head to the casino, or treat yourself to a spa day...the choices are nearly endless!
Barcelona, Spain


Friday, October 20, 2017
Wake up this morning and disembark the ship. If you're staying on for a few days, stroll down La Rambla and find yourself amidst La Boqueria, a gastronomic temple that houses many Catalan delicacies, including fish, meats, olives and wine. Meander through Barri Gòtic (the Gothic Quarter) and visit the Picasso Museum, the History of Barcelona Museum and La Seu Cathedral. You can even take a Gaudí tour and view some of his most famous works, including La Sagrada Familia. End your day with tapas and a regional wine, taking in the beauty of the sights, sounds and smells around you.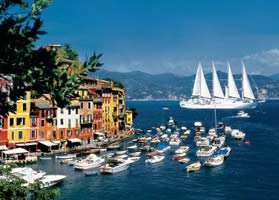 Traveler Info
Currency
Italy and Barcelona use the Euro.
Languages
Italian, Spanish and English
Being Gay in Italy and Barcelona
Italy legalized same-sex civil unions in May 2016. Spain has been recognized as one of the most culturally liberal and LGBT-friendly countries in the world.
Climate
The Amalfi Coast climate in mid-October is quite beautiful and mild. The average high in Italy is 72°F (22°C), while the average lows are 56°F (12°C). In Barcelona, Spain, the average high is 68°F (20°C) while the average lows are 57°F (14°C).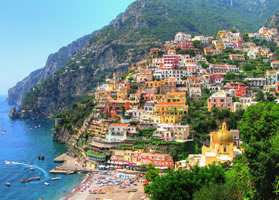 Travel documentation and identification
You will need a passport that is valid for six months past the date of the trip. If you are not a U.S. citizen, please check with both your country's consulate and the consulates of the countries we will be visiting to make sure that you do not need an entry visa or other additional documentation.
Visa
If you are a U.S., Canada, EU citizen, you DO NOT need to get a visa ahead of time. Please check with both your country's consulate and the consulates of the countries we will be visiting to make sure that you do not need an entry visa or other additional documentation.
Where to fly into/out of
You will need to fly into to Leonardo Da Vinci (Fiumicino) International Airport (FCN) and out of Barcelona International Airport (BCN). We encourage all passengers to arrive at least one day early to avoid the stress of unexpected delays. We will be offering pre-cruise stretcher packages in Rome and post-cruise stretcher packages in Barcelona.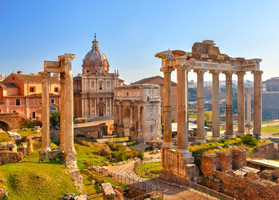 Suggested arrival/departure times
Arrive into Rome no later than 11:30 am on Friday, October 13, 2017 to allow enough time for airport to ship transfer arrangements. Departures must be made for after 11 am on Friday, October 20, 2017 to allow enough time for ship to airport arrangements. Please note–any deviations from the above suggested arrival/departure times are at your own risk.
Getting to/from the ship
Airport transfers from Rome (FCO) airport to the ship and the ship to (BCN) airport on arrival and departure day are included. We will need to collect your flight information in order to provide you with a transfer. Once you have booked your flights, please email us with your flight information. The Leonardo Da Vinci (Fiumicino) International Airport (FCN) is approximately 50-60 minutes from the Civitavecchia port, and Rome City is 90 minutes to Civitavecchia port.
For those going directly to the airport after the cruise, your transfer is included. The airport in Barcelona (BCN) is approximately 40 minutes away from the pier. Please allow enough time when booking your return flight.
Luggage allowances
While there is no luggage limit on the cruise itself, airlines often restrict (or charge) for excess baggage. Because each airline is different, and the regulations change over time, please check with your airline for baggage allowances. For travel in Europe, we recommend no more than one large piece and a smaller carry-on for ease of travel.