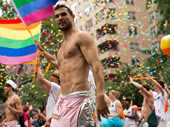 NYC Pride Week 2018 takes place June 14 - 24, 2018. The marquee global gathering invites millions of gays, lesbians, bisexuals, transgender people and their allies to one of the largest, most over-the-top demonstrations of human rights, queer history, social progress and love anywhere in the world. Itís an event everyone should experience once in their life (preferably many times!). Join us for parties, shopping & the world's most important Gay Pride!
We all celebrate Pride in different ways, which is why NYC Pride offers something for everyone during NYC Pride Week. Its four Grand Marshals slated to lead the 49th NYC Pride March on Sunday, June 24, 2018 will be Billie Jean King, Lambda Legal, Tyler Ford, and Kenita Placide, they helm this year's "defiantly different" demonstration of LGBTQ+ members of the community. This year's NYC Pride March also undergoes a change to its iconic route along 5th Avenue. The new route refocuses the birthplace of the LGBTQ+ movement to a place of prominence at the beginning of the March.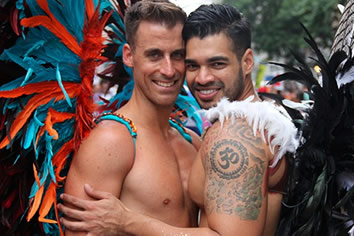 • 19 June: Transfer airport - hotel
• 7 nights accommodation in Manhattan, New York City
• 20 June: City Tour - Upper and Lower Manhattan
• 21 June: Shopping Tour - Jersey Gardens - in/out transfers included
• 22 June: 4.30pm transfer from hotel to Foley Square
• 22 June: Ticket to Fantasy. Your NYC Pride weekend starts at Fantasy: "Leather Edition".
• 23 June: 1pm transfer to VIP Rooftop.
• 23 June: 9pm transfer from VIP Rooftop to Masterbeat Masterbuit.
• 24 June: 10.30 am transfer to NYC Pride 2018, 7th Avenue and 16th Street.
• 26 june: Transfer hotel - airport
• Tickets are included for all this program events
Price does not include meals & Pride Island tickets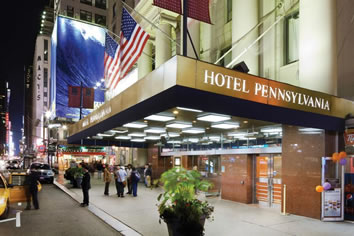 Option 1
Pennsylvania Hotel, 3*
401 7th Avenue, New York City
This Manhattan hotel is located across the street from Madison Square Garden and Penn Station. The hotel offers access to the adjacent fitness club which includes a gym and a tour desk with ticket services.
Each air-conditioned room at the Hotel Pennsylvania provides cable TV. Guests also have access to a work desk, alarm clock, black-out drapes, iron and hairdryer in every room. 2 daily grab-and-go breakfast coupons are also offered.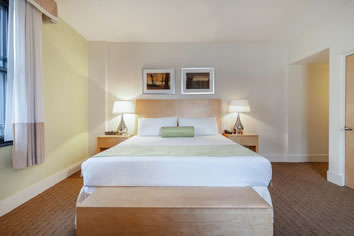 The Pennsylvania Hotel includes a 24-hour coffee shop and a restaurant. Guests can make transportation reservations and acquire theater tickets at the hotel. Guests will also have access to a safety deposit desk at the front desk, any time of the day.
Times Square is 805 m from Hotel Penn while Museum of Modern Art is 1.9 km away. The Empire State Building is 645 m away.
Package Price:
Pennsylvania Hotel, or similar
Double: $ 1699 USD per person
Single: $ 2299 USD
Option 2
Hudson New York, Central Park Hotel, 4*
358 W 58th St, New York
An energetic social hub filled with urban adventure and daredevil design, Hudson, A Morgans Original, takes convention and turns it on its head. Born from the innovative vision of design impresario Philippe Starck, Hudson, a New York boutique hotel, is stylish, democratic, young at heart and utterly cool.
Central Park is half a kilometer from Hudson New York, Central Park, and Radio City Music Hall is 1 km away. The nearest airport is La Guardia Airport, 9.7 km from the property.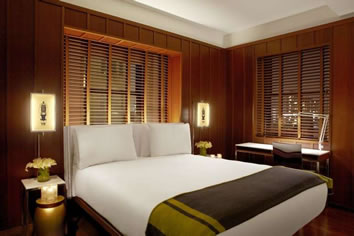 Featuring free WiFi throughout the property, guests can enjoy the on-site restaurant. A flat-screen TV with cable channels, as well as an iPod docking station are available. Every room is equipped with a private bathroom.
Best places to hang: Umami Burger, the new flagship location serving gourmet burgers, fries and cocktails; Hudson Bar, a quintessential New York cocktail bar and lounge; Sky Terrace (open seasonally), an English garden with breathtaking views of New York City; and Private Park, a garden oasis in the middle of a bustling city. Located in midtown, just steps from Central Park, Columbus Circle Carnegie Hall, Lincoln Center, Time Warner Center and the theater district.
Package Price:
Hudson New York, Central Park Hotel, or similar
Double: $ 1999 USD per person
Single: $ 2799 USD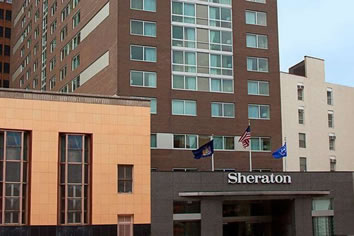 Option 3
Sheraton Tribeca Hotel New York, 4*
370 Canal Street, New York
4-star Sheraton Tribeca Hotel New York is in the Tribeca neighborhood, across the street from trendy SoHo shopping. It offers modern guest rooms, a 24-hour gym and a restaurant.
The Canal Street subway station is less than 1 block from the hotel. Sheraton Tribeca New York Hotel is a half mile from the Holland Tunnel and 1.6 km from Greenwich Village.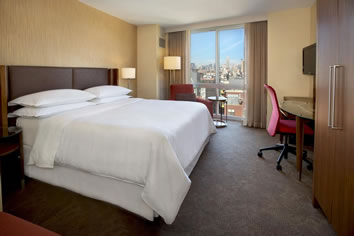 Sheraton Tribeca New York Hotel features a 32-inch flat-screen TV and a work desk in every guest room. Select rooms offer views of Midtown and the Hudson River.
Antica Ristorante serves Italian cuisine, including fresh pasta and homemade dessert. Guests can enjoy a glass of wine or cocktail at the Lobby Lounge or coffee from the on-site Starbucks.
Package Price:
Sheraton Tribeca Hotel New York, or similar
Double: $ 2399 USD per person
Single: $ 3389 USD