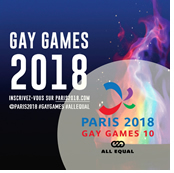 Gay Games is an event for inclusion and respect of diversity. From 4 August to 12 August, 2018, Paris hosts the 10th edition of the Gay Games, the world's largest sporting, cultural and festive event open to all! Held every four years for more than 32 years, Gay Games, a hymn to love, advocates a society for all diversities. It's the spirit of the Gay Games! Will you join us?
Paris is the perfect host to celebrate this 10th edition, which is expected 10,000 participants from over 80 countries! Supported by the highest French institutional and sporting bodies, PARIS 2018 prepares games celebrating diversity, respect, equality, solidarity and sharing.
France, Ile-de-France Region and the City of Paris are thrilled to welcome the world to a great festival of diversity and sharing. PARIS 2018 will offer a happy week to all participants, visitors and spectators. All of them can participate in a way or another and enjoy GAY GAMES 10.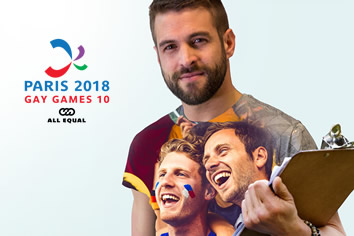 Paris Gay Games 2018 rich program of festivities completes sporting and cultural programs and contributes to the expérience of all participants, visitors and spectators.
The major event is the opening ceremony at the Jean Bouin Stadium, a magnificent venue. The athletes and the artists will parade there proudly before taking advantage of a colourful show.
The ceremony will be followed by an all night gala opening Party in the Grand Palais, one of the most prestigious monuments of Paris.
For all week, will be held a village of the Gay Games on the City Hall Plazza and will assure entertainment every day till 10 pm. The Gay Games will be visible at the heart of the city.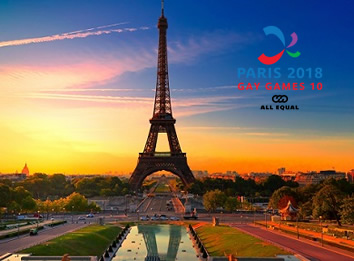 • 7 nights accommodation in Paris, France
• Admission to 'Paris Gay Games 2018 Opening Ceremony' - August 4, 2018, 5pm in Stade Jean Bouin
• Admission to 'Big Grand Palais - Gay Games Official Opening Party' - August 4, 2018 in Grand Palais
• Admission to 'Cheerleading Show' - August 6, 2018, 5pm in Gymnase Charpy (Stade Charlety)
• Admission to 'Ballet - Dance in Bach' - August 7, 2018, 8:30pm in MPAA Saint-Germain
• Admission to 'Concert - Chorales, Orchestres, Fanfares' - August 8, 2018, 8.30pm in Casino de Paris
• Admission to 'Figure Skating Gala Night' - August 10, 2018, 5pm in Aren'Ice
Option 1
Ibis Paris Bastille Faubourg Saint Antoine Hotel, 3*
13 Rue Trousseau, Paris
The ibis Paris Bastille Faubourg Saint Antoine hotel
is located in a dynamic district in the center of Paris, close to the Gare de Lyon, the Gare de Bercy, the Bercy Arena and the Bastille. The hotel gives you direct access to the Louvre museum, the Champs Elysées, the La Défense business district and the Marais. Enjoy a spot of relaxation with our terrace, 24-hour snack service and hotel bar. The hotel also has a private paying car park available by reservation.
The ibis Paris Bastille Faubourg, situated in full center of Paris, is the ideal falling point for a Parisian trip. You are close to main train stations and public transport. You can joint the Bastille district in 10 min by foot.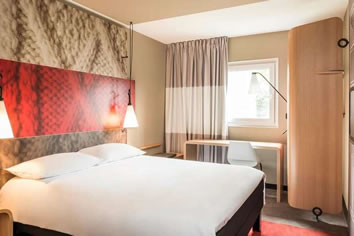 Equipped with the new "Sweet Bed by ibis" bedding, the practical and inviting ibis room boasts all the features you want most: a double bed, desk, Internet, TV with all the main channels and a bathroom.
Enjoy a selection of international drinks and beers at the bar or in your room. Snacks or light bites can also be ordered to enjoy in the bar or in your room 24 hours a day, 7 days a week.
Package Price:
Ibis Paris Bastille Faubourg Saint Antoine Hotel, or similar
Double: € 979 EUR per person
Single: € 1539 EUR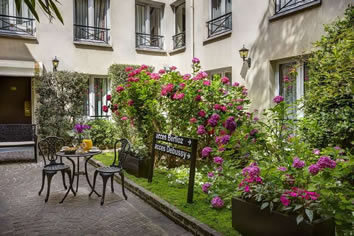 Option 2
Le Patio Bastille Hotel, 3+*
289 Bis Rue du Faubourg Saint Antoine, Paris
Le Patio Saint Antoine Hotel is located between Place de la Bastille and Place de la Nation, giving easy access to the most picturesque districts in Paris. Bastille, the gateway to the Marais, is just a 10 minute walk away. In the Marais you can discover the Picasso Museum, with works from all the artist's periods, and the Carnavalet Museum, which tells the fascinating history of Paris. And don't miss Victor Hugo's house!
You can check out the modern Opéra Bastille, wander through winding medieval streets in Village Saint Paul or Ile Saint-Louis, admire Place des Vosges, window-shop on Rue des Francs Bourgeois or plough on to Notre Dame. The metro whisks you to the Eiffel Tower or the Arc de Triomphe, and there is a direct train to Disneyland Paris. The choice is yours.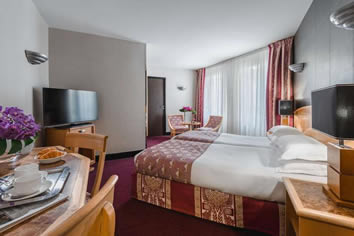 Our 89 rooms and suites are distributed in three buildings, Cézanne, Berlioz and Debussy, which surround the leafy patio gardens at the centre of our residence. Each gets plenty of natural light and guarantees a quiet setting where nature soothes your soul.
Our breakfast room invites you to start the day in style, with its comfortable black upholstered chairs and round tables generously covered with white tablecloths. We serve a copious and varied buffet breakfast, including traditional French croissants and baguettes with jams and honey, as well as cereal, cold cuts, dairy produce, fresh juices and hot drinks.
Package Price:
Le Patio Bastille Paris Hotel, or similar
Double: € 1119 EUR per person
Single: € 1899 EUR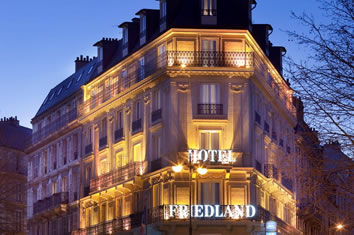 Option 3
Champs Elysees Friedland Hotel, 4*
177 Rue Du Faubourg Saint Honore, Paris
The Hotel Champs-Elysées Friedland welcomes you in a idyllic setting. Just a few steps from the Champs-Elysées and the Arc de Triomphe, on the famous Faubourg Saint-Honoré, find an authentic Haussmann hotel in natural stone. Perfect for your romantic stay & leisure trip, the Hotel Champs-Elysées Friedland proposes you the ideal combination of tradition and modernity at the heart of the 8th arrondissement of Paris.
The hotel is a 10-minute walk from Charles de Gaulle - Etoile Metro and RER station. These transport links offer direct access to Le Louvre, Le Marais district and Disneyland Paris.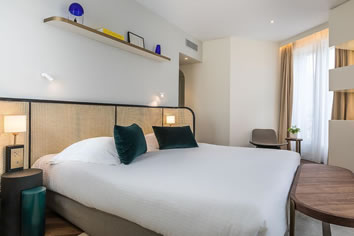 After a day of sightseeing in the area, guests can unwind in the comfort of their air conditioned rooms. They all offer a mini bar, tea and coffee making facilities and a refrigerator. Rooms at Champs Elysées Friedland are furnished in printed fabrics and are contemporary in style. Each has an LCD TV with satellite channels and some have a private balcony.
On-site dining options include a restaurant, which is a convenient spot to have a meal. In the evening, guests are able to enjoy a drink in the lounge bar. Buffet and American breakfast is served daily.
Package Price:
Champs Elysees Friedland Hotel, or similar
Double: € 1379 EUR per person
Single: € 2449 EUR