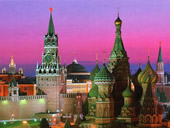 Escorted small gay group tour to Russia! 8 nights in Deluxe accommodations - 3 nights in Moscow & 5 nights in St. Petersburg. The world's largest country offers it all, from historic cities and idyllic countryside to artistic riches, epic train rides and vodka-fuelled nightlife. During any season, any hour of day, Moscow thrills visitors with its artistry, history and majesty. Once a desolate swamp, Russia's imperial capital St Petersburg is today a dazzling metropolis whose sheer grandeur never fails to amaze.
If ancient walled fortresses, glittering palaces and swirly-spired churches are what you're after, focus on European Russia. Here Moscow and St Petersburg are the must-see destinations, twin repositories of eye-boggling national treasures, political energies and contemporary creativity.
Whether you're a culture vulture in search of inspiration from great artists and writers or an adventure addict looking for new horizons to conquer, Russia amply delivers.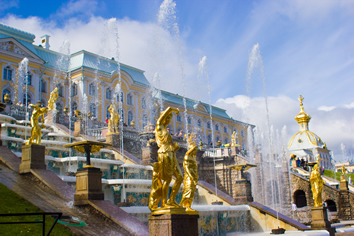 Day 0 - Friday, July 27, 2018
Depart the USA, Canada
Depart the USA, or Canada on any regularly scheduled flight to Moscow, Russia.
Day 1 - Saturday, July 28, 2018
Arrive in Moscow, Russia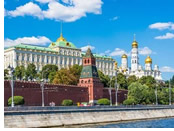 Upon arrival in Moscow, proceed through customs into the arrivals hall and be met by our local representative, warmly welcoming you to Russia. Transfer by private coach to the hotel where you will be assisted with check-in procedures.
Tonight enjoy Welcome Dinner at Bolshoi Restaurant.
Meals: Dinner
Hotel: Marriott Royal Aurora Hotel, Moscow, 5*
Room: Deluxe Double/Twin Room
Day 2 - Sunday, July 29, 2018
Moscow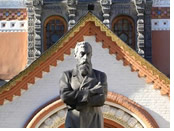 A captivating, full-day tour of this magnificent city begins with a visit to Red Square. Admire its prominent landmarks – Lenin's Tomb and St. Basil's Cathedral, a colourful multi-domed complex whose architects were supposedly blinded by Ivan the Terrible so that they could never recreate such splendour again.
Afterwards, visit the Cathedral of Christ the Saviour and the Novodevichy convent and cemetery, the final resting place of Nikita Khrushchev, Raisa Gorbachev and Boris Yeltsin. Perhaps take a ride on the famous Moscow metro, renowned for the ornate splendour of its stations.
After lunch continue to the eye-catching Tretyakov Gallery, one of Moscow's greatest treasures. Tour begins at The Old Tretyakov Gallery viewing the highlights of its world re-known Russian Art Collection, spanning over 1000 years of Russian artistic achievement. Ranging from inspirational Russian Icons to The Classical Masters to Pre-Revolutionary Russian Art, this vast collection of over 130,000 outstanding works was originally the private collection of Pavel Tretyakov, a wealthy Russian merchant and art connoisseur. Gifted by him to the Russian nation in 1892, it is considered to be one of Moscow's greatest historical and artistic treasures.
Meals: Breakfast, Lunch
Hotel: Marriott Royal Aurora Hotel, Moscow, 5*
Room: Deluxe Double/Twin Room
Day 3 - Monday, July 30, 2018
Moscow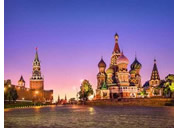 Explore the Kremlin Territory today with a full-day tour beginning with the extraordinary State Armoury, the oldest museum in Russia and home to a vast collection of precious stones, jewellery, clothing, Faberge eggs, and artefacts. For centuries, the Kremlin has been witness to many well-known and tragic events in Russia's past and so it is a treasure trove of Russian history. Afterwards see the dazzling exhibition of the State Diamond Fund, which contains the Russian state jewels.
Your tour also includes two of the Kremlin's cathedrals: Assumption, the cathedral of coronations and the burial place of religious leaders, and Archangel, the royal burial church. After lunch, ride a speed elevator to the depth of 65 meters to visit the Cold War Museum. The tour leads through the secret tunnels of the building for an exclusive opportunity to get familiar with soviet armament and communication facilities of the Cold War.
Tonight, enjoy dinner at Café Pushkin.
Meals: Breakfast, Lunch, Dinner
Hotel: Marriott Royal Aurora Hotel, Moscow, 5*
Room: Deluxe Double/Twin Room
Day 4 - Tuesday, July 31, 2018
Moscow | St. Petersburg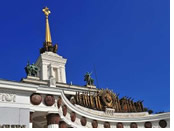 The morning is at leisure before taking a private transfer to the train station for a high-speed Sapsan train to St. Petersburg.
A tour guide will greet the group in St. Petersburg with a private transfer to the hotel.
The remainder of the evening is at your leisure.
Enjoy dinner at the hotel or one of the local restaurants.
Meals: Breakfast, Lunch, Dinner
Hotel: Belmond Grand Hotel Europe, St. Petersburg, 5*
Room: Deluxe King/Twin Room
Day 5 - Wednesday, August 1, 2018
St. Petersburg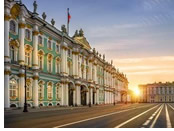 After breakfast in the hotel, travel aboard your private vehicle through the historic streets of St. Petersburg to the majestic Winter Palace (built 1752-1762), and home to the world renowned Hermitage Museum. In 1764,the installation of the museum's six rococo-style buildings was commissioned within this royal complex, where she, along with her royal successors, amassed artistic treasures throughout each successive reign. By the time Nicholas II ascended the throne in 1894, he was heir to the greatest collection of art in Europe; housed continuously in the Winter Palace, the entire museum complex was bombarded during the Siege of Leningrad in WWII, yet was meticulously restored and re-opened to the public in 1945. LUNCH will be at one of the Museum's many restaurants.
After lunch, our tour continues with a visit to one of the most famous architectural monuments in Saint Petersburg, the crescent-shaped, neoclassical General Staff Building (constructed 1819-1829). Home to a superb collection of Modern European Art, wandering through the Impressionist Collection – with particularly notable collections of Picasso, Matisse and Monet – is a beautiful, relaxing way to while away the afternoon.
Dinner at Tsar Restaurant.
Meals: Breakfast, Lunch, Dinner
Hotel: Belmond Grand Hotel Europe, St. Petersburg, 5*
Room: Deluxe King/Twin Room
Day 6 - Thursday, August 2, 2018
St. Petersburg / Pushkin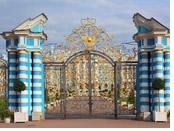 After breakfast in the hotel, we travel to Tsarskoe Selo ("The Tsar's Village" – renamed "Pushkin" in 1937). An "intimate" two-story wooden "terem" (palace) when first constructed in 1717 by Tsar Peter the Great, it was intended as a gift for his wife, Catherine I of Russia. In 1752, their daughter, Empress Elizabeth, desiring to completely redesign the "comfy" palace on a scale to rival Versailles, had the structure razed and re-built as the into the grand Catherine's Palace. Awe-inspiring, the baroque-style Catherine's Palace, whose exterior features golden domes and a blue and white facade with gilded moldings, suffered extensive damage during WWII, yet today is a masterpiece of restoration. Especially impressive is the world-famous Amber Room with its glittering mirrors, chandeliers and gilded woodcarvings; dismantled and taken to Germany by the Nazis, it was retrieved and returned intact to the palace. Visit the estate's other architectural delights, such as the Hermitage Pavilion and the neoclassical Alexander Palace, the favorite residence of Tsar Nicholas II.
Enjoy a traditional hearty Russian LUNCH at Podvorie Dacha Restaurant, a charming building resembling a traditional Russian "terem" (wooden palace). Housed in a typical Russian log house, this informal restaurant is filled with wooden panels with bear skins hanging on the walls. Travel on to the town of Pavlovsk and view The Great Palace at Pavlovsk, erected on 977 acres of land given by Catherine the Great to her son and heir, Pavel I. Built between 1782-1786, the palace is known not only for its outer beauty and richly appointed interiors, yet also for its manicured gardens and the rambling park surrounding the palace; both the Park and The Great Palace at Pavlovsk were victims of wanton destruction during the Nazi occupation, and the extraordinary restoration project (aided by the original preserved blueprint) was entirely faithful to the 18th Century designs.
Return to the hotel with dinner and evening at leisure.
Meals: Breakfast, Lunch
Hotel: Belmond Grand Hotel Europe, St. Petersburg, 5*
Room: Deluxe King/Twin Room
Day 7 - Friday, August 3, 2018
St. Petersburg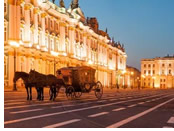 Find your bearings in St Petersburg on a full-day drive through the historical city center, starting at Nevsky Prospect – the main thoroughfare in St. Petersburg, featuring the city's best shopping, restaurants, clubs and nightlife. Roam Palace Square – the central portion of the city and the scene of the 1917 October Revolution; tour the Winter Palace – imperial residence for generations of Tsars; visit the Admiralty – the former headquarters of The Imperial Russian Navy and explore Vasilevsky Island – home to many historic sights, museums and art galleries. See the fascinating Peter & Paul Fortress, constructed in 1703 by order of Peter the Great, and The Fortress Cathedral, the burial site of many of Russia's Tsars and Tsarinas. Continue on to the architectural marvel of St. Isaac's Cathedral, whose glistening, gilded dome dominates the city skyline.
When establishing the "Venice of the North" on forty-two islands within the River Neva's complex delta, Peter the Great envisaged the river being the main thoroughfare of the city, with people crossing between islands by ferry – experience his dream with a one-hour private journey on a canal boat, allowing you to gain a unique perspective of St. Petersburg.
Lunch at Koryushka Restaurant. Then visit the Yusupov Palace (or Moika Palace), an imposing building that was once the residence of the wealthy and respected Yusupov family, and a scene of one of the most dramatic episodes in Russia's history – the murder of Grigory Rasputin the "mad monk", advisor to the last Romanov's Tsar Nicolas and Tsarina Alexandra. Visit the basement room where Rasputin drank poisoned wine while Yusupov and his conspirators sat upstairs plotting his ultimate demise.
Return to hotel with dinner and evening at leisure.
Meals: Breakfast, Lunch
Hotel: Belmond Grand Hotel Europe, St. Petersburg, 5*
Room: Deluxe King/Twin Room
Day 8 - Saturday, August 4, 2018
St. Petersburg / Peterhof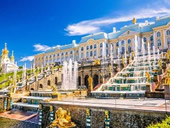 Breakfast in the hotel, then we drive to Peterhof, one of St. Petersburg's most popular sights. After visiting Versailles in 1717, Peter the Great opted to erect a great and majestic showcase "...befitting of the very highest of monarchs.." along the beautiful shoreline of the Gulf of Finland. Commanding the talents of international architects/crafts men and conscripting over 5000 serfs to work on the creation of the magnificent Grand Palace, it officially debuted in 1723 to the delight of the Tsar and Russia's elite. A lavish summer palace and artistic gem, the estate's highlight is the Grand Cascade, a delightful sequence of 37 gilded bronze sculptures, 64 fountains and 142 water jets descending from the terraces of the Great Palace to the Marine Canal and on to the sea. To avoid the crowds, the Grand Palace is opened for you before official opening hours; afterwards you are whisked back to St. Petersburg by hydrofoil.
After lunch, admire the stunning treasures at the Fabergé Museum. Founded by entrepreneur Viktor Vekselberg, the museum opened its doors in December 2013 to display a glittering collection of Faberge eggs and objets d'art created by Peter Carl Fabergé and his contemporaries. Vekselberg's collection of Faberge objects is rated as one of the world's most valuable and includes items he bought from the Forbes family for $100 million in 2004 – one of the most famous pieces on display here is the Imperial Coronation Egg, made in 1897.
Farewell dinner at the Russian Ampir Restaurant.
Meals: Breakfast, Lunch, Dinner
Hotel: Belmond Grand Hotel Europe, St. Petersburg, 5*
Room: Deluxe King/Twin Room
Day 9 - Sunday, August 5, 2018
Departure
After breakfast in the hotel, you will be privately transferred to St. Petersburg airport for your return flight Home.
Meals: Breakfast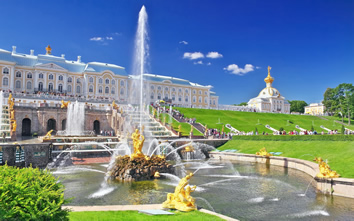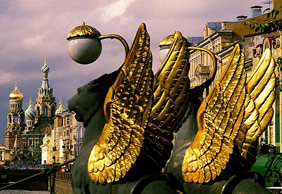 • 8 nights accommodations in 5* hotels as listed in the itinerary:
3 nights at Marriott Royal Aurora Hotel in Moscow;
5 nights at Belmond Grand Hotel Europe in St. Petersburg
• Meals, as listed in the itinerary
• Sightseeing excursions and entrance fees as stated in the itinerary
• English-speaking local guides
• Coda Tours Representative with minimum participation
• All land transfers as required by the itinerary
• Pre-departure assistance and Information Portfolio from Coda Tours
• International airfare and baggage fees
• Passport or visa fees. A visa is required for American or Canadian passport holders.
• Trip cancellation and Interruption insurance (highly recommended)
• Gratuities for local guides, escorts, Coda Tour Manager, driver, etc.
• Items of a personal nature (laundry, phone calls, WiFi, etc.)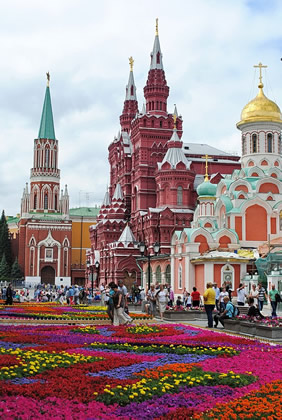 Marriott Royal Aurora Hotel, Moscow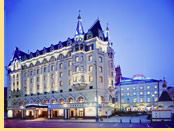 Stay in the heart of Moscow. The Marriott Moscow Royal Aurora has an ideal location in Moscow city centre. It is 2 minutes' walk from the Bolshoi Theatre and GUM Department Store, and close to The Kremlin and Red Square.
The Marriott Moscow Royal Aurora offers grand, stylish interiors. Exclusive to the hotel and adding to the luxury, is a butler service to each room looking after the guest's every need. Free WiFi access is available throughout the hotel.
Energize for the day ahead at the fully equipped fitness centre. To relax, savour the spa and enjoy the sauna or a soothing massage. Follow all with a refreshing dip in the pool.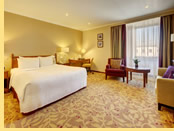 Make use of the on-site ATM before going out and return for the excellent fare at Aurora and Polo Club restaurants serving a variety of dishes of International cuisine. The impressive lobby bar is the perfect place for an after-dinner drink. During the summer guests can relax at Vicolo terrace.
The Marriott Moscow Royal Aurora also offers a modern business centre, car rental service and the 24-hour room service.
Tverskoy is a great choice for travellers interested in Culture, Theatre and Monuments.
Belmond Grand Hotel Europe, St. Petersburg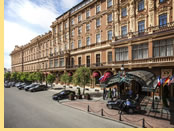 Stay in the heart of Saint Petersburg. Set in a stunning central location of St. Petersburg is this 5-star grand hotel that offers elegant accommodation in a fantastic setting.
The Grand Hotel Europe provides luxurious living in rooms that are gracefully designed and equipped with all modern facilities you require.
Guests at the Grand Hotel Europe also enjoy a variety of exceptional facilities that include a fitness centre, solarium, a sauna, and a massage.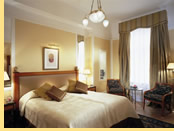 There are many nearby theatres, museums and attractions including the Arts Square, the Admiralty, and the Tsar's former Winter Palace. Alternatively, there are a wide variety of shops, bars and cafés along the well known Nevsky Avenue to pass enjoyable moments.
After a day's exploration, return to Grand Hotel and select one of the 6 restaurants and/or cafés for delightful cuisines and refreshing drinks. The friendly and helpful staff provides 24-hour assistance, making sure your stay is as hassle-free and as pleasant as possible.
Tsentralny district is a great choice for travellers interested in City Walks, Ambiance and Museums.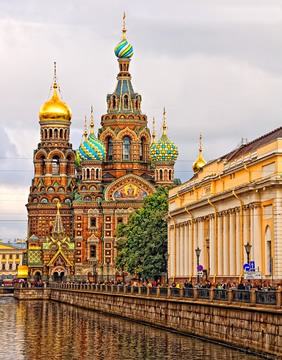 Travel Documents
A valid passport is required for international travel and must be valid for 6 months after the return date with a minimum of two empty passport pages. A visa is required for travel to Russia for American and Canadian passport holders and must be obtained before departure. You should also bring an additional digital passport photo. Please note that visas cannot be processed more than 90 days prior to departure and processing may take several weeks to complete. You may apply directly with a Russian Consulate in your area. For information, google the Russian Consulate nearest you (e.g. Russian Consulate New York).
Shots
None required or recommended. It is recommended you have your regular vaccinations up-to-date before traveling. For further information, visit the Center For Disease Control website.
International Airfare
Aeroflot, Delta Airlines, Air France, Lufthansa, British Airways, and others are airlines that can be used for this trip. We recommend booking at least 7 months in advance if you want to try to use Frequent Flyer Miles for free tickets or upgrades or the American Express Platinum card 2-4-1 program.
Minimums
All departures are guaranteed on a minimum number of 7 participants. A Coda Tour Manager will accompany a tour also based on a minimum number of participants. This tour can be operated as a Private Tour, can be customized and repriced based on a final itinerary. Rates are based on a minimum participation of 7. For fewer than 7 participants, rates may be revised.