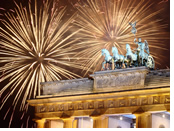 Magical. It's the best word to describe this part of the world during the holidays. Instead of hiding indoors during the winter, Europeans embrace the season and head out into the outdoor hot baths, Christmas markets, and skating rinks... usually with a cup of hot wine in hand of course. This is our favorite time of the year in this slice of Europe and if it's your first time to experience Budapest, Prague, and Berlin in the winter then you're in for a holiday season you'll never forget.
Our winter adventure kicks off with a "Detours family" Christmas in Budapest for 3 days of ice skating, thermal baths, Christmas markets, castles, a dinner river cruise down the Danube, and lots of "Christmassy options" such as joining the locals for Midnight Mass or taking in a live Nutcracker performance.
From Budapest we fly 1 hour together up to Prague, one of the most unique cities in Europe with old world charm all lit up for the season, complete with all the history and holiday spirit, but jam packed with gay nightlife too! Known as one of the world's gay "must visit" hotspots makes this a perfect place to balance out some day time exploring with night time fun.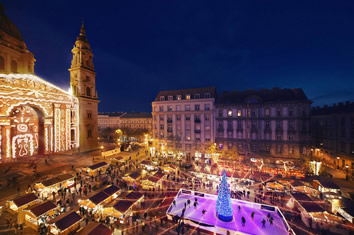 After 3 days in Prague we jump on the 4.5 hour train along the Elbe & Vlatava rivers for the grand finale of the trip in Berlin! There's tonnes of amazing sites to experience in Berlin and we'll make sure to experience them, but the icing on the cake is getting everyone together at one of the biggest street parties in Europe at the famous Brandenburg Gate to ring in 2018 together.
If you've been looking to switch up your holiday season and make sure this one is unforgettable, then Budapest, Prague, and Berlin are all waiting.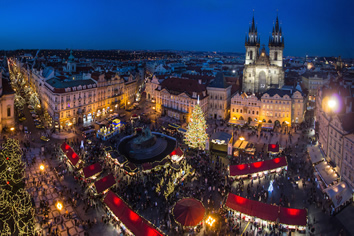 Our 10-day European holiday trips include many of the "big ticket" items of your experience, including your intra-Europe flight, land and train transportation, breakfasts, and more! Check out our detailed list of inclusions and exclusions below.
• All Taxes
• All accommodation in hotels/guesthouses
• Airfare from Budapest to Prague
• All land/rail transfers between remaining destinations
• 4 hour, 4-course Christmas Eve dinner cruise on the Danube River
• New Year's Eve celebration at Branderburg Gate, Berlin
• All full breakfasts
• Knowledgeable and fun DETOURS trip leader
• DETOURS pre-trip guidebook
• Group travel within Hungary, Czech Republic, and Germany
• Over a decade of trip leading experience
** - Trip prices based on twin share. Traveling solo? We'll match you up with another solo traveler at no extra charge, or just pay a $630 single supplement for your own room!
• Lunches and dinners not noted above
• Activities not noted above
• Optional tips for drivers/guides
• International Airfare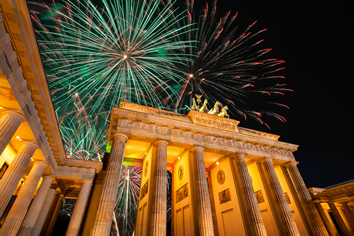 These 10 days bring together the beautiful capital cities of some of Europe's most intriguing countries, all with a holiday twist! The hot baths of Budapest with Christmas, followed by the weekend in Prague, known for its old-world charm and nightlife, then topped off with ringing in the new year with the Germans in Berlin!
Days 1, 2 and 3 - Budapest, Hungary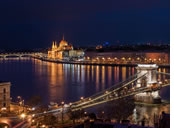 What a place to celebrate Christmas together! It's a visually stunning city with castles sprinkled around the city and packed with holiday spirit. We'll start our trip together here at 4:00pm and head out to spend Christmas Eve together on the Danube River with a 4-course dinner cruise complete with music and all the best scenery. It's the best vantage point to see the Buda Castle, Chain Bridge, and Hungarian Parliament all lit up. Christmas Day and the 26th is a great time to wander through the Christmas markets (yes, they're open today), or maybe take in a chamber concert at the Danube Palace, or head to the famous hot baths, jump on a hop-on-hop-off bus tour of the city. And at night, Budapest has many different nightlife options including lots of gay bars, clubs, and saunas.
The capital city of Hungary and its cultural, historical, and social epicentre. It's one of those cities elicits a "OMG, I love Budapest!" from anyone within earshot of a conversation containing its name. Why do people love this city so much? It must be a combination of the anicent castles along the Danube river, the surprise of being in an upscale world-class city in Eastern Europe, the way everything is lit up to emphasize the most dramatic architecture that has existed through centuries, and the lively social life.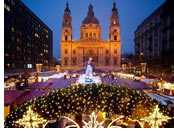 In December, all of this is wrapped up in a holiday atmosphere with locals out in the streets drinking their mulled wine, taking in outdoor concerts, and shopping at the street markets. It's an incredible time to experience the city at its best. And don't worry about staying cold here as it's famous for its hot baths, both outdoor and indoor!
We'll be spending our time here taking in all the best sites around the city and all the holiday spirit that they're putting out there for us. A Christmas Eve river cruise down the Danube, the famous Buda Castle, and our favorite site at night, the Hungarian Parliament buildings. There a great little coffee shop right across the street to hang out and watch the lit-up street cars cross in front of the massive buildings on the banks of the river. At night there are several unique gay nightlife options here and we love to head out on a bar crawl to check them out! Our days here are a great blend of soaking in the holiday spirit, exploring the sites, and enjoying the nightlife, all with a group of friends to share it with.
Days 4, 5, and 6 - Prague, Czech Republic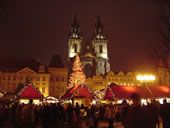 On Day 4 we'll take a 1 hour flight from Hungary to our next country on the trip, Czech Republic. Prague has long been known as a city of beauty, and one of Europe's favorite nightlife cities too! It's famous for it's old town full of history, where at this time of year everyone is out in the streets drinking mulled wine and strolling the sights. At night the city stays very alive as it lives up to its reputation for fun into the wee hours. We're here for 3 nights of exploring and fun together before continuing north to our 3rd country of the trip!
Prague has gained a reputation as one of the Europe's must visit cities,especially for gay travelers. Of course, it's an incredibly beautiful city, set on both sides of the Vltava River, with all the charming old-world buildings, culture, and history that has made it Europe's 5th most visited city, and 6th place on TripAdvisor's "must visit" cities in the entire world list last year.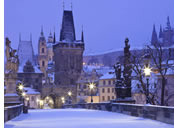 There was a lot of destruction in 20th century Europe, but Prague's famous sites managed to survive it all. It has been one of Central Europe's center of politics, culture and economy for many centuries and continues to be a very important city in the region.
Prague also has a fantastic reputation for its nightlife, with many Europeans heading to Prague for a wild weekend away. For gay travelers, there's a long list of different nightlife options from social lounges, to saunas, to strip clubs, to live music venues, to loud clubs that continue until the sun comes up. One of the reasons Prague has made it to such a popular place to visit must be that it appeals to all types of travelers! Early risers have a over 10 major museums, theatres, galleries, castles, and stroll-able streets, while the night owls have just as many options to keep their hearts pumping til the sun comes up.
Days 7, 8, 9, and 10 - Berlin, Germany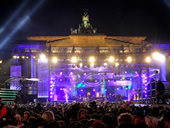 On day 7 of the trip we'll hop on a 4.5 hour train across the European countryside, past the Elbe & Vlatava rivers to our final stop of the trip - Berlin! We've got 3 nights here together, one of which is New Year's Eve, welcoming in 2018! Berlin itself has a tonne of history going back thousands of years and even into modern times and it's all on display in this city that's also know as one of the world's gay hotspots. We'll ring in the new year at the famous Brandenberg Gate with thousands of Germans and travelers from all over the world, complete with amazing fireworks too. If you don't even remember most of your New Year's Eve celebrations, it's about time you experience one you'll never forget! Our trip comes to an end on the 10th day (January 2nd) but if your schedule allows, consider staying a bit longer in this part of Europe to experience even more that it has to offer!
Imagine thousands of people gathered at the base of the famous Brandenburg gate, all counting down to the start of 2018, helped along with a big stage of live music and fireworks overhead. It's a memory of Berlin you'll always have. It's a spot that brings together the significant history of this city, with the future, all in a fun social mood with thousands of locals and travelers all over the world there to celebrate together in the streets.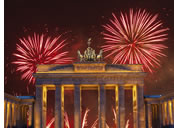 New Year's isn't our only reason for visiting though, Berlin is the capital city of Germany and has long been one of the world's super power cities. With that long history comes a tonne of different sites to visit and history to take in. It's home to world renowned diverse architecture, museums and festivals, but it's also on the list of famously gay destinations too. It's a city with a very comfortably liberal atmosphere and that has allow their gay community to flourish, with lots of little cafes, restaurants and bars focused on serving a majority gay clientele in some areas including Schöneberg.
There's no limit to the amount of history to soak in here too. Extending back thousands of years, but also one with an immense amount of modern history too of course. It seems that every few steps in this city has a place that's important or unique enough to deserve a stop and check out. If you've got a flexible schedule, consider staying some extra time in the area, especially if you're a history buff!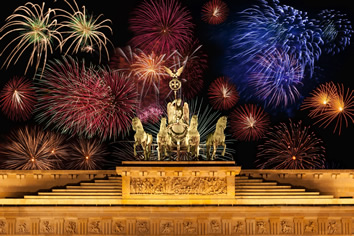 Our accommodation in all 3 capital cities on this trip is located right smack in the middle of all of the best each city has to offer. Each area is very vibrant, and each hotel is unique and beautiful - we know you're going to love them as much as we do! Check out our approved accommodation to get an idea of the places you'll be laying your head during your Detours European holiday trip.
Budapest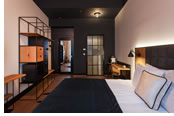 Rum Hotel
Why we love this property:
• Chic, trendy style
• Smack in the middle of the best area of the city
• Completely renovated and reopened just last year
• Modern comforts surrounded by centuries of history
• Great on-site restaurant with wonderful breakfasts
• Home-y feeling with only 38 rooms in total
Prague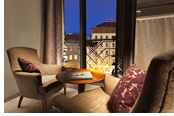 Jalta Boutique Hotel
Why we love this property:
• The best location for exploring the city - both night and day
• A unique 1950's bomb shelter in the basement - check it out!
• Great views of the historical center of Prague
• Spacious rooms
• Meticulously clean, and great showers
• 1-minute walk to Wenceslas Square and the National Museum
Berlin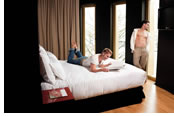 TWO Hotel by Axel
Why we love this property:
• The "cool" factor, and definitely the "gay" factor
• The world's most well known LGBT hotel chain
• Amazing location in the heart of Schöneberg
• On site gym and spa services
• A great place to meet other travelers
• Wonderful social lounge area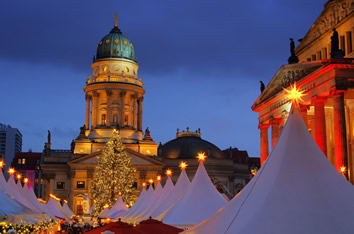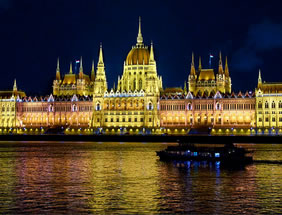 The Climate
This is a unique trip for Detours in that it's NOT a hot time of year to travel in this region - but we're going to embrace the winter like the locals do! Expect temperatures to be hovering just above freezing most days. But you'll be surprised to find that instead of people hunkering down indoors through the winter here, they seem to love embracing it! It really helps to have a cup of hot mulled wine in hand of course. We suggest bringing your warm clothes on this trip - but be prepared for outdoor hot baths with a swimsuit too!
The People and LGBT Community
But are these places gay friendly? Of course! The mayor of Budapest even marches in the annual pride parade each year, Berlin is famous for its culture of "unique" gay nightlife, and Prague is one of the world's gay hotspots. With the exception of Berlin, these aren't places you'll find fully public displays of affection, but all are places that you can feel comfortable telling the locals, or visiting gay bars, or requesting one bed for you and your partner. You'll find the people here love to stick to their traditions, especially around Christmas time and it's a great time to be a part of all of that tradition in the streets, theatres, parks, and markets.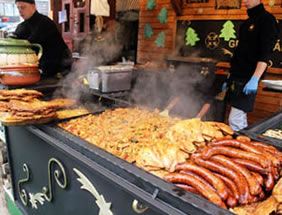 Meals
The traditional food in this part of the world could be generally described as "heavy", but hey, you're on vacation and it's winter! Bratwurst, stews, goulash, meats, schnitzel, etc. It's definitely not a salad culture here, but in these modern times with "modern" diets most restaurants now have options for vegetarians as well. We'll eat well on this trip - don't worry. Detours doesn't believe in limiting your choices by including all of your meals at pre-decided restaurants as part of the trip package. Instead, we include all of your breakfasts to start your day off, then we explore all of the different restaurant options available for lunch and dinner. This way we can eat when we want, where we want, and spend what we want! Your trip leader definitely has their favorite spots so if you'd like some advice on the best in each location, just check with them.
What to bring?
Our advice is simple. Pack your bag, then take half of those things out and leave them back home. It's common to hear people wishing they'd packed less stuff, but we've never heard anyone complain that they didn't bring enough. Even if you realize you forget to pack some crucial item you can always pick up a replacement once you arrive Europe. More packing information including a suggested packing list is included in your "Pre-trip Guidebook".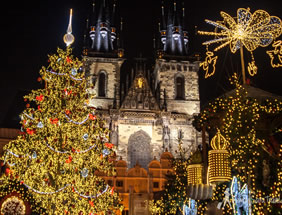 Money
These days it seems that banks find every opportunity to ding us with fees from home and at each ATM we use. That's why we suggest using a credit card with no international fee, and bring some local cash with you. You still may need to use an ATM along the way, but it's best to try to minimize the number of visits. Travelers checks are a thing of the past so we don't recommend them any more.
Budapest (Hungary) - The official currency here is the Hungarian Forint (HUF) and that's what we suggest bringing with you for your first few days. Credit cards are widely accepted, but Euros are only accepted with high exchange rates.
Prague (Czech Republic) - The official currency here is the Czech Crown (CZK) and similar to Hungary, we suggest bringing a bit of this too. Again, credit cards are widely accepted so don't bring much cash, but it's good to have a small amount on you.
Berlin (Germany) - The official currency here is the Euro (EUR) and again we suggest having some Euros on you too. Basically, everywhere will accept credit cards so just a small amount of cash is good to have on hand.
Tipping
Tipping isn't a native European custom, however, it is always appreciated by local service staff. It's also something that has become expected in any tourist areas of the world. We suggest tipping for any services in a similar way to how you'd tip in USA/Canada. That extra bit on top of your dinner bill is very appreciated by the service staff.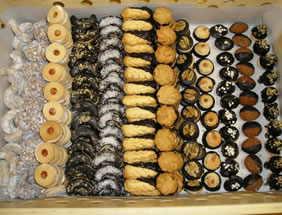 Accommodation
We have pretty high standards when it comes to choosing our accommodations, and trust us, we've done plenty of room-sniffing, pillow-patting, bed-jumping and bathroom inspections to make sure we stay at quality spots. To be approved as a Detours accommodations provider, a hotel/guesthouse must: be locally owned (to support the local community), be in an amazing location (close to the beach or other hot spots), AND be gay-owned or gay-friendly. We won't be staying in 5-star Ritz-Carltons but we also won't subject you to anything we wouldn't want to stay in ourselves. Clean, comfortable, well-located spots that'll put a smile on your face, you can count on that!
Trip Leaders
All of our trip leaders are gay, and all certified leaders must undergo a rigorous training routine that includes deep-fried cricket eating, and impromptu dancing tests. Apart from these vital skills, we require our leaders to know their stuff really, really well. Underneath their fun and quirky facades, our guides are experts and passionate about what they do. Don't hesitate to ask them about a random statue you might see along the way. Their job is to help ensure that this is your trip of a lifetime by taking the hassle out of your trip and enabling you to experience everything you came to Europe for.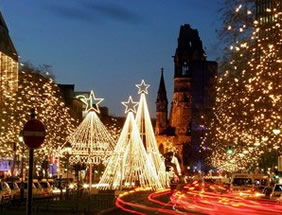 Alarm Clocks
We've got NO scheduled early mornings on this trip, which will be music to the ears of the night owls! A world without alarm clocks is one we want to be part of, and your "rise and shine" while in Europe should come from the sound of church bells in the distance, or maybe a local festival in the streets.
Extending Your Trip For many people, 10 days in this part of the world just isn't enough time. If you're lucky enough to be able to stay longer, or if you decide to quit your job and bounce your way around Europe for a while we'd be happy to help you extend (or cancel!) your return flight. We've been all over the area, so don't think twice about asking where to go or what to do after your Detours trip is complete. Scandinavia and Western Europe are close and many other interesting destinations are close-by.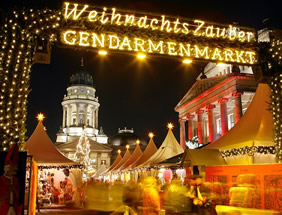 Your Group
Our Detours groups are run with a minimum of 4 travelers and up to a maximum of 15 travelers. Ages of group members vary but around 90% of our travelers are in their 30's, 40's, and 50's. Whatever the age of the guys on our trips everyone's already got something in common, an exciting new experience in a new country! Each group is led by a Detours trip leader who is there to ensure everything goes off without a hitch, allowing you to focus on having the time of your life! We welcome both men and women onto our trips although it's important to know that almost all groups are 100% gay men.
A Little Bit About Modesty
The urban areas of Europe that we'll be visiting can be compared to some of the more liberal areas of the USA in terms of welcoming attitudes towards gay travelers. That said, public displays of affection are not common here for the gays or the straights so as some respect for the locals we just suggest that you keep your affection for your partner to more private areas - such as your hotel. :)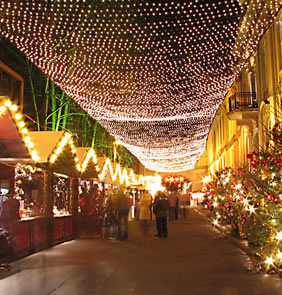 Solo Travelers
No problem! Don't worry, lots of our travelers come solo and our trip will provide plenty of chances to meet great people both inside and outside of our group, including other solo travelers. As far as your accommodations go, you've got two choices. We can either pair you up with another solo group member in a two-bed room for no extra charge, or you can have your own room for a reasonable surcharge.
Communicating with Home
Relax – we won't keep you from updating your Facebook status the whole trip. There is WiFi all over the place and available at every hotel we stay at. If you're more the "E.T." type and would just rather call home, feel free to pick up a calling card at a corner store and make use of the many local payphones. Alternatively, if your mobile phone is "unlocked" you can pick up a local SIM card which is quite affordable. Some phone plans have recently been making overseas data more affordable so it's a good idea to check with your mobile phone provider prior to the trip.