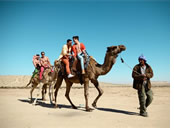 Enjoy Tel Aviv, Jerusalem, Dead Sea, Eilat & Petra, Jordan on our 10 Thrilling Days Gay Israel Tour! 4 or 7 days not enough? Our 10 day trip is just what the doctor ordered. Escape to all the stops highlighted in our 4 Days Tel Aviv Gay City Break & 7 Splendid Days Gay Israel trips, PLUS Eilat & Petra in Jordan!
This 10 day Israel gay trip will take you on a whirlwind adventure, packed with every ingredient to give you a fun-filled journey you are unlikely to ever forget! Begin by exploring the history and mysticism of Jerusalem. Continue to the quiet tranquility of Masada and the Dead Sea, where you will be pampered like no other.
Enjoy the 24/7 nonstop city of Tel Aviv. Famous for its golden beaches, world class restaurants, famous nightlife and vibrant gay community.
End your trip at the stunning coral reefs of Eilat, and even the majestic Petra, one of the Seven Wonders of the ancient world! This 10 Day Trip has been planned as an ideal way to get the most out of your exploration of the Middle East, whilst showing you the Gay Experience you deserve and satisfying you in every way! The most well-rounded to really get a feel for Gay Israel in all its splendour!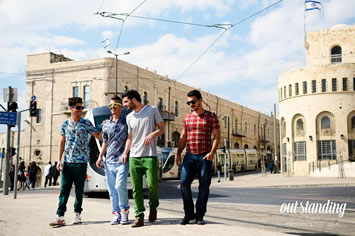 Planned from top to bottom, with high-quality service, OUTstanding Travel takes you through Israel and unfolds its true magic and beauty. We'll place you at the center of it all – with the best accommodation – covering the top major sites of Tel Aviv, Jerusalem, the Dead Sea and more. You'll experience the hottest attractions, the best in nightlife, the trendiest culinary spots and the unique culture of Israel, without missing a beat. With the unsurpassed knowledge of your gay local tour guide, OUTstanding Travel takes you out of the guidebooks and into the Israel you're waiting to discover.
We must mention that all aspects of this individual trip are changeable, and a tailor-made trip for you can be organized to fit you perfectly.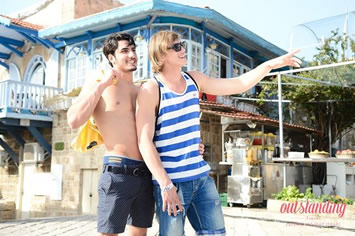 Day 1 - Sunday
Jerusalem, Israel
Shalom and welcome to Israel! Upon arrival at Ben Gurion Airport, you will be greeted by an OUTstanding Travel Representative, who will assist you with your baggage and escort you to transfer to your hotel in Jerusalem.
At night, feel free to go on an adventure! We suggest exploring the wonderful Jaffa Street and Mahane Yehuda Market, or strolling around the Old City.
You shall stay overnight in Jerusalem.
Day 2 - Monday
Jerusalem, Israel
Following an authentic and delicious Israeli breakfast at your hotel, get ready for a day of touring!
Meet our OUTstanding tour guide at the hotel and walk toward the Old City of Jerusalem.
Travel back in time to the beautiful Old City through one of its Ancient gates and visit such historical marvels and spiritual landmarks as King David's Tomb and the Room of the Last Supper, the Church of the Holy Sepulcher, Via Delarosa, the Arab Market and the recently restored Roman Cardo. Find yourself wandering through the charming Armenian and Jewish quarters, and see the sacred Western Wall, standing for thousands of years, before continuing on to the Christian quarter.
Prior to returning to your hotel, visit Yad Vashem, Israel's primary memorial and museum to the victims of the Holocaust.
End the day with a bang; a spectacular Sound and Light show exploring the rich history of Jerusalem projected on the Old City walls.
Overnight in Jerusalem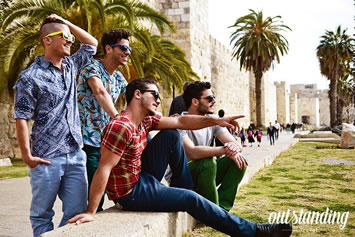 Day 3 - Tuesday
Masada & the Dead Sea
After enjoying an early breakfast and checking out of your Hotel, plunge south to the lowest point on earth and ascend by cable car to the legendary mountain fortress of Masada. The ancient mountain fortress of Masada was built in the year 30 BCE by King Herod, whose architectural feats have left their mark throughout Israel. At the beginning of the great revolt against Rome in the year 68 CE, Masada was conquered by a group of Jewish zealots, and Masada became their last stronghold. In the year 72, the Romans besieged Masada and succeeded in reaching the steep fortress after constructing a huge earthen ramp on its western side. In the year 73, the 960 Jewish zealots living at the top of Masada chose to commit suicide rather than to fall into the hands of the Romans alive. Their deeds left behind a saga of courage, heroism, and martyrdom.
After a bit of shopping at Ahava Dead Sea Factory Shop, drive to the shores of the Dead Sea and spend the afternoon enjoying the buoyant therapeutic waters of this mineral-rich sea, and absorbing the rejuvenating properties of its world famous mud.
Finally, check in at your Tel Aviv destination for your first of many overnights in one of the hippest cities on Earth! Tel Aviv is a world hub and capital of gay vibrancy and pride, a paradise combining golden beaches with a world-class nightlife, incredible culture and cuisine, and fantastic listed Bauhaus architecture.
Spend overnight in Tel Aviv.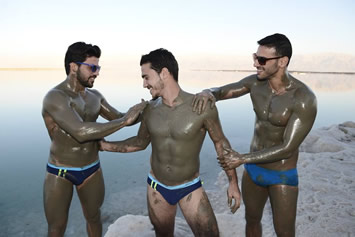 Day 4 - Wednesday
Tel Aviv & Jaffa
Kick off your morning with an OUTstanding Travel representative. Feel free to enquire about our superb Gay community and experience Rothschild Boulevard, one of Tel Aviv's most important and iconic streets. Located in the heart of the White City of Tel Aviv, Rothschild Boulevard is a commercial center, with major financial institutions lining the street, a cultural center, with the main theater and concert hall of Tel Aviv, a culinary center, with tens of top restaurants, and a leisure center. Visit the lovely Neve Tzedek, the first neighborhood of Tel Aviv, built in 1887, and the historical sites of Old City Jaffa, one of the oldest port cities in the world; soak up the ancient ruins and walk along the Artist's Quarter. We pride ourselves on our knowledge of the nightlife and exquisite culture with our unique Gay perspective.
In the afternoon make a splash lounging at one of Tel Aviv's hottest beaches, the Hilton Gay Beach.
Later, put on your dancing shoes and get ready to party at "Dreck", a very popular gay party (free entry).
Spend overnight in Tel Aviv.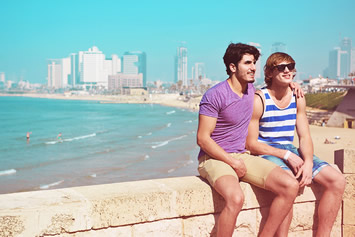 Day 5 - Thursday
Tel Aviv, Israel
Spend a day of leisure and relaxation.
Following Breakfast hit the beach once more or visit the wonderful Tel Aviv Art Museum, one of Tel Aviv's cultural centres. Take a stroll to Tel Aviv's port area, with an array of trendy restaurants and coffee shops to relax in and stores to peruse. A good opportunity to get to know the city for yourself!
At night, party time! Bar hopping around the Rothschild Boulevard area.
Spend overnight in Tel Aviv.
Day 6 - Friday
Tel Aviv, Israel
Another day of exploration and leisure. We suggest getting caught up in the excitement at the Carmel Market and the traditional Friday shopping rush as the locals prepare for their Shabbat. Prior to Shabbat, "get your shopping on" with some free time to browse the many stores in the Nahalat Binyamin Artist's Market and the very fashionable Shenkin Street.
Following dinner, a memorable night full of fun and music awaits, as you go clubbing on your last night in Tel Aviv (entry included).
Spend overnight in Tel Aviv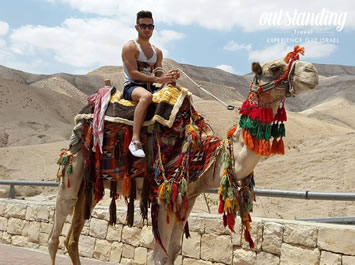 Day 7 - Saturday
Eilat, Israel
Following breakfast, check out from the hotel and transfer to the Airport for your flight to Eilat. Upon landing, a private transfer will be waiting to drive you to your hotel.
Eilat is one of Israel's most popular tourist destinations, set at the southernmost point of Israel, by the Red Sea, with incredible underwater activities in one of the world's most beautiful coral reefs and gorgeous weather.
Overnight in Eilat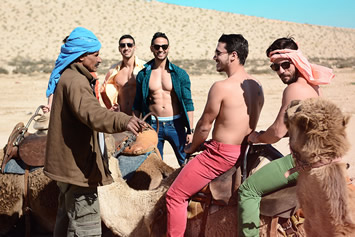 Day 8 - Sunday
Petra, Jordan
Spend the day in phenomenal Petra, over the border in Jordan. Meet with a Jordanian Tour Guide and drive through the enchanting landscapes on the way. Arrive in the Petra nature reserve and take a short horse ride around the entrance to the Nabatean capital. Petra is an ancient and majestic city carved directly out of a mountain. Known as one of the new 7 Wonders of the world and a world heritage site since 1985, it is certainly a feast for the eyes and a great thing to tick off your bucket list!
The road leading there meanders through the winding and breathtaking Siq (the shaft) at the end of which the striking splendour of the burial shrine Al Khazneh (the treasury) is revealed to you. Take time to explore the ancient city and visit the Theatre, the façade, the Winged Lions Temple (still under excavation) and more… Have a quiet and original lunch at one of Petra's local restaurants prior to your return to Eilat, spend some free time in Aqaba, Jordan.
There is a transfer awaiting you from the Arava border to your hotel in Eilat.
Stay and relax overnight in Eilat.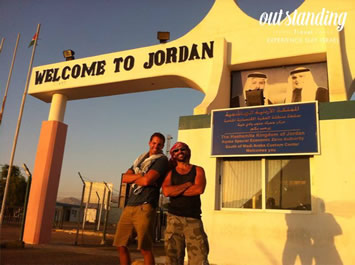 Day 9 - Monday
Eilat / Tel Aviv, Israel
Check out after breakfast, followed by the unforgettable experience of a swim and snorkel with the gay-friendly dolphins at the beautifully colorful Eliat Dolphin reef!
In the afternoon, private transfer to Eilat Airport for your domestic flight to Tel Aviv. Upon landing, a private transfer will take you from the Airport to your hotel in Tel Aviv.
Overnight in Tel Aviv.
Day 10 - Tuesday
Tel Aviv, Israel
Following breakfast, check out from the hotel and transfer to Ben Gurion International Airport for your flight back home taking with you everlasting memories of Israel, and a great tan too!
Goodbye and Le'Hitraot (till we see you again)!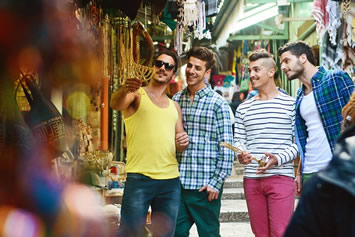 Select from 3 different Jerusalem, Tel Aviv & Eilat hotel combinations.
Mamilla Hotel, Jerusalem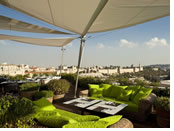 Mamilla Hotel is a Jerusalem hotel located in the heart of the City, with magnificent views of the Old City walls, the Tower of David, Jaffa Gate, and alongside Jerusalem's new shopping and entertainment experience, the Alrov Mamilla Avenue. Mamilla Hotel is the newest of luxury Jerusalem hotels, which brings world-class superior design and lifestyle hospitality to Jerusalem and Israel.
Guests and visitors at the Mamilla Jerusalem Hotel enjoy exceptional accommodations together with exclusive restaurant and bar venues, a Holistic Wellbeing Center, as well as events and banqueting spaces, that blend sophistication and modern international style with the unique and rich culture of the City.
The Mamilla Jerusalem Hotel is a visually stunning example of intimate, sophisticated contemporary design. The exquisite design was done by, Piero Lissoni, one of the world's renowned designers, and is one the finest Jerusalem hotels.
Isrotel Royal Beach Hotel, Tel Aviv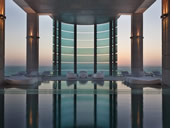 The Isrotel Royal Beach hotel is located on Herbert Samuel Street, on the boulevard that kisses the coastline, and in walking distance from all the food and hot spots of the city of Tel Aviv.
With its 23 floors towering over Tel Aviv, the hotel dominates the Tel Aviv coastline, with all of its rooms overlooking the blue of the Mediterranean Sea and the beautiful urban landscape of the city of Tel Aviv.
This modern and luxurious Isrotel Royal Beach hotel offers an outdoor pool, an a-la-carte restaurant and bar, a Spa and Wellness Area, an Executive Lounge and a fitness centre. Wi-Fi is provided throughout.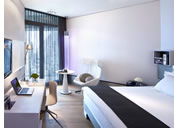 All rooms are luxuriously designed and fitted with top quality furniture. They all include a luxurious bathroom with free toiletries, a work area, an LCD TV with connection to Israeli and international channels, free Wi-Fi connection, a minibar and seating area.
A full Israeli breakfast buffet is served each morning at the restaurant, while the lobby bar offers kosher food and drinks. Room service is available 24 hours a day. Concierge service is available. The Spa and Fitness Area offers saunas, massages and Turkish baths, while a fitness room is also available.
Isrotel Royal Beach Hotel, Eilat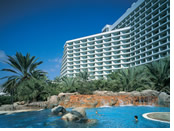 Distinguished guests, statesmen, artists, public and business figures, are all regular guests of the Isrotel Royal Beach Hotel Eilat – the most prestigious, classy hotel in Eilat. Every single detail in the hotel aspires to perfection, pleasure and splendor.
This is felt from the architecture, which allows each of the 353 rooms and suites the opportunity to enjoy spectacular views of the Red Sea in privacy, to the Israeli artworks which decorate every corner of the hotel, to the finest details in décor. The entire hotel is decorated elegantly and with refined taste, unobtrusively planned with close attention to detail and treated with dedication to ensure that your prestigious vacation is nothing less than a perfect work of art.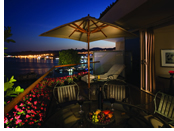 Royal Beach Hotel Eilat by Isrotel Exclusive Collection has its own private beach overlooking the Red Sea in Eilat. It features 3 outdoor pools, a sun terrace and a wellness centre.
Rooms at the Royal Beach have views of the pool or the sea, and most have a balcony. All are equipped with air conditioning and tea/coffee making facilities.
The on site restaurant serves a range of Israeli and international cuisine. Guests can relax in the contemporary lounge area where there is live piano music, or enjoy a drink from the pool view bar.
Mamilla Hotel in Jerusalem (Studio Room), Royal Beach Hotel in Tel Aviv (Bella Vista Room), Royal Beach Hotel in Eilat (Bella Vista Room)
Double Occupancy: from $2,630 USD per person
Private Single Room: from $4,280 USD
Harmony Hotel, an Atlas Boutique Hotel, Jerusalem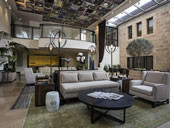 The Harmony Hotel in Jerusalem is located just a 10-minute walk from the Old City and 5 minutes away from Jerusalem's new Mamilla shopping center. The hotel is located in the heart of Jerusalem in the Nahalat Shiva neighborhood, one of the first to have been built more than 100 years ago outside the walls of the Old City of Jerusalem.
Since then, Nahalat Shiva, with its gourmet restaurants, upscale boutiques catering to tourists and its proximity to the many religious and historic sites of Jerusalem, has become one of the most charming parts of downtown Jerusalem.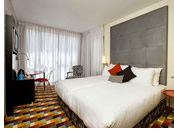 The 50 comfortable and stylish guestrooms of the Harmony Hotel, Jerusalem overlook the roofs and alleys of this historic neighborhood. The hotel, which opened only a few years ago, combines modern eclectic design with elements that convey the essence of the city's character, from stunning photographs to video art created by local artists. The colors, faces, and fabrics of Jerusalem are evident throughout the Harmony Hotel, Jerusalem, Israel.
The sleek, modern décor of the Harmony Hotel, Jerusalem, highlighted by its white, gray, and black color scheme, helps create a tranquil atmosphere that belies its location in the busiest part of town. In addition to the rich Israeli hotel breakfast served in its serene, sun-filled lobby, the Harmony Hotel hosts a complimentary happy hour for its guests each evening in its business lounge, which has been designed as a traditional English club complete with a fireplace and billiard table.
Shalom Hotel & Relax - an Atlas Boutique Hotel, Tel Aviv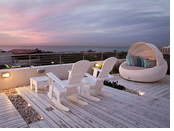 Just a few steps from Tel Aviv's beach, Shalom Hotel & Relax offers a rooftop lounge overlooking the city and Mediterranean Sea. Free Wi-Fi access is available throughout. Relax in a sophisticated Tel Aviv hotel styled as a beach house. Enjoy the cool breeze and beautiful sunsets in the heart of the city, overlooking the Tel Aviv beach. The hotel is a 10-minute walk from Tel Aviv's shopping district around Dizengoff Street. Tel Aviv Marina is just 5 minutes away on foot.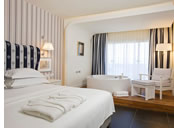 The Shalom Hotel & Relax offers 51 rooms designed to pamper guests that want to enjoy the resort atmosphere of Tel Aviv, Israel. Shalom Hotel & Relax - an Atlas Boutique Hotel has been completely modernised. Each room is air conditioned and features a plasma-screen TV with internet access and cable channels. The rooms have sea or city views.
All guests are welcome to enjoy the amazing rooftop lounge - the perfect spot for an afternoon of relaxation.
Isrotel Agamim Hotel, Eilat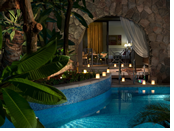 The young, young at heart and anyone else who yearns for the relaxing atmosphere of the Sinai beaches – Isrotel Agamim Hotel is the hotel for you! A huge lake, magical bays and rooms 'on the water' – with direct access from the room to the pool. Here there are no time pressures and no worries – 'chillout' music will accompany you in the numerous hammocks and comfortable relaxation nooks, fun pool bar, shakes, cocktails and everything you need to relax and ... do nothing at all.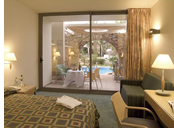 5 minutes from Eilat's attractions, the Isrotel Agamim Hotel offers peace and quiet in tasteful settings. Enjoy relaxation by the poolside while listening to chill out music or a live saxophone player.
The rooms are elegant and spacious. Some rooms are located on the ground floor with direct access to the pool and with their own private terrace.
The hotel's facilities include a spa where you can let yourself be pampered with a massage, gym, hammam, and a bar.
Harmony Hotel in Jerusalem (Standard Room), Shalom Hotel & Relax in Tel Aviv (Standard Room) & Isrotel Agamim Hotel in Eilat (Pool view Room)
Double Occupancy: from $2,110 USD per person
Private Single Room: from $3,290 USD
Eyal Hotel, Jerusalem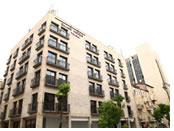 The Eyal Hotel is located in Shamai St., which is just off Ben Yehuda St. The property has recently been renovated and this project has allowed for the implementation of advanced technologies in order to ensure that the hotel will be environmentally friendly.
The Eyal Hotel offers 68 newly refreshed rooms with modern amenities and perfectly-finished design. The hotel includes, among other facilities, sublevel guest parking (Subject to availability), event and dining halls, a spacious solarium with an ecologically-designed wall, comfortable living room furnishings and a magnificent urban view over the center of Jerusalem.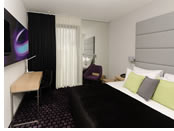 Hotels new dining hall, is a comfortable place to enjoy delicious food, served in both the mornings and evenings. Experienced chefs prepare healthy and fresh meals that are both kosher and mouth watering. Breakfasts consist of fresh cheeses, fruits and vegetables, scrambled eggs, a variety of warm dishes, homemade marmalades, freshly baked breads and a selection of Coffees .The dining hall is lined with views of downtown Jerusalem.
All rooms include a modern bathroom with bathtub/shower, hair dryer and other amenities. Guests enjoy national calls free of charge, USB sockets for mobiles and tablets, and dedicated personal service by a reliable and professional staff.
Cucu Hotel, Tel Aviv

Featuring free WiFi and a restaurant, Cucu Hotel offers accommodation in the heart of Tel Aviv, 50 m from Dizengoff Square. Restaurants and bars popular among locals are in the property's surrounding area.
All rooms have modern-style décor, a 43" LED TV and air conditioning. Certain rooms include a private balcony with sitting area to relax in after a busy day. Every room includes a private bathroom. Extras include bath robes, slippers and free toiletries.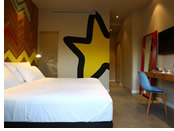 A full Israeli breakfast is served at a nearby café. The hotel also has a 24-hour reception and concierge service.
Dizengoff Center shopping mall is 150 m from Cucu Hotel and Tel Aviv beach can be reached in 15 minutes on foot. Ben Gurion Airport is 20 km away.
There is no doubt a boutique hotel, intimate and stylish can give you the feeling that you are part of the city's unique spirit of Tel Aviv.
Vista Hotel, Eilat

A small boutique hotel with a warm, cozy feeling, the Vista offers you a high level of accommodation, with caring and dedicated services that focus on your specific needs.
The Vista Hotel is located on the north shore of Eilat, between two lagoons and within a short walking distance from the beach and the main entertainment centers of the city. This enables the Vista Eilat to offer you a quiet and calm atmosphere that is nevertheless close to the center of attractions in Eilat, with all the activities and shopping experiences.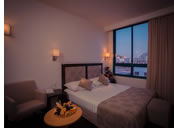 The design of the hotel is based on a modern and aesthetic mindset, with crisp white colors and an earthy rural touch – a combination which reflects the Vista's high standards of accommodation and warm familial atmosphere.
The hotel's rooms are beautifully designed to ensure that your stay will be impeccable, with delicious meals served at the hotel's restaurant, the swimming pool, workout gym, spacious lobby, and all the services and amenities which are offered to our guests. All of these create a well-groomed array of services with everything required to make your vacation in Eilat a dreamy one.
Eyal Hotel in Jerusalem (Standard Room), CUCU Hotel in Tel Aviv(Standard Room) & Vista Hotel in Eilat (Standard Room)
Double Occupancy: from $1,840 USD per person
Private Single Room: from $2,830 USD