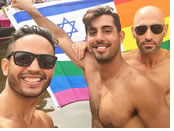 Celebrate your Gay Pride in Tel Aviv with an extra touch of luxury. Your Pride escape to Gay Tel Aviv has been upgraded! OUTstanding Travel makes celebrating your Pride as seamless as possible, from accommodations at the most luxurious hotels in the city, to insuring your entry to the most exclusive gay parties and fabulous events taking place during Pride 2018. PLUS, three exciting Gay Bus day trips to Tel Aviv, Jerusalem and the Dead sea!
Tel-Aviv is quickly making a name for itself as one of the top Gay destinations in the world. The extravagant and lavish Pride Week takes place annually at the beginning of the summer, when the sun shines brightly on the Tel Aviv shores. This is one unforgettable week, as Gay tourists from all over the world flock their toned, chiseled bodies to get a glistening glimpse of the vibrant nightlife, outrageous parties, a must see-to-believe Pride Parade and of course, a plethora of gorgeously bronzed Israeli men and women. OUTstanding Travel makes celebrating your Pride as seamless as possible, from accommodations at the best hotels in the city, reservations at the trendiest restaurants and insuring your entry to the most exclusive parties and fabulous events taking place during Pride 2018. Avoid the hassles of limited vacancies and sold out soirees. Book your Pride Week with us and experience Gay Israel the right way.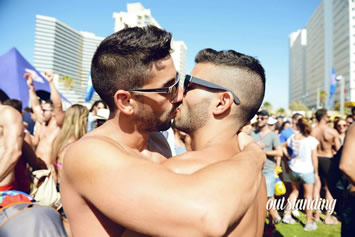 Day 1 - Sunday, June 3, 2018
Tel Aviv, Israel
Shalom and welcome to Israel! Upon arrival at Ben Gurion Airport, you will be greeted by our OUTstanding Travel Representative, who will assist you with your baggage and escort you to transfer to your hotel for your first of many overnights in one of the hippest cities on Earth! Tel Aviv is a world hub and capital of gay vibrancy and pride, a paradise combining golden beaches with a world-class nightlife, incredible culture and cuisine, and fantastic listed Bauhaus architecture.
Spend overnight in Tel Aviv.
Day 2 - Monday, June 4, 2018
Tel Aviv & Jaffa, Israel
Kick off your morning with our OUTstanding Travel representative giving you a personal tour of the city. Feel free to enquire about our superb Gay community and experience Rothschild Boulevard, one of Tel Aviv's most important and iconic streets. Located in the heart of the White City of Tel Aviv, Rothschild Boulevard is a commercial center, with major financial institutions lining the street, a cultural center, with the main theater and concert hall of Tel Aviv, a culinary center, with tens of top restaurants, and a leisure center. Visit the lovely Neve Tzedek, the first neighborhood of Tel Aviv, built in 1887, and the historical sites of Old City Jaffa, one of the oldest port cities in the world; soak up the ancient atmosphere and walk along the Artist's Quarter. A good opportunity to get to know the city for yourselves! Take the opportunity to spend the afternoon at the Hilton Gay Beach, relaxing yourselves, and making the most of the sun, sea and breeze.
At night go and party like there is no tomorrow! :)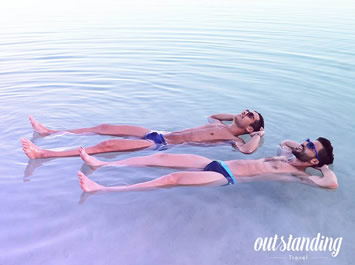 Day 3 - Tuesday, June 5, 2018
Masada & The Dead Sea
Begin this day with a genuine Israeli Breakfast at the hotel before joining the OUTstanding Gay bus tour to Masada & the Dead Sea (all included):
Plunge south to the lowest point on earth and ascend by cable car to the legendary mountain fortress of Masada. The ancient mountain fortress of Masada was built in the year 30 BCE by King Herod, whose architectural feats have left their mark throughout Israel. At the beginning of the great revolt against Rome in the year 68 CE, Masada was conquered by a group of Jewish zealots, and Masada became their last stronghold. In the year 72, the Romans besieged Masada and succeeded in reaching the steep fortress after constructing a huge earthen ramp on its western side. In the year 73, the 960 Jewish zealots living at the top of Masada chose to commit suicide rather than to fall into the hands of the Romans alive. Their deeds left behind a saga of courage, heroism, and martyrdom.
Continue to Ein Bokek - Dead Sea Resort to enjoy a delicious buffet lunch and spend the afternoon enjoying the buoyant therapeutic waters and world famous rejuvenating mud of this mineral-rich sea, the largest all natural spa in the world, on a private beach provided solely for the tour bus group. In the evening, return to Tel Aviv with the bus to spend another unforgettable night of fun.
Day 4 - Wednesday, June 6, 2018
Tel Aviv, Israel
Spend a day of leisure and relaxation. Following breakfast, hit the wonderful Hilton Gay Beach or visit the Tel Aviv Art Museum, one of Tel Aviv's cultural centres. Take a stroll to Tel Aviv's port area, with an array of trendy restaurants and coffee shops to relax in and stores to peruse.
Also worth visiting is the newly renovated Sharona Compound, a complex of unique department stores and cafes in the old German colony of Tel Aviv.
As the sun sets over Tel Aviv, join designer Andrew Christian and his Trophy Boys for a pool party on the rooftop deck of the Leonardo Art Hotel. With unlimited free drinks, a swimming pool, stunning views, and hot guys from all around the world, start off your Pride Weekend the right way.
Overnight in Tel Aviv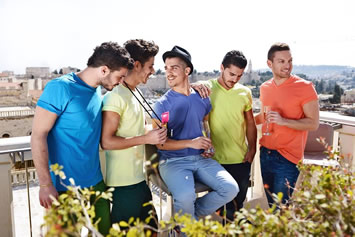 Day 5 - Thursday, June 7, 2018
Jerusalem, Israel
This day starts with a hearty Breakfast at the hotel before joining the OUTstanding Gay bus guided tour to Jerusalem (all included):
Travel back in time to the beautiful Old City through one of its Ancient gates and visit such historical marvels and spiritual landmarks as King David's Tomb and the Room of the Last Supper, the Church of the Holy Sepulcher, Via Delarosa, the Arab Market and the recently restored Roman Cardo. Find yourself wandering through the charming Armenian and Jewish quarters, and see the sacred Western Wall, standing for thousands of years, before continuing on to the Christian Quarter.
Stop for an authentic Middle Eastern Lunch at the Armenian Quarter, then proceed to visit Yad Vashem, Israel's primary memorial and museum to the victims of the Holocaust.
The tour shall end with your return to Tel Aviv just in time for a drink at Shpagat Gay Bar (first drink included).
Day 6 - Friday, June 8, 2018
Tel Aviv, Israel
After a refueling breakfast at the hotel, the big day has arrived! Experience the full magnitude of the world renowned Tel Aviv Pride Parade. It's amazing! It's colorful! It's soooo Gay!
Celebrate freedom by strutting your stuff at the Parade before heading to the Official Pride Beach Party in the afternoon, and finally converging later in the night at the Tel Aviv Pride Main Event. Spend the rest of the night partying your heart out, loud and proud in Tel Aviv.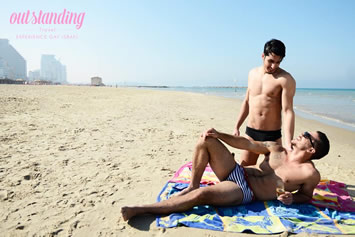 Day 7 - Saturday, June 9, 2018
Tel Aviv, Israel
A day to relax and recover, spend the day lounging at the Hilton Gay Beach or visiting the Tel Aviv port and gather your strength for the tip top high of the Tel Aviv Mega Pride closing party with DJ Offer Nissim… we assure you won't be disappointed.
Day 8 - Sunday, June 10, 2018
Tel Aviv, Israel / Departure
Following breakfast, check out from the hotel and transfer to Ben Gurion International Airport for your flight back home taking with you everlasting fond memories of your Israeli Pride Week.
Goodbye and Le'Hitraot (till we see you again)!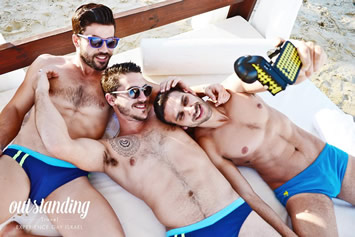 Below you may choose from 8 different deluxe hotel & rate options (For Standard Hotel Options, please check Tel Aviv Gay Pride 2018 Tour Package page). Each package includes:
• 7 overnights hotel accommodation on bed & breakfast basis
• Greet and assist at the airport by an OUTstanding Travel Representative
• Private taxi transfer from Ben Gurion Airport to the hotel in Tel Aviv
• Walking tour of Tel Aviv & Jaffa with a certified tour guide (June 4th)
• Two day trips with OUTstanding Travel Gay Bus: Masada & the Dead Sea (June 5th) and Jerusalem (June 7th) incl. lunch, certified tour guide and sites entrance fees
• Party passes for the three leading gay events of Tel Aviv Pride 2018 - on Wednesday, Friday and Saturday
• Private taxi transfer from the hotel in Tel Aviv to Ben Gurion Airport
Hilton Tel Aviv Hotel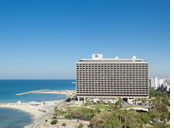 50 yards from the Mediterranean beach! Hilton Tel Aviv, located within the beautiful Independence Park, has direct access to the Hilton Beach and Tel Aviv Promenade. Each of its 560 guest rooms comes with a private balcony, a stunning sea view and an elegant marble bathroom.
The hotel is situated in the heart of Tel Aviv, just a short stroll to the city's shopping centers, restaurants and cultural landmarks. Old Jaffa, one of the oldest cities in the world, is a few kilometers away. We are only 12 miles from Ben Gurion International Airport.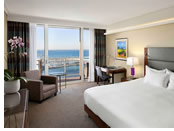 From your private balcony, you'll enjoy views of the Mediterranean Sea. After a busy day, relax by the outdoor saltwater pool or work out any stress in the fully equipped gym.
Choose from a buffet breakfast in Café Med, a relaxed lunch in Yakimono Sushi Bar or a gourmet dinner in the new Chef restaurant Chloelys. We also serve refreshments in the Lobby Lounge, the seasonal Pool Bar, and of course, any time with Room Service.
Sheva Spa, the first of the traditional Thai spas in Israel, features a full gym, sauna and steam rooms and relaxation area with sea views. As a guest, your access is complimentary. Our spa atmosphere combines the design, ambience and fragrances of Royal Thailand, creating a unique experience.
Double Occupancy, Deluxe Room: $2,340 USD per person
Single Occupancy, Deluxe Room: $3,935 USD
Carlton Hotel, Tel Aviv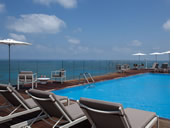 Get the celebrity treatment with world-class service at Carlton Tel Aviv Hotel. Set directly on Tel Aviv's Marina, Hotel Carlton features a rooftop terrace with pool and views of the sea. Rooms have a private balcony, overlooking the sea or the city. The Gan Haatzmaut Park is nearby, and the city's main train station is a 5-minute drive away from the Carlton Hotel.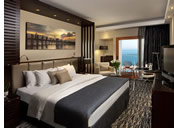 The Carlton Tel Aviv Hotel's buffet breakfast features a variety of food, including champagne and caviar. All dining areas offer views of the sea and the harbour.
Carlton Tel-Aviv Hotel sets a new standard in luxury accommodations in Tel Aviv. Beachfront Carlton Hotel, is all about details and comfort: from our award winning breakfast to our exclusive Carlton bath amenities. All you can ask for from a hotel, and it's right there on the beach.
Double Occupancy, Premium Room: $2,080 USD per person
Single Occupancy, Premium Room: $3,410 USD
Alexander Suites Hotel, Tel Aviv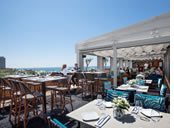 Offering a rooftop terrace with panoramic views of the Mediterranean Sea, the Alexander Tel Aviv is a boutique-hotel located in a quiet street just off the beach. Its spacious suites offer free Wi-Fi.
Each suite at the Alexander comes with modern furniture and high-tech amenities, including an LCD TV, DVD player, and tea/coffee facilities. Suites also feature a well-equipped kitchenette.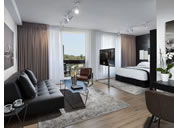 Your day at Alexander Tel Aviv Hotel begins with a full Israeli buffet breakfast. The Ciela Restaurant offers Kosher cuisine at lunch and dinner during the week.
Bikes and DVDs are available to rent at reception. The property also has limited private parking, fitness centre, and a restaurant and bar on the rooftop terrace.
Tel Aviv's shopping area around Dizengoff Street, the Port and the large Kikar Hamedina Square is just 15 minutes away on foot.
Double Occupancy, Deluxe Balcony Suite: $1,990 USD per person
Single Occupancy, Deluxe Balcony Suite: $3,325 USD
White Villa Hotel, Tel Aviv

Distinctive among luxury boutique hotels in dynamic Tel Aviv, the White Villa Hotel is a new peaceful hideaway in the heart of the White City that blends luxury urban sophistication with an old-world charm. Set in a 1940's Le Corbusier inspired house, this thoughtfully restored White Villa has preserved its intimacy of the private residence it once was and offers guests an authentic Tel Aviv experience with exemplary hands-on service.
Sleek in design, airy and light, these 24-32m² rooms are beautifully designed with expansive floor-to-ceiling windows and have access to a patio or an intimate garden.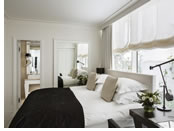 With king or twin sized beds adorned in plush Egyptian-cotton bed linen and grand bathrooms that include an invigorating rain shower or an elegant bathtub. White Villa Hotel rooms also offer an Espresso machine, a large flat-screen smart TV, a quiet A/C and a safe deposit box. Enjoy a cup of coffee from your balcony or patio. Each room includes a private bathroom. For your comfort, you will find bathrobes, slippers and free toiletries.
There is a 24-hour front desk at the property. Guests can enjoy the on-site bar. Free use of bicycles is available at this hotel and the area is popular for biking.
Double Occupancy, Deluxe Room: $1,945 USD per person
Single Occupancy, Deluxe Room: $3,150 USD
The Poli House Hotel, Tel Aviv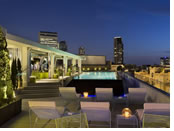 Characterized by a distinctive modern design that is as stunning to the senses as it is welcoming to the soul, The Poli House boutique design hotel in Tel Aviv is the embodiment of the urban eccentricities, diversity and personalities that shape the city's eclectic culture and design.
The whimsical and earnest designs of architect Karim Rashid and South Tel Aviv's unfiltered, street-art lined streets, work in unison with The Poli House's panoramic rooftop pool, sun deck, cocktail bar, tranquil spa treatment room and quaint cafe for daily breakfasts housed in a luxurious 1930's Bauhaus edifice to create a next-level hospitality experience unmatched in the White City.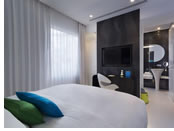 The Poli House boasts 40 city-savvy rooms and suites created exclusively by world-renowned designer and starchitect Karim Rashid. Each room includes a laptop-sized safe, in-room work desk, complimentary Wi-Fi, LED TV, soundsystem and more. Our 18 sqm Poli Room is the ultimate in basic comfort and style, featuring a distinct local character, comfortable queen-size bed and a range of amenities.
Atop the The Poli House panoramic rooftop & pool, guests will experience a glistening pool with sea and city-views, cabanas, lounge spaces and a cocktail bar suitable for a soft morning wakeup or a vibing nightlife experience.
Double Occupancy, Poli Room: $1,930 USD per person
Single Occupancy, Deluxe Room: $3,110 USD
Brown TLV Urban Hotel, Tel Aviv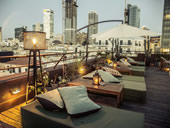 In the neighborhood of Neve Tzedek, a steady stream of bicyclists in aviators, loose linens, and leather sandals make their way through streets of half-hidden cafés and wine bars. Here, restaurants double as art spaces, and galleries host underground events. Behind the facade of a former bank is the intimate Brown TLV—a hotel defined by its rich chocolate-and-caramel-colored walls, dark wood floors, and vintage-inspired furniture.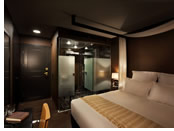 The 30 rooms of Brown TLV invite an intimate, personal experience, which is welcomed in contrast to the bright, restless city of Tel Aviv outside its doors. Quiet conversations take place against a background of cocktail-hour lighting, and low-slung chairs. Warmly-lit hallways and the occasional piece of provocative art lead into rooms of soft browns and beiges. Above its perfectly tailored rooms, the rooftop bar and sundeck invite guests into the Mediterranean sun to reconnect with a bustling Tel Aviv below.
Double Occupancy, Classic Room: $1,815 USD per person
Single Occupancy, Classic Room: $2,885 USD
Brown Beach House Hotel, Tel Aviv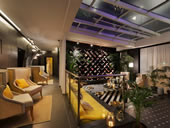 The new Brown Beach House Hotel in Tel Aviv marks the arrival of Tel Aviv's leading contemporary boutique hotel brand, the Brown, to the city's coastal area, currently dominated by large chain hotels. It is for those who want to experience an authentic Tel-Avivian hospitality, without distancing themselves from the beach.
Sister to the world acclaimed Brown TLV Urban Hotel, the Beach House is designed as a luxury summer house with tropical influences and a retro feel.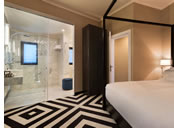 Introducing contemporary boutique hospitality to the area, the hotel offers 40 extra-spacious rooms and suites featuring sizable private sun terraces, 24 hours concierge, a viby bar, a Kosher cafe-restaurant (currently open for breakfast only) , spa and business facilities, all within a one minute walk of the city's famous beaches.
Deluxe rooms can accommodate up to two adults. 27 SqM (290 SqF) with one King-size bed and a sofa bed, and a spacious sun terrace.
Double Occupancy, Classic Room: $1,770 USD per person
Single Occupancy, Classic Room: $2,800 USD
Rothschild 22 Hotel, Tel Aviv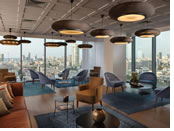 Hotel Rothschild 22 is a brand new luxury hotel located in the very epicenter of one of Tel Aviv's most prestigious neighborhoods. Visitors have direct access from Rothschild Boulevard to the financial center and Tel Aviv Stock Exchange, as well as to some of the most exclusive cultural attractions, such as Habima, Israel's national theater, an abundance of fascinating museums, and the famous UNESCO designated 'White City'.
There are also excellent sandy Tel Aviv beaches just a short walk away, upmarket bars and restaurants close by in the beautiful Neve Tzedek, and a new open commercial center by the name of Sarona which is definitely worth a visit. This enviable location makes Rothschild 22 the perfect choice for a leisure or business break.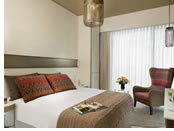 Ari Shaltiel, one of the country's top architects, was commissioned to give the Hotel Rothschild 22 a complete designer makeover. The result is a stunningly sophisticated and beautiful interior décor that perfectly complements the elegant Bauhaus buildings in the immediate vicinity. The 22 Rothschild Hotel has carefully designed rooms that offer urban hospitality in a luxurious and innovative atmosphere. Some of the 156 guestrooms offer an urban view and a view towards the beach.
Boutique Rothschild 22's uniquely relaxing and luxurious ambiance invites business and leisure guests alike to step into an urban oasis, where they will discover an impressive number of amenities at their disposal. These include the many unexpected and thoughtful touches.
Double Occupancy, Deluxe Room: $1,730 USD per person
Single Occupancy, Deluxe Room: $2,710 USD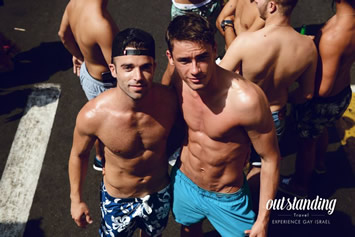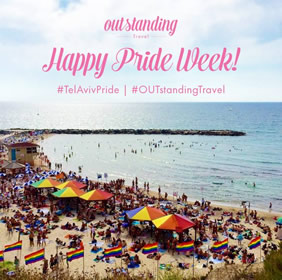 Experience Gay Israel with OUTstanding Travel
OUTstanding Travel offers the best in high-quality travel services to Israel for the Gay community. Our boutique and tailor-made approach will expose you to unique cultural experiences, fabulous beaches, beautiful people, and a vibrant nightlife, custom-tailored to your every need. At OUTstanding Travel, we understand the importance of elevated service. Our undivided attention lavished on every guest will allow you to indulge and enjoy all that Israel has to offer, care free. Let us pamper, comfort and take care of your every detail, with no request unattended. Our immense knowledge of Gay Israel and its scene qualifies us to provide the most unforgettable experience, without missing a beat. As gay Telavivians ourselves, who better to ask than the people who live and breath the action?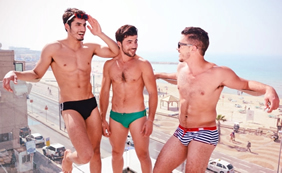 Is it the energetic nightlife you crave? The savory restaurants you lust over? The trendiest of shopping destinations, or the historic cultural attractions to absorb? We can provide it all. Our tailor-made, personalized packages, present the perfect escape for you, your friends and family, or significant other, while our planned packages and daily tours create dynamic opportunities to foster new friendships and international networks. With the rich history of Jerusalem, the sparkling 24/7 scene of Gay Tel-Aviv, the magnificent serenity of the Dead Sea, the golden dunes of the Negev Desert and the exceptional year-long Israeli weather, OUTstanding Travel offers an unparalleled getaway to Israel, never before available to the Gay community.
Tel Aviv
The setting of the sun welcomes the vibrant night life.
Tel Aviv, Israel's central urban hub that never sleeps, offers an array of various sites, smells, and experiences. In the past few years it has developed into the Gay capital of the Middle East according to OUT Magazine, with thousands of people coming for the OUTstanding Pride Week and all year. Upon entering the city one is greeted with concrete, glass, and lights of modern skyscrapers. The center of the city is spotted with the eclectic classically and modern-inspired architectural styles and the Bauhaus buildings which Tel Aviv is famous for. The serenity of the beaches, with year-round temperate weather, crystal water, and vast expanses of sand, infused exquisitely with the happening and trendy city scene which includes updated fashion and contemporary art galleries.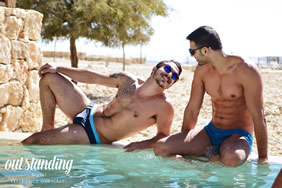 The neighboring Jaffa offers all the romance of an ancient port city, good for a late night stroll with a loved one or a daytime hunt for antiques. A culinary connoisseur will be happy to find a vast array of international cuisine to feast on. And, of course, the setting of the sun welcomes the vibrant night life. You can dance the night away in any one of the happening Gay clubs and bars to the music of some of the most talented DJs in the world. Once you leave the club, at the early morning hours, you can still experience the wonders of the city that never sleeps. Restaurants, boulevard cafes, and almost everything else will still be open when you are ready to tuck yourself into bed.
We've got an intimate knowledge of some of the city's best kept secrets. From which clubs play the best live music to which beaches are the most happening, we've been everywhere and seen it all. Even as the city continues to grow and develop to service the large local gay community and tourists, we make sure to stay updated and informed.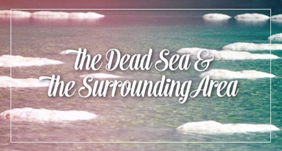 The Dead Sea
An Oasis of luxury in the middle of the colorful sandy Israeli desert
The Dead Sea, the world's largest natural spa, located in the lowest point on earth, has been attracting visitors for thousands of years. Today it has become an oasis of luxury in the middle of the colorful sandy Israeli desert, with its beautiful hotels, spas, and restaurants. The mud there, with its high mineral content, has long been known to be an ideal base for skin treatments and beauty products. In addition to making you gorgeous, scientists have proven that the atmosphere has health benefits that can leave your whole body feeling more youthful and vigorous. In other words, it's the closest thing to the mythological fountain of youth. The high density of the water makes swimming feel more like floating in its crisp clear waters, which gives one a better opportunity to absorb the natural beauty of the surrounding area.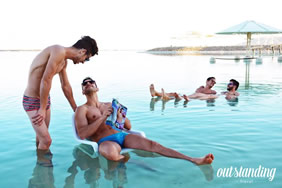 A rich historical center as well, the area affords many glimpses into the developing culture of the area in Antiquity. In nearby Qumran, ancient scrolls of the Hebrew Bible and related texts which were written as far back as 408 BC were found in caves, along with Roman currency. Also nearby, is the famous fortress of Massada which was built by King Herod, where Jewish zealots held out against the Roman legion in 70 CE. No visit is complete without a hike up to the wonderfully preserved remains of Ancient architecture which provides an insight into the long-gone civilization and a wonderful vantage point from which to see the natural beauty of the area.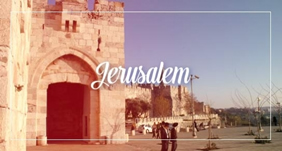 Jerusalem
A Fusion of ancient attractions & modern culture, which Israel is so famous for
Jerusalem, Israel's most populous city and capital, is overflowing with some of the country's most fascinating and fabulous sites. It is the perfect example of the merging of ancient attractions and modern culture which Israel is so famous for. The romantic Old City is the perfect place to learn about three religions that find their home there: Judaism, Christianity, and Islam. Our experienced tour guides know how to uncover the magic of the city and its historical development in the compelling and unique fashion, whether it's retracing the steps of Jesus in the Via Dolorosa or visiting King David's tomb. A stroll in the open market in the Muslim quarter is a wonderful place to buy some perfect cultural wares such as jewelry, spices, and trinkets and absorb the cultural smells and colors. Of course no visit to Jerusalem would be complete without an opportunity to partake in the authentic Middle Eastern cuisine that the city is famous for.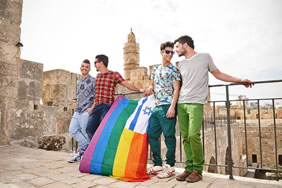 At night, a stunning light and sound show is projected on the walls of the Tower of David, which tells the tale of the history of Jerusalem. The Mamilla Mall, built from reconstructed historical structures, houses interesting boutiques and fine eateries; and is just another example of the harmony between ancient and modern which can be found in this beautiful city. Another important destination is the recently renovated Israel Museum which hosts a wide variety of collections from archaeological finds to contemporary art. Our unique travel itinerary allows you to absorb both the ancient historical significance of this central city and the more recent modern sites. An experience that finds the special balance between religious and secular, tradition and openness, ancient ruins and luxurious boutique pampering that will leave you with a lifetime of memories.