Africa West Coast
Deluxe Gay Group Cruise 2024 From Angola To Ghana
14 nights from Luanda, Angola to Accra, Ghana
April 03 – 17, 2024
Swan Hellenic Cruises SH Vega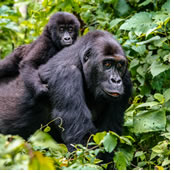 This deluxe gay group voyage to the mid-Atlantic region of Africa is an extraordinary opportunity to explore a part of the world largely untouched by tourism. Although the stretch of coastline between Angola and Ghana is less visited than the neighboring African shores, it is no less fascinating—encompassing an astonishingly rich variety of wildlife in an environment of lush rainforests, and a history both proud and tragic.
Cross the equator from the Southern Hemisphere to the Northern on our 15-day West Coast of Africa - Angola to Ghana cruise, and you will realise the diversity of this vast continent. Leaving from the Southern African country of Angola, we cruise up the Atlantic coast via the Central African countries of Congo and Sao Tome to West Africa's Benin and Togo, finally arriving on the Gold Coast in Ghana.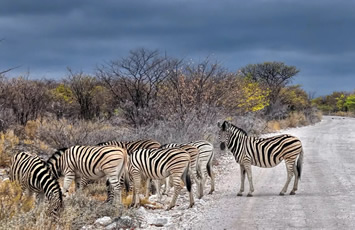 Your journey starts by experiencing a pristine, biodiverse shoreline that harbours volcanic islands, mangrove forests, rainforests, beaches and lagoons, where elephants, lowland gorillas, leopards, hippos and chimpanzees live. In West Africa, we meet the people and dive deeper into cultures where voodoo is a state religion. Your incredible adventure on our boutique expedition ship ends in Ghana, where you will have encountered unique customs and landscapes in some of the least-visited parts of Africa.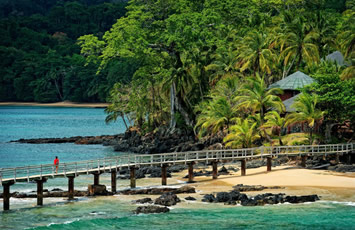 Discover the colonial architecture in Luanda, Sao Tome, and Porto-Novo juxtaposed to the simple houses of the traditional villages along the banks of the Ogooue River in Gabon and on the shores of Lake Togo. Compare and contrast the hustle and bustle of great oil-exporting ports with the pace of life on display in the markets with carefully handcrafted goods for sale. Delve into the unspoiled tropical paradise of Bom Bom Island. The rich biodiversity of both flora and fauna is apparent everywhere, birds in particular abound in and around these lakes and rivers.
Africa West Coast Gay Cruise Highlights
• Sample traditional cuisine and get to know the Congolese locals at Grand Marché market
• Learn about conservation efforts in Congo's biodiverse Conkouati Reserve
• Keep an eye out for forest elephants and buffalos, lowland gorillas and chimpanzees in Gabon's South Loango National Park
• Sneak a peek at animal skins, skulls and talismans in the world's oldest voodoo market
Your Ship - Swan Hellenic Cruises Brand New SH Vega
Welcome To SH Vega, Your New Home Away From Home. Making her maiden voyage in July 2022, our 5 star elegant Scandi-design boutique ship offers you an intimate setting from which you will be fully immersed in all the sights and scenery of your voyage. For now, sit back, relax and take a moment to get to know your expedition ship.
Our brand new ship, named after the first ship to cross the Arctic Northeast Passage, has been designed to journey to off the beaten path destinations and remote polar regions in style and comfort.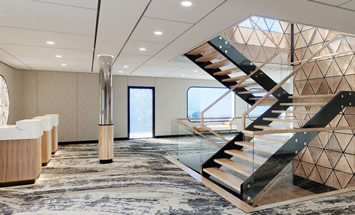 Sophisticated Elegance
We know how important outdoor space is, so our spacious, relaxing public spaces provide wide open, unobstructed views throughout the ship. The destination will always be in view.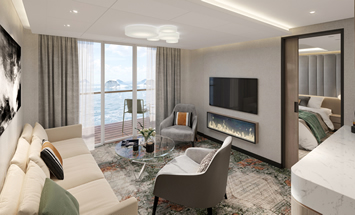 Your Wellbeing
The safety & happiness of our guests is paramount to our 120-strong crew on board as well as our passionate expedition team who'll be serving up thrilling shore excursions and lasting memories.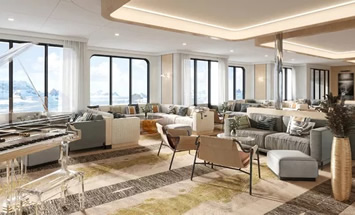 The Observation Lounge
After a day of exploration, where better to relax than in the Observation Lounge. Sit back, savour your favourite tipple whilst getting to know your fellow guests.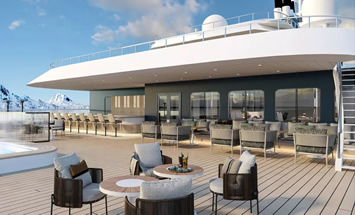 Alfresco Dining & Heated Outdoor Pool
On Deck 7 you'll find a heated outside pool along with pool side seating from where you can enjoy stunning scenery.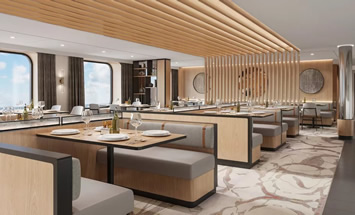 The Swan Restaurant
As the main venue for breakfast, lunch and dinner, our 152-seat restaurant serves international and local cuisine focussed on quality regional ingredients from the unique destinations we visit.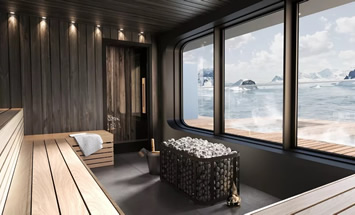 Sauna With A View
Head to Deck 8 for the best views in the world. After a work out in our state-of-the-art gym, relax in our sauna or Jacuzzi and take in those breathtaking vistas along the way.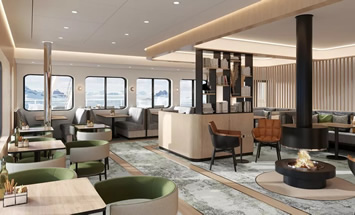 The Club Lounge
Vibrant and welcoming, The Club Lounge acts as a hub, combining 24 hours tapas inspired dining with panoramic views of the ocean glittering below.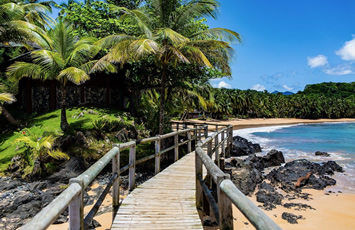 What's Included
• One night accommodation at a deluxe hotel in Luanda, Angola
• Cruise aboard Swan Hellenic's Vega, as described in the itinerary
• Sightseeing excursions and entry fees, as stated in the itinerary
• Complete program of shore landings and activities ashore
• 41 Meals (three meals a day onboard Vega, dinner on arrival day, breakfast on departure day)
• Welcome and farewell cocktail receptions aboard the ship hosted by the captain
• Open bar with select alcoholic beverages
• Coffee, including espresso and cappuccino, tea and soft drinks throughout the day and night
• 24-hour room service
• Private transportation and English-speaking local guide throughout the tour
• Airport/hotel/pier transfers and handling of luggage
• Presentations and discussions with guest lecturer Ambassador Robert E. Gribbin
• Lectures from our onboard team of experts
• Gratuities to the ship's crew, guides, porters and drivers
• Basic Wi-Fi aboard the ship
• Gay Group Representative, with minimum participation
• Pre-departure assistance and Information Portfolio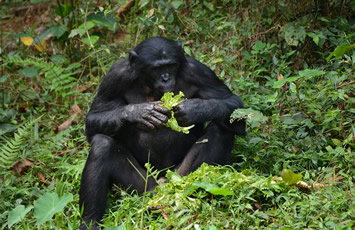 What's Not Included
• International airfare and baggage fees
• Trip Cancellation & Interruption insurance (highly recommended)
• Passport and visa fees; several visas are required for this tour
• Early or late arrival/departure surcharge or early check-in / late check-out
• Personal accommodations, meals, transfers, drinks, telephone, gifts, and expenses not outlined in the itinerary
• Any optional sightseeing excursions or additional visits not outlined in the itinerary
• Gratuity for Gay Group Manager