Seychelles Deluxe Gay Cruise 2023
8 days from/to Victoria, Mahe, Seychelles
October 28 – November 04, 2023
Variety Cruises MY Pegasos
If an exotic Seychelles all-gay cruise is what you have always dreamed of, this is the cruise for you! Massive granite rocks and coral fringed beaches create an air of drama and beauty while seamlessly fusing land and sea. Explore Paradise by gay only Mega Yacht. Seychelles is the perfect destination for both summer and winter cruises due to its warm climate. Discover this paradise on Pegasos mega yacht and experience a unique island-hopping voyage.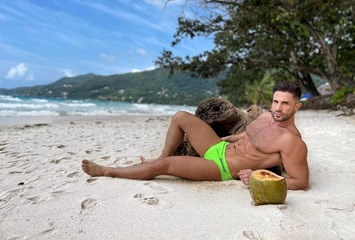 Either you seek for a romantic honeymoon or just fancy an enticing cruise to Seychelles, this is the ultimate experience for you and the people you love. Cruise Seychelles from Mahe or Praslin and explore the extraordinary fauna and flora within a yacht environment. Our Seychelles cruise is full of wonderful excursions that will give you the chance to dive into a breathtaking underwater world, walk through tropical jungles and capture heaven beaches.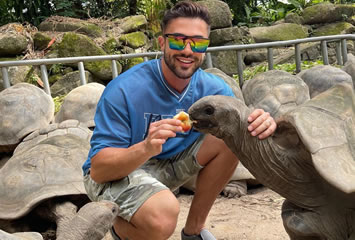 Giant tortoises, rare bird life and pristine beaches
A small granitic island providing a safe haven for a number of endangered bird species, notably the Seychelles fody, Seychelles warbler, Seychelles magpie robin and Seychelles blue-pigeon. Dense concentrations of nesting seabirds show no fear of humans, allowing for fabulous photo opportunities.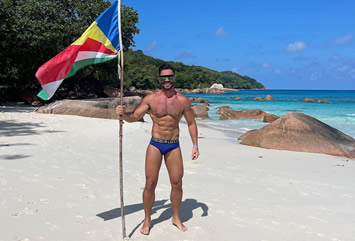 Praslin Island and the largest seed in the planet
Discover Praslin, home to the UNESCO-protected Vallée de Mai Nature Reserve and it's coco de mer trees, the largest seed in the planet kingdom. The island is also home to the rare black parrot.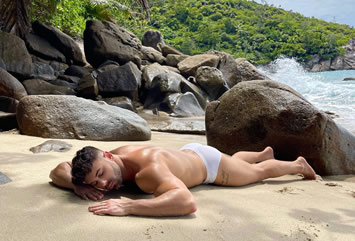 Yachting in the Seychelles
Back on deck, enjoy deck-side BBQ; take out the kayaks, snorkel or swim from the ship's swimming platform and marvel at hundreds of species of rainbow-hued fish, as well as manta rays, spinner dolphins and green and hawks-bill turtles. or dip into the mini-spa on the lower deck for some seaside pampering. Step in tune with nature or swim with the turtles while enjoying an intimate floating home that offers every comfort.
Your Ship - MY Pegasos
Imagine a place far from home that feels just like home, where the borders are delineated by the golden shores of the sea; and home is wherever the anchors drop. Imagine 147 feet of comfort, beauty, and safety classified by the latest International "Safety of Life at Sea" (SOLAS) standards.
Imagine your floating home on board the sleek, classic double hulled Mega Yacht that sails the seas under the name PEGASOS, waving her flag through the wind. Discover the world by sea at 10 knots per hour, in her un-rushed pace, one island or seashore at a time.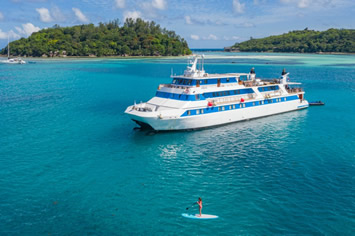 Pegasos loves to seduce her select 44 guests with her simple lines and comfortable lounges redefining what yachting was meant to be. A spacious lounge with ample space, dining areas decorated with warm colors, large windows offering pristine views of all destinations, shaded areas and outdoor bar and loungers are just some of the elements that define her essence.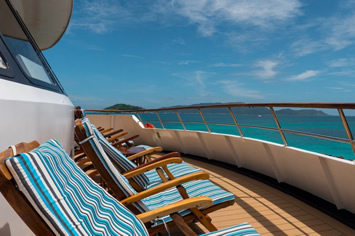 360° views of unobstructed ocean are your eyes' canvas painted with ocean blue and deep green mountains. Mingle with likeminded gay travelers in our public areas, enjoy a moment to yourself in our ample deck space, or retreat to one of our 21 ocean view cabin sanctuaries all offering windows connecting you with Mother Nature's wonders.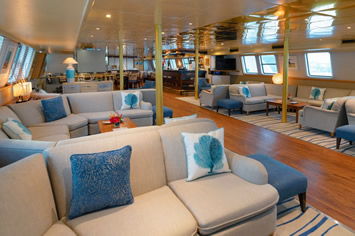 Lounge Area
Our friendly, elegant bar is one of the most popular spots on the ship and an ideal setting for personal moments. Talk with your old friends or make new ones over a refreshing drink.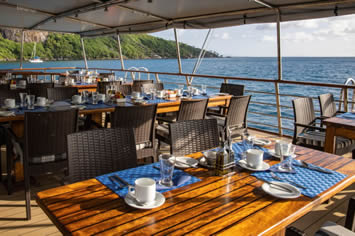 Outdoor Restaurant
You can relax in the outdoor shaded restaurant on the aft of the Pegasos. Here you can enjoy ocean-view delightful meals al fresco, weather permitting.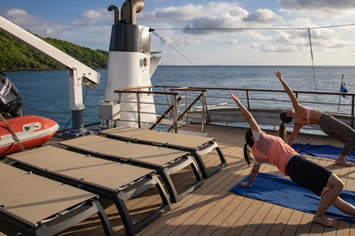 Sun Deck Bar & Lounge
You can relax in the outdoor bar and lounge area on the top deck of the Pegasos. Here you can enjoy your afternoons at sea, gazing at the passing scenery or mingling with fellow passengers while enjoying premium Cocktails from the Seychelles bar.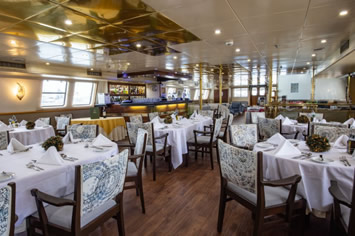 Dining Room
The dining room is located on the upper deck and is a spacious area surrounded with large windows, and can accommodate all clients in one seating. Enjoy our hospitality and our chef's superb creations, choosing from a wide variety of international and local dishes.