Costa Fascinosa
Ship Facts
Gross Tonnage: 114,500
Length: 951 feet
Beam: 118 feet
Cruising Speed: 22 knots
Guests: 3,780
Crew: 1,100
Decks: 14
Ships Registry: Italy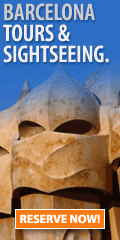 Transatlantic Brazil Gay Group Cruise 2023
From Barcelona to Rio de Janeiro
12 nights from Barcelona, Spain to Rio de Janeiro, Brazil
Optional 4 nights extension to Buenos Aires, Argentina
November 22 – December 04, 2023
Costa Cruises Costa Fascinosa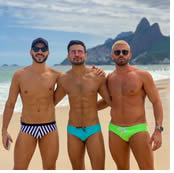 Let's go to Brazil! Join us on this gay group cruise that will cross the Atlantic from Barcelona to Rio de Janeiro, with the option to exrtend your cruise to Buenos Aires, Argentina! Join us on unique Transatlantic gay group cruise on board of the Costa Cruise's glamorous Costa Fascinosa
from gay friendly Barcelona in Spain to gay favourite Rio de Janeiro in Brazil. Experience an exotic trip across the Atlantic, and visit off-the-beaten path ports of call in Spain, Canary Islands & Brazil. You can extend your cruise to visit Montevideo, Uruguay and finish at Buenos Aires, Argentina. A unique Transatlantic gay group cruise opportunity!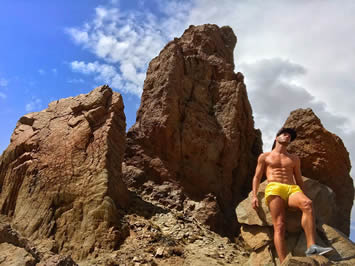 Cross with us the Atlantic Ocean in a 13 days trip from Europe to South America. Departing from Barcelona (Spain), we'll visit Santa Cruz de Tenerife, Canary Islands, then cross the Atlantic until we arrive at Brazil and set foot on Maceiò, Salvador de Bahia and Rio de Janeiro. Get ready to discover all the secrets of the Costa Fascinosa during the Atlantic crossing week. Take advantage of every moment to meet our gay group new friends, enjoy all the features on board, and once you're in the Rio de Janeiro...The adventure can go on!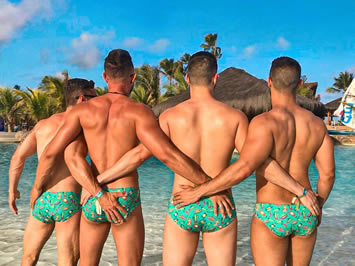 Passion for soccer runs in the veins of those who live here. But even beyond soccer Brazil has its own magnificent energy. Stroll between the skyscrapers of Santos, spread out your towel on the beach at Copacabana and dive into an unbelievable sea! Take a thousand photos and selfies at the carnival of Rio or be enchanted by capoeira dancers at Salvador de Bahia. You'll love it!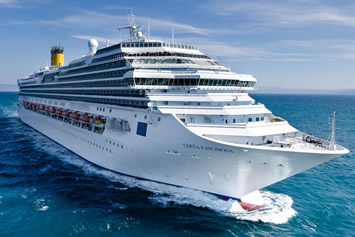 Welcome on board Costa Fascinosa
The most glamorous ship in the fleet. Travelling on Costa Fascinosa you'll be surrounded by cinema legends from Luchino Visconti to David Lynch and their most famous creations. Refined and intriguing environments, charming and fascinating atmospheres for a cruise surrounded by the greatest stars of the best movies of all time.
A tribute to the theater and cinema classics, each deck is inspired by characters, stories, and memorable works, Aida, Tosca, Zhivago. This is where you can enjoy all kinds of entertainment, from evening shows to relaxation at the Spa or by the pool. And there's even more: musicals, casino, game rooms and lounge bars to play the leading role in your vacation, as though you were living in a in a film.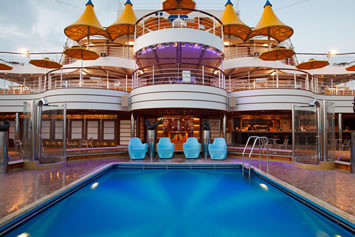 Activities on Costa Fascinosa
Guests of Costa Fascinosa will revel in the myriad activities that are available for everyone. The ship is home to four swimming pools (two of which have retractable covers in case of inclement weather), as well as a children's pool and a water slide; there are also five Jacuzzis aboard for you to relax in at your leisure. The Samsara Spa offers 6,000 square-meters of spa luxury; it hosts a gymnasium, a thalassotherapy pool, treatment rooms, baths, a sauna, a Trukish bath and even a UVA-ray solarium! The ship boasts a multi-purpose sports court, as well as a pool deck with a gigantic screen. There's even a 4D cinema.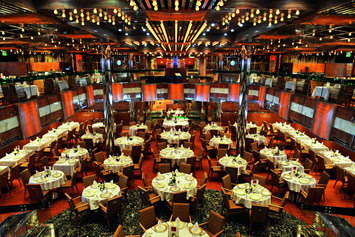 Dining / Food on Costa Fascinosa
Costa Fascinosa is the home of six unique, delicious dining venues. Each with its own personality, and a different menu each day, your taste buds will be tantalized at every meal! You'll be seduced by the smell of freshly prepared breakfast, lunch and dinner as they waft the corridors of the ship; with a buffet of tasty sandwiches and salads, lunch is a specially prepared banquet, while dinner brings many special options, including the Samsara Restaurant, a part of the Samsara Spa where you can enjoy tasty, healthy meals.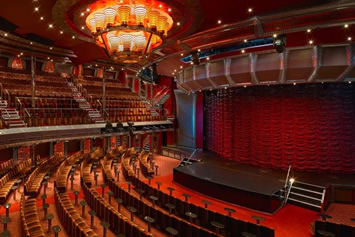 Entertainment on Costa Fascinosa
This wondrous ship features 12 different bars and lounges, including specialty themed bars. There is a Cognac and Cigar Bar, as well as even a Coffee and Chocolate Bar. There is a casino on board, as well as a theatre that spans three decks and even a Disco where you can dance the night away! Each evening is magical, and full of games, music, shows, dancing and so much more. You'll be able to spend your night just the way you want: the choice is yours - have a night out, or a more quiet, intimate cocktail on the deck. There's something for everyone to enjoy!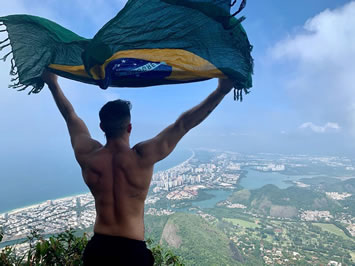 What's Included?
The price of this cruise includes:
• A wonderful 13 days / 12 nights Transatlantic cruise from Barcelona to Rio
• Optional 5 days / 4 nights extension cruise from Rio to Buenos Aires
• Free access to every show on board the ship
• Free access to every Ambien Gay Group Parties
• Meals: breakfast, lunch, dinner and supper (at the main restaurant or at the buffet)
• Benefits of the Costa Club program on board for all repeating passengers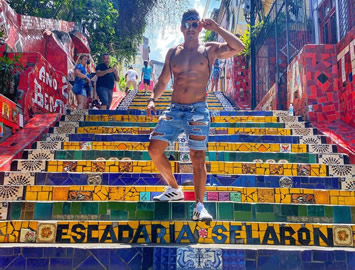 Not Included
• Gratuities: The service tips are not included on the final price and must be payed on board (132€)
• Private Tours: One month before departure, we'll send to all the members of our group a list of the private tours we'll ofer on the ports we visit. Each tour has to be payed individually and they are not included on the final price.
• Travel & Cancellation Insurance
• All Inclusive Beverage Package
• Flight back to Barcelona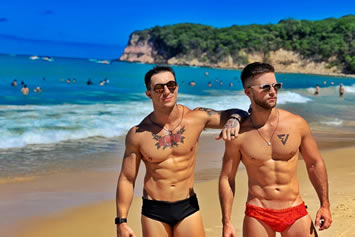 Optional Post Cruise Pack
Extend your holidays in Rio de Janeiro with this Post-Cruise Pack that includes:
• 3 Hotel Nights in Rio de Janeiro
• Transfers
• Flight back to Spain
More info TBD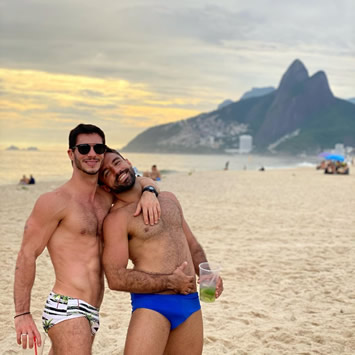 Transatlantic Brazil Gay Cruise 2023
Itinerary


Date

Port

Arrive

Depart

22 Nov
Barcelona, Spain
2 PM
23 Nov

Fun Day at Sea!

24 Nov

Fun Day at Sea!

25 Nov
Santa Cruz, Tenerife (Canary Islands)
9 AM
6 PM
26 Nov

Fun Day at Sea!

27 Nov

Fun Day at Sea!

28 Nov

Fun Day at Sea!

29 Nov

Fun Day at Sea!

30 Nov

Fun Day at Sea!

01 Dec
Maceio, Brazil
7 AM
1 PM
02 Dec
Salvador de Bahia, Brazil
8 AM
2 PM
03 Dec

Fun Day at Sea!

04 Dec
Rio de Janeiro, Brazil
8 AM
6 PM
05 Dec

Fun Day at Sea!

06 Dec

Fun Day at Sea!

07 Dec
Montevideo, Uruguay
8 AM
6 PM
08 Dec
Buenos Aires, Argentina
8 AM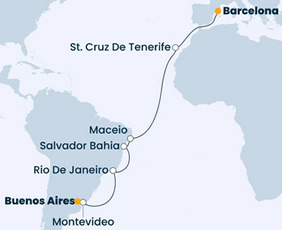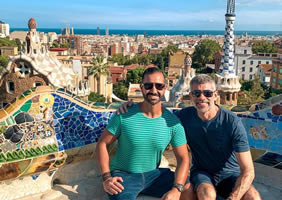 Day 1 - Barcelona, Spain
Barcelona is one of the most popular cities for cruises in the Mediterranean, and the port of Barcelona
is ready to surprise you. Barcelona's gay nightlife. Among the "ramblas" we discover great food and rivers of beer, but we are always under the watchful eye of Gaudi, who captured and expressed the soul of this place. The city is home to an innovative contemporary art museum, the Sagrada Familia Cathedral and the Camp Nou. Also, after these popular destinations, you can discover the Catalan culture. Take a walk down La Rambla before visiting the Picasso Museum. The Spanish capital is packed full of memorable architecture.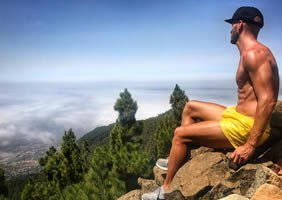 Day 4 - Santa Cruz, Tenerife (Canary Islands)
Santa Cruz is a cosmopolitan city of different influences and varied trends, as you can see from the mix of historic buildings and modern architecture. After leaving the port, start your tour with a visit of the Auditorio de Tenerife and the "Circulo de Amistad." Then take a visit to the Nuestra Señora de África market, where you will find crafts and artisanal products made from natural ingredients, as well as the famous wine of the region. Finally, check out the local cuisine made with potatoes, chilies and exotic spices.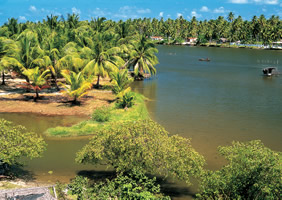 Day 10 - Maceio, Brazil
Magnificent lagoons and one of the most incredible coral reefs for a breathtaking dive, await us in Maceio in Brazil. Enjoy a stop at the port of Maceio to discover the tourist attraction and the rich history of this Brazilian coastal city, capital of the State of Alagoas. During the stop you can walk through the wonderful town of Jaraguá, pay a visit to the beach of Praia do Francês, with one of the most beautiful coral reefs in the world, and visit the magnificent lagoons of Santa Rita Island.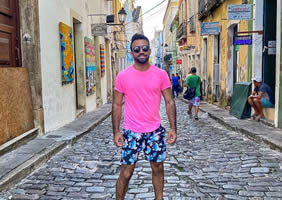 Day 11 - Salvador de Bahia, Brazil
Here you'll experience the true essence of Brazil: an intense and mystical city where a thousand souls pulsate together as one heart that never stops. High above the enormous bay of Todos os Santos (All Saints), where your cruise ship awaits your return, Salvador de Bahia has an electric feel from the moment you arrive. This is the great cultural and historical centre of Brazil, where Afro-Brazilian heritage is strongest and where capoeira, candomblé and samba de roda were created. The centro histórico of this magical place, a melange of narrow cobbled streets, peeling purple walls, grand Baroque churches, kids kicking footballs, rastas, locals sipping bottled beer on plastic chairs, the wafting aroma of herbs and the almost constant beating of drums, especially as the sun sets. Beyond the old town Salvador is a vast, sprawling city, with a vibrant beach life, modern skyscrapers and plenty of favelas.
Day 13 - Rio de Janeiro, Brazil
The sensations you'll experience are beyond imagination, in the shadow of the Corcovado, while the joie de vivre will infect you with the rhythm of the samba. Christ the Redeemer, one of the modern Seven Wonders of the World, stands atop the Corcovado peak. Survey the city from a platform below the 125-foot statue or hop on a cable car to the top of Sugarloaf Mountain and get a different perspective of Rio de Janeiro
and the Christ. Feel a rush to your senses from the awesome activity on world-famous beaches Ipanema and Copacabana. If the quiet side of Rio is what you seek, a visit to the lush botanical garden - home to some 8,000 species - will delight you.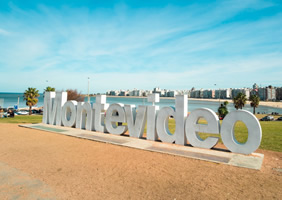 Day 16 - Montevideo, Uruguay
In Montevideo you can discover beaches and the charming colonial, cultural and historical heritage of Uruguay's capital. Enjoy the colonial architecture of the famous palaces of the Ciudad Vieja, Montevideo's famous old town, visit the magnificent Parco del Prado to enjoy its fairytale landscapes and see some magnificent works at the Museum of Contemporary Art.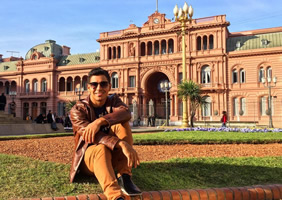 Day 17 - Buenos Aires, Argentina
Take advantage of visiting Buenos Aires to discover the cultural and natural treasures of one of the largest cities in Latin America, the capital of Argentina and of tango. You can admire the fairy tale landscape of the famous Parc 3 de Febrero, visit the extraordinary Congress Square and attend a great tango show at the Café de Los Angelitos. Buenos Aires is home to one of the biggest and best gay scenes in Latin America. It's a city of great charm and character. It has a sort of shabby chic vibe; an air of faded grandeur. Argentina's history has been turbulent and its capital city has a lot of stories to tell. One thing is for sure: Buenos Aires is never boring. It's a big city so it's worth staying for at least three days.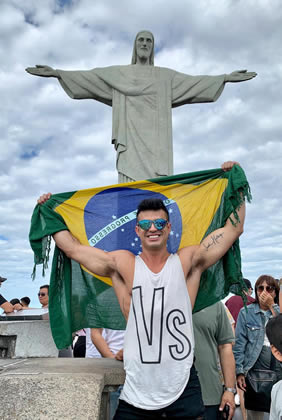 Guests: 3,780 • Gross Tonnage: 114,500 • Length: 951' • Beam: 118' • Cruising Speed: 22 knots • Registry: Italy

Transatlantic Brazil Gay Cruise 2023 Rates
From Barcelona to Rio de Janeiro

Interior Stateroom
Approximate size: 156 square metres An affordable way to enjoy all the comforts of a luxurious space. Ideal for those seeking an economical solution without having to forfeitgive up the comfort and hospitality of a high class cabin.
€ 1,299

€ 899

Ocean View (Window) Stateroom
Approximate size: 201 square feet With large windows or portholes for admiring the scenery, or simply enjoy the first rays of morning sunshine.
€ 1,499

€ 1,099

Balcony Stateroom
Approximate size: 222 square feet Welcoming and with a full range of facilities, including a private balcony providing a direct view of the sea to make your cruise simply unforgettable.
€ 1,849

€ 1,349

Mini Suite
Mini-Suites have large panoramic windows with glass doors that lead to your spacious private veranda, two twin beds most of which convert to a queen-sized bed, accomodating closet space, a private bathroom with shower, as well as a large sitting area with desk, vanity, drawer space, and sofa. Each stateroom also has its own interactive television with satellite, thermostat controlled air-conditioning, direct-dial telephone, hair dryer, mini bar, individual safe. Square Footage: 286 sq ft (including balcony).
On Request
On Request
Suite
337 sq ft (including balcony). Sleeps 3 guests. Along with your room service, Costa Suites include full in-suite meal service, sparkling wine, cold canapes, daily fresh fruit basket, and VIP treatment with priority check-in and disembarkation, assistance with packing and unpacking, upgraded bath products, invitation to the VIP cocktail party, and a complimentary dinner for two at the ship's specialty restaurant.
On Request
On Request
Transatlantic Argentina Gay Cruise 2023 Rates
From Barcelona to Buenos Aires

Interior Stateroom
Approximate size: 156 square metres An affordable way to enjoy all the comforts of a luxurious space. Ideal for those seeking an economical solution without having to forfeitgive up the comfort and hospitality of a high class cabin.
€ 1,499

€ 1,049

Ocean View (Window) Stateroom
Approximate size: 201 square feet With large windows or portholes for admiring the scenery, or simply enjoy the first rays of morning sunshine.
€ 1,799

€ 1,299

Balcony Stateroom
Approximate size: 222 square feet Welcoming and with a full range of facilities, including a private balcony providing a direct view of the sea to make your cruise simply unforgettable.
€ 2,149

€ 1,599

Mini Suite
Mini-Suites have large panoramic windows with glass doors that lead to your spacious private veranda, two twin beds most of which convert to a queen-sized bed, accomodating closet space, a private bathroom with shower, as well as a large sitting area with desk, vanity, drawer space, and sofa. Each stateroom also has its own interactive television with satellite, thermostat controlled air-conditioning, direct-dial telephone, hair dryer, mini bar, individual safe. Square Footage: 286 sq ft (including balcony).
On Request
On Request
Suite
337 sq ft (including balcony). Sleeps 3 guests. Along with your room service, Costa Suites include full in-suite meal service, sparkling wine, cold canapes, daily fresh fruit basket, and VIP treatment with priority check-in and disembarkation, assistance with packing and unpacking, upgraded bath products, invitation to the VIP cocktail party, and a complimentary dinner for two at the ship's specialty restaurant.
On Request
On Request
All prices are per person, occupancy selected, and include all meals, accommodations and entertainment!

Taxes of €150pp (€180pp for Argentina), Gratuities of €132 pp (€176 for Argentina) (payable on board) and optional insurance are additional.

First deposit of € 500 per person is required upon booking. Full payment is due 90 days prior to departure.

Optional shore excursions will be offered.

Prices are cruise only and DO NOT INCLUDE return airfare! Please ask for airfare add-ons back to your home city.

Fares are subject to availability and may change without prior notice.

Also included are the traditional Ambien Travel activities, subject to minimum participation.

Please ask for further details.

Special Airfares








Pre-Cruise Hotels







Post-Cruise Hotel