Adventure of the Seas
Ship Facts
Gross Tonnage: 137,276
Length: 1,020 feet
Beam: 157 feet
Draft: 29 feet
Cruising Speed: 22 knots
Guests: 3,114
Crew: 1,185
Ship's Registry: Bahamas

Mediterranean Gay Pride Cruise 2021
5 nights from/to Barcelona, Spain
June 28 – July 03, 2021
Royal Caribbeean Adventure of the Seas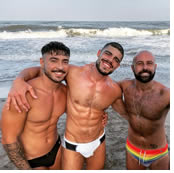 Join us on Mediterranean Pride European gay group cruise on board of the fully renovated Royal Caribbean's Adventure of the Seas
. We will set sail straight after the Barcelona Gay Pride 2021 to beautiful ports in France & Italy. From the High Renaissance to high fashion and from a fascinating heritage to fantastically chic beaches, the Mediterranean has it all. Enjoy the very best that Europe has to offer on our European Gay Mediterranean cruise from gay friendly Barcelona.
Stand in awe before Spanish landmarks, Italian landscapes, and French icons that echo the history-changing moments that once happened there. Climb up inside the spires of Gaudí's Sagrada Familia Cathedral in Barcelona, whisper in awe in the Sistine Chapel, and discover French Riviera & Corsica. Explore the Western Mediterranean cities where myth and history converge on your next vacation.
With its fast-paced cities, laid-back islands and passion for football, fashion, food and wine, Spain is a truly fascinating country. In buzzing Barcelona you can marvel at Gaudi's inspiring architecture or feast on delicious tapas in a shaded pavement café; explore the city's many churches and cathedrals or hit the shops for a shot of Catalan style.
Italy is home to one of the world's most historical and spiritual sites, a universally adored cuisine and a passionate nation. In ancient Rome you can gaze at Michelangelo's magnificent Sistine Chapel ceiling or explore the Colosseum where gladiators once fought. In Florence, feast your eyes on intricate Renaissance art or browse the jewellery shops along the Ponte Vecchio, the bridge dating back to 1345. Pose in Pisa for the essential holiday snap standing against the famous leaning tower or lick some of the most sensational gelato under the Mediterranean sun.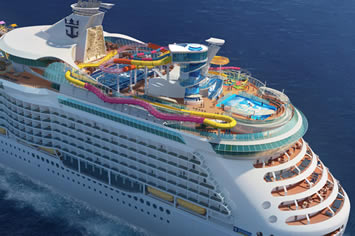 Royal Caribbean's amplified Adventure of the Seas
This is a Royal Caribbean favorite upgraded with all-new thrills. Challenge a friend on the twisting, turning waterslides, Cyclone and Typhoon. Catch a perfect wave high above the sea on the FlowRider. Have fun by the gallon at the Splashaway Bay aquapark. Follow the Latin beat to Boleros. And savor the only dry aged steaks at sea at Chops Grille. All while cruising through the Mediterranean's most beautiful shores. It's time to embark on a new adventure — the reinvented Adventure of the Seas.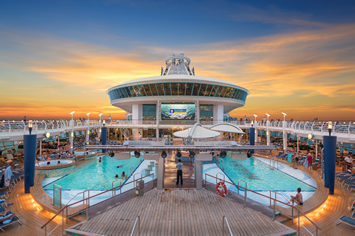 • Enjoy the whipsplashing ride on The Perfect Storm twin racer slides and flow on the FlowRider
• Shop the biggest designer names and onboard exclusives
• At Boleros, enjoy a live six-piece band and singer belt out the Latin rhythms that get you moving
• Themed parties and activities for Mediterranean Pride Cruise guests
• Exceptional dining from traditional Tuscan flavors at Giovanni's Table, fresh-rolled sushi and Asian-inspired entrees at Izumi, or outstanding steakhouse favorites at Chops Grille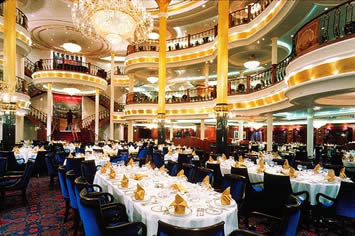 Dining on Adventure of the Seas
Welcome to Dynamic Dining - a new world of culinary exploration on-board. From cupcakes to California rolls, finger foods to a five-course gourmet meal, a Royal Caribbean cruise is a journey of culinary discovery.
The innovative chefs, each trained and certified, will take your palate global with a lineup of complimentary and specialty options. Pair your meals with a beverage package and save on your favorite drinks.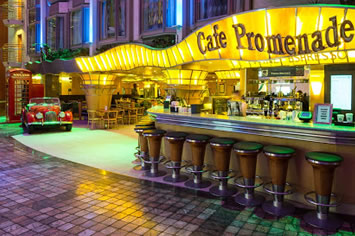 Bars & Lounges on Adventure of the Seas
As lively as London, this is a brilliant spot to grab a pint. And you've got lots to choose from. The impressive beer list runs from ales to lagers, with UK-themed cocktails and an inspired collection of spirits, as well. Come for the British racing decor and stay for the live music.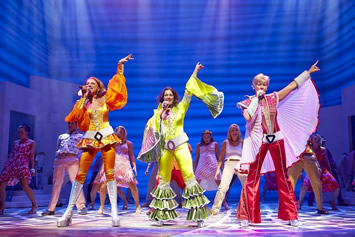 Entertainment & Nightlife on Adventure of the Seas
No PLAY buttons here, a full ensemble orchestra complete with conductor, strings and wind section, accompanies every main theater performance on ship.
Club Twenty is the onboard destination for fashionistas, scene-stealers and club hoppers. Here, living statues, pulsing colors, dancers and billowing sheer curtains combine with the hottest tunes to make the night unforgettable. Come to dance, drink and soak up the scene.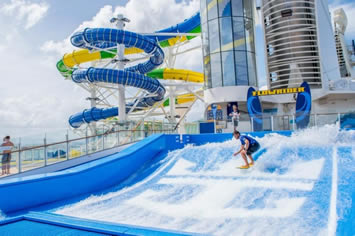 Fitness & Spa on Adventure of the Seas
Vitality Spa with 100+ treatments including massages and acupunture. Outdoor, poolside movie screen 3 pools including the Solarium, an adults-only retreat 6 whirlpools State-of-the-art Fitness Center, with classes including yoga and tai chi Diamond Club, an exclusive space for Crown & Anchor Society members at the Diamond level or above.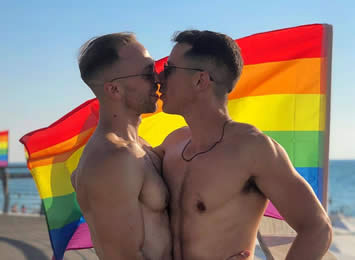 Mediterranean Gay Pride Cruise 2021 Itinerary


Date

Port

Arrive

Depart

28 June
Barcelona, Spain
4 PM
29 June
Nice (Villefranche), France
8 AM
8 PM
30 June
Florence / Pisa (La Spezia), Italy
8 AM
6 PM
01 July
Rome (Civitavecchia), Italy
7 AM
8 PM

02 July

Ajaccio, Corsica
7 AM
3 PM
03 July
Barcelona, Spain
7 AM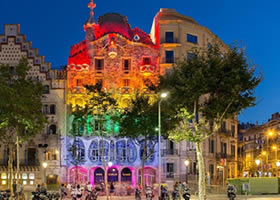 Day 1 - Barcelona, Spain
A top European center for art, architecture, design and cuisine, this stylish city has its own language and culture. The soul of old Barcelona
is its Gothic Quarter; outside the medieval district, discover iconic landmarks and more. Vying for your attention in Catalonia's visually stunning capital are the magnificent medieval buildings of the lively Gothic quarter and the exotic creations of architect Antoni Gaudi - the Sagrada Familia Temple and Parc Güell, to name just a few.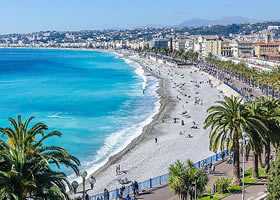 Day 2 - Nice (Villefranche), France
Although originally called "Nakaia," France's Nice is as delightful as its name suggests to English speakers. Take a bus or taxi into Nice's Old City to explore its history-spanning architecture and pristine French Riviera beaches with your Nice cruise. Or stick closer to Villefranche-sur-Mer, where your ship will dock, and take a day-trip to the mountaintop town of Eze. No matter how you spend your time in the de facto hub of France's Cote d'Azur, you'll enjoy the added benefit of being close to Italy, which means delectable pizza, fragrant espresso and the sounds of a second Romance language.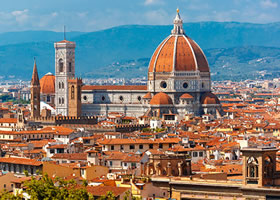 Day 3 - Florence/Pisa (La Spezia), Italy
A former fishing village at the border of two enchanting regions, La Spezia offers easy access to Tuscany and its great cities like Florence and Pisa and the Liguria's rugged coast and terraced villages known as Cinque Terre. From La Spezia, which provides ready access to the Cinque Terre region, you cn travel to Florence as well as to the Leaning Tower of Pisa. Or enjoy La Spezia's, spectacular collection of cathedrals and the art-nouveau-style villas.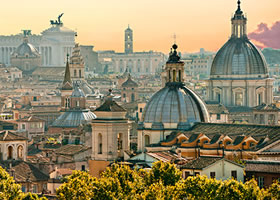 Day 4 - Rome (Civitavecchia), Italy
Hidden piazzas, opulent baroque churches, classical ruins at every turn. The best of Italian fashion. Countless art galleries, gardens and palaces. If ever there was a place to return to and delve deeper, it's Rome. From the monuments of the ancient empire to the pursuit of la dolce vita, the Eternal City is an unrivaled open-air museum and a lively modern metropolis. The tiny enclave of Vatican City is home to sacred sites and priceless art.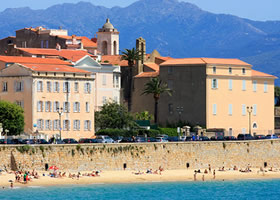 Day 5 - Ajaccio, Corsica
Located just south of France on the island of Corsica, Ajaccio is rich in history and astonishing views, all set in the sun-drenched Mediterranean climate. Napoleon is Corsica's most recognizable historical personality — when you're strolling through town, make sure to visit the Maison Bonaparte Napoleon's family home and a historical museum. Stop in the beautiful Baroque-style Notre Dame Cathedral, where Napoleon was baptized. Cruise to Corsica and hop on Le Petit Train, or "the little train," for a tour of town. For a taste of nature, head out to the Calanques de Piana, a range of dramatic red-rock cliffs.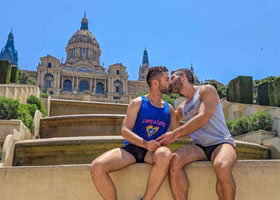 Day 6 - Barcelona, Spain
An important cultural and economic center in Spain, and indeed Europe, Barcelona
is known as much for its unique architecture as its gay friendliness. Since its founding, Barcelona has always been a center of art and design, culminating with Gaudi's masterpiece, the Sagrada Familia Basilica, a prime example of Art Nouveau architecture, with its bold color, beautiful tile work and swirling lines. Spend a day wandering through the old Gothic quarter or take a 30-minute trip to Sitges, the famed gay Spanish beach resort.