Allure of the Seas
Ship Facts
Gross Tonnage: 225,282
Length: 1,187 feet
Beam: 213 feet
Draft: 30 feet
Cruising Speed: 22.6 knots
Guests: 5400
Crew: 2,384
Ship's Registry: Bahamas


Transatlantic Gay Cruise from Barcelona to Miami
on amplified Allure of the Seas
14 nights from Barcelona, Spain to Miami, Florida
November 01 – 15, 2020
Royal Caribbeean Allure of the Seas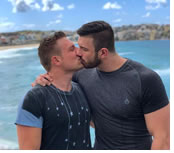 In November 2020 spectacular Allure of the Seas
will cross the Atlantic. Join us on this unique Transatlantic gay group cruise on board of the Royal Caribbean's newly Amplified Allure of the Seas from gay friendly Barcelona in Spain to Miami, Florida! Experience exciting trip across the Atlantic, with stops in Palma de Mallorca, Valencia and Tenerife, and before we reach Miami you will have a Perfect Day at CocoCay, Bahamas. A unique Transatlantic gay group cruise opportunity!
Enjoy unrivalled relaxation and entertainment onboard, taking your time to experience all the fabulous things your ship has to offer, from indulgent spa treatments to casinos, duty-free shops, world-class shows, adrenalin-fuelled sports and outstanding restaurants.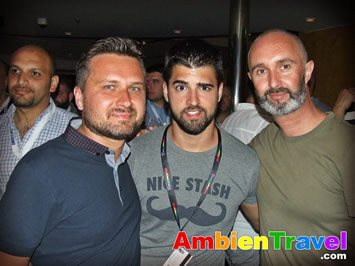 Transatlantic cruise offer a wealth of relaxing days at sea, punctuated by stops at ports that let you explore the local culture and the natural thrills of each area. Transatlantic cruises include a combination of city and island stops, taking you from beautiful gay friendly Barcelona to Florida beaches.
Have you ever thought of traversing an entire ocean from coast to coast? You can go further than you ever thought possible on a Transatlantic cruise, crossing the waves between Europe and the U.S.. Departing from Barcelona, this cruise include both tropical and cultural island stops, in ports such as Mallorca, Valencia, Tenerife and Perfect Day at CocoCay in the Bahamas.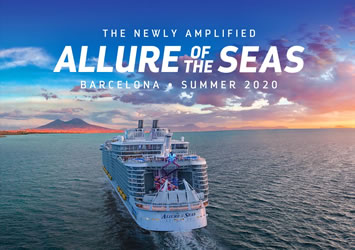 Royal Caribbean's amplified Allure of the Seas
This Oasis Class favorite is bringing adventure to soaring new heights. Discover new thrills on every deck of the Amplified Allure of the Seas
, from new slides and rides to totally reimagined spaces. Get down after dark with more bars than any ship out there and savor a world of possibilities right onboard. Recognized for its dazzling onboard entertainment, thrilling attractions and wanderlust-fueled itineraries, this ship has already been named Best Large Cruise Ship, Best for Entertainment, and Best Individual Ship — and it's just getting started.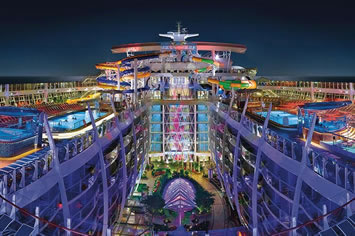 One of world's largest ships offer more of everything you want in a vacation – changing whatever you think about a cruise is all about. It's an unforgettable experience starting with Allure's fantastic features:
• 5 theaters starring original Allure performers and more
• 13 tantalizing restaurants and cafes
• 4 gorgeous pools on the world's largest and highest open-air deck
• The world's biggest live music concerts at sea
• 7 unique "neighborhoods" to meet friends, explore, play, and relax
• An ice rink, two rock walls, zip line, sports court, two FlowRider surf simulators
• And great friends from around the world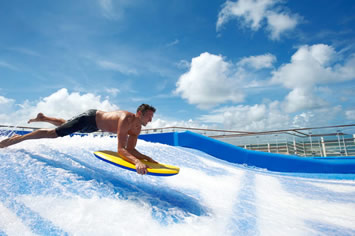 Activities on Allure of the Seas
If you're wondering what there is to do on the Allure of the Seas, rest assured that this ship has you covered! Take a dip in one of the four swimming pools, or relax in one of the ten whirlpools! The Pool Zone has a water park (H2O Zone), cantilevered whirlpools, a Flowrider - which is a state of the art wave simulator where you can surf on the ship - and, there's even a zip-line that goes through the pool area so you can get a birds-eye view of the ship and ocean!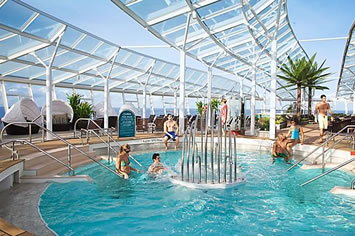 The Youth Zone, an area of the ship dedicated to entertaining the younger crowd, and relax in the quiet Solarium (which is adults-only)! Take a stroll through the Boardwalk neighborhood, and look through the shops and restaurants - and there is even a classic carousel for you to ride!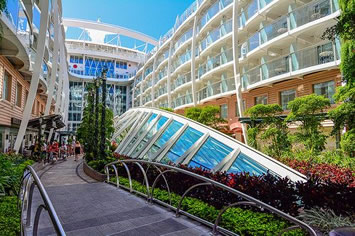 The Central Park area is full of lush greenery and restaurants, so you know you're in for a treat when you meander through! Check out the onboard amphitheater, the AquaTheater - and take in the breathtaking view from any of the decks on the ship!
If you'd just like to relax, head over to the spa and pamper yourself with a massage! The Vitality at Sea Spa and Fitness center offers cardio machines, pilates, kickboxing, spinning, a weight room, and even full hair and makeup services!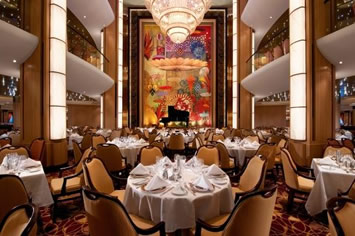 Dining / Food on Allure of the Seas
Dining opportunities on the Allure of the Seas can only be described with one word - delicious! Choose from main dining options, upscale restaurants, and also casual dining options in various places all over the ship! Try the Vitality Cafe for a healthy option, or the Solarium Bistro and Wipe Out for poolside dining! There is also room service available!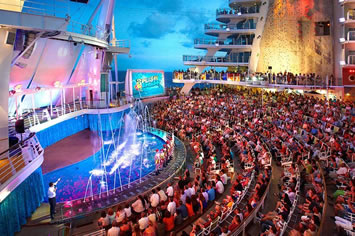 Entertainment on Allure of the Seas
If you're ready to enjoy what the night has to offer, head out and brace yourself! The Allure of the Seas features a jazz club, a comedy club, Studio B (which features ice shows), Dazzles (which features musical performances of anything from big band to disco), and the Opal Theater, a 1,380-seat theater! There is also the Blaze Nightclub, where you can dance the night away, and the Casino Royale, where you can bet you'll have a great time!
Ready for a great party? The Allure of the Seas has themed parades and themed nights, so you can get swept away in your favorite fantasies! Join in the fun! Head over to one of the bars, pubs, or lounges and just relax with your favorite beverage! Your night will be full of fun on the Allure of the Seas!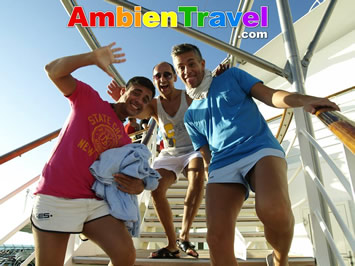 Transatlantic Gay Group Cruise 2020 Itinerary


Date

Port

Arrive

Depart

01 Nov
Barcelona, Spain
5 PM
02 Nov
Palma de Mallorca, Spain
8 AM
7 PM
03 Nov
Valencia, Spain
8 AM
7 PM
04 Nov

A Day at Sea!

05 Nov

A Day at Sea!

06 Nov
Tenerife, Canary Islands
8 AM
7 PM

07 Nov

A Day at Sea!

08 Nov

A Day at Sea!

09 Nov

A Day at Sea!

10 Nov

A Day at Sea!

11 Nov

A Day at Sea!

12 Nov

A Day at Sea!

13 Nov

A Day at Sea!

14 Nov
CocoCay, Bahamas
8 AM
7 PM

15 Nov

Miami, Florida
5 AM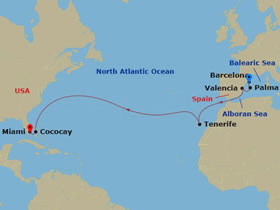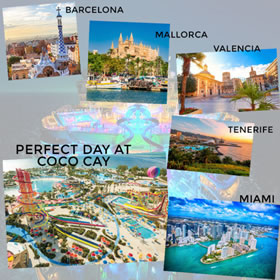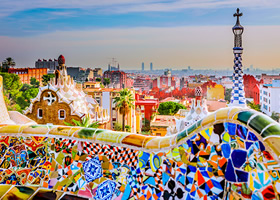 Day 1 - Barcelona, Spain
See and be seen in bustling Las Ramblas, where the shops and street performers will catch your eye. Enjoy the colourful creations of celebrated architect Antoni Gaudi, including La Sagrada Familia, Casa Vicens and Parc Guell. Take a trip to Camp Nou, the home of FC Barcelona or jog, cycle or stroll on the city's fine beaches. For pleasure seekers, there's thriving nightlife and brilliant dining in Barcelona
too.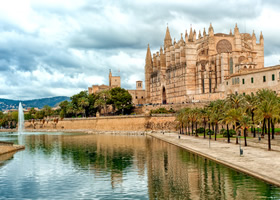 Day 2 - Palma De Mallorca, Spain
Flirt with Flamenco in this beautiful town, the capital of Mallorca. Try tapas or wine tasting or explore the city by bike with an expert guide. Be inspired by the magnificent Santa María Cathedral, a 13th century Gothic landmark overlooking the Bay of Palma, or visit the Almudaina, a Moorish-style Arab fortress, or medieval Bellver Castle. Enjoy swimming, sailing, diving or snorkelling in Palma de Mallorca too.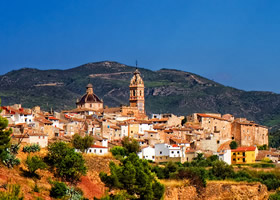 Day 3 - Valencia, Spain
Marvel at the futuristic City of Arts and Sciences, designed by local architect Santiago Calatrava. Treat your senses to a riot of flavours and perfumes in the Mercato Centrale, which sells produce grown in Valencia's fertile market gardens. Savour mouth-watering paella, invented here, and then head for the great outdoors in the 9 km-long Jardines del Turia, popular for walking, cycling, football, plant spotting and fun.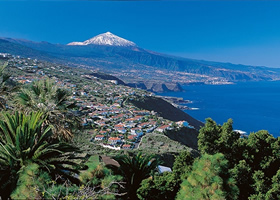 Day 6 - Tenerife, Canary Islands
Take a cable car to the dizzying summit of Mount Teide in the Teide National Park for mesmerising views over the island and the Atlantic. Sizzle on the black and golden sands or tour the island's dramatic volcanic landscapes. Kids will love the Siam Park aquatic adventure park or Loro Park Zoo while people watchers will adore the beach scene and sophisticated restaurants of Playa de Las Américas and Costa Adeje.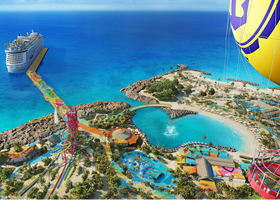 Day 14 - Perfect Day at CocoCay, Bahamas
Be one of the brave first to conquer the tallest waterslide in North America and snap a shot from 400 feet up in a helium balloon. Grab a drink at the swim-up bar and soak up the scene in the largest freshwater pool in the Bahamas. Or get a taste of Bora Bora with your own overwater cabana. This is perfection created for you. This is Perfect Day at CocoCay — only on Royal Caribbean.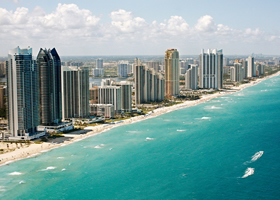 Day 15 - Miami, Florida
Go on parade at glamorous South Beach
, famed for its colourful art deco buildings, white sand and lively nightlife. Soak up the sounds of salsa and merengue in atmospheric Little Havana, where you'll find coffee shops, cigar shops, markets and Cuban bakeries. Shop till you drop in the modern malls or tee off on one of the many golf courses. For thrills, take a speedboat ride or explore the rich marine life of the Florida Reef.