Brilliance of the Seas
Ship Facts
Occupancy: 2,142
Crew: 848
Tonnage: 90,090
Length: 962 feet
Beam: 106 feet
Draught: 28 feet
Cruise speed: 25 knots
Inaugural Date: July 15, 2002
Greek Isles & Venice Gay Bears Cruise 2022
7 nights from/to Venice (Ravenna), Italy
August 28 – September 04, 2022
Royal Caribbean Brilliance of the Seas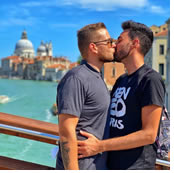 Join your bear buddies and friends on Brilliance of the Seas as we sail from the city of love, Venice to the Greek Islands and experience the best of Greece with all your senses. Discover idyllic beaches and ancient ruins in the birthplace of poetry and art. Temples, amphitheaters and villages preserved in volcanic ash, digs that are still revealing the mysteries of the past — Greece and the Greek Isles hold history for the ages. The Aegean & Adriatic is built on myths, history and warm people. There's nothing you may want that you can't find here. Book a cruise now and give yourself the gift of a lifetime!
Cruise to Greece to enjoy dramatic sunsets across translucent waters while exploring the white cliffs, or transport yourself to the ancient past at ruins found on nearly every Greek island. Don't forget to watch the sun rise over the Aegean while visiting the renowned windmills of gay friendly Mykonos.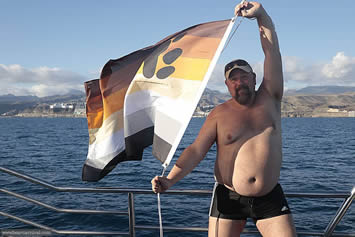 A floating jewel among Italy's dynamo cities, Venice captivates in unexpected ways. Spanning over 100 islands, its maze of canals winds around world-renowned sights like San Marco Campanile— and tucked-away adventures loom beyond every backstreet corner. With no roads, the City of Bridges is best explored by gondola or on foot.
Admire Palazzo Ducale's pink marble colonnades and explore the city's political life in Doge's Palace. View Venetian masterworks in Gallerie dell'Accademia or relish Italian opera in Teatro La Fenice. From sunning along the Adriatic to shopping in waterfront markets to engaging in a Venetian Carnevale mask-making workshop, Venice's serene waterscape overflows with adventure.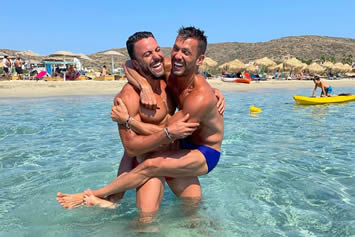 Get in touch with traditional customs and soak in the Mediterranean waves on the sun-soaked Greek Isles. Go on an archaeological exploration of the ancient world's most renowned sites, from Bronze Age excavations to temples dedicated to the Greek gods. This is not your average summer vacation in Europe — it's an all-out culture trip you'll never forget. Offering longer stays in port, Brilliance of the Seas takes you deeper into the culture, history and natural beauty of some of Europe's most incredible destinations.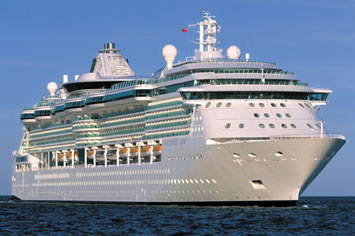 Royal Caribbean's Brilliance of the Seas
Discover new experiences on every shore — and on every deck. Stroll along secluded beaches, follow in the footsteps of ancient civilizations. And for every discovery you make onshore, you'll find countless thrills to keep you immersed in the journey onboard Brilliance of the Seas
. If you're looking for one-of-a-kind ways to experience distinct cultures, savor exotic flavors and soak up views that'll give even the most seasoned travelers wanderlust, this is the cruise ship for you, Brilliance of the Seas offers year-round adventures for every kind of explorer.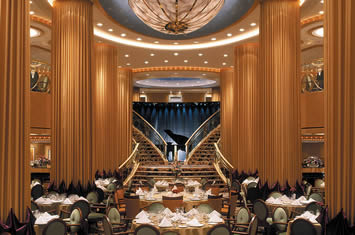 Dining
Catch a glimpse of the magic that happens in the kitchen on an exclusive behind-the-scenes tour of the galley with the Chef. Then take your taste buds on an exceptional brunch in a dining room.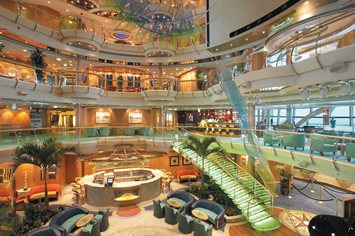 Bars & Lounges
This is where wine list and to-do list overlap. Whether it's Burgundy, Merlot, Riesling or Pinot Grigio, you're sure to find your beloved reds or whites at Vintages wine bar.
Fitness & Spa
Emerge renewed, relaxed and rejuvenated at the Vitality Spa. Professional spa products from acclaimed brands.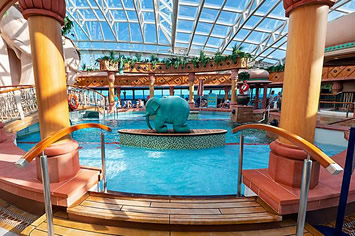 Entertainment & Nightlife
Whether you prefer a masquerade mystery or traditional toga, you're in luck. Themed nights and parties may vary in era, but always deliver in fun.
Casino
There's nothing to stir your sense of excitement like the sound of cards being shuffled Or Chips being stacked and slot machines paying out, Consider the Casino Royale to be your little slice of Vegas right at sea—with thousands of square feet of lights, action, slots and tables. Join a tournament at sea, become a member of Club Royale® or just soak in the winning atmosphere of the incredible casino when you come aboard.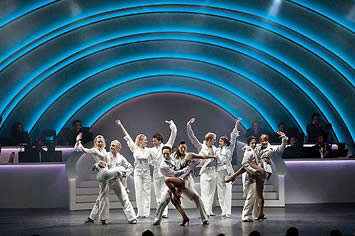 Onboard Activities
The ship boast a sea of vacation possibilities for every guest. Like the chance to learn Italian, salsa dancing, or the recipe for a perfect martini. To conquer the rock wall and ice skate on the equator. Or slow things down with a hot stone massage and duty-free designer shopping. See, do and learn more at sea than you ever thought possible.
Celebrations & Special Occasions
Whether you're celebrating a special day or a special someone a Royal Caribbean cruise vacation is packed with amazing moments from start to finish, and extras that make your voyage truly unforgettable.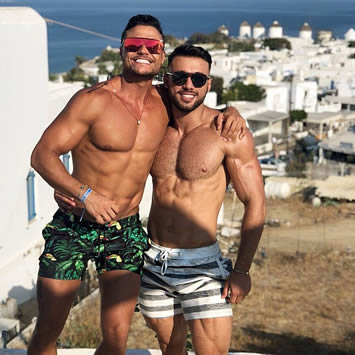 Greek Isles & Venice
Bears Cruise 2022 Itinerary


Date

Port

Arrive

Depart

28 Aug
Venice (Ravenna), Italy
5 PM
29 Aug
Kotor, Montenegro
11 AM
6 PM
30 Aug
Corfu, Greece
7 AM
3 PM
31 Aug
Athens (Piraeus), Greece
12 PM
8 PM

01 Sep

Mykonos, Greece
7 AM
5 PM
02 Sep
Argostoli, Greece
10 AM
6 PM

03 Sep

Fun Day at Sea!

04 Sep
Venice (Ravenna), Italy
6:45 AM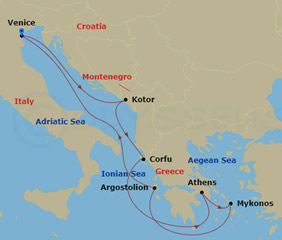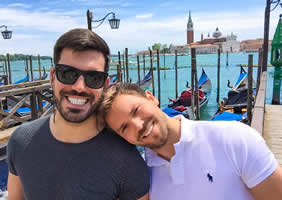 Day 1 & 8 - Venice (Ravenna), Italy
Nestled in the northeast corner of Italy and lapped by the bright blue waters of the Adriatic Sea, Venice
is a marvel of history, art, culture and architecture. This iconic city has plenty of unforgettable sights and experiences to keep you coming back for years. Venice is the perfect place to visit when you cruise from the port of Ravenna, Italy. There's the famous Grand Canal, lined with extravagant palaces and stately Gothic churches. Forgotten back alleys dotted with stunning statues carved centuries ago from marble. Museums that house awe-inspiring works by masters like Titian, Bellini and Tiepolo. And waterfront cafes that serve up frothy cappuccinos, crumbly biscotti and decadent tiramisu. The best way to get around the city? By gondola, of course.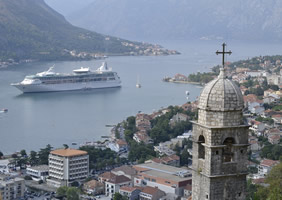 Day 2 - Kotor, Montenegro
Looking at a map of Europe, you might be forgiven for missing Kotor — a tiny port in the already-tiny country of Montenegro. But from the moment your Kotor cruise docks, you'll enter a larger-than-life world of mighty forts and towering sea cliffs, the air filled with the refreshing smell of the ocean. With a Montenegro cruise, you can explore the attractions inside Kotor's fortified Old City, one of the Mediterranean's best-preserved medieval towns. Don't miss the Cathedral of St. Tryphon, an ornate church first consecrated in 1166. Then, scale St. John's Fortress — the hilltop fortifications, dating back to the 6th century, offer the best views of the city, the harbor and the surrounding mountains.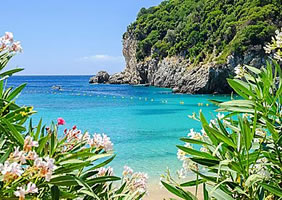 Day 3 - Corfu, Greece
Perched above the Adriatic Sea, Corfu, Greece is the second largest Ionian island, and its size is rivaled by its tremendous history and dynamic cultural identity. Cruise to Corfu and walk through the narrow streets of Old Town, a UNESCO World Heritage Site, and marvel at the Italianate architecture left from centuries of Venetian rule. A number of scenes from the James Bond film "For Your Eyes Only" were filmed in the capital city of Corfu, and you'll understand why when you see the epic coastal roads and immense fortresses buttressing the town. With its rich combination of old fishing villages and immaculate beaches, Corfu is the perfect place to get lost in time during your vacation.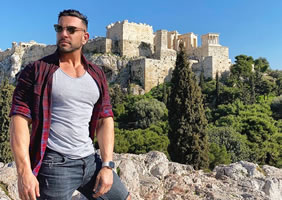 Day 4 - Athens (Piraeus), Greece
Athens offers a looking glass back in time into Greece's powerful ancient civilization. Art lovers, epicureans and history buffs will be delighted by the ancient ruins, museums and tavernas of this picturesque town. Just 10 minutes from the port, you'll find the Archaeological Museum of Piraeus, filled with sculptures from the Bronze Age to the Romans. Walk to the Zea Harbour to discover how the Hellenic Maritime Museum will bring to life the grandeur of ancient Greece's naval capacities. Jump onboard an Athens cruise and relax at the small harbor of Mikrolimano, enjoying a meal of grilled octopus and chilled white wine at a small restaurant overlooking the sea.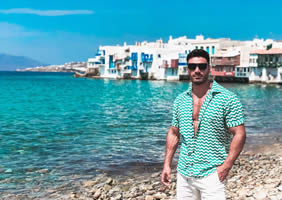 Day 5 - Mykonos, Greece
Nestled in the heart of Greece's Cyclades archipelago, gay friendly Mykonos pulses with irrepressible energy. With its powder white houses, sparkling blue waters, and red-hot nightlife, The Island of the Winds is as colorful as the people who call the island home. You can walk narrow marble pathways laced with purple bougainvillea blooms, or go cycling on two wheels past off-the-path Ano Mera village. Explore Greece's maritime history at Armenistis Lighthouse, and check out the Folklore Museum's Mykonian ship models. Join in the raucous beach party on Super Paradise's shimmering sands, or watch the sun burn out beyond an Aegean horizon from an open-air seaside taverna.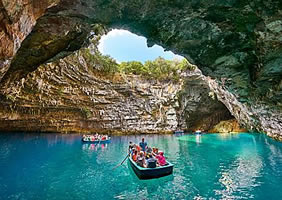 Day 6 - Argostoli, Greece
The Ionian island of Cephalonia in postcards portrays idyllic beaches, forest-clad mountains and crystal clear waters. But adventure in its capital city of Argostoli is much more than meets the eye. This small town comes full of friendly locals— and visitors quickly fall for its traditional Greek lifestyle and spectacular natural attractions, like the Koutavos Lagoon's nature preserve. Stroll along De Bosset Bridge, where endangered sea turtles swim out to sea. Admire Vallianos Square's grand bell tower and taste Robola wine in a local vineyard. Rumble in a Jeep to the summit of Mount Ainos, or experience the thrill of coasteering down rock faces dangling over the Ionian Sea.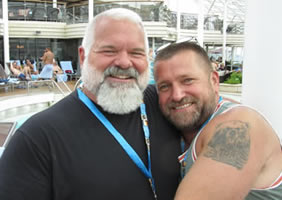 Day 7 - Fun Day at Sea!
While at sea, take the time to recharge before the next adventure. Lounge by the pool, be spoiled at the spa, taste the delicacies or explore the venues on-board, until we arrive at the next amazing destination.