Valiant Lady
Ship Facts
Gross Tonnage: 110,000
Length: 909 feet
Beam: 125 feet
Draft: 26.4 feet
Cruising Speed: 22 knots
Guests: 2,770
Crew: 1,160
Decks: 17
Inaugural: May, 2021
Virgin Mediterranean Gay Bears Cruise 2022
7 nights from/to Barcelona, Spain
August 28 – September 04, 2022
Virgin Voyages Valiant Lady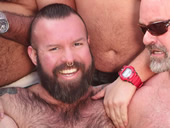 Join your bear buddies and friends on Virgin Voyages' 2nd ship in their new Adults Only Cruise Line, the Valiant Lady as we sail from Barcelona to Palma de Mallorca, Gibraltar, Malaga, and Ibiza - where will will stay overnight! And then after the ship returns to Barcelona, it's just a short train ride to Sitges for International Sitges Bears Week, the Number 1 Bears event in Europe! Bears, Admirers, Bear-Adjacent, and well, just plain ol' fun-loving guys are all welcome! Join us as we set sail on this new amazing cruise line.
Visit the Spanish Mediterranean most famous cities and islands from Virgin Voyages homeport in Barcelona. On itinerary typically sailed by super-yachts, Virgin Voyages has created itinerary that feature longer port stays and making an overnight stop at the beach club mecca of Ibiza.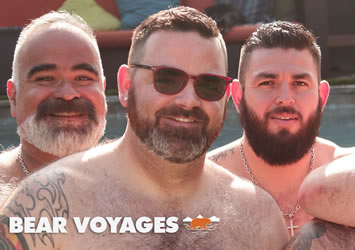 The new sailing experience that is bringing about an epic sea change for all. This experience is a lot of things, but definitely not your traditional cruise. Instead, expect a voyage that cultivates curiosity, encourages experiences and advocates adventure.
Virgin Voyages offers a cheeky and cheerful approach to service, as well as an inclusive approach to sea travel that removes those pesky add-ons. Sailors will enjoy food at the 20+ restaurants onboard (at no added cost). Free fitness clases and free wifi (so you can share your favourite holidays snaps whilst living for the moment!). Aimed at providing a transformative experience through a liberal dose of 'Vitamin Sea', the Virgin Voyages ideology places the ocean and its role in both personal and global wellbeing at centre stage.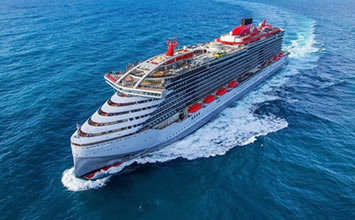 Virgin Voyages Brand New Valiant Lady
Virgin Voyages' second ship due to set sail November 2021. Be one of the first sailors to experience this revolutionary ship design where interior spaces were curated by world-renowned interior designers Tom Dixon's Design Research Studio, New York's Roman and Williams, Concrete Amsterdam and Softroom.
The Valiant Lady has pulled out all the stops to become a floating design icon. From the VIP top deck, club lounge and sky rooms through to that unique tattoo studio, you'll find that no detail has been overlooked. You'll be cruising the Mediterranean in a ship that's full of theatrical spaces and nautical touches, spiced up with a sense of drama and fun. And not a beige bedspread in sight.
Luxury Ship Features
If you're in the Mediterranean, you better make absolutely sure you're making the most of every sun-kissed second. The Dock, the ship's exclusive outdoor lounge, is where you can find total peace and tranquillity, with just the gentle sound of the waves and the occasional chatter of dolphins as they play in the bow waves. Feeling a little more active? The Athletic Club is the spot to head to, with the world's largest daybed (they never do anything by halves onboard the Valiant Lady) to relax on when you need a breather from all that chilling out.
At night, the stars emerge with the glitz and glamour of The Manor nightclub. This dazzling club tips a nod to Richard Branson, charting his history in the music industry, and then celebrating that heritage by banging out some insane tunes until the small hours. If you want a break from the beat, head out on deck where you can gaze out at the ocean while a billion stars shine. This is the stuff memories are made of (oops, looks like another trip to Squid Ink, then…).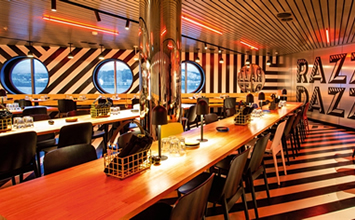 Fuelling up on Food
No luxury ship is complete without food, food, and more food, and the Valiant Lady doesn't short-change you when it comes to chowing down. There's over 20 choices of meals whenever you're peckish – there's no set menus or enforced meal times here. Whether you want a healthy snack at 6am or a midnight feast, the crew will cater for you.
First up, there's Razzle Dazzle, where you'll discover your inner vegan. Or, try the gloriously opulent Pink Algarve, serving Mexican fusion with all the trimmings.
And wait, what's this? Street food onboard a ship? At the Valiant Lady's Galley, you'll find eight different food stalls selling everything from tacos to sushi, burgers to bento boxes and noodles. You may be cruising the Med, but that doesn't mean the rest of the world can't join in.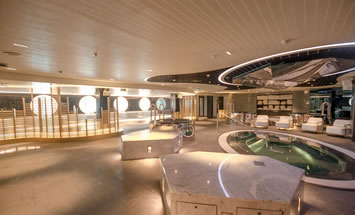 Wellness and Zen Time on your Adult Voyage
There's a concept at Virgin Voyages – Vitamin Sea. There's nothing quite like the ocean to restore that inner wellness we all crave, so onboard you'll get the time to re-energise with some state-of-the-art activities in the Crow's Nest.
You can detox with sunrise or sunset yoga classes, or retox with a few rounds in the boxing ring. The B-Complex gym space gets your heart pumping with some serious cardio, or go for some zen time in Redemption, the Valiant Lady's onboard spa.
Wallow about in glorious mud pools, get your chakras aligned on a quartz bed, or zone out with a spa treatment. Be warned, though: at night this mermaid's hideaway transforms into a killer club, where the resident DJ gets things buzzing with some serious tunes.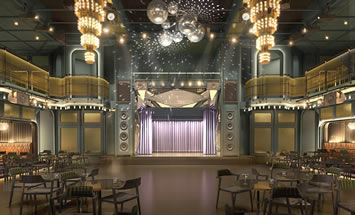 Valiant Lady entertainment - mind-blowing revelry
Grab your glad rags, throw on your dancing shoes and be prepared to be amazed by some of the best cruise ship entertainment on the high seas. Virgin Voyages are going back to their musical roots with on board entertainment that'll have you boogying until the sun comes up. Choose from a line-up of brand new, original shows and gigs developed by some of the best entertainers in the business. Like everything else on the Valiant Lady, cruise entertainment doesn't get much better than this.
Just keep levelling up with an on-board party at the Manor, the Valiant Lady's exclusive nightclub. Bag some front-row seats in the Red Room and be prepared to laugh your socks off or just stare slack-jawed in amazement at 21st-century magic and mayhem. The festival vibe keeps the curious entertained, and the cravers coming back for more. After a glorious meal and the best cocktails, it's time to dance until dawn as the Valiant Lady steams her way to your next port of call.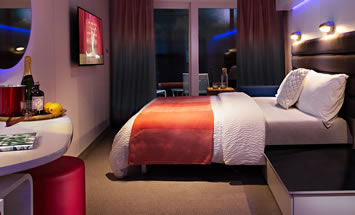 Slumber at Sea in Luxury Cabins
Time for some snoozing, and Virgin Voyages have made sure that the cabins maintain that gloriously indulgent luxury you'll find all over the Valiant Lady. Tom Dixon's had a hand here too, designing the RockStar suites with flair and individuality, but with absolutely no compromise on comfort. All of the RockStar suites are on Deck 15, just under Richard's Rooftop (RockStar VIPs get exclusive access to the club).
Book a RockStar suite and you get a host of VIP extras including airport transfers, luggage assistance and a private walk down the terminal pathway on arrival, as well as anytime boarding and early booking for special events. If you want to feel like a real rock star, this is your chance.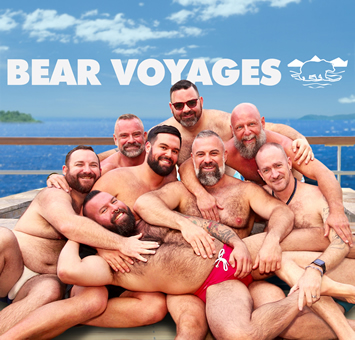 Virgin Mediterranean
Gay Bears Cruise 2022 Itinerary


Date

Port

Arrive

Depart

28 Aug
Barcelona, Spain
6 PM
29 Aug
Palma de Mallorca, Spain
8 AM
30 Aug
Malaga, Spain
4:30 PM
31 Aug
Malaga, Spain
10 PM

01 Sep

Gibraltar, UK
8 AM
02 Sep
Ibiza, Spain
7 PM

03 Sep

Ibiza, Spain
6 PM
04 Sep
Barcelona, Spain
6:30 AM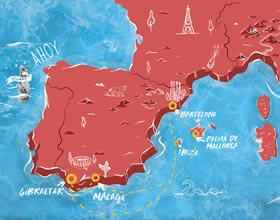 Experience a selection of Spanish delights sailing from Barcelona to the island of Mallorca before an overnight in the southern port city of Málaga. Head to Gibraltar on the southernmost coast of the Iberian Peninsula before a dance-floor-filled overnight finale on the island of Ibiza.
Days 1 & 8 - Barcelona, Spain
With a home port only steps from Barcelona's diverse neighborhoods and the famed urban beach of La Barceloneta, Sailors will uncover hidden secrets from local market cooking classes to modern and historic art in this vibrant seaside, architecturally stunning European city.
Founded by Romans in the first century BC, Barcelona
is the vibrant capital of Catalonian Spain. Many of the worlds finest treasures can be seen in Barcelonas museums and monuments. Romanesque and Gothic frescoes and treasures can be enjoyed at the Catalan Art Museum. Among the most treasured sites is Gaudis masterpiece, The Sagrada Familia.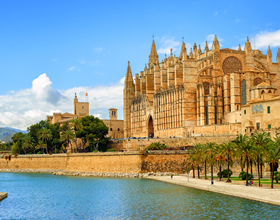 Day 2 - Palma de Mallorca, Spain
This capital city of the island of Mallorca is the perfect dose of countryside serenity you might expect from a secluded Balearic island. Bike through picturesque villages, enjoy art in Valldemossa or stop off at a family-owned winery with a history so rich, you can taste it with each sip.
The largest of the Baleares Islands off Spains Mediterranean coast, Mallorca is a popular European resort. Enjoy the cosmopolitan charms of the city of Palma or use it as a base to explore Mallorcas Roman ruins, picturesque villages, beaches and spectacular caves.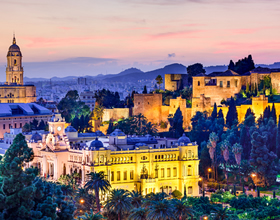 Days 3 & 4 - Malaga, Spain
Uncover centuries of history in one of the oldest cities in Europe and among the oldest continuously inhabited in the world. Sailors can venture off to visit Alhambra, a beautiful old-world palace, or just spend the day reveling in the small town charm. A perfect setting of charm, this alluring port is located on Spains Costa del Sol amidst a profusion of exotic wildflowers in perpetual bloom. View the famous natural wood carvings of artist Pedro de Mena at the Malaga Cathedral.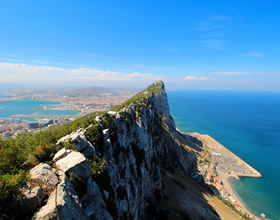 Day 5 - Gibraltar, UK
This British territory on the southern tip of the Iberian Peninsula may be small, but packs a strong global punch. Inspect the intricate caves of it towering limestone mass, the Rock, view the wonder via helicopter or stay land-bound for cafes, shopping and people-watching in town.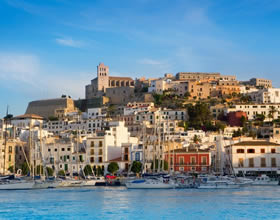 Days 6 & 7 - Ibiza, Spain
Arrive at golden hour for a catamaran sunset sail before jetting to one of Ibiza's famed night clubs. For those more into delicious than dancing, try an olive oil or local winery eco-tour, carve out a secluded spa day complete with a mind-balancing yoga class, or just let the old city guide you.
The alluring mild climate attracts scores of northern Europeans who grow weary of cloudy days and cold temperatures. They come here to enjoy the sunshine and the beaches; at night they fill the clubs until the early morning hours. The name Ibiza has become synonymous with pleasure seeking.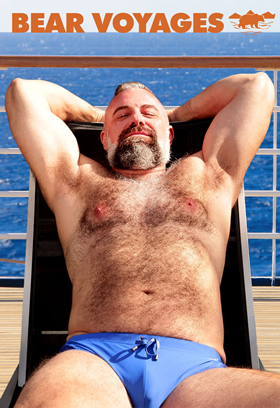 Our Bear Voyage will include
• On board Meet & Greet Cocktail parties
• Bear Group activities
• Group host
• Special guests to be announced
• On Board Credit – based on cabin type
• Free Wi-Fi
• Gratuities
• Basic bevvies (soda, filtered and sparking water, juices, drip coffee and tea)
• Group fitness classes
• Pop up events
• Drag Brunch
• And more!
Optional (additional fees):
• Pre-cruise hotel night stay in Barcelona (Our host hotel: Meliá Barcelona Sky Hotel
)
• Post-cruise transfer to Sitges
• Accommodations in Sitges for Bear Week (Our host hotel: Meliá Sitges Hotel
)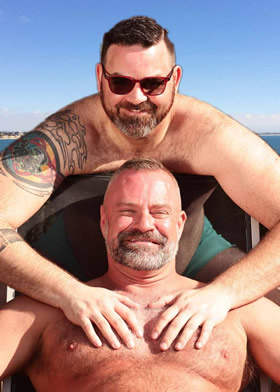 Guests: 2,770 • Gross Tonnage: 110,000 • Length: 909' • Beam: 125' • Draft: 26.4' • Cruising Speed: 22 knots

Virgin Mediterranean Gay Bears Cruise 2022 Rates

Insider Stateroom
105 -177 sq.ft. Nightlife type who prefers to catch Z's without the morning sun peeking through the blinds? Then this window-free cabin will be perfect. Add in all the amenities of other cabins, just subtract the pesky glare. Roomy Rainshowers and mood lighting punctuate our cozy escapes — giving you the space to recover today and prepare for tomorrow.
$ 1,784

Sea View Stateroom
190 sq.ft. The closest you can get to the ocean without getting wet (save that for the pool party). This cabin is ideal for a duo (or triple) who like to watch the waves perched from a window seat like the stars of your own award-winning indie flick.
$ 2,009

Sea Terrace Stateroom
Limited View
225 sq. ft. Designed to give you sweeping views of the horizon as you glide along the open ocean, this cabin may have a (slight) visual snag from a part of the ship or a lifeboat. There's still plenty of room for sun salutations on the terrace and downward facing dogs in the bedroom (or vice versa), just be aware that at any point an inanimate object may be judging your form.
$ 2,234

Sea Terrace Stateroom
225 sq. ft. Designed to give you sweeping views of the horizon from the front and back zones of the ship, our high-tech mood lighting can (and will) intuitively match the light from the oncoming sunset as you glide along the open ocean. There's plenty of room for sun salutations on the terrace, or downward facing dogs in the bedroom. Or visa versa. We'll leave that up to you.
$ 2,309

Central Sea Terrace Stateroom
225 sq. ft. Designed to take in sweeping views of the horizon whether you've just walked in or you're relaxing on the terrace hammock. Located centrally on the ship, it's a great spot for those who like to be near the action. You know, if being centered (geographically, but if you like yoga there's a terrace for that) is your kind of thing. Nama(stay)... here at the center of the ship.
$ 2,384

XL Sea Terrace Stateroom
265 sq. ft. Designed to give you sweeping views of the horizon, our high-tech mood lighting can (and will) intuitively match the light from the oncoming sunset as you glide along the open ocean. With a larger living area and bathroom — which houses our Roomier Rainshower — your biggest decision will be whether you gaze at the sea or gaze at yourself in the bathroom mirror. Do you - we won't judge.
$ 2,509

Sweet Aft Suite
Pretty Big Terrace
180-182 sq.ft., balcony 16 sq.ft. Take in the uninterrupted sea views at the terrace champagne table from the biggest and highest terrace of all our Sweet Aft Suites. Don't forget about that sea view shower window though. With endless views from the back of the ship whether you're relaxing at the terrace champagne table, or gazing at the waves directly from your indoor Peek-a-Boo shower window, there's no such thing as a bad view in this suite.
$ 3,334

Sweet Aft Suite
Even Bigger Terrace
223-268 sq.ft., balcony 20-24 sq.ft. Perfect for a duo looking for epic views of the wake from our central, back-of-the-ship locale. Even the interior Peek-a-Boo shower has an ocean view. With endless views from the back of the ship whether you're relaxing at the terrace champagne table, or gazing at the waves directly from your indoor Peek-a-Boo shower window, there's no such thing as a bad view in this suite.
$ 3,434

Sweet Aft Suite
Biggest Terrace
321-425 sq.ft., balcony 29-39 sq.ft. Central wake views for a duo, but with a bigger and higher terrace. Gazing out at the water from our red hammock swing — there's no such thing as a bad view in this suite. With endless views from the back of the ship whether you're relaxing at the terrace champagne table, or gazing at the waves directly from your indoor Peek-a-Boo shower window, there's no such thing as a bad view in this suite.
$ 3,584

Seriously Suite
284 sq.ft., balcony 68 sq.ft. From the massive European king bed overlooking the sea to the custom hand-made terrace hammock, luxury and self care here are a serious art. Full stocked, full-size bar. Peek-a-Boo shower. Record player ready to spin your favorite tunes. This suite is ideal if you're serious about luxury.
$ 3,359

Cheeky Corner Suite
Pretty Big Terrace
304-306 sq.ft., balcony 28 sq.ft. Perfect for anyone looking for wrapping panoramic views of the wake from the back corners of our ship. All of our furniture is designed to enhance the views — from our custom interior wicker chairs to the red terrace hammocks hand-woven by artisan mothers in Thailand. Wrapping panoramic views from the corner of the ship are emphasized by our design choices — from our custom interior wicker chairs to the beautiful, hand-woven hammocks on the terrace, our pieces were designed with thoughtful space to maximize sea views from any angle.
$ 4,034

Cheeky Corner Suite
Even Bigger Terrace
349-397 sq.ft., balcony 32-36 sq.ft. Watch the waves break from an even bigger outdoor space. After rinsing off in the Roomiest Rainshower, take in views while lounging on the European king bed. Every angle has been thoughtfully considered to maximize the only thing that'll possibly upstage you – the sea. Wrapping panoramic views from the corner of the ship are emphasized by our design choices — from our custom interior wicker chairs to the beautiful, hand-woven hammocks on the terrace, our pieces were designed with thoughtful space to maximize sea views from any angle.
$ 4,184

Cheeky Corner Suite
Biggest Terrace
442-536 sq.ft., balcony 41-49 sq.ft. The highest, and biggest, terrace of all our corner suites — from here, the views are unparalleled. With the same glamorously designed interior, there's more space outside to flirt with the sea. Terrace hammock or outdoor champagne table? Sailor's choice. Wrapping panoramic views from the corner of the ship are emphasized by our design choices — from our custom interior wicker chairs to the beautiful, hand-woven hammocks on the terrace, our pieces were designed with thoughtful space to maximize sea views from any angle.
$ 4,309

Brilliant Suite
396 sq.ft., balcony 85.7 sq.ft. Cue the music video montage because your inner rocker will come alive dancing from the bar to the fully marbled bathroom. Or electric slide to the terrace champagne table. Or... well, we'll leave the choreography up to you. The Hollywood-style lights. The glam brass vanity area. The full size, fully-stocked bar (complete with mixology equipment, obviously) - this suite begs for you to indulge the rockstar deep within. And with a cheeky view of the European king bed from the (fully) marbled Peek-a-Boo shower, the only sensual rival is the ocean itself.
$ 4,459

Gorgeous Suite
396 sq.ft., balcony 174 sq.ft. Whether you're in the Peek-a-Boo shower inside, or rinsing off on the Peek-a-View shower outside, the ecstasy-inducing sea views pulse through every part of the design of this suite. The terrace swing chair is the perfect spot to enjoy a nightcap while you watch the moon flirt with the waves. Once inside, after rinsing off in your outdoor Peek-a-View shower, you can lose yourself in the massive European king bed while drifting off to sleep to the sounds of the waves (or your vinyl record player).
$ 5,834

Posh Suite
572 sq.ft., balcony 261 sq.ft. From ceiling to floor marble bathrooms to the champagne table on the terrace overlooking the waves — it's chic enough for a superstar girlband to shack up here. An outdoor champagne table is the perfect spot to admire the view from your suite. With a glamorously designed layout enhanced by our high-tech mood lighting, Hollywood-style vanity glam area, a tricked out terrace, and floor-to-ceiling marble bathroom, this one's perfect for the posh traveler.
$ 8,434

Fab Suite
689 sq.ft., balcony 261 sq.ft. Sun-drenched terrace yoga with new friends or (extra) dirty martinis at the full bar inside? For those who love to host while never losing sight of the sea. Whether you're into sunshine yoga on the terrace, or serving up negronis at the bar inside, this suite is for those who love to host. When it's just you, you'll be tasked with the age-old problem of whether to relax in the fully-marbled Peek-a-Boo shower inside or rinse off on the Peek-a-View shower outside under the moonlight.
$ 10,334

Massive Suite
689 sq.ft., balcony 261 sq.ft. Sun-drenched terrace yoga with new friends or (extra) dirty martinis at the full bar inside? For those who love to host while never losing sight of the sea. Whether you're into sunshine yoga on the terrace, or serving up negronis at the bar inside, this suite is for those who love to host. When it's just you, you'll be tasked with the age-old problem of whether to relax in the fully-marbled Peek-a-Boo shower inside or rinse off on the Peek-a-View shower outside under the moonlight.
$ 12,359

All fares shown are per person and includes: Gratuities, All food in any restaurant; Soda, Water and coffees; Entertainment on board and WIFI

Taxes & charges of $180 pp, and optional insurance are additional.

25% of cruise fare as deposit required to reserve a cabin. Final payment is due by April 28, 2022

Deposit is non refundable but you can change sail dates as many times as you want.

Prices are cruise only and DO NOT INCLUDE return airfare! Please ask for airfare add-ons back to your home city.

Fares are subject to availability and may change without prior notice.

Also included are the traditional Bear Cruise activities, subject to minimum participation. To enjoy Bears Group functions and excursions you must reserve room with us.

Please ask for further details.

Special Airfares








Pre-Cruise Hotels







Post-Cruise Hotel