May 08–20, 2022
Delfin Amazon Cruises Delfin III
13-day all-inclusive luxury all-gay Peruvian adventure including an Amazon River full ship charter cruise and culminating with a comprehensive Machu Picchu experience. It's the perfect combination of inspiring places and rich history in the comfort of an all-gay environment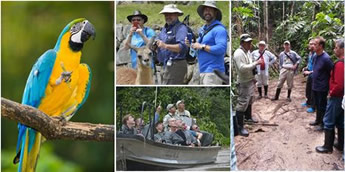 As the face of travel continues to evolve, so should the nature and value of enriching travel programs being offered. Peru is one of the most biodiverse countries in the world offering a unique combination of nature, wildlife, archaeology and cultural heritage.
Brand g Vacations is pleased to introduce our 2022 Amazon River Cruise and Machu Picchu Discovery travel program. The cruise is operated aboard the luxurious Delfin III, which offers some of the most spacious accommodations along the Amazon River. This smartly designed, 44-passenger, colonial-style vessel, provides the ultimate in comfort, with five-star amenities.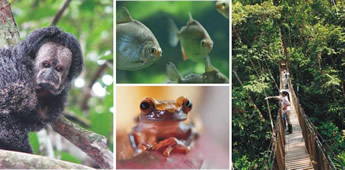 Our custom designed land program provides authentic, educational, and culturally-enriching encounters daily. Few trips offer as rich an experience of Peru's diverse natural and cultural treasures.
Begin in the cosmopolitan city of Lima, known for its vibrant food scene. Fly to Iquitos where you will embark a luxury riverboat that takes you deep into the rain forest within the Amazon Basin. Home to a staggering array of wildlife, the Peruvian Amazon boasts nearly a thousand species of birds alone. Enjoy fine wine and famous Peruvian cuisine while enjoying the company of other lgbt travelers. After disembarkation, we will continue on to the Sacred Valley near the Inca capitol of Cusco. From here, we board a train for a scenic journey to Machu Picchu, the mystical stone city built by the Incas in the 15th century. Afterwards return to Cusco for an overnight and guided tour before departing for your flight home.
It's the perfect combination of inspiring places and rich history in the comfort of an all-gay environment. Virtually all-inclusive rates starting from $5,999 per person.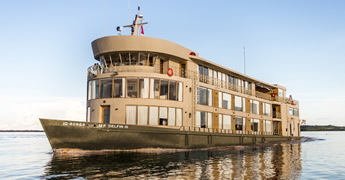 The Ship
Brand g Vacations has chartered the Amazon Delfin Cruises 22-cabin Delfin III. While cruising the Amazon, you will explore one of the largest expanses of tropical rainforest in the world. Smartly designed, this vessel provides the ultimate in comfort, with five-star amenities.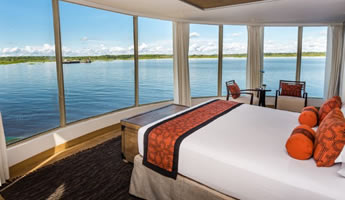 Relax
• All suite accommodations • Floor-to-ceiling windows in every suite • Soft, luxurious spa robes & slippers • Natural, therapeutic bath amenities • Fine cotton bed linens & pillow menu • Individual climate control; in-room safe • Makeup mirror, hair dryer, iPhone dock • Generous closet & under-bed storage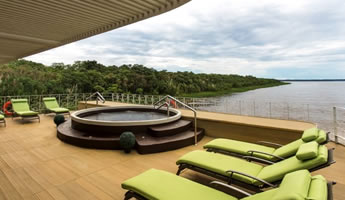 Indulge
• 44 guests pampered by 29 crew • Expert naturalists travel with the ship • Spa services with signature treatments • Daily enrichment & nightly entertainment • Daily housekeeping; nightly turndown • The services of a cruise director throughout • Transfers to/from Iquitos Airport (IQT)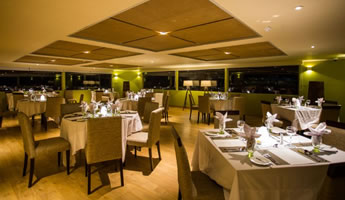 Refresh
• All meals included • Welcome reception onboard the ship • Complimentary coffee, tea, water, soft drinks, local beer and pisco-based cocktails • Free flow house wine at dinner • In-suite bottled mineral water and ice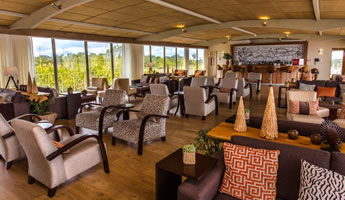 Explore
• Daily excursions led by expert naturalists • Amiable, English-speaking local guides • Deluxe, 15-person skiff excursion boats • Water resistant boots for wet landings • State-of-the-art portable listening devices • Refreshments on longer excursions • Post-excursion reception & services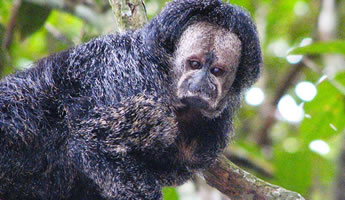 Travel Itinerary
Day 1 - Sunday, May 08, 2022
Arrive in Lima, Peru
Arrive the Jorge Chavez International Airport, where you will be greeted by a Brand g's local representative and transferred to the centrally located Hilton Lima Miraflores Hotel
. The first scheduled activity will be a welcome reception at approximately 5:30pm.
Day 2 - Monday, May 09, 2022
Lima, Peru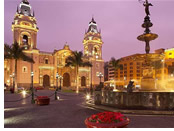 After a morning briefing, depart the hotel to the historic center of Lima, a UNESCO world heritage site, where you will see the Cathedral, the Government Palace, the Archbishop's Palace, and City Hall. Visit the Convent of the San Francisco Monastery, the most significant religious site in Lima, which provides insight into life during Spanish colonial times, and the catacombs, which served as a burial ground until 1808. Continue to the Cathedral which houses the remains of Francisco Pizarro, the founder of Lima.
After, we proceed to the Pueblo Libre District, for an included lunch at the Cafe del Museo, hosed within the Larco Museum complex in a former mansion, itself built on the site of a pre-Columbian temple. Following lunch, enjoy a guided tour of the museum, which offers a vast collection of ceramic, textile and precious metal artifacts. There are also mummies that show off the different ways ancient cultures, including the Incas, preserved their dead.
After the museum visit, enjoy a panoramic drive back to Miraflores through San Isidro to see the sites of "Parque de los Enamorados" (Lover's Park), and enjoy a spectacular view of the Pacific Ocean.
The evening is yours to enjoy at leisure.
Meals included: B, L
Day 3 - Tuesday, May 10, 2022
Lima / Iquitos / Embark Ship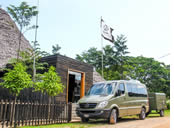 After breakfast, fly from Lima to Iquitos. Upon arrival in Iquitos, you'll be greeted by members of the ship's team.
We will start off with a lunchbox as we travel to the city of Nauta, 60 miles away. Nauta is literally the "end of the road" where you will embark on the ship. Once we reach Nauta, you will enjoy a VIP greeting at Delfin's private port along the shores of the Marañon River where the vessel awaits you.
Later we gather for cocktails and a celebratory welcome dinner as we make our way out of port and into the Amazon River.
Meals included: B, L, D, Welcome Reception
Day 4 - Wednesday, May 11, 2022
Samiria River / Yanayucu River

This morning, our skiffs skim the Samiria River and its tributaries, where an abundance of wildlife hides in the deep rainforest, such as blue and yellow macaws, scarlet macaws, toucans, umbrella birds, monkeys, and river others, capybaras and more. Our naturalists and his expert eye pinpoint all the biodiversity of this region. This is also a popular dolphin feeding spot so we won´t be the only one enjoying the plethora of fish below.
After a delicious lunch you will start cruising through the creeks of Yanayaquillo, peeking into different creeks and lagoons. If you want to interact directly with the waters of the Amazon, go out on one of our kayaks. You will even have the opportunity to swim in the jungle river along with the famous pink dolphins!
Meals included: B, L, D
Day 5 - Thursday, May 12, 2022
Pucate River / Nauta Caño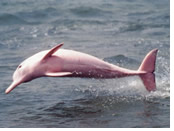 This morning, cruise through the Yanayacu and Pucate Rivers, one of the best preserved and protected zones of the Pacaya Samiria National Reserve.
After lunch explore Nauta Caño Creek, known for squirrel and silver back tamarillo monkeys, birds, dolphins, and even sloths! We will skim the riverbanks for small caimans and spiders, as well as insects of all colors, shapes and sizes.
Meals included: B, L, D
Day 6 - Friday, May 13, 2022
Fundo Casual / San Francisco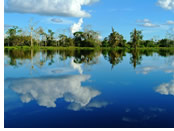 A morning walk at Fundo Casual jungle trail will take you deep into the rainforest on terra firme (non-flooded forest) where your guide will point out the dynamic creatures and vegetation of the Amazon. Be sure to keep an attentive eye open for spotting surprises!
Next we will visit the community of San Francisco. We will include a short skiff ride and jungle walk to. Here we will meet local villagers who have called Amazonia their home for generations.
Meals included: B, L, D
Day 7 - Saturday, May 14, 2022
Disembark / Nauta / Cusco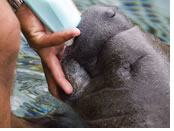 This morning, we'll disembark the ship. On our way back to the Iquitos airport, we'll visit the Rescue and Rehabilitation Center of River Mammals (ACOBIA) where you will have the chance to meet baby manatees and learn about these wonderful and docile creatures and why they are on the endangered species list.
Our land personnel will wait for you at the airport and give your boarding passes and help you check in. After a connecting flight through Lima, we will arrive in Cusco and transfer to the Tambo del Inka Luxury Hotel
in the Sacred Valley..
Meals included: Breakfast, Boxed Lunch, Snack
Day 8 - Sunday, May 15, 2022
Sacred Valley / Urubamba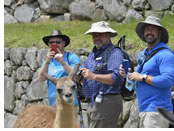 Urubamba Valley is located in the Andes close to the Inca capital of Cusco, and below the ancient sacred city of Machu Picchu. Enjoy the morning at leisure – sleep in, visit the spa, get in a work-out.
This afternoon takes us on a scenic drive into the mountains to the incredible Saltpans of Maras which have existed since Pre-Incan times and the mind boggling archaeological Incan crop research site of Moray.
Tonight we enjoy dinner as a group at the Tambo del Inka hotel.
Meals included: B, D
Day 9 - Monday, May 16, 2022
Sacred Valley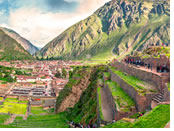 This morning, we explore Ollantaytambo, the predecessor to Machu Picchu, with its huge Incan fortress rising from the edge of town. Once a stronghold of Inca resistance to Spanish colonization, it's remarkably well-preserved. Following the tour we enjoy a sumptuous included buffet lunch.
After lunch, you have the option to visit the Pablo Seminario Ceramic Workshop and store (directly across from the Tambo del Inka hotel), or return to the hotel to relax.
Dinner tonight is on your own.
Meals included: B, L
Day 10 - Tuesday, May 17, 2022
Sacred Valley / Machu Picchu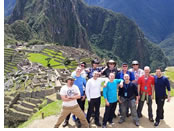 After breakfast, board the Sacred Valley train directly from the Tambo del Inca Hotel for the scenic journey to Aguas Calientes, where you'll enjoy a lunch on board.
Upon arrival we'll venture direclty to the summit to start our tour of Machu Picchu, the "Lost City of the Incas." A local expert will guide you through the marvelous citadel, the main plaza, the royal quarters, and the Temple of Three Windows before checking into the Sumaq Machu Picchu Hotel
.
This evening, we enjoy dinner together at the hotel.
Meals included: B, L, D
Day 11 - Wednesday, May 18, 2022
Machu Picchu / Cusco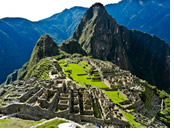 This morning, the choice is yours to make a second visit to Machu Picchu mountain in the early morning, or you could opt to climb Huaynapicchu (limited based on availability-advance sign up required). Otherwise, the morning is yours to explore Machu Picchu Village on your own.
This afternoon, return to Ollantaytambo by train, and transfer the remainder of the way to Cusco by motor coach. Upon arrival, check-in to the historic Palacio del Inka Luxury Collection Hotel
in Cusco and enjoy dinner on your own and an evening at leisure.
Meals included: B, L
Day 12 - Thursday, May 19, 2022
Cusco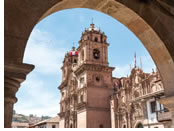 This morning is free to relax on your own to enjoy the hotel, or take a stroll in the city. Your breakfast is included at the hotel and lunch is on your own.
Following lunch we set off on foot for a guided tour including a visit to the Koricancha and the Convent of Santo Domingo. The Convent was built on the Koricancha (site of gold), the most important temple dedicated to the worship of the sun by the ancient Incans. We continue to Cusco's Plaza de Armas central square, for a visit to the Cathedral, one of the most imposing structures in the city. The Cathedral houses an important collection of gold and silver work from the colonial period as well as a beautiful collection of oil on canvas.
This evening, we gather for a pisco tasting and a festive dinner at Republica del Pisco.
Meals included: B, D
Day 13 - Friday, May 20, 2022
Cusco / Departure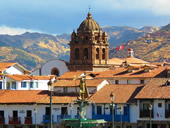 Following breakfast at the hotel, visit the Sacsayhuaman fortress, one of the emblematic Inca constructions, built by Inca Pachacútec in the 15th century. It is a huge fortress made of very large stones, and the manner in which they were transported and cut is still a mystery.
Then visit Qenqo, one of the largest huacas (holy places) in the Cusco Region. Many huacas were based on naturally occurring rock formations. It was believed to be a place where sacrifices and mummification took place.
Following our morning tour, we'll have a special farewell lunch before your transfer to the Cusco airport for your departure flight.
Meals included: B, L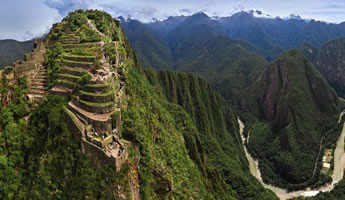 Add-Ons
Huayna Picchu Climb
Optional tour, May 18, 2022
For many trekkers, climbing Huayna Picchu is one of the highlights of a visit to Machu Picchu. The views of the Citadel and surrounding landscape are extraordinary from the top and well worth the climbing effort.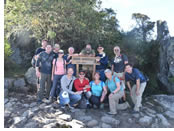 From a distance Huayna Picchu looks like a technical climbing endeavor, but is in fact just a steep hike with some sections that will require the use of both hands and feet to scramble upwards, but no technical skills or climbing tools. There are sections that include railings and cables for support.
Anyone with a decent level of fitness and moderate constitution for heights can climb Huayna Picchu (if you are afraid of heights or susceptible to vertigo then this climb is probably not for you). There are areas that are exposed to steep drops, so caution should be taken throughout the climb, keeping a good distance between climbers in front and behind you. This is particularly true if the trail is wet.
The total ascent is just over 1,000 feet (360m) with the summit at a steep angle above the city. As Huayna Picchu is so close to the city complex it provides a fantastic birds-eye view, and the climb itself provides brilliant vistas of the city from various angles. This perspective is very difficult to appreciate whilst walking within the Citadel.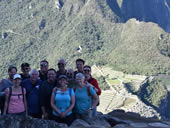 From summit the scale and ingenuity of Machu Picchu and its various structures and terraces is fully revealed. The sheer magnitude and complexity of the site provides for a humbling view. There are also terraces and temple remnants that crown the mountain's summit, and will leave you questioning how the Inca managed to build these structures.
You have an opportunity to participate in this unique once in a lifetime experience on the morning of your second day at Machu Picchu. Only a certain number of permits are issued for this excursion and they fill quickly. Therefore, we cannot guarantee any space until it is officially reserved. If you are interested, we encourage you to sign up early.
DATE AND TIME OF EXCURSION:
Your day begins with departure from the hotel at 5:30am and the actual climb will begin at 7:00am, on your second day at Machu Picchu, May 18th. You will be back down from the mountain by approximately 11:30am.
Price: $55 per person