Harmony of the Seas
Ship Facts
Gross Tonnage: 226,963
Length: 1,188 feet
Beam: 155.6 feet
Draft: 30.6 feet
Cruising Speed: 23 knots
Guests: 5479
Crew: 2,193
Ship's Registry: Bahamas

Western Caribbean & Perfect Day Gay Bears Cruise 2023
7 nights from/to Miami, Florida
April 15 – 22, 2023
RCCL Harmony of the Seas
Explore the sparkling magic of the Western Caribbean. Known for it's world-famous beaches, natural surroundings and limitless water activities, this is the perfect option for a sunny Caribbean gay bears cruise vacation. Soft sandy beaches, warm winds blowing through palm trees and crystal-clear waters stretching as far as the eye can see... that's the Western Caribbean cruise experience. Enjoy the calm waters around the islands and snorkel, swim and sail your way through engaging activities. Relax on world-famous beaches, cool drink in hand, for a day of rejuvenation topped off by luxurious shopping. Dive in; the Caribbean is waiting.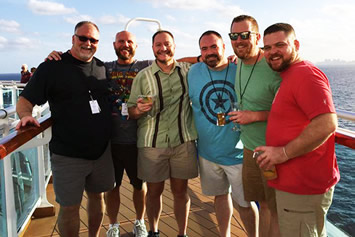 Cruise to the Western Caribbean and find yourself immersed in bygone eras and pristine natural scenery. Hike through Mayan ruins before diving into deep blue cenotes - aquamarine sinkholes surrounded by limestone caves, perfect for swimming and snorkeling... or choose to swim amidst graceful stingrays and marvel at these gentle creatures.
When you're ready to come up for air, take flight on a massive zip line over shimmering coastlines, or soak up some sun and shop your way through stalls of hand-made crafts, locally produced liquors and delicious native Caribbean meals. Whether for your first time or a return visit, the magic and warm hospitality of the Western Caribbean will leave you renewed.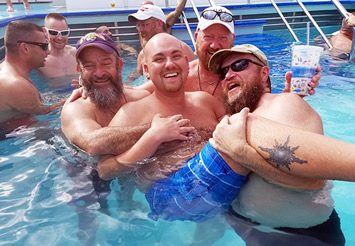 Live a day unlike any other with a cruise to CocoCay. This isn't vacation days spent. This is bragging rights earned. Cruise to CocoCay to conquer the tallest waterslide in North America and snap a shot from up to 450 feet up in a helium balloon. Grab a drink at the swim-up bar and soak up the scene in the largest freshwater pool in the Bahamas. Or get a taste of Bora Bora with your own Overwater Cabana. Discover the magic of Perfect Day at CocoCay — only onboard Royal Caribbean Cruises.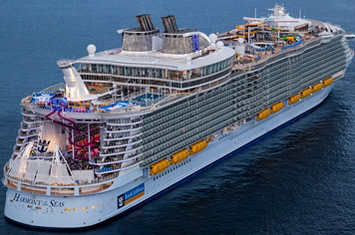 Royal Caribbean's Fun Filled Harmony of the Seas
What do you get when you combine one of the biggest ships in the world with some of the boldest thrills at sea? A gravity defying, status-quo denying, electrifying expedition onboard Harmony of the Seas
that will set a new standard for Mediterranean vacations.
From first-at-sea feats to the favorites you know and love, you'll find so many ways to make memories onboard — like the tallest slide at sea, Ultimate Abyss, deck-defying stunts at the AquaTheater, and the robot-helmed Bionic Bar. Not to mention dazzling Broadway performances and globetrotting gastronomic experiences that go from Asia to the Mediterranean, and beyond.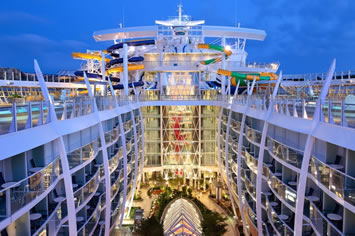 One of world's largest ships offer more of everything you want in a vacation – changing whatever you think about a cruise is all about. It's an unforgettable experience starting with Harmony's fantastic features:
• 5 theaters starring original Harmony performers and more
• 13 tantalizing restaurants and cafes
• 4 gorgeous pools on the world's largest and highest open-air deck
• The world's biggest live music concerts at sea
• 7 unique "neighborhoods" to meet friends, explore, play, and relax
• An ice rink, two rock walls, zip line, sports court, two FlowRider surf simulators
• And great friends from around the world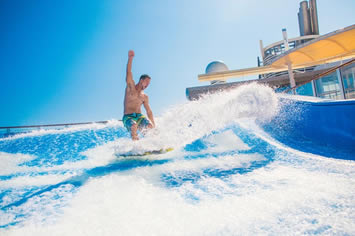 Activities on Harmony of the Seas
If you're wondering what there is to do on the Harmony of the Seas, rest assured that this ship has you covered! Take a dip in one of the four swimming pools, or relax in one of the ten whirlpools! The Pool Zone has a water park (H2O Zone), cantilevered whirlpools, a Flowrider - which is a state of the art wave simulator where you can surf on the ship - and, there's even a zip-line that goes through the pool area so you can get a birds-eye view of the ship and ocean!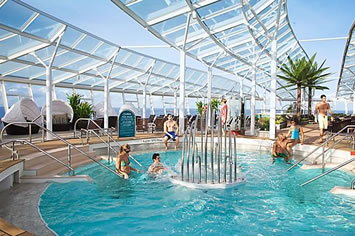 The Youth Zone, an area of the ship dedicated to entertaining the younger crowd, and relax in the quiet Solarium (which is adults-only)! Take a stroll through the Boardwalk neighborhood, and look through the shops and restaurants - and there is even a classic carousel for you to ride!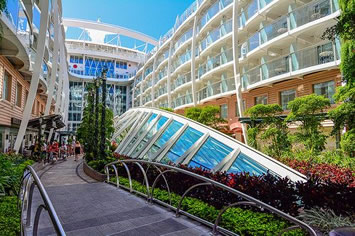 The Central Park area is full of lush greenery and restaurants, so you know you're in for a treat when you meander through! Check out the onboard amphitheater, the AquaTheater - and take in the breathtaking view from any of the decks on the ship!
If you'd just like to relax, head over to the spa and pamper yourself with a massage! The Vitality at Sea Spa and Fitness center offers cardio machines, pilates, kickboxing, spinning, a weight room, and even full hair and makeup services!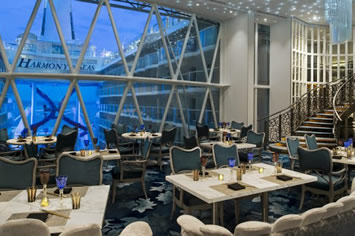 Dining / Food on Harmony of the Seas
Dining opportunities on the Harmony of the Seas can only be described with one word - delicious! Choose from main dining options, upscale restaurants, and also casual dining options in various places all over the ship! Try the Vitality Cafe for a healthy option, or the Solarium Bistro and Wipe Out for poolside dining! There is also room service available!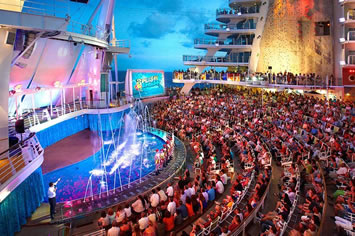 Entertainment on Harmony of the Seas
If you're ready to enjoy what the night has to offer, head out and brace yourself! The Harmony of the Seas features a jazz club, a comedy club, Studio B (which features ice shows), Dazzles (which features musical performances of anything from big band to disco), and the Opal Theater, a 1,380-seat theater! There is also the Blaze Nightclub, where you can dance the night away, and the Casino Royale, where you can bet you'll have a great time!
Ready for a great party? The Harmony of the Seas has themed parades and themed nights, so you can get swept away in your favorite fantasies! Join in the fun! Head over to one of the bars, pubs, or lounges and just relax with your favorite beverage! Your night will be full of fun on the Harmony of the Seas!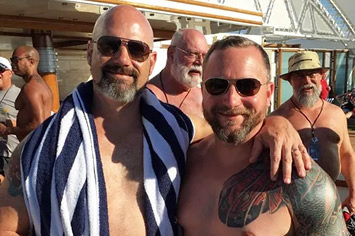 The Bear Cruise package includes but is not limited to:
• 7 nights' accommodations on Harmony of the Seas
• All shipboard meals
• Limited beverages (coffee, tea and iced tea)
• Group credentials
• All cruise ship's entertainment
• Private CBC online group access to get to know others & to stay abreast of trip details
• Access to negotiated pricing at the official CBC host hotel
• Access to all exclusive pre-cruise and shipboard private CBC dances, parties and events
• Access to private group dining area
• Access to optional private CBC shore excursions
• Exclusive gifts for CBC attendees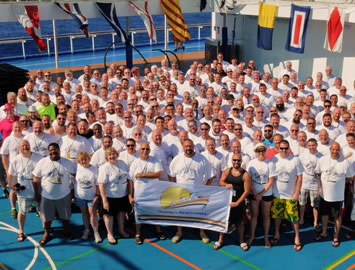 Western Caribbean Bears Cruise 2023
Itinerary


Date

Port

Arrive

Depart

15 Apr
Miami, Florida
4:30 PM
16 Apr

Fun Day at Sea!

17 Apr
Roatan, Honduras
8 AM
5 PM
18 Apr
Costa Maya, Mexico
8 AM
5 PM

19 Apr

Cozumel, Mexico
7 AM
6 PM
20 Apr

Fun Day at Sea!

21 Apr

CocoCay, Bahamas
7 AM
5 PM
22 Apr
Miami, Florida
6 AM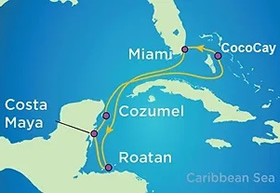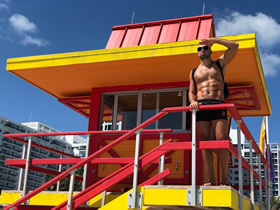 Miami, Florida
As far as vacation destinations go, Miami
tops most sun-seekers' lists. With its gorgeous beaches, vibrant neighborhoods and melting pot of cultures, the Magic City is the perfect place to spend a few days before your Caribbean island hop. Ahead of your cruise from Miami, jump-start your morning in true Miami style with a Cuban cafecito from a ventanita — a streetside shop window. Then climb the historic lighthouse at Bill Baggs Cape Florida State Park on quiet Key Biscayne before lounging on the island's secluded sandy shores.
If you're looking for a bit more action, head to South Beach — home to world-class restaurants, nightlife, shopping and lively beaches, all set against snap-worthy Art Deco buildings. Art lovers who visit Miami can head to Wynwood and explore the neighborhood's colorful street murals and local galleries. Or take a trip back in time at the Renaissance-style Vizcaya estate, which offers a glimpse into Miami's dazzling past.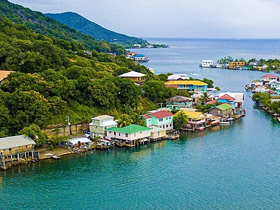 Roatan, Honduras
Roatán's diverse blend of cultures and traditions is enough to charm anyone. But its mangrove forests, dense jungles, and swaths of white-sand beach will make you want to stay forever. Divers and snorkelers from all over the globe flock to the largest of Honduras' Bay Islands every year see to the world's second largest barrier reef firsthand. Roatán cruises provide access to laid-back beach towns and secluded shores. On the Big Island, you can mingle with monkeys and "Jesus" lizards, snorkel with stingrays, and zipline through rainforest canopies. If it's culture you crave, the island's unique and vibrant blend is more than satisfying— made up of ex-pat sun seekers, Hondurans from the mainland, descendants of European settlers, and Garífuna, whose Afro-Carib-Arawak heritage still flavors centuries-old communities like Punta Gorda.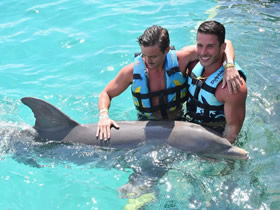 Costa Maya, Mexico
Past meets present in Costa Maya. Cruise to Costa Maya and find ancient Maya ruins and mysterious jungles just begging to be explored, as well as private beach clubs and trendy restaurants— all in one place. It's 250 square miles of paradise packed with entertainment and history, all just 30 miles south of Cancun. The Great Maya Reef just off the coast is the second largest in the world— it's a must-snorkel spot. Or you can kick back at the port village of Mahahual with an ice-cold michelada— a spicy beer cocktail— in hand. For a culture fix, head to the Kohunlick ruins to see the famous Temple of the Masks.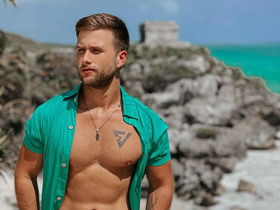 Cozumel, Mexico
With its lively tropical reefs, crystal-clear waters and ancient ruins, Cozumel is ripe for one-of-a-kind adventures. Cruise to Cozumel and head to Chankanaab National Park, where you can snorkel among the colorful reefs and schools of tropical fish that give this island its premier diving status. Or travel back in time on an adventure through the towering Maya ruins of Tulum. When you're done exploring, unwind with a beachside massage at Playa Mia. From culture savoring to soaking up sunshine, you'll find a world of adventure waiting for you in Cozumel.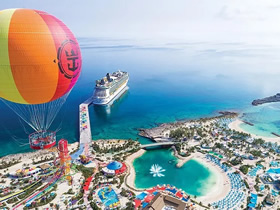 Perfect Day at CocoCay, Bahamas
As cruise line's 'private islands' go, this is the one your inner child will never want to leave. Cruise to CocoCay to conquer the tallest waterslide in North America and snap a shot from up to 450 feet up in a helium balloon. Grab a drink at the swim-up bar and soak up the scene in the largest freshwater pool in the Bahamas. Or get a taste of Bora Bora with your own Overwater Cabana. Discover the magic of Perfect Day at CocoCay - only onboard Royal Caribbean® Cruises.