Douro River Portugal Gay Bears Cruise 2021
7 nights from/to Porto, Portugal
May 20 – 27, 2021
Nicko Cruises MV Douro Cruiser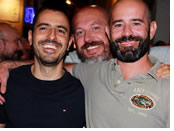 Join us on Cruise4Bears Douro River first All-Bear cruise! 7 amazing days cruising the world's most spectacular wine-growing region in Portugal & Spain. Optional Post-cruise extension to Lisbon Bear Pride 2021 (May 27-30, 2021). Cruise4Bears signature All-inclusive rate includes: 7 nights Douro River gay bears cruise, full-board, 6 tours, beverage package, bear parties, and more!
The scent of dried spices and grass hangs in the air; an intoxicating landscape presents itself with towering slopes and wine terraces of many different shapes, with their plump grapes straining towards the sun. The Douro river gracefully makes its way through what is probably the most spectacular wine region of the world - the birthplace of port. This uplifting view will double your enjoyment of the famous wines.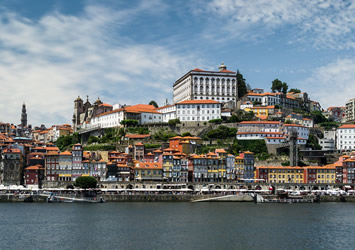 From its source in Spain, the Douro river flows across Portugal from east to west and ends in the Atlantic at Porto. Wine has been cultivated here intensively for centuries. In former times, mariners would transport the barrels on boats all the way to the port wine cellars. Picturesque vineyards adorn the river banks. Along the river are enchantingly beautiful medieval towns boasting wonderful architecture. This region historically attracted Romans, pilgrims and nobles, all of whom created idyllic beauty spots here.
And finally Porto, cradle of the glorious Portuguese fleet, with its mixture of traditional and modern architecture. Without a doubt, this impressive tour has a special charm promising a river cruise for all the senses.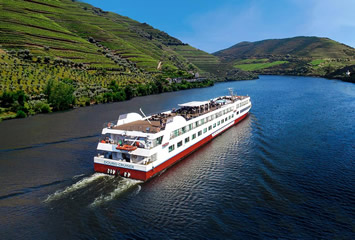 Our Ship - MV Douro Cruiser
Our Ship
Welcome on board our MV Douro Cruiser. You are guaranteed the best views here! Relay on the sun deck and enjoy the magnificent landscape of the Douro valley with its terraced vineyards. The swimming pool on deck invites you to a refreshing cooling in-between. Comfort is a key factor on-board.
The cabins furnished in style are even equipped with a private balcony with sitting accommodation on the upper deck. In the comfortable restaurant, you will be enjoying the excellent cuisine typical for the country and international dishes as well as fine wines from the world-famous wine region.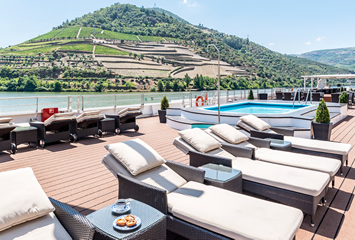 The Cabins
All cabins are outer cabins. Those on the upper deck have an accessible balcony. All main deck cabins have large panorama windows that cannot be opened. All cabins are have an approximate size of 15 m² (including balcony area with upper deck cabins) and are equipped with shower/WC, air conditioning system that can be regulated separately, hair dryer, safe and SAT TV. The comfortably furnished cabins offer beds positioned next to each other that can be pushed apart on request.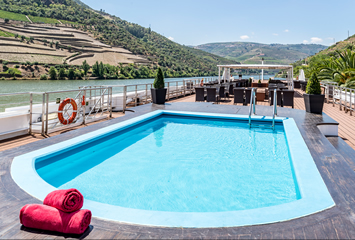 All-Gay! All-Bear! And Only Men!
How many?
Our exclusive all-gay vessel MS Douro Cruiser (****+) can accommodate 132 men on double basis.
Included: Tour pack
All excursions of this cruise are included in the price. Our tailor-made tours and transfers are designed only for us. Only 4 bears. Exclusive and only-men.
Flights & Transfers
Flights should be arranged by you. We recommend arriving in Porto on Thursday, May 20, 2021, as our vessels departs on Friday 21 May. Return flight, if you are not coming to Lisbon, should be after noon on May 27, 2021 from Porto, Portugal (OPO).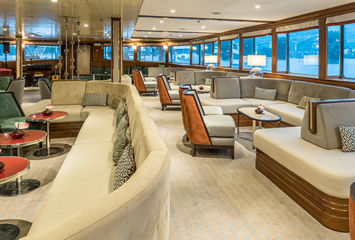 Price includes
6 Tours, Beverage Package, Ship accommodation, River transportation, 7 days in full board, Captain dinner & Dock luggage service.
Included: Parties
On board and onshore. White party, Hot'n'Sexy party or Costume Party are just examples of private parties we have had on previous Cruise4Bears.
Lisbon Bear Pride
After disembark, direct transfer by coach to popular Lisbon Bear Pride. Post- cruise Package will include 3 nights in a 4* hotel, tours, meals, parties, sauna for a very reasonable rate.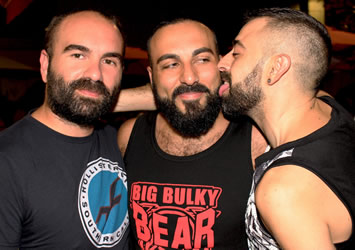 Price does not include
Taxes & port charges, Gratuities of 50€ per person, wifi, flights, pre- and post- cruise host Hotel and Transfers.
Included: Beverage Package
House wine (white, rosé and red), sparkling wine, draft and bottled beer, non-alcoholic beer, mineral water, soft drinks, juices, cocktails of the day, bottled water for your cabin and excursions as well as speciality coffees.
Porto Pre- cruise
Porto is an amazing destination. We plan to have a host hotel, tours, get-together and exclusive transfer to our vessel on embarkation day.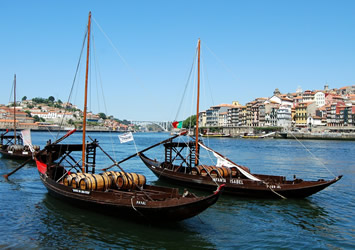 Douro River Gay Bears Cruise 2021 Itinerary


Date

Port

Arrive

Depart

20 May
Porto, Portugal
Embark
21 May
Porto, Portugal
2:30 PM
21 May
Entre-os-Rios
6:30 PM
22 May
Entre-os-Rios
8:30 AM

22 May

Peso da Regua
12 PM
23 May
Peso da Regua
9 AM

23 May

Pinhao
11:30 AM
12:30 PM
23 May
Vega de Terron
7 PM

24 May

Vega de Terron
11:30 AM
12:30 PM
25 May
Vega de Terron
9 AM

25 May

Pocinho
11 AM
12:30 PM
25 May
Pinhao
5:30 PM

26 May

Pinhao
6:30 AM
26 May
Porto, Portugal
2 PM

27 May

Porto, Portugal
9 AM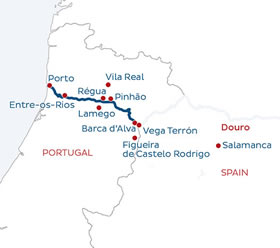 Itinerary is subject to change
Day 1 - Thursday, May 20, 2021
Porto, Portugal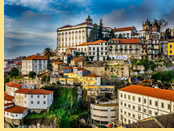 • Embarkation
Porto is a coastal city in northwest Portugal known for its stately bridges and port wine production. In the medieval Ribeira (riverside) district, narrow cobbled streets wind past merchants' houses and cafes. São Francisco Church is known for its lavish baroque interior with ornate gilded carvings. The palatial 19th-century Palácio de Bolsa, formerly a stock market, was built to impress potential European investors.
Day 2 - Friday, May 21, 2021
Porto / Entre-os-Rios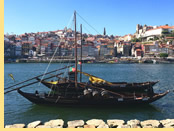 • City tour/walk through Porto, the birthplace of port wine, including wine-tasting in a winery.
On a brief visit to Porto, there are some places that cannot be missed. In the words of many visitors, this city has something mystical that is difficult to describe and which varies according to the place, time of day and light.
Day 3 - Saturday, May 22, 2021
Entre-os-Rios / Peso da Regua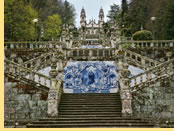 • Excursion to Lamego, with its impressive open-air staircase and Gothic cathedral.
Situated on the banks of the River Douro, Peso da Régua played a fundamental role in the production and sale of Port wine, for it was from here that the barrels were transported in the special boats known as barcos rabelos to Vila Nova de Gaia, where the wine was left to age in the local wine lodges.
Nestled among the terraced slopes of the Douro valley port wine-growing region, and overlooked by an ornate shrine, the town of Lamego is elegant and infused with Baroque style.
Day 4 - Sunday, May 23, 2021
Peso da Regua / Pinhao / Vega Terron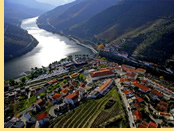 • Excursion to Baroque Mateus Palace in Vila Real with its beautiful, park-like gardens.
Pinhão is a small, sleepy town that just happens to be in the heart of Port wine country. You only have to look around to see that you are literally surrounded by vines, as the climate is ideal for the grapes that make Port wine. While the small town is quiet and calm for most of the year, the autumn harvest always brings a lively bunch of workers and tourists to town, and people can participate in harvest activities such as grape stomping, and wine tasting.
Day 5 - Monday, May 24, 2021
Vega Terron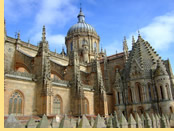 • Day excursion to the Spanish university town Salamanca with its impressive cathedral and Plaza Mayor.
Salamanca is known as the city of thought and knowledge, but here you will also find art and beauty. Its old town has the UNESCO World Heritage designation, and is home to a magnificent ensemble of monuments, with outstanding examples of different architectural styles: Romanesque, Gothic, Baroque, Plateresque... The University, besides being one of Spain's oldest, is also one of the country's best examples of Renaissance architecture. Salamanca continues to be an important centre for cultural encounters and exchange in the present day too.
Day 6 - Tuesday, May 25, 2021
Vega Terron / Pocinho / Pinhao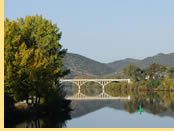 • Excursion to Castelo Rodrigo, one of Portugal's ancient parishes with its historic castle ruins.
• Guided tour through tranquil Pinhão, including a visit to the famous station, decorated with blue and white ceramic tiles.
• Visit to a traditional quinta (vineyard).
With Portuguese and Spanish influences, Vega de Terron is a charming settlement dotted on the banks of the fascinating waterway across from the beautiful Douro International Nature Park.
Day 7 - Wednesday, May 26, 2021
Pinhao / Porto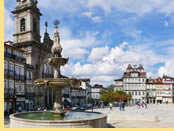 • Excursion to "The cradle of Portugal", Guimarães.
Guimarães is an exceptionally preserved and historically significant Portuguese city. Often referred to as the birth place of Portugal, this must-see destination enabling tourists to explore the country's past and marvel at the origins of its architecture.
Day 8 - Thursday, May 27, 2021
Porto, Portugal
• Disembark at 9 AM
• Transfer to Porto Airport
Optional Extension to Lisbon
Thursday, May 27, 2021 - Sunday, May 30, 2021
Lisbon Bear Pride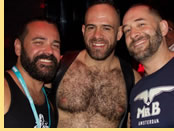 • Transfer to Lisbon
Lisbon Bear Pride is an international encounter for bears, admires and friends in the spectacular city of Lisbon. Annual bear's weekend, hosted by Lisbon's bear's bar TR3S Lisboa. With bar nights, amateur bear strip contest, sauna, circuit parties, bar tours, boat cruises and dinners.
Please note that some details may change.