Noordam
Ship Facts
Gross Tonnage: 82,500
Length: 936 feet
Width: 105.8 feet
Guests: 1,924
Crew: 800
Service Speed: 22 knots
Decks: 11
Ships Registry: Netherlands

Asia Gay Daddy Cruise 2020 - Thailand, Cambodia & Vietnam
14 nights from/to Singapore
November 23 – December 07, 2020
Holland America Line Noordam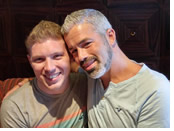 Come join our intimate and super-friendly gay group of Daddies, admirers and friends for a special 14-night cruise from Singapore to the Southeast Asia - Thailand, Cambodia & Vietnam, aboard the Holland America Line Noordam
. Cruise Critic gives her 3.5 stars, saying there is a good balance between classic and contemporary style. With fewer than 2000 passengers, Noordam has "an intimate feel that makes it easy to meet people and make new friends."
Bustling modern cities. Mysterious ancient temples. Mist-shrouded mountains. You'll discover it all and more on our Asia Gay Daddy cruise. Allow us to introduce you to a rich land defined by contrasts. A study in contrasts, Asia balances ancient glory and leading-edge innovation in a region that encompasses a rich mélange of cultures.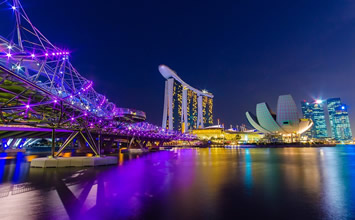 During your cruise to Asia, you'll walk in the footsteps of emperors as you explore the palaces and temples they commissioned, and marvel at engineering feats from grand canals to immense fortifications. When you visit some of the world's most exciting cities, you'll be quickly and joyfully immersed in the buzz of cosmopolitan energy. Sample amazing new flavors in the street markets of Bangkok.
A medley of sights, tastes and colours awaits you in Singapore. The food's legendary: you'll detect Chinese, Malay and Indian influences. Work it off walking through the Botanic Gardens.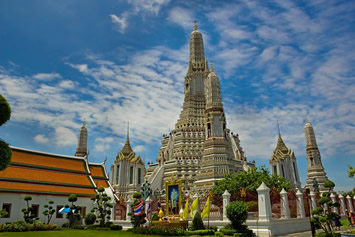 Located on the edge of the Mekong Delta, dynamic Ho Chi Minh City metropolis showcases the ageless beauty of an ancient culture. The History Museum houses artefacts from two thousand years of Vietnamese history.
The Nguyen Dynasty founded Hue, former capital, in the 17th century on the banks of the Perfume River. Today, it is a massive open-air museum of temples, pagodas and palaces.
Nha Trang city is indisputably beautiful. Bordered by mountains, the beach traces a long swoop along a bay dotted with islands. Topiary and modern sculptures punctuate the immaculately manicured foreshore.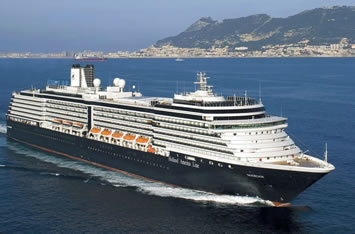 Your Ship - Holland America Line Noordam
Unlike most modern ships, the Noordam
has a lot of classic touches including a full walk-round exterior teak promenade. Exterior glass elevators provide fantastic sea views from any of the 10 decks. One of the two swimming pools has a retractable roof in case of inclement weather. Berlitz Cruise Guide likes the "dramatic" show lounge that spans 4 decks, and the friendly service in the dining room.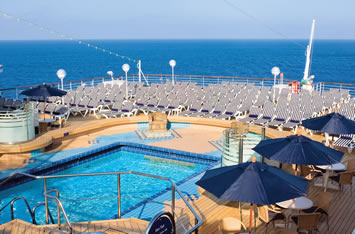 Noordam, launched in 2006, is an industrial and environmental wonder - she uses a diesel-electric power plant for optimal energy efficiency and performance. The ship's décor offers museum-quality paintings and photography, as well as antique furniture. This ship combines class, style, comfort, and luxury to give you the best cruise trip you could ever dream of.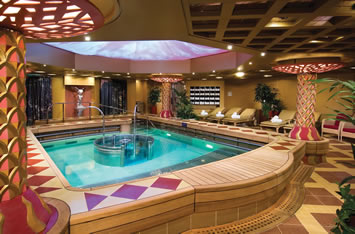 Activities on Noordam
Noordam offers amazing amenities and activities. The Greenhouse Spa and Salon is the perfect place to pamper yourself. You can enjoy a hot stone massage, a facial, or get a manicure. Work up a sweat at the fitness center, or relax poolside and soak in the sun.
There's an Internet café where you can check your email or send home pictures from your vacation. Club HAL is dedicated to the ship's youngest guests, The Loft is exclusively a teen zone.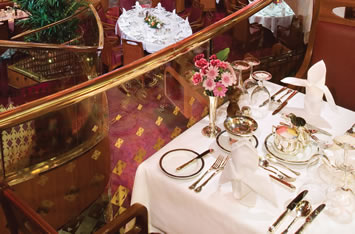 Dining / Food on Noordam
Enjoy a fine meal on Noordam, and the experience is well worth repeating. The Vista Dining Room provides only the best service and pairs an extensive wine list with a five-course meal. Menus range from continental cuisine to vegetarian and low-carb. The Lido Restaurant is a more relaxed option for any meal of the day, and features cooked-to-order specialties.
The Pinnacle Grill is an amazing steakhouse with premium beef and seafood dishes. Enjoy a coffee at the Explorations Café, or a more casual meal at the eateries located poolside and on various decks. The ship also has complimentary room service, and its available 24-hours a day.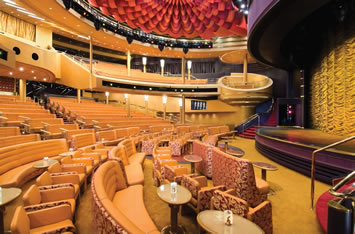 Entertainment on Noordam
After the sun goes down, the nightlife on Noordam is a very chic experience. With a grand variety of entertainment options, you are sure to enjoy yourself every evening. Start the night at the Vista Show Lounge, which features live performances by vocalists, comedians, variety acts, dancers and even illusionists.
The Crow's Nest is a great nightspot, unrivalled as a nightclub to dance the night away to terrific dance music. For a more relaxed evening, gather your friends and head over to one of the bars and lounges on board for a cocktail.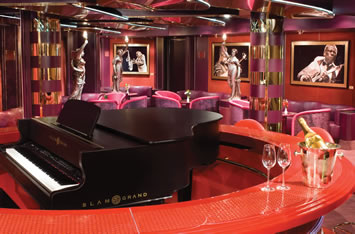 Exclusive extras for our group only
• Cruise Eve Dinner—meet your fellow travelers face-to-face, get a jump start on your vacation and a taste of your host city—Singapore!—the night before we sail.
• Welcome Aboard Party (with free drinks!)—come meet your fellow Daddies and friends in a warm, welcoming, and casual atmosphere. Play our fun mingling/get-to-know-you activity, and start forging friendships that will last a lifetime.
• Free Welcome Aboard Gifts including a lanyard for your sailing card…and then some surprises!
• Specially reserved group dining in the main restaurant—you'll always have a seat for dinner, surrounded by a bunch of Daddy Cruise friends.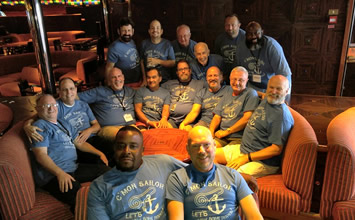 • Onboard Host/Cruise Director—I'll be there to make sure you have a great vacation. My colleagues and I will resolve any issues that may arise, answer questions, and help you enjoy your cruise to the utmost. We'll coordinate and host activities and parties each day—all of which are optional (it's your vacation: pick and choose what you want to be a part of).
• Exclusive excursions just for our group (additional fee applies)—including at least one Impact Activity where we connect with local people while performing a helpful service for the community.
• Special Daddy group activities on board (card games, trivia contests, happy hours, parties, and more)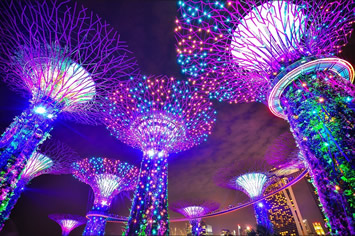 Asia Gay Daddy Cruise 2020 Itinerary


Date

Port

Arrive

Depart

23 Nov
Singapore
5 PM
24 Nov

Fun Day at Sea!

25 Nov
Nathon (Koh Samui), Thailand
8 AM
4 PM
26 Nov
Laem Chabang (Bangkok), Thailand
8 AM

27 Nov

Laem Chabang (Bangkok), Thailand
11 PM
28 Nov

Fun Day at Sea!

29 Nov

Sihanoukville, Cambodia
7 AM
8 PM
30 Nov

Fun Day at Sea!

01 Dec

Nha Trang, Vietnam
8 AM
3 PM
02 Dec
Da Nang (Hue), Vietnam
10 AM

03 Dec

Da Nang (Hue), Vietnam
6 PM
04 Dec

Fun Day at Sea!

05 Dec

Phu My (Ho Chi Minh City), Vietnam
7 AM
7 PM
06 Dec

Fun Day at Sea!

07 Dec

Singapore
7 AM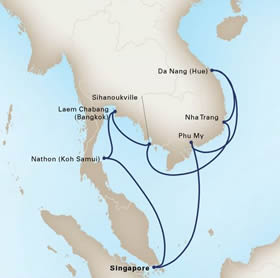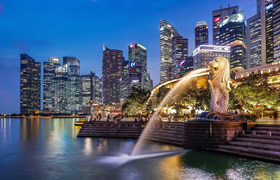 Day 1 & 15 - Singapore
Our itinerary is the perfect blend of relaxing, exotic, and exciting as we sail out of Singapore
. City-states are rare in the present day—and none are quite like Singapore. In the 20th century, the Southeast Asian nation hurtled itself into the modern world, and it continues to expand its state-of-the-art transportation system and build its edgy skyline. Yet Singapore's urban plan wisely maintained its intimate neighborhoods, many with streets lined with colorful shophouses (a type of building unique to parts of Asia, with businesses located on their ground floors and residences above). Add the city's mix of ethnic groups—mainly Malays, Chinese and Indians—and you get a vibrant cultural scene that attracts a cosmopolitan, international community.
Singapore's food scene—which is arguably the world's most dynamic, and runs the gamut from beloved street hawkers to Michelin-starred venues—would merit a trip alone, as would its never-ending shopping options. But the city is also packed with world-class museums. Plenty to do for a day or more before we even set sail!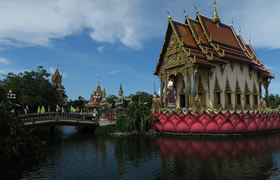 Day 3 - Koh Samui (Nathon), Thailand
As if designed by Mother Nature for posters, calendars and daydreams, Koh Samui is Thailand's most famous island for a number of reasons. The beach-fringed coast is edged with vivid, blue water that's a surf-and-sand playground for snorkeling, scuba diving, kayaking, building sandcastles and simply lounging. Along with busy food stalls and restaurants where you can find a whole world of cuisine made with local produce and fresh seafood as well as authentic Thai dishes, the lively streets are lined with bars, boutiques, markets and spas.
By contrast, the island's interior can provide moments of reflection and replenishing solitude. Enter the dense, hilly jungles for hikes to ancient temples and pristine waterfalls and quaint villages where you can experience true Thai hospitality.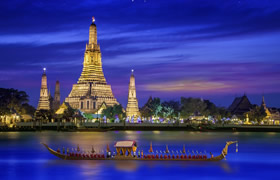 Days 4 & 5 - Bangkok (Laem Chabang), Thailand
You know you want to sing it now: One night in Bangkok and the world's your oyster…LOL! Bangkok is a city of contrasts. Here, Buddhist temples and gilded palaces coexist with the bustle of one of Asia's major metropolises. There are few places in the world where you can spend the morning visiting a centuries-old stupa, have lunch at one of the world's top Michelin-starred restaurants and then shop for exquisite silk garments. And wherever you explore, you'll be struck by the warm welcome you receive. "The Land of Smiles" may be a cliché and a tourism-marketing slogan, but it's also a fitting nickname for Thailand.
Many of Thailand's most important historic places can be found in and around Bangkok. Ayutthaya, the former Thai capital, is a UNESCO World Heritage Site with impressive Buddhist ruins. The 16th-century town of Chachoengsao is known for its many temples, including Wat Saman Rattanaram with its 72-foot-long statue of the Hindu god Ganesha. In Pattaya, on the coast, the Pattaya Elephant Village is a sanctuary for Asian elephants.
Perhaps the gayest city in Asia, Bangkok has something for everyone, crazy nightlife, boutique shopping, massage parlors (both legit and happy-ending type), luxurious spas and a virtual gastronomical smorgasbord. Good thing we'll be there for two whole days!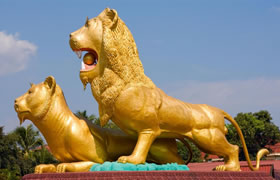 Day 7 - Sihanoukville, Cambodia
Renamed in 1964 for King Norodom Sihanouk, this provincial port is home to some of Cambodia's most stunning coastline and a downtown that's a blend of local businesses and a lively expat scene centered on Serendipity Road. You'll find not one beach but several, each with its own personality: good for whether you want a relaxed day reading a book or one full of activity, food and people watching.
Often described as the Thailand of 20 years ago, this region is less touristy but still able to meet your expectations for a perfect beach getaway. In Sihanoukville, you can take a guided snorkeling trip, kayak through mangrove forests, hike through a national park or horseback ride on the beach. In the mood for less action? Explore the local temples or shop near the beach—stuff is super cheap here.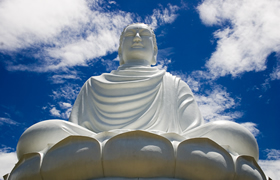 Day 9 - Nha Trang, Vietnam
Here you'll find a magical combination of historic sites along with a stunning beach. You can while away a day here soaking up the sun, sand and sea, alternating snorkeling or scuba diving sessions with naps in the shade, lulled to sleep by the sound of the surf. And while warm, clear waters and a white-sand beach dotted with restaurants and bars would be enough for most visitors, the city has worthy historic sites that make it more than just a beach town.
Exploring Nha Trangg beyond its beach brings you a better understanding of Vietnam, from long before the nation was formed through its colonial period. Work your way forward from Buddhist temples like the ancient Po Nagar Cham Towers and the late-19th-century Long Son Pagoda, to the city's early-20th-century French Gothic-style cathedral. By day's end, you'll likely find yourself drawn back to the water. Take a walk along the Hon Chong promontory, enjoying the view of the islands in Nha Trangg Bay as you watch the sun melt into the sea.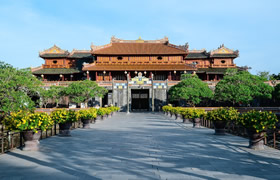 Days 10 & 11 - Da Nang (Hue), Vietnam
Located halfway between Hanoi and Ho Chi Minh City, the port city of Da Nang has a small-town charm despite its lack of big-ticket attractions. Aside from its beautiful beach, it's also known for its great street food—and an extremely quirky bridge that you can't miss. The place was previously occupied by both the French and the Americans (this was the first place U.S. Marines landed, in March, 1965), and vestiges of both can be seen in the city, from the remnants of the vast U.S. air base and hospital to the city's wide boulevards and old villas.
Da Nang is a great launchpad for day trips, whether to the picturesque city of Hoi An to the south, the old imperial capital of Hue to the north, or the majestic Marble Mountains to the southwest. The UNESCO-protected Champa temple complex, My Son, is definitely worth the trip. But if you don't want to leave the urban environs, many of the ruins have ended up at Da Nang's excellent Museum of Cham Sculpture, where you can learn all about the history and architecture of this fascinating culture.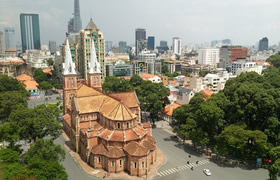 Day 13 - Phu My (Ho Chi Minh City), Vietnam
Just 50 miles from the port, lies bustling, frenetic Ho Chi Minh City. Here, motorbikes hurtle down the wide streets and crossing the road is like a real-life game of Frogger. Its hectic pace is somewhat tempered by tranquil parks, peaceful pagodas and timeless alleyways.
Formerly known as Saigon, Ho Chi Minh City is a fascinating mix of high and low, old and new. On its streets, French-colonial architecture vies for attention with glistening modern skyscrapers; sleek designer malls sit alongside bustling local markets; and glamorous fine-dining restaurants are just around the corner from street-food stalls.
Formerly known as Saigon, Ho Chi Minh City is a fascinating mix of high and low, old and new. On its streets, French-colonial architecture vies for attention with glistening modern skyscrapers; sleek designer malls sit alongside bustling local markets; and glamorous fine-dining restaurants are just around the corner from street-food stalls.