Seychelles Gay Cruise & Dive 2023
8 days from/to Victoria, Mahe, Seychelles
October 21 – 28, 2023
Silhouette Cruises Seychelles SY Sea Star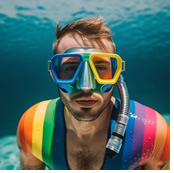 Join us on an unforgettable gay cruise adventure in the Seychelles! Enjoy luxurious accommodations, delicious meals, and exciting island excursions. Happy Gay Travel invites you to explore the turquoise waters and vibrant coral reefs of this tropical paradise. Don't miss out on this extraordinary opportunity to dive into the beauty of the Seychelles. Book your spot today and join us for the trip of a lifetime!
The islands of Seychelles offer much more than natural beauty. They are imbued with a rich cultural heritage that blends African, European, and Asian influences. From the vibrant Creole cuisine to the rhythmic beats of traditional Sega music, the islands are alive with cultural experiences waiting to be discovered. Each island has its unique charm, from the bustling markets and Creole architecture of Victoria on Mahé to the laid-back vibes of La Digue. A trip to Seychelles is not just a journey to a tropical paradise, but also an invitation to immerse yourself in a diverse and vibrant culture.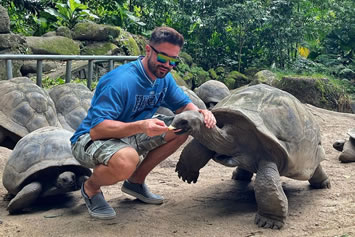 Nature and Wildlife
Seychelles is not just a haven for marine life but is also renowned for its unique terrestrial biodiversity. Its islands are home to lush tropical rainforests, rare endemic species, and some of the world's most beautiful beaches. Hikers can explore scenic trails on islands like Mahé and Praslin, encountering endemic species such as the Coco de Mer palm and the Seychelles Black Parrot. With numerous protected nature reserves and national parks, Seychelles is committed to conserving its natural heritage, making it a dream destination for nature lovers.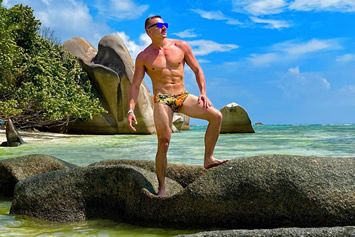 Diving
Seychelles is a paradise for divers. Beneath the turquoise surface of its waters, an enchanting underwater world awaits. From vibrant coral reefs that house a dazzling array of marine life to mysterious sunken shipwrecks teeming with history, Seychelles offers a diverse range of dive sites. With excellent visibility and warm water temperatures year-round, it's the perfect destination for both beginners and experienced divers. Whether you're floating alongside gentle whale sharks or discovering unique micro-species, diving in Seychelles is an unforgettable experience.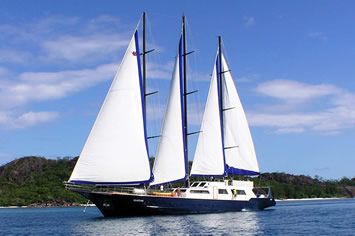 Silhouette Cruises Seychelles SY Sea Star
The SY Sea Star is a 40-metre custom-built yacht with three masts and five Bermuda sails, with classic wood finishings across its 9 spacious guest cabins and common areas.
• Air-conditioned Bar/Lounge and Dining Salon
• TV, DVD, stereo, ice-machine, washing machine, dryer
• Multiple spacious sun decks
• Covered back deck lounge and seating area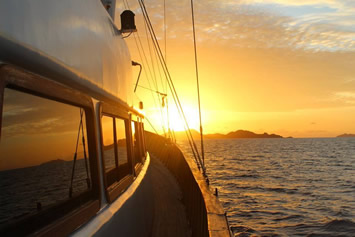 Facilities & Amenities
• Spacious decks and upper sun deck
• Covered back deck with table for open-air dining
• 2 deck showers
• Air conditioning in all interiors (cabins, dining salon & lounge/bar)
• Bottled water, soft drinks, beer, wine and spirits are all available for purchase
• Laundry on request (additional charge)
• TV, DVD, stereo in main salon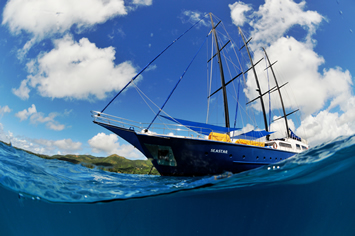 Class & Comfort
Sea Star boast 9 spacious airconditioned guest cabins, all between 9-11 square meteres. Each cabin features an ensuite bathroom, as well as reading lights, storage cupboard and power connections for charging computers and cameras or using other electronic devices such as hairdryers. Cabins are cleaned daily by our crew. A number of different areas onboard, from the two-tiered sundeck toward the bow, to the covered back deck and leisure area, ensure ample space for passengers to unwind.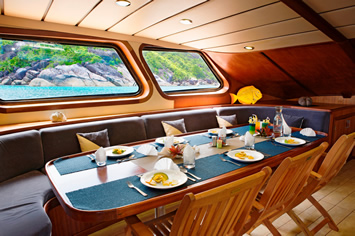 Cuisine & Bar Service
Our chefs use fresh local ingredients to create an enticing blend of authentic Creole cuisine and international favourites. Each chef plans out their own menus for every cruise week, encouraging diverse and creative creations for every meal. Our stewardesses are always at the ready to serve drinks from our bar, be it for an afternoon refreshment, an aperitif at sunset or a glass of wine with dinner.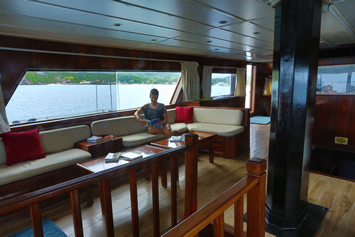 However, in order to create an atmosphere in which our guests can feel at home onboard, we also offer self-service at our bar - guests are welcome to help themselves to drinks from the refrigerator at the bar by simply marking down their selections to be added to their bill.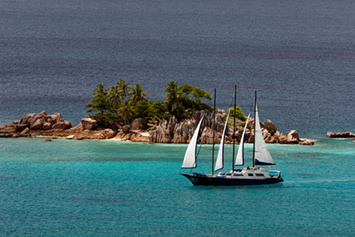 Sea, Sport & Activities
There are numerous opportunities throughout the cruise to enjoy snorkelling, kayaking, bottom-line fishing and standup paddle boarding (SUP) - all of which are offered on a complimentary basis including the equipment. Each day onboard presents a new opportunity to explore isolated bays and coves, colourful marine parks, and protected nature reserves or uninhabited islands. Spotting the incredibly rare Magpie Robin and other endemic birds, visiting the UNESCO World Heritage Site of Vallée de Mai, or getting up close and personal with a giant tortoise, are just a few of the many special experiences that await on the islands we visit.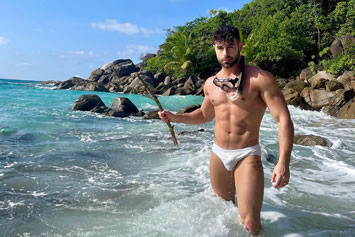 Diving In Seychelles
The Seychelles inner island archipelago rests on a plateau that broke off from the super-continent Gondwanaland millions of years ago - the remnants of a submerged granite mountain range. This unique geological phenomenon has resulted in stunning flora and fauna both above and beneath the surface. Most of the dive sites we'll visit feature large granite rock formations that create different passages and caves. These are home to a rich population of tropical fish, large numbers of pelagic species such as sharks, barracudas, jacks and tunas as well as rays and turtles.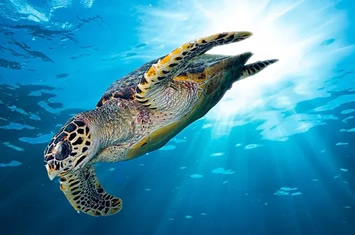 Some of the dives start and end directly from the boat's large dive platform that reaches to the sea level and has a comfortable ladder. Other dives take place from tenders. The crew will load the dinghies with dive tanks and weight belts and divers come onboard with their fins, masks and cameras. Most dive sites are within a short ride from the anchorage point of the boat. Diving on our vessels A PADI dive instructor is based on board at all times. With the assistance of the crew he takes care of all the divers' needs above and below the water.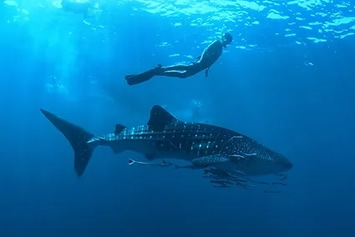 Most dives in the inner islands are between the depths of 8-20 meters, although some of the sites on our diving safari tend to be a little deeper. The sea is typically calm, offering visibility of up to 30 meters, while at the same time allowing us to visit open-sea dive sites that may not be accessible in other times of the year. Water temperatures can reach up to 30 degrees Celsius at its warmest, which is what divers can expect during our safari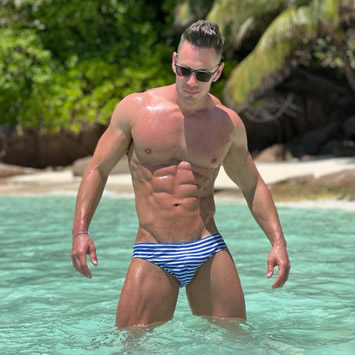 Seychelles Gay Cruise & Dive 2023
Itinerary


Date

Port

Arrive

Depart

21 Oct
Victoria, Mahe / Round Island
10:30 AM
12 PM
22 Oct
Valle de Mai, Praslin
23 Oct
Anse Source d'Argent, La Digue
24 Oct
Grande Soeur / Petite Soeur

25 Oct

Booby Island / Aride Island
26 Oct
Curieuse, St.Pierre

27 Oct

Ile Seche / Victoria, Mahe
28 Oct
Victoria, Mahe
8:30 AM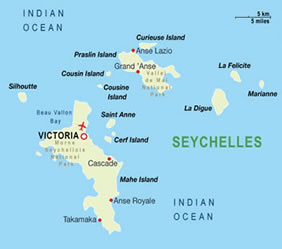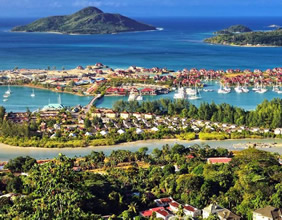 Day 1 - Victoria, Mahe (Inter Island Quay) / Round Island
Seychelles is an archipelago of islands in the Indian Ocean that are among the most beautiful in the world. Plenty of gay travelers make their way to Seychelles each year to experience its pristine waters and sandy beaches. plenty of gay travelers make their way to Seychelles each year to experience its pristine waters and sandy beaches. Boasting world-famous coral reefs and nature reserves, Seychelles is a fantastic destination.
Embarkation at the Inter-Island Quay at 1030hrs, followed by the Captain's welcome briefing.
Depart Port Victoria at 1200hrs, sailing from Mahé to a late afternoon anchorage at Round Island, just off the isle of Praslin.
In the evening, introduce yourself to Creole cuisine with a welcome barbecue dinner onboard.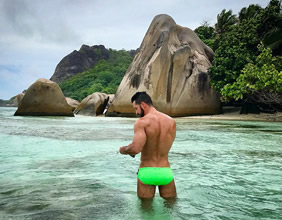 Day 2 - Vallee de Mai, Praslin
Sail to Praslin, Seychelles' second-largest inhabited island, for disembarkation to the famous World Heritage Site, the Vallee de Mai Nature Reserve. This ancient forest is home to the curiously shaped double coconut, the coco de mer, as well as the Black Parrot, unique to Praslin. Explore the valley's eerie pathways beneath its canopy of massive palms, before returning onboard for afternoon opportunities to dive, snorkel or enjoy other water sports. Unwind and connect with fellow travelers over delightful sunset cocktails.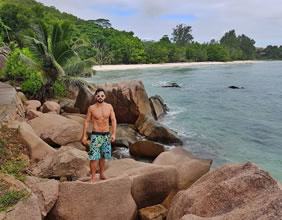 Day 3 - Anse Source d'Argent, La Digue
Sail to La Digue, a sleepy island community where ox-carts and bicycles still remain the most common mode of transportation throughout the island. La Digue is home to the endemic Seychelles Paradise Flycatcher, and is perhaps most famous for its massive granite boulder formations at Anse Source d'Argent, which is thought to be the most photographed beach on earth. Explore the island, perhaps stopping by Union Estate, a sprawling network of traditional island activities, including a copra mill, vanilla plantation, and shipyard. In the evening, join us for a special movie night.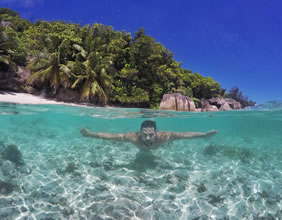 Day 4 - Grande Soeur and Petite Soeur (the Sisters) / Coco Island
The vessel sails toward Grande Soeur and Petite Soeur (the Sisters). The waters surrounding these two uninhabited private islands provide excellent diving, meanwhile non-diver guests will have the opportunity to visit the island.
In the afternoon, visit Coco Island, one of Seychelles' tiny granite jewels, a fantastic spot for snorkeling within a kaleidoscope of tropical fish.
As the evening approaches, get ready for a magical Glow Night Dinner onboard. Experience a captivating ambiance as the boat transforms into a luminous spectacle.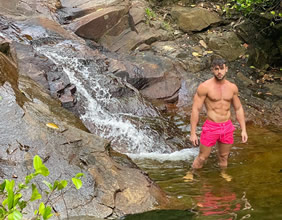 Day 5 - Booby Island / La Digue
Sail to Booby Island for a morning of diving and water sports. After lunch, sail to Aride Island, a globally important nature reserve with more native bird species than any other island, including five endemics and the world's largest population of 3 species (Lesser Noddy, Audubon's Shearwater and Seychelles Warbler). The nature trail leads to a spectacular cliff-top view with the largest frigatebird roost outside of Aldabra. Aride is the only natural location in the world for Wright's Gardenia and 400 species of fish have been recorded around the island.
End the day with a fun-filled game night onboard, where you can gather with for friendly competition and laughter.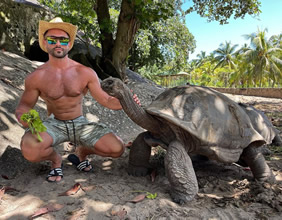 Day 6 - Curieuse, St. Pierre
Disembark at Curieuse for a visit of this virtually uninhabited island. Experience the island's vast mangrove forests and its giant tortoise farm, along with the historic ruins of this former leper colony.
After a barbecue lunch on the island, enjoy an array of water sports or simply relax and enjoy the island's beautiful beach and turquoise waters.
In the evening, join us for a glamorous white gala night, where you can dress to impress and dance the night away.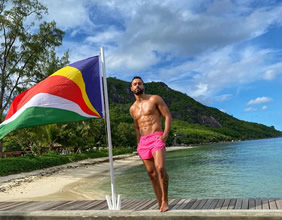 Day 7 - Ile Seche / Mahe (Inter Island Quay)
After breakfast, enjoy a leisurely sail back towards Mahé, with a last stop at Ile Seche for more diving/ or snorkeling, followed by a barbecue.
As the sun sets on this remarkable journey, join us for a spectacular Farewell Party. Celebrate the incredible experiences shared, the friendships made, and the memories created during your time onboard. Dance, laugh, and raise a toast to the unforgettable moments that will forever be cherished. Let the night be filled with joy and camaraderie as we bid farewell to an extraordinary adventure in style. The vessel then sails into Port Victoria for an overnight stay.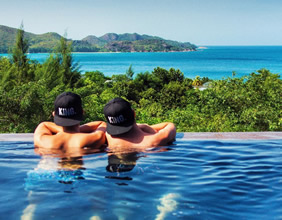 Day 8 - Victoria, Mahe (Inter Island Quay)
Disembarkation at 08.30am at Victoria, Inter Island Quay, Mahé.
For the well-being and overall enjoyment of guests, adjustments to the itinerary and/or the dive sites visited may be necessary, in the event of certain weather conditions or other factors. Any such changes are at the discretion of the captain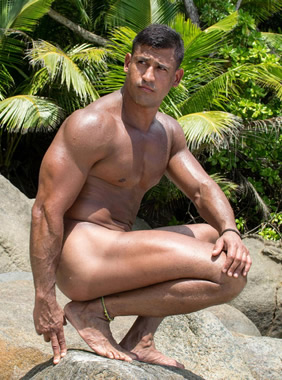 Included
• 7 nights accommodation
• Full board meals prepared by a dedicated chef
• Island visits and excursions
• Tea & Coffee
• Snorkeling, kayaking and SUP
Not Included
• Crew gratuity
• Airfare
• Conservation fee for island visits, marine parks and excursions €225
Optional Extras
• Diving Package: €196- €276
• Equipment Rental: max €34.5/day
• Airport/Hotel Transfe: On request
• PADI Diving Course: On request
• Travel/Diving Insurance: On request