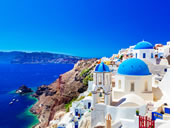 Gay Sailing Holidays in Greece. Join us on our exclusive Gay Sailing holiday in Mykonos, Greece. We have a terrific catamaran and fully crewed, gay charter for you on the most spectacular and most gay sailing holiday on the market!
We have the most exciting itinerary, theme days, host to prepare your onboard meals and Friday and Saturday night in Mykonos!
We are offering a round trip, starting and ending in Mykonos, stopping in the party island of Ios and going down to Santorini. You'll have the time of your life, on an unforgettable gay island hopping vacation.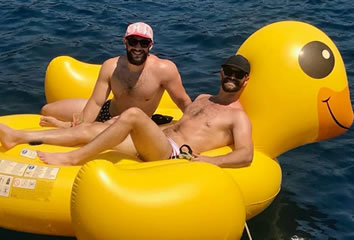 Join us in Mykonos at the marina, and check in at 17:00.
Day 1, Saturday - Mykonos, Greece
5pm: Check into your private yacht and meet your crew and fellow Gay Sailing guests
Enjoy a welcome glass of prosecco before we go out for a night in Mykonos. There is the option to meet your fellow guests at the marina at 13:00, drop off your bags then head to one of the many gay beaches. What better way to start your Greek gay sailing holiday?!
Day 2, Sunday - Paros 'Speedo Sunday'
After breakfast, we'll set sail for Paros to enjoy the pitureesque town for leisurely strolls before dinner in the postcard town. Although Paros isn't known as a gay island, it's very beautiful and extremely welcoming to sailors from near and far.
On the sail down to Paros, it's 'Speedo Sunday'! so break our your favourite speedos and get ready to walk down the catwalk. No gay sailing trip is complete without your speedos.
Day 3, Monday - Ios 'Naked / Underwear Monday'
We set sail for the party island of Ios and on the way, we have our 'Naked/Underwear Monday' so make sure your favourite Calvins are ready. Ios is a super-fun island, where you can enjoy the beaches, restaurants and dance the night away. Check out the first gay bar in Ios, called 'Pride' and give them our support. BTW we love the name 'Pride'.
Day 4, Tuesday - Santorini
Santorini is a must see if you're in the area, fortunately for us that's exactly where we're going, so we'll secure the boat and make our way to the island.
Hire a scooter or car and explore the island for magical sunsets and the most breathtaking vistas ever.
Day 5, Wednesday - Ios 'Wig Wednesday'
We make our way back up towards Mykonos, stopping off in Ios again to enjoy the beautiful beaches and for another night out dancing, should you feel like it. On the sail up, we have our 'Wig Wednesday' where we have some fun with wigs, or bring your own outfit!
Day 6, Thursday - Naxos
Naxos is a beautiful island and an amazing town, it's perfect for wander the streets, capturing your Insta-moments and enjoying the beauty of the Greek Islands.
Day 7, Friday - Mykonos 'White Party'
As your Greek gay sailing holiday is closing to an end, we've saved the best for last with the 'White Party'! Do your best white outfit and we'll get warm the party with drinks on the boat before heading into the town for dinner and hitting the gay bars and clubs in Mykonos, with our very own Pride white theme. Watch out boys, here we come!
Day 8 - Mykonos
Sadly, it's time to say goodbye. Check out is at 9am.
This itinerary is subject to change. Local circumstances such as weather may influence the itinerary.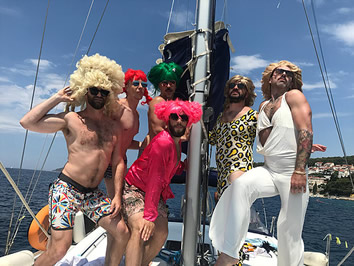 We include everything you could want, for the most fabulous gay vacation in Greece, ever.
• Seven days/nights on your own private yacht in Greece
• Theme days for extra excitement, including 'Speedo / Nude Sunday' & 'Wig Wednesday'
• Sail the Greek Islands on a private Catamaran
• Fully gay crew: Skipper and host
• Your host will escort you to all the local gay spots in all the ports: beaches, clubs etc.
• Your host will prepare your breakfast & lunch daily
• Snorkeling gear is available for underwater fun
• You can learn how to sail with your qualified skipper, or just sit back and enjoy
• You will have your own yacht with your friends or make new ones
• Always a small group on board (max 8 guests)
• All on board costs are covers: fuel, water & port/marina charges, tourism taxes, linen and final cleaning fee, etc.
• WiFi
• No hidden charges or 'departure taxes'
Our packages offer a one-off price, so you know exactly what to expect. This doesn't however include your restaurant dinners, alcohol or crew gratuities.