January 30–February 09, 2021
Ponant's Le Lyrial
An unforgettable luxury polar expedition cruise. Due to popular demand, Happy Gay Travel & Source Events are excited to announce our 2nd Antarctica Luxury Gay Cruise Voyage. This time we'll be sailing aboard Ponant's Le Lyrial ship from January 30 to February 9, 2021. You'll be joining a group of gay travelers and friends on a luxury polar expedition cruise to the heart of the icy realm that is the Antarctica Peninsula. Embark on an unforgettable 11-day voyage and succumb to the enchantment of the breathtaking landscapes inhabited by astonishing wildlife.
No place on Earth compares to this vast while wilderness of elemental forces: snow, ice, water, and rock. Antarctica is simply stunning, with it's surreal remoteness, enormous ice shelves and mountain ranges, and some of the world's most extraordinary species.
To let our minds soar in a place nearly free of humankind's imprint: This is magic!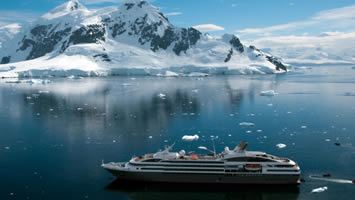 Antarctica Voyage Luxury Gay Cruise Highlights
• Discover extraordinary landscapes in an incredible setting: glaciers, icebergs, ice floe, and mountain ranges.
• Outings, hiking opportunities, and shore visits in Zodiac inflatables with a team of experienced naturalist guides
• Encounters with exceptional wildlife: whales, seals, penquins, fur seals, albatrosses, and other seabirds
• Lectures by naturalist guides covering wildlife, history, climate, environmental protection and great explores
• Includes complimentary air to and from Buenos Aires
• Polar Parka for you to keep, port fees, and wine beer and soda with lunch.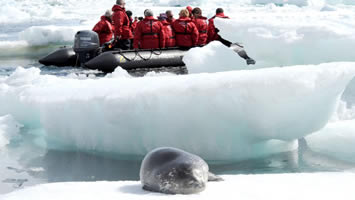 Polar Expedition
Discover the unique concept of Ponant polar expedition cruises: explore the world's extreme regions while enjoying luxurious comfort and service. Choosing a Ponant expedition cruise means choosing a state of mind: the alliance of elegance and authenticity, of exploration and comfort, of adventure and refinement...
The comfort of your ship and your stateroom, personalized and attentive service, refined gastronomy: a very special atmosphere that we take great care to maintain. In the heart of the ice floes of the Arctic and the Antarctic, our luxurious services will ensure that your expedition cruise is an unforgettable experience.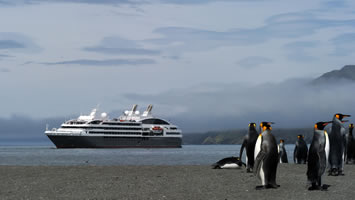 Ponant Polar Specialists
With almost 20 years of experience in the extreme regions, Ponant, the world's number one polar cruise company, is a real polar specialist. Ponant will take you to the most remote regions in total safety: our Captains and crew are professionals, specially trained to sail in icy waters.
Ponant latest-generation fleet has the most modern technology to guarantee both your safety and respect for the regions visited. The size of our ship means we can get as close as possible to areas that are difficult to reach, offering a privileged access to preserved sites. Our flexibility enables us to adapt to the surprises inherent to these expedition itineraries.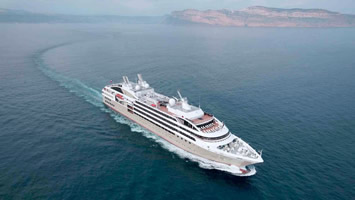 Your Ship - Ponant's Le Lyrial
Experience Antarctica in Comfort and Luxury Aboard the all-new expedition ship, Le Lyrial. Featuring sophisticated design and the latest communication, navigational and safety equipment, Le Lyrialboasts a convenient and sensible layout, aided by three passenger elevators. On Antarctic voyages Le Lyrial capacity is limited to just 199 guests.
In keeping with a longstanding commitment to environmental conservation, Le Lyrial is equipped with the most eco-friendly technology available today. Our expedition exceed all environmental protocols, including those set by the National Science Foundation, Environmental Protection Agency and Antarctic Treaty Party nations.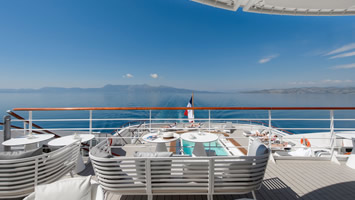 Your Antarctica Luxury Voyage Includes
• Complimentary roundtrip Air between Buenos Aires and Ushuaia
• Complimentary 1 overnight in Buenos Aires Hotel
• 5 Star Luxury Accommodations aboard Ponant's Le Lyrial
• Port Fees and Taxes ($690)
• All meals aboard Ponant's Le Lyrial
• Standard Open Bar Package: Well drinks, Wine, Beer, Soda, and Sparkling & Still Water
• Room Service 24h (special selection menu)
• Wi-Fi throughout Ship
• Park Entry Fees into Protected Areas
• Complimentary Boot Rental (Guaranteed deposit required)
• A Ponant Polar water-resistant Parka
• Gratuities – Onboard Starff only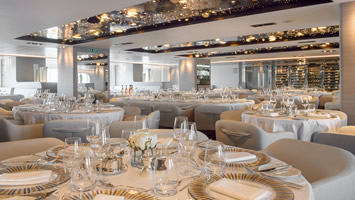 Not Included
• International Flights
• Optional Pre and Post Cruise Programs
• Gratuities to Local Guides and Drivers
• Luggage handling
• Spa Services
• Beverages Not part of Standard Bar Package
• Laundry Services
• Personal Expenses and Medical consultations aboard the Ship
• Travel Insurance – Strongly Recommended
• Visa Expenses