February 26–March 08, 2021
11 Days from Melbourne to Sydney, Australia
A Journey to Australia & Sydney Mardi Gras 2021 Celebration. There's nothing like Australia. Awe-inspiring coastlines. Iconic cityscapes. The epic outback. Sydney's Harbour. Australia is filled with filled World Heritage sites and unforgettable experiences. And the Aussies certainly no how to throw a fabulous party, which is why we have timed this adventure so that you can experience Sydney's famous Gay Mardi Gras.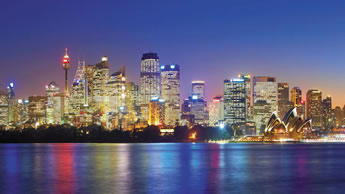 Your Aussie adventure begins in charming and cosmopolitan Melbourne. This City exudes style and keeps it best spots hidden, inviting discovery by food and culture lovers. From the culture of Melbourne, enjoy the natural attractions on one of the world's greatest road trips – Australia's Great Ocean Road. Experience the dramatic, rugged coastline where the 12 Apostles sit.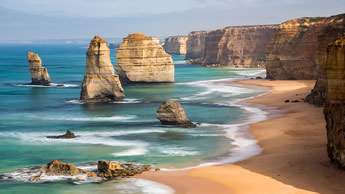 Away from the coasts lies the Outback, the parched desert that makes up the majority of the Australian Continent. Nothing can really prepare you for the immensity, changing color and stillness of 'the Rock', rising from the flat plains of the Northern Territory with an otherworldly presence. Uluru is a sight that will sear itself onto your mind. This World Heritage Site has attained the status of a pilgrimage. Experience the colors of Uluru at dawn and sunset, an outdoor dinner party, and a magical night of stargazing.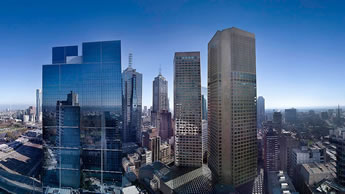 Sydney is spectacularly draped around its glorious harbor and beaches with a visual wow factor like few other cities. With 4 nights in Sydney, you'll have plenty of time for sightseeing, beaches, and nightlife. You can even climb the iconic Sydney Bridge. Best of all, you'll have VIP seats for the spectacular and fabulous Gay Sydney Mardi Gras Parade and tickets to the famous party afterwards. This is sure to be the adventure of a lifetime!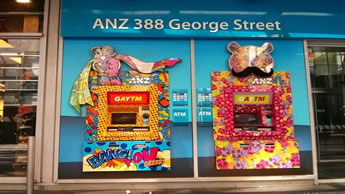 Australia & Sydney Mardi Gras Gay Tour Itinerary
Day 1 - February 26, 2021, Friday
Arrive in Melbourne, Australia
• Private transfer upon arrival at Melbourne International Airport, you will be met and transferred to the Sofitel Melbourne Hotel.
• Tonight enjoy a nightlife bus tour of Melbourne and Welcome dinner.
Overnight: Sofitel Melbourne on Collins Hotel
, Melbourne
Day 2 - February 27, 2021, Saturday
Melbourne
• After breakfast, enjoy a Melbourne city tour covering the famous Vic food markets, the Yarra, Southbank, a tram ride to St. Kilda.
• We'll have lunch at one of the popular St. Kilda establishments with its Greek Heritage.
Overnight: Sofitel Melbourne on Collins Hotel
, Melbourne
Day 3 - February 28, 2021, Sunday
Melbourne - Yarra Valley
• After breakfast, we head out for a full day touring to the wine country and its stunning hills and vineyards. We will visit a few cellars doors, be treated to a leisurely and delicious local produce lunch in a Tuscan like setting and visit a quaint village towns and an Australian famous Gin distiller that is taking over the world.
Overnight: Sofitel Melbourne on Collins Hotel
, Melbourne
Day 4 - March 01, 2021, Monday
Melbourne - Great Ocean Road and the Twelve Apostles
• After breakfast, your tour guide will meet you at the hotel lobby and head out to the surfing coast with its quaint coastal towns, famous surf beaches.
• Then visit the Twelve Apostles and great ocean road.
• Return to hotel for a leisure night.
• Optional outing for dinner and show that Melbourne is renowned for.
Overnight: Sofitel Melbourne on Collins Hotel
, Melbourne
Day 5 - March 02, 2021, Tuesday
Melbourne to Ayers Rock
• After breakfast and check out of the Sofitel Hotel, we'll be transferred to Melbourne domestic airport for our flight to Ayers Rock. Upon arrival we'll be transferred to Sails in the Desert.
• We'll enjoy a leisurely lunch by the pool at the resort and relax our way to the Australian Outback. In late afternoon you'll be picked up and taken to enjoy the Sounds of Silence dinner under the stars.
Overnight: Sails in the Desert Hotel
, Urulu
Day 6 - March 03, 2021, Wednesday
Ayers Rock to Sydney
• After a very early wake up call, we start on our private Sunrise tour at Urulu, a stunning vision and even better when holding a glass of bubbles and some delectable snacks.
• After the tour of the Rock time to head back to collect your belongings at the hotel and head out to the airport for your flight to Sydney. Upon arrival in Sidney, you will meet your guide and driver to our hotel.
• Tonight we start at Oxford street for your Gayborhood walking tour. Learn all about the beginnings of Mardi Gras, the history of the Australian LGBTQ+ movement, then on to walking around and finding out all about the hip places to eat drink and shake your tush.
Overnight: Shangri-La Hotel
, Sydney
Day 7 - March 04, 2021, Thursday
Sydney
• Enjoy breakfast at the hotel. Your Mardi Gras Ultimate Sydney day begins. Meet at the lobby of the hotel and walked over to the Sydney Bridge Climb for your amazing and unique climb on the famous bridge.
• Then its time for lunch between two iconic landmarks at the Opera Bar.
• A tour of the behind the scenes inside the Opera House and finally your VIP ticket to the Mardi Gras 2021 Sunset cruise on the breathtaking Sydney Harbour.
Overnight: Shangri-La Hotel
, Sydney
Day 8 - March 05, 2021, Friday
Sydney
• After breakfast, your Mardi Gras Featherdale day tour begins where you can take photos with Koalas, feed Kangaroos, wallabies, emus and see the Crocodile, unique Cassowaries and so much more.
• Lunch in Sydney's second largest city of Parramatta before heading back into the city.
Overnight: Shangri-La Hotel
, Sydney
Day 9 - March 06, 2021, Saturday
Sydney Gay Mardi Gras 2021
• This is the big day!
• Hang out getting ready for a big night and weekend of fun in one of the world's biggest Gay Street Parade.
• Tonight you'll be driven from hotel to the Official Mardi Gras Diamond viewing area in the here of the parade route, with barthrooms, a cash bar and food options.
• At the end of the Parade join in and walk down to the Mardi Gras official party with DJ's and amazing light shows.
Overnight: Shangri-La Hotel
, Sydney
Day 10 - March 07, 2021, Sunday
Sydney
• Enjoy breakfast.
• This morning relax after a big night and then head out to chill out by the beach, be on a ferry on the Sydney Harbour or visit one of the many museums, theaters, galleries or just be around the hood to see the parties all continuing.
Overnight: Shangri-La Hotel
, Sydney
Day 11 - March 08, 2021, Monday
Sydney Departure
• After breakfast, check out of hotel and be transferred to the airport for your flight home.
Optional Excursion post tour to Turtle Cove Getaway will be offered.