Star Clipper
Ship Facts
Occupancy: 166
Tonnage: 2,298
Length: 111.5 m
Beam: 15.1 m
Draught: 4.7 m
Decks: 4
Registry: Malta



Italy & the Amalfi Coast All-Gay Cruise 2022
7 nights cruise from/to Rome (Civitavecchia), Italy
September 03 – 10, 2022
Star Clippers Star Clipper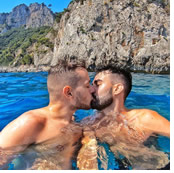 Happy Gay Travel invites you a taste of "dolce vita" on Source Events 20th Anniversary All-Gay Cruise aboard the Star Clipper. Experience the magic of Italy on a tall ship sailing adventure aboard the Star Clipper. Sail from Rome (Civitavecchia) to the enchanting islands of Gaeta and Lipari to the stunning Amalfi Coast. Explore breathtaking vistas and UNESCO World Heritage sites in charismatic small ports and beautiful hidden harbors without missing the remarkable history of Rome. Aboard the ship, choose from multiple pools, dance under the stars, or just relax and take in the magnificent scenery.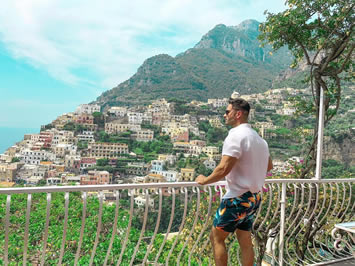 A little further south, you will discover the Aeolian islands and while at sea, enjoy a real volcano party as you sail past Stromboli, an active volcano whose crater regularly erupts with lava flows. Back aboard the ship, choose from multiple pools, enjoy a cocktail at the tropical bar, dance under the stars, or just relax and take in the magnificent scenery. You can even help sail the ship and climb the crows nest. It's your choice.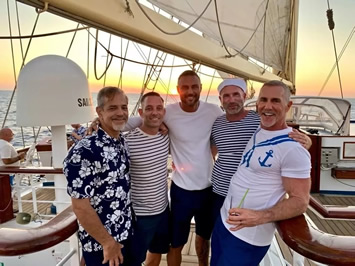 Cruise Highlights
• Tour the Vatican & Sistine Chapel
• Explore World Heritage Sites of Pompeii and Heracleum
• Sail past the erupting volcano of Stromboli
• Explore the mythological UNESCO Site of Lipari
• Enjoy the stunning sea caves of the Blue Grotto
• Experience the Ravello Music Festival
• Discover the magical island of Capri
• Climb the Star Clipper Crow's Nest
• Tour the ancient port of Agropoli
• Dance at theme parties under the Stars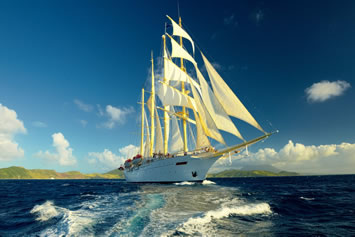 Welcome Aboard Star Clipper
There's nothing quite like it on earth. Tall billowing sails – brilliant blue seas – sun-drenched teak decks. You'll find there is a magical dreamlike quality to tall-ship sailing. When you step aboard the gleaming Star Clipper you'll discover a new age of sail, where the traditions of the past are happily married to the comforts and amenities of today. Life aboard is blissfully relaxed…this is what it feels like to sail on your own private yacht.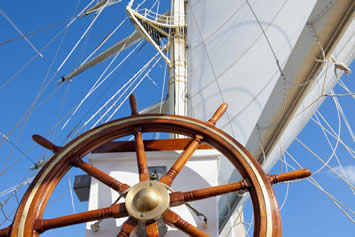 Star of the sea & graceful as swan.
Star Clipper is true clipper ship reflecting her proud heritage in every inch of their polished brass and gleaming brightwork. Step aboard this unique vessel and discover a new age of sail, where the traditions of the past are happily married to the comforts and amenities of the present day.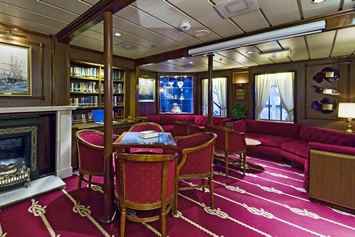 Star Clipper is modern cruise ship in every way, created for luxury-loving passengers who also love the traditions and romance of the legendary era of sailing ships. Star Clipper is 115 metres long and carries just 166 guests in pampered comfort. Life aboard is blissfully relaxed, much like travelling on a private yacht. You'll never feel confined on Star Clipper.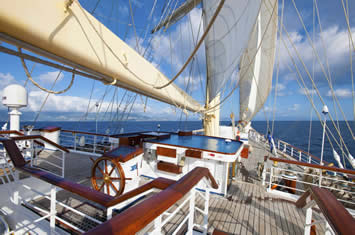 Star Clipper offers spacious accommodations and expansive teak decks with ample space and not one, but two swimming pools. In fact, you'll find that this ship offer more outdoor space per passenger than most conventional cruise ships.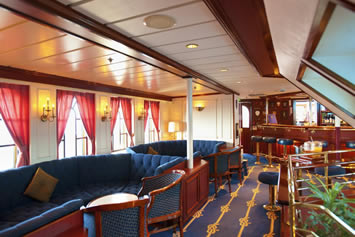 The decor of Star Clipper is reminiscent of the grand age of sail. Antique prints and paintings of famous sailing ships please your eye, while teak and gleaming mahogany rails are richly remindful of Star Clippers' proud nautical heritage.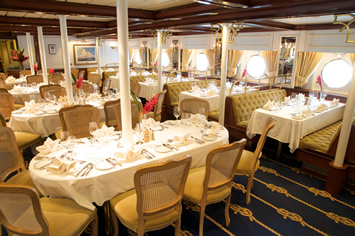 All Star Clippers' ships feature open-seating dining in an elegantly appointed dining room, our convivial indoor-outdoor Tropical Bar and Piano Bar, and an Edwardian style library where a Belle Époque fireplace glows with a warmth that reflects the friendliness and enthusiasm of Star Clippers' hospitable officers and crew.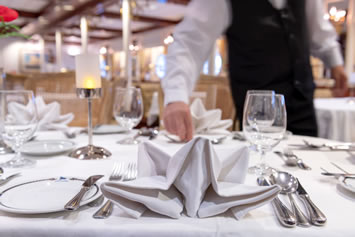 Star Clipper inspired chefs make dining aboard a delightful culinary adventure with an international menu of foods from the corners of the Earth.
When you rise, help yourself to a continental breakfast with Parisian croissants or sweet Danish pastries. Or savour a full breakfast with fresh tropical fruit and crisp bacon, grilled sausage and omelettes cooked to order in the dining room.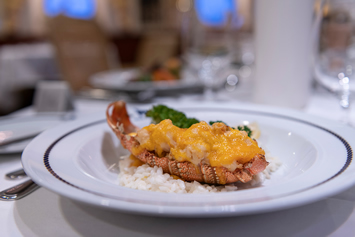 At lunch, a marvellous buffet of seafood, salads and grilled favourites awaits your pleasure. If the day includes a stop at one of the paradisical islands we frequent, you might also be treated to a succulent outdoor barbecue on shore.
When evening comes, our elegantly appointed dining room becomes the setting for the chef's finest culinary presentations, designed to please the eye and the palate, complemented by a selection of equally fine wines.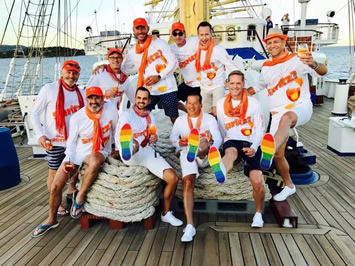 Included in this Journey
• 7 nights accommodations aboard the Star Clipper
• All meals aboard the Star Clipper
• 2 complimentary cocktail hours
• Special Theme parties
• Yoga & Fitness classes
• Special Lectures at Sea
• Entertainment piano nights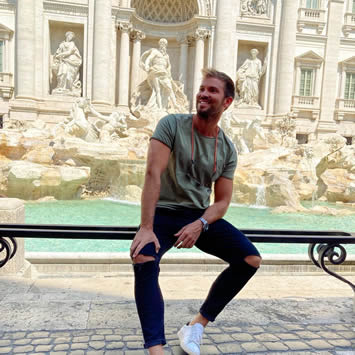 Italy & Amalfi Coast
Star Clipper All-Gay Cruise 2022
Itinerary


Date

Port

Arrive

Depart

03 Sep
Rome (Civitavecchia), Italy
7 PM
04 Sep
Gaeta, Italy
12 PM
7 PM
05 Sep
Sorrento, Italy
9 AM
11:59 PM
06 Sep
Agropoli, Italy
8 AM
2 PM

07 Sep

Lipari, Italy
8 AM
7 PM
07 Sep
Stromboli, Italy
10:30 PM
11:30 PM

08 Sep

Amalfi, Italy
3 PM
11 PM
09 Sep
Ponza, Italy
10 AM
3 PM

10 Sep

Rome (Civitavecchia), Italy
8 AM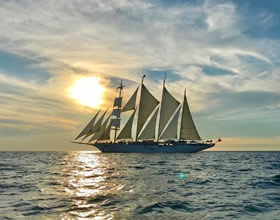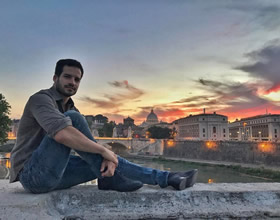 Day 1 - Rome (Civitavecchia), Italy
Come early and enjoy Rome
, where we'll have a host hotel, Grand Hotel Palace Rome
and optional tours. In this enchanting city, the past and present intersect in perfect harmony. Casually intermingled among ancient ruins and majestic cathedrals are the trappings of a modern metropolis, but of course, what you seek first is the heart of Rome is its breathtaking history. A good place to begin is the Vatican, with its Sistine Chapel and St. Peter's Basilica. Then the ancient ruins – Colosseum, Forum, Circus Maximum. And of course the Trevi Fountain for the obligatory coins promising your return to the Eternal City.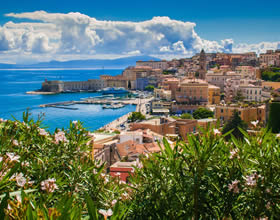 Day 2 - Gaeta, Italy
This picturesque town located between Rome and Naples takes its name from the legend of the nanny of Aeneas. Gaeta is shrouded in history and rich in ancient monuments. Here you will find Monte Orlando Park, a protected area with Roman ruins. In this enchanting city, the past and present intersect in perfect harmony.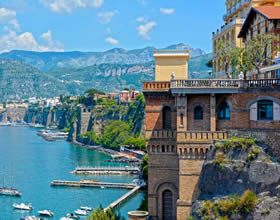 Day 3 - Sorrento, Italy
Sorrento, whose city walls rise straight out of the sea, is located on the lovely Amalfi Coast and overlooks the Bay of Naples. Its peaceful alleyways, villas, hotels, and gentle way of life have been charming visitors and the greatest authors since the 19th century, from Byron and Tolstoy to Dickens and Goethe.
As you enjoy a walk in this romantic atmosphere, you will discover the medieval cloister of Saint-Francis Church and a magnificent panorama over the Gulf of Naples and Mount Vesuvius. Sorrento is surrounded by groves of oranges and lemons, flavors that can be enjoyed in particular in the form of a sweet liqueur, limoncello.
Optional excursions include taking a trip back in history to Pompeii, where the ashen remains of ancient Romans lie frozen in time, or exploring the Blue Grotto of Capri.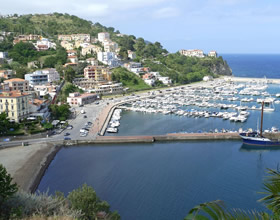 Day 4 - Agropoli, Italy
Located on the Cilento Coast along the Tyrrhenian Sea, Agropoli is an Italian town located in the province of Salerno in Campania. You will be seduced by the beauty of its coastline, its pristine nature, and its fascinating history dating back to Antiquity. The Apennines (from the Celtic word "pen" meaning rocky summit) form the backbone of the Italian Peninsula and serve as a majestic background to a landscape composed of small bays and coves. Listed as World Heritage by UNESCO, the magnificent beaches of Trentova Baycon tribute to making this small town a very popular seaside resort.
Day 5 - Lipari, Italy
Once you visit this beautiful village you'll know this was a place obviously favored by the Gods. It's the largest of the Aeolian islands, and well-known for its mythological connections and UNESCO World Heritage Site.
Its lava stone quarries and obsidian flow of Rocce Rosse are indications of its volcanic nature. The town, the largest urban area in the whole archipelago, proudly houses its citadel and its castle, both rooted in Antiquity. If you head further into the center, you'll be surprised to come across a Norman cathedral, complete with a magnificent baroque façade.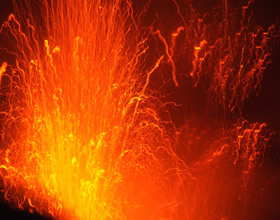 Day 5 - Sail to Stromboli
Like Ulysses during his Odyssey, you will have the opportunity to admire the Stromboli, the capricious volcano that looms over the Aeolian Islands. Its activity, uninterrupted for thousands of years, has earned it the nickname the "Lighthouse of the Mediterranean." Get ready for an extraordinary "Volcano Party", celebrating 20 years of Source journeys.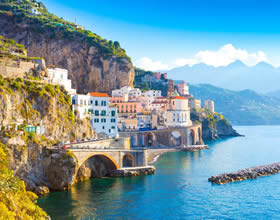 Day 6 - Amalfi, Italy
The little town of Campania gives its name to the region containing the magnificent, UNESCO World Heritage-listed Amalfi Coast. And for good reason. Located at the foot of Mount Cerreto, against a rock face of a gorge that opens onto the sea, Amalfi's absolutely splendid natural scenery alone is enough to feast your eyes on before making for the medieval streets to explore some of its histories. The mix of cultural influences from the Mediterranean Rim is omnipresent here.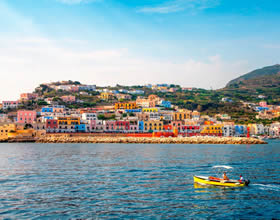 Day 7 - Ponza, Italy
Off the coast of Naples, the island of Ponza has always lived outside of time… Also known as the island of Circe, where the famous magician who captivated Ulysses was born, this magnificent rock, the result of a volcanic eruption, rises from the Tyrrhenian Sea. Faced with the wild beauty of this site, you will understand why Ulysses was in no hurry to head off for Ithaca. Its rugged coastline of rocks and white or blue-grey cliffs, sculpted by the wind and the waves, is full of sea caves that the Romans used to use for bathing. The village of Ponza also offers a pretty sight, with its colorful cubic houses forming a semi-circle around the tiny port.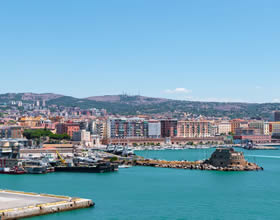 Day 8 - Rome (Civitavecchia), Italy
Built on an Etruscan site, between the Tyrrhenian sea and the Monti della Tolfa, Civitavecchia respires the dolce vita. This very modern and easy-going town combines art and history with panache. You can also visit superb historical sites like Fort Michelangelo or the Cathedral of Saint Francis of Assisi. Just 80 kilometers from Rome
, the town is a beautiful first step to the Italian capital.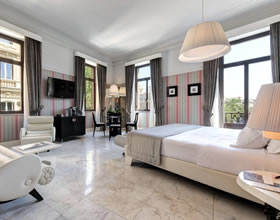 Pre/Post Cruise
Pre-Cruise Stay - Grand Hotel Palace Rome
Stay at our luxury hotel in the city center of Rome
Experience luxury at the Grand Hotel Palace Rome
in the heart of Rome city center on the Via Veneto with dazzling rooftop views, elegant interiors, and an abundance of historic charm. Designed by legendary architect Marcello Piacentini in 1927, this boutique hideaway was beautifully restored by award-winning architect, Italo Rota in 2010 to blend timeless Italian design with 21st century modernity. Marble floors, grand Murano crystal chandeliers, and stunning frescoes by Venetian artist Guido Cadorin embody the true essence of La Dolce Vita".
Post-Cruise Adventure - The Belmond Tuscany Experience
A Taste of Italy Under the Tuscan Sun
September 10 - 14, 2022
A Tuscan adventure for those savoring more.
Stay tuned for more information on this amazing post-trip extension.