World Navigator
Ship Facts
Occupancy: 200
Crew: 125
Tonnage: 9,300
Length: 413 feet (126 m)
Beam: 62 feet (19 m)
Decks: 8
Cruise Speed: 16 knots
Year Built: 2021

Istanbul to Athens Luxury Turkey & Greece Gay Cruise
7 nights cruise from Istanbul, Turkey to Athens, Greece
August 13 – 20, 2021
Atlas Ocean Voyages World Navigator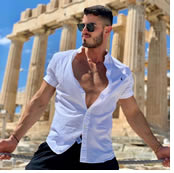 As countries open up this summer, now is the time to make plans to reconnect and explore your world. Experience the magic and mythology of the Turkish Coast and Greek Isles on this gay group cruise voyage from Istanbul to Athens on this Luxe-Adventure aboard the new Atlas Ocean Voyages World Navigator. Cover thousands of years of civilizations' greatest feats – from the palaces of Istanbul to the Acropolis of Athens. And with just 100 suites and cabins, you'll know how it feels to sail on your own private yacht.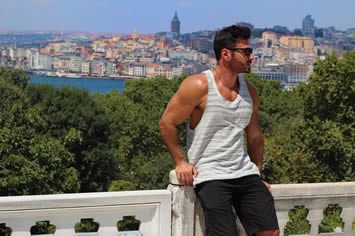 Crossing Turkey into Greece, journey through empires past and witness history come to life. Explore the iconic sites of Istanbul, including its radiant Blue Mosque, Hagia Sophia, and the Grand Bazaar. Visit ancient Troy and hear tales of the Trojan Horse and the Battle of Gallipoli. Listen for echoes of history as you explore Ephesus, the world's largest outdoor archaeological site.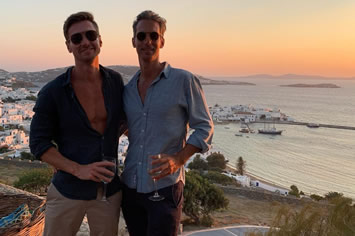 Sail across the azure waters of the Aegean Sea visiting the legendary islands of Santorini and Mykonos. As our ship approaches the spectacular cliffs, you'll understand the magic of Santorini, where some say the ruins of Atlantis remain hidden. The gayest island in Greece, Mykonos gleams with Mediterranean charm set against a postcard-perfect backdrop. Enjoy the world-famous beaches, nightlife, and wonderful tavernas. Since we're arriving just in time for the opening of the famous Xlsior Mykonos Gay Festival Party, just let us know if you'd like to extend your vacation in Mykonos.
To deliver on the full, Atlas Ocean Luxe-Adventure experience, you will be pleased to know that this voyage is ALL-INCLUSIVE ALL THE WAY!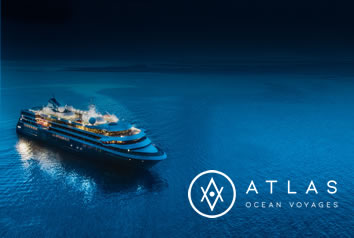 Your Ship - Brand New Luxury World Navigator!
World Navigator was conceived with the sensibilities of an explorer — one who believes the world is best experienced up close, while still leaving the destination untouched. Launching in 2021, this vessel realizes the possibilities of environmental stewardship with a propeller-less hybrid propulsion system engineered by Rolls-Royce and anchor-less positioning, both designed to leave the marine environment undisturbed.
This is how you can best enjoy the world and protect it for others. And as the expedition-style World Navigator quietly nestles into the amazing, remote and rugged locations on your itinerary, you'll wonder why anyone would roam any other way.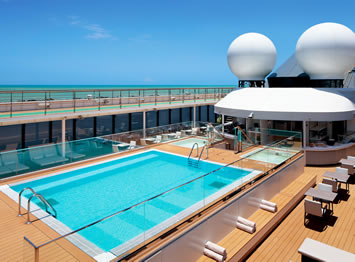 World Navigator features four decks of accommodations, totaling just under 100 suites and staterooms that range in size and spaciousness to suit your priorities. All feature cinematic ocean views. Nearly all include balconies. And the interior décor is selected with a designer's eye. Enjoy the perfect balance of rugged days and indulgent nights onboard World Navigator.
Whether you're waking up to an amazing day at sea or returning from a day of bicycling along the Black Sea, or other down-to-earth adventures, you'll find World Navigator has another set of enriching all-inclusive discoveries in store for you. Wondering what to do first? The crew is happy to guide you toward an experience that feels designed just for you.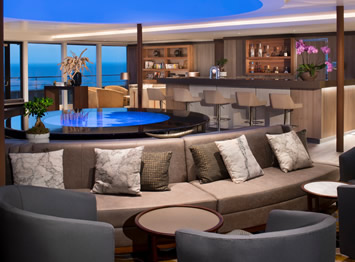 Chill
Take a dip in the heated pool and whirlpools, where the water is relaxing, and the conversation is invigorating. And keep your eyes on the ocean, because you never know when you'll spot a cresting whale or pod of dolphins in the wild.
Sip
Relive the day's adventures with new friends at the ship's intimate bars and lounges. Enjoy the selection of included liquors and fine wines, as well as classic and creative cocktails while you post photos and double-tap each moment.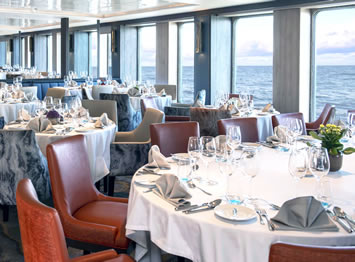 Savor
Every meal is a marvel when the chefs bring world-class credentials, and fresh, local ingredients to the table. Enjoy our all-inclusive restaurants, indulge as you desire, from your morning camembert to filet mignon to midnight cookies and milk.
Breathe
Deck 4 is dedicated to health, physical, and mental wellness, featuring SeaSpa by L'Occitane, the fitness center, a juice bar and more. Or you can stroll or jog around Deck 8 while you bask in brilliant ocean views. Increase strength and flexibility on state-of-the art equipment and at yoga and Pilates classes. Convene with your fellow literati at one of the lively onboard classes on a range of subjects.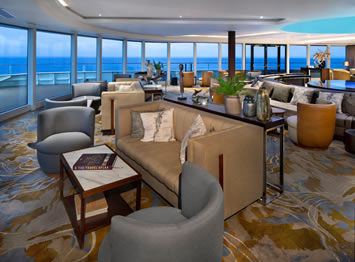 Feel
You've had a full day. A boots and binoculars kind of day. Now, melt into a full menu of treatments designed to soothe and celebrate you at SeaSpa by L'Occitane, featuring signature Provençal ingredients and the healing touch of L'Occitane-trained specialists.
Reach
When you're standing on the bow of Deck 5 at Water's Edge Lookout, you're just 30' from icy Antarctic waters. Spotting whales off the coast of Brazil can prompt an impromptu detour. And a morning espresso on your balcony is sweetened with up-close Amalfi Coast views.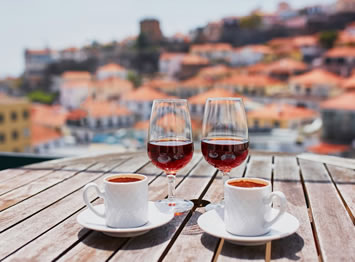 Included in this Journey
• Luxe Accommodations
• Free Roundtrip Air from selected U.S gateways
• A complimentary land excursion in every port
• Raise a Glass: Unlimited premium pours to share with like-spirited travelers
• Relax and Indulge: Luxurious L'OCCITANE bath amenities in every accommodation
• Everyday Conveniences: Standard WiFi throughout the ship
• Prepaid Gratuities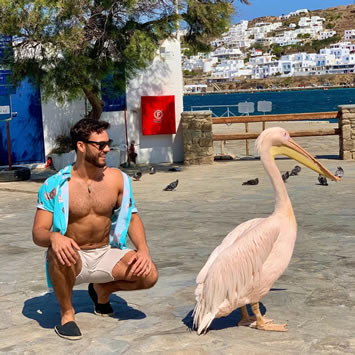 Istanbul to Athens
Luxe Turkey & Greece Gay Cruise 2021
Itinerary


Date

Port

Arrive

Depart

13 Aug
Istanbul, Turkey
6 PM
14 Aug
Kepez (Troy, Gallipoli), Turkey
7 AM
5 PM
15 Aug
Ephesus (Kusadasi), Turkey
9 AM
Overnight
16 Aug
Ephesus (Kusadasi), Turkey
1 AM

16 Aug

Cruising the Mediterranean Sea

17 Aug
Lindos (Rhodes), Greece
8 AM
8 PM

18 Aug

Santorini, Greece
8 AM
1:30 PM
18 Aug
Mykonos (Delos), Greece
6 PM
Overnight

19 Aug

Mykonos (Delos), Greece
8 PM
20 Aug
Athens (Piraeus), Greece
7 AM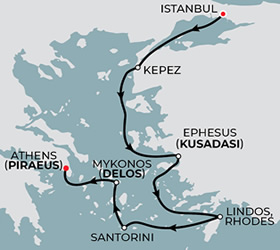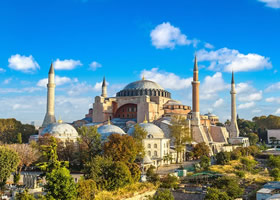 Day 1 - Istanbul, Turkey
Istanbul's
combination of religious history and vibrant, cultural influences make it a dream destination for the most experienced travelers. Throughout its history, many empires have ruled in Turkey. The influences of Roman, Egyptian, Byzantine, and more remain apparent in the city's architecture, art, and traditions. Straddling the Bosphorous Strait, the narrow passage that joins the Black Sea and the Marmara Sea, Istanbul has connected trade and culture between Europe and Asia for millennia. You will want to stop at the Grand Bazaar to get a true feel for the present-day culture of the city. Filled with merchants, artisans, and authentic wares, the bazaar provides a vibrant backdrop for a little holiday shopping. Some of the most beautiful architecture in Istanbul is found in the mosques. These sacred spaces filled with centuries of religious history inspire awe with their colorful paintings and intricate patterns throughout the interiors. Their grand appearances from the outside also create a striking view when roaming the bustling streets of the city.
Day 2 - Kepez (Troy, Gallipoli), Turkey
Kepez leaves much room for imagination as its rich culture gives way to legend and history, where the lines between the two often overlap. From Troy to Gallipoli, Turkey beckons the curious to explore its deepest reaches. Approaching the shores of seaside town Kepez, a line of historic structures on the horizon greets travelers as they arrive and bids them farewell when they depart. But beyond this view, the Turkish city holds a great deal of modernity that any explorer can appreciate for its contemporary history. From here, those filled with wanderlust can venture to the likes of Troy and Gallipoli.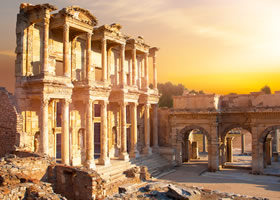 Day 3 - Ephesus (Kusadasi), Turkey
Making port in the coastal resort town of Kusadasi from the Aegean Sea, travelers are greeted by a castle on Pigeon Island surrounded by lush, green trees. The causeway along the route connects this lone island to the mainland of Kusadasi, where visitors will disembark to begin their exploration of Turkey. Picture this: marble ruins of one of the Seven Wonders of the Ancient World right before your eyes. Through the rubble, you gaze upon the impressive Temple of Artemis. This is the experience of Ephesus, a UNESCO-listed, 4,000-year-old city located in Selcuk that is considered the best-preserved classical city of the eastern Mediterranean. This archaeological zone still buzzes with activity, as archaeologists continue to dig through the ruins and discover their secrets. To walk among the excavations as scientists continue to unearth the site's remnants makes it hard not to get swept up in history.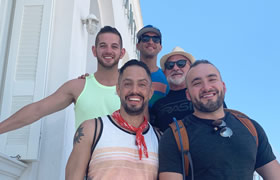 Day 4 - Cruising the Mediterranean Sea
Spend the day on the high seas pampering yourself at the spa or enjoying some time on deck. Mingle with your fellow explorers and swap stories of your exploits, making plans for new ones together once you get to shore.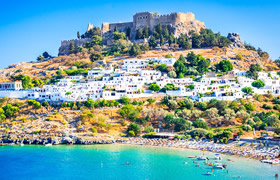 Day 5 - Alindos (Rhodes), Greece
The largest of the Dodecanese islands, Rhodes contains multitudes. With influences from Hellenistic, Byzantine, Turkish, and medieval architecture, the island provides a diverse backdrop for exploration and absorbing part of Greek culture. Speaking of architecture, one of the Seven Wonders of the Ancient World once stood in the island's seaport: the Colossus of Rhodes. This gigantic monument made of pure, shining iron and bronze, dedicated to the Greek god Helios became the inspiration later for the Statue of Liberty. As you make your way to the town of Lindos, you will find more ruins to explore. Like Athens, Lindos has its own Acropolis that contains a temple dedicated to Athena. If hiking the trail isn't your preference, how about riding a donkey up the long way?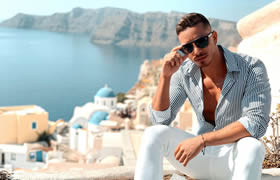 Day 6 - Santorini, Greece
When you think of the quintessential whitewashed houses of Greece with blue domes and windmills sprinkled throughout the landscape, it's Santorini that comes to mind. This island of the Cyclades contains lush scenery, a quaint charm, and a cosmopolitan feel all at once. Discover one of the most prominent excavations of prehistoric settlements in the Aegean at the Akrotiri archaeological village. Ruins from the ancient city date back as far as 1700 BCE before it was buried by a volcanic eruption. But the first inhabitants date even further back to the Late Neolithic period (fourth millennium BCE).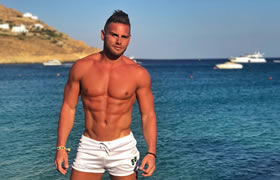 Days 6 & 7 - Mykonos, Greece
There's more to Mykonos than just fabulous gay nightlife and beaches. Wandering is one of the best ways to enjoy the island of Mykonos. Its narrow, winding streets between the iconic architecture of whitewashed houses with blue domes create the archetypal image of modern-day Greece. Dotting the horizon up on the hill lie the renowned windmills of this island among the Cyclades. The sight of these windmills invokes a feeling of seeing into the past amidst a contemporary city, depicting the perfect harmony of past and present. The aroma of an old bakery, which still uses a 15th-century wood-burning stove, entices you with the delicious scents of Greek pastries and baked goods.
Enjoy Mykono's fabulous gay nightlife and beaches. Or just simply end your cruise here and enjoy a few more days
of sun, party, and relaxation in this iconic gay mecca.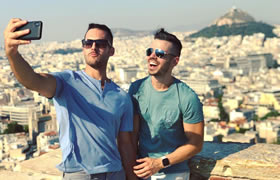 Day 8 - Athens (Piraeus), Greece
Athens
is still as iconic as ever. Winding pathways from ancient times transformed into modern-day roads and streets lead you to the monumental gateway of the Acropolis and other archaeological sites. It is a land soaked in history and mythology, but not stuck in the past. As you wend through back alleys, passing the street art and getting serenaded by street musicians, you are never lost. You are simply taking a journey to an unknown destination. You may find yourself at the likes of the Church of Agioi at the southeast corner of the Holy Apostles Ancient Agora, a less-crowded historical site away from the flocks of tourists.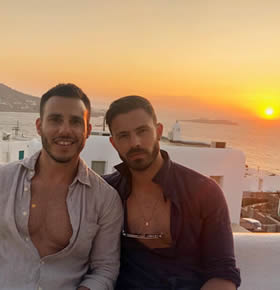 Guests: 200 • Crew: 125 • Gross Tonnage: 9,300 • Length: 413 ft. (126 m) • Beam: 62 ft. (19 m) • Decks: 8 • Cruise Speed: 16 knots • Year Built: 2021

Istanbul to Athens Luxe Gay Cruise 2021 Rates

NS - Navigator Suite
Our most spacious accommodation recreates the comforts of home while bathing you in floor-to-ceiling ocean views from your living room or bedroom. 465 sq. ft. of total living space. Oversized private balcony with teak furnishings. Queen bed (convertible to two single beds). Elegant private bath featuring L'Occitane products, a walk-in glass shower with rain head, body jets and a handheld shower, a tub, his & her sinks, a walk-in closet and wardrobe. Separate living room with sofa, vanity, flat-screen TV, and state-of-the-art "infotainment" system. Easy access to gym, spa and pool
$ 10,799

DS - Discovery Suite
The sumptuous and spacious bathroom is your personal haven. Meanwhile, you're always near the action with easy access to the Activity Deck below. 445 sq. ft. of total living space. Oversized private balcony with teak furnishings. Queen bed (convertible to two single beds). Elegant private bath featuring L'OCCITANE products, a walk-in glass shower with rain head, body jets and a handheld shower, his & hers sinks, a walk-in closet and wardrobe. Separate living room with sofa, vanity, flat-screen TV, and state-of-the-art "infotainment" system
$ 9,799

JS - Journey Suite
Cozy up to the moon, the stars and the sunrise on your 105 sq. ft. balcony. And enjoy easy access to the shops, lounge and theatre on the deck below. 382 sq. ft. of total living space. Oversized private balcony with teak furnishings. Queen bed (convertible to two single beds). Elegant private bath featuring L'OCCITANE products, a walk-in glass shower with rain head, body jets and a handheld shower, a walk-in closet and wardrobe. Sitting area with sofa, flat-screen TV, and state-of-the-art "infotainment" system
$ 8,899

E1 - Veranda Deluxe Stateroom
Queen Stateroom with Balcony. Select from inviting and roomy staterooms highlighted by ocean views and sea breezes from your walk-out balcony. 300 sq. ft. of total living space with 52-sq. ft. balcony featuring teak furnishings. Queen bed (convertible to two single beds). Elegant private bath featuring L'OCCITANE products, a walk-in glass shower with rain head, body jets and a handheld shower, a walk-in closet and wardrobe. All include a flat-screen TV with state-of-the-art "infotainment" system
$ 8,099

E2 - Veranda Deluxe Stateroom
Queen Stateroom with Balcony. Select from inviting and roomy staterooms highlighted by ocean views and sea breezes from your walk-out balcony. 300 sq. ft. of total living space with 52-sq. ft. balcony featuring teak furnishings. Queen bed (convertible to two single beds). Elegant private bath featuring L'OCCITANE products, a walk-in glass shower with rain head, body jets and a handheld shower, a walk-in closet and wardrobe. All include a flat-screen TV with state-of-the-art "infotainment" system
$ 7,899

A1 - Horizon Stateroom
Enjoy the European touch of a Juliet balcony, as well as direct access to the Activity Deck and restaurant below. 270 sq. ft. of total living space. Floor-to-ceiling Juliet-style Horizon balcony with top drop electric window. Queen bed (convertible to two single beds). Elegant private bath featuring L'Occitane products, a walk-in glass shower with rain head, body jets and a handheld shower, a walk-in closet and wardrobe. Sitting area with sofa, flat-screen TV, and state-of-the-art "infotainment" system
$ 7,399

A2 - Horizon Stateroom
Enjoy the European touch of a Juliet balcony, as well as direct access to the Activity Deck and restaurant below. 270 sq. ft. of total living space. Floor-to-ceiling Juliet-style Horizon balcony with top drop electric window. Queen bed (convertible to two single beds). Elegant private bath featuring L'Occitane products, a walk-in glass shower with rain head, body jets and a handheld shower, a walk-in closet and wardrobe. Sitting area with sofa, flat-screen TV, and state-of-the-art "infotainment" system
$ 7,199

B1 - Veranda Stateroom
Greet the day with mimosas on your private balcony and enjoy comfortable convenience. 270 sq. ft. of total living space. Private balcony with teak furnishings. Queen bed (convertible to two single beds). Elegant private bath featuring L'Occitane products, a walk-in glass shower with rain head, body jets and a handheld shower, and a single closet. Sitting area with sofa, TV and state-of-the-art "infotainment" system
$ 6,699

B2 - Veranda Stateroom
Greet the day with mimosas on your private balcony and enjoy comfortable convenience. 270 sq. ft. of total living space. Private balcony with teak furnishings. Queen bed (convertible to two single beds). Elegant private bath featuring L'Occitane products, a walk-in glass shower with rain head, body jets and a handheld shower, and a single closet. Sitting area with sofa, TV and state-of-the-art "infotainment" system
$ 6,499

C1 - Adventure Stateroom
These are the ideal accommodations when your priorities are comfort, convenience and, of course, a brilliant ocean view. 183 sq. ft. of total living space. Panoramic ocean view from the full picture window. Queen bed (convertible to two single beds). Elegant private bath featuring L'Occitane products, a walk-in glass shower with rain head, body jets and a handheld shower, and a single closet. Sitting area with two chairs, side table, flat-screen TV and state-of-the-art "infotainment" system
$ 6,199

All prices are per person, based on double occupancy, and include all meals, onboard gratuities, accommodations, and entertainment!

Taxes of $320pp and optional insurance are additional.

A deposit of $500 per person for staterooms ($1,000 per person for suites) is required upon booking. Balance payment is due 120 days prior to sailing.

Optional shore excursions will be offered.

Fares are subject to availability and may change without prior notice.

Also included are the traditional Source Events escort and activities, subject to minimum participation.

Traveling alone? Ask about our single roommate share program to help you avoid the single supplement of 100% of the per person double occupancy rate.

Please ask for further details.

Special Airfares








Pre-Cruise Hotels







Post-Cruise Hotel