Wilderness Adventurer

Ship Facts
Ship's Registry: United States
Passenger Capacity: 60
Cabins: 30
Crew: 25
Length: 160 feet
Beam (width): 39 feet
Cruising speed: 9.5 knots
Alaska & Glacier Bay
All-Lesbian Adventure Cruise 2020
August 15 – 22, 2020
Un-Cruise Adventures Wilderness Adventurer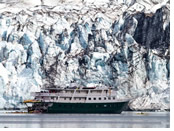 We're heading to Alaska for the trip of a lifetime! We're thrilled to partner with Un-Cruise Adventures for our 8-day/7-night trip in Alaska with 60 women of Olivia. In true expedition style, you'll wake to the cry of a soaring eagle, watch ice thunder from the face of a glacier, and see dramatically cascading waterfalls. You'll enjoy skiff rides and kayaking in Glacier Bay, whale watching (perhaps experiencing "bubble-feeding"), and learning about Alaska's rich Native American heritage.
We'll even spend two full days in Glacier Bay National Park, accompanied by a park ranger. Imagine kayaking along Alaskan glacier icebergs and amongst friendly sea lions. Our small ship will stop at inlets the big ships can't reach, giving you access to amazing natural wonders. The naturalists on board will also share their knowledge of the area we're exploring and the wildlife we see.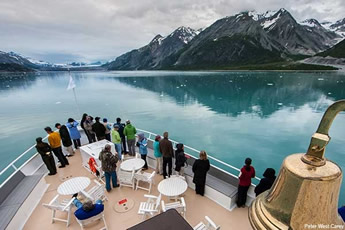 Just the ticket—for your mind, body, and soul. Rivers of ice, beachcombing and wilderness hikes, Glacier Bay, kayaking, and skiff exploration all share the stage. Uncover Alaska's special tonic.
Included Alaska Adventure Cruise Highlights:
• Two days in Glacier Bay
• Kayak, paddleboard, hike, and skiff in Glacier Bay
• A National Park ranger joins you on board in Glacier Bay
• Whale watching in Icy Strait, Frederick Sound, and Stephens Passage
• Explore scenic coves and fjords of Chichagof and Baranof Islands
• View stunning glaciers and listen for the "white" thunder
• Cathedral-walled Fords Terror Wilderness Area
• Captain's Choice—explore remote "not in the guidebook" places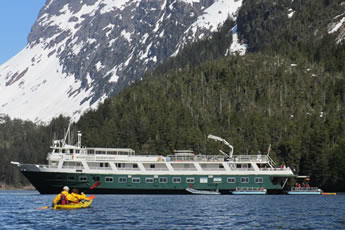 Your Ship - Un-Cruise Adventures Wilderness Adventurer
The Wilderness Adventurer's main lounge evokes the feel of a wilderness lodge or neighborhood pub, with a long bar made from reclaimed Alaskan yellow cedar. Three accessible decks are ideal for keeping watch for wildlife and taking in the outdoors. The sun deck features roomy space for lounging and the observation deck offers over-the-top viewing from the bow.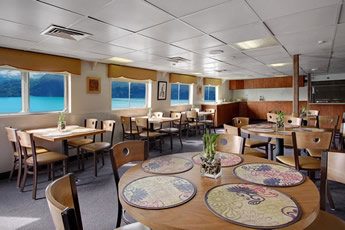 The ship is also outfitted with adventure gear including kayaks, paddle boards, skiffs, hiking poles, wet suits and snorkel equipment, and yoga mats. The EZ Dock launch platform on the main deck makes getting into the water a cinch. A hydrophone and a bow-mounted underwater camera share the sounds and sights below the surface, and the onboard wellness program includes a hot tub and fitness equipment.
All cabins include: Flat-screen TV/DVD; iPod docking station; Private bath with shower; View window (no portholes)
All-Inclusive!
That's right, this is an all-inclusive ship, which means your accommodations, onboard meals, alcoholic (spirits, wine, and beer) and non-alcoholic beverages, transfers, park entry fees, activities, and equipment are all included in the price!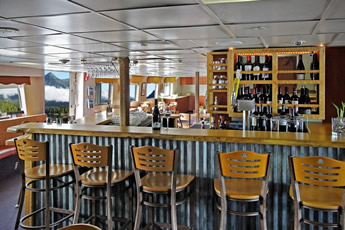 What's Included?
• Accommodations for 8 days/7 nights on Un-Cruise Adventures' Wilderness Adventurer
• All meals on board the ship
• Alcoholic (spirits, wine, and beer) and non-alcoholic beverages
• Excursions
• Transfer from airport to hospitality room at convention center in downtown Juneau and ship upon arrival August 15, and to airport or hospitality room on August 22 only
• Services of Olivia cruise director, Un-Cruise expeditions leader, naturalist staff, and the ship's doctor
• Use of adventure gear including kayaks, paddle boards, skiffs, hiking poles, wet suits and snorkel equipment, and yoga mats
• Gratuities to ship's crew and naturalists
• Glacier Bay National Park entrance fee, port charges and service taxes (subject to increase)
• Olivia assistance throughout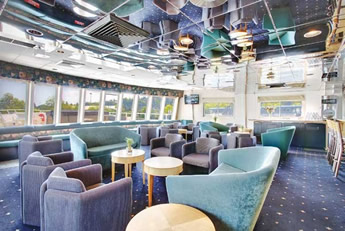 Alaska & Glacier Bay Adventure Cruise Itinerary


Date

Port

Meals

15 Aug

Juneau, Alaska
D
16 Aug
Icy Strait

B, L, D

17 Aug

Glacier Bay National Park
B, L, D

18 Aug

Glacier Bay National Park
B, L, D
19 Aug
Chichagof Island / Baranof Island
B, L, D

20 Aug

Frederick Sound / Stephens Passage
B, L, D

21 Aug

Tracy Arm / Endicott Arm
B, L, D
22 Aug
Juneau, Alaska
B

Itinerary is guideline; variations in itinerary and the order days may occur to maximize your experience.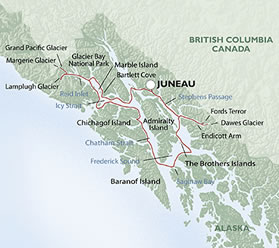 Juneau, Alaska (Embarkation)
Saturday, August 15, 2020

Arriving in Juneau
, you will be transferred from the airport to our hospitality area. Upon boarding, your crew greets you with champagne and smiles. Set sail for a week of scenic channels and secluded wilderness.
Icy Strait
Sunday, August 16, 2020

Today's the ultimate day of exploration. Set your course for arguably the richest whale waters in Southeast Alaska. Keep watch for the telltale blow of the humpbacks as you scour the nutrient-rich waters in search of whales, porpoise, sea lions, and other wildlife. Join the Captain on the bridge or go on deck with your Expedition Leader. Late afternoon, we'll drop the skiffs and kayaks for closer inspection of the remote coastline with eyes set on shore for possible bear sightings. This evening, take in the solitude while relaxing in the upper deck hot tub or enjoy a nightcap with your fellow yacht mates in the salon.
Glacier Bay National Park
Monday, August 17, 2020

Accompanied by a National Park Ranger, you'll travel nearly 60 miles over two days in the park cruising to the tidewater glaciers of Grand Pacific and Margerie, which frequently calve huge icebergs into the bay. If conditions permit, we'll lower the skiffs and weave among the icebergs that have fallen from the face of the glaciers. Enjoy an evening at anchor, and mornings paddling your kayak in the quiet of this majestic wilderness.
Glacier Bay National Park
Tuesday, August 18, 2020

Enjoy another exclusive day exploring the glaciers and wildlife of Glacier Bay National Park. Here in the bay are puffins and sea lions, mountain goats and bears, moose, eagles, and scenery more spectacular than any place on earth. Glacier Bay is at its best when explored by small groups with unfettered time for treks and kayaking inside the bay and wilderness areas.
Chichagof Island / Baranof Island
Wednesday, August 19, 2020

With no binding agenda, today you'll cruise the waterfall coast of Chichagof Island. Marvel at the grand scenery of Alaska's wilderness as the crew expertly guides you to the "locals-only" locations. This evening, perhaps tucked away in a waterfall-laced fjord, there'll be time for skiffing, beachcombing or treks ashore, and kayaking to look for sea otters and bears before calling it a day near Baranof Island.
Frederick Sound / Stephens Passage
Thursday, August 20, 2020

Explore Frederick Sound and Stephens Passage—another excellent chance to view humpback whales and other marine wildlife. Pass by Five Fingers Lighthouse and watch for playful antics at a large sea lion haul out made from dozens of rocky islets. Later, cruise picturesque bays, where evergreen forests crowd the shores.
Fords Terror / Endicott Arm
Friday, August 21, 2020

Cliff-walled fjords sliced into the mountainous mainland are on tap today as you slowly slip into an area widely acclaimed as the most beautiful in Alaska. With more designated Wilderness Areas than any state in the nation, the finest include Endicott Arm and Fords Terror—a pristine tidal inlet and fjord. Explore this majestic fjord by kayak or skiff and view rugged ice-covered mountains gleaming high overhead and a glacier that actively calves into the ice-filled fjord of Endicott Arm. Toast your voyage with a festive Farewell Dinner, and before turning in, your expedition team will share a "photo journal" of your trip together.
Juneau, Alaska (Disembark)
Saturday, August 22, 2020
Gather for breakfast before returning to historic Juneau
. Transfer to the Juneau airport or begin your UnCruise hotel stay or land tour. Safe travels to all!