Wonder of the Seas
Ship Facts
Gross Tonnage: 236,857
Length: 1,188 feet
Beam: 210 feet
Draft: 30 feet
Cruising Speed: 22 knots
Guests: 5,734
Crew: 2,300
Decks: 18
Registry: Bahamas
Maiden Voyage: March 4, 2022
LGBT Family & Friends
rFamily 20th Anniversary Caribbean Cruise 2023
7 nights roundtrip from/to Orlando (Port Canaveral), Florida
July 16–23, 2023
Royal Caribbean Wonder of the Seas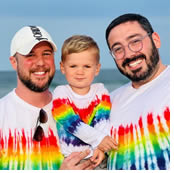 Pack your bags, grab the kids (if you have them) and get ready for the ultimate summer vacation aboard the BIGGEST ship in the world! Join us as we celebrate rFamily LGBT 20th summer together on Royal Caribbean's brand-new Wonder of the Seas. As always, EVERYONE IS WELCOME! Our cruise sails from Port Canaveral (Orlando) so you can start your vacation with us at Universal Studios or the Magic Kingdom. Enjoy exclusive R Family entertainment and activities. We promise you will make meet some of your new best friends on your vacation. This cruise is designed for the entire LGBTQ community, along with their friends and families.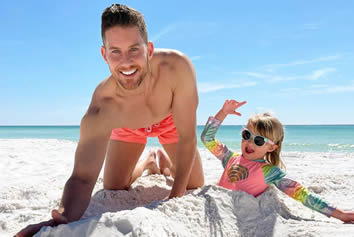 Thinking about a lesbian or gay vacation where everyone is welcome? Wondering what to do with the spouse and kids for the summer? Wondering if you can bring your parents, siblings, and friends with you? Looking for a gay-friendly beach destination to have a family reunion? Join your closest LGBT family & friends (everyone can join us—kids are welcome but not required) as we sail round-trip out of Orlando/Port Canaveral, FL with stops in CocoCay (RCCL's own private island), Cozumel, Roatan, Costa Maya and two thrilling days at sea.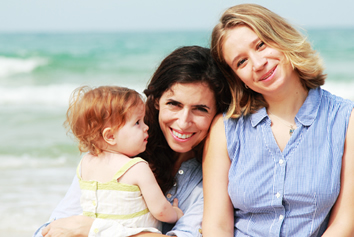 Lose yourself in the tones of Calypso steel drums and the majesty of Mayan ruins with a cruise to Caribbean.
Cruise to Caribbean and discover the cliff-diving, breeze-swaying, sand-between-your-toes, no-worries pace of island life. Hundreds of years of history have left jungle ruins from ancient times and vibrant colonial towns with brightly painted buildings reflecting a fascinating history. Discover the white-sand beaches, explore the lush rainforests, boost your adrenaline as you zip-line through the treetops of Honduras. If calm, contemplative nature is more your thing, spend the day admiring waterfalls and the vivid coral reefs of Roatan. Discover the magic with a Caribbean cruise.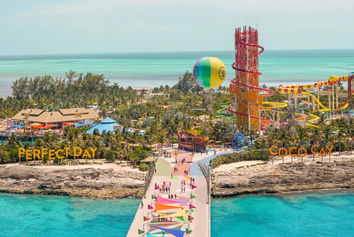 There's no such thing as a 'one-size-fits-all' vacation — especially on Perfect Day® at CocoCay®. Whether your ideal beach getaway involves larger-than-life thrills or unwinding at a peaceful waterfront chill spot, you'll find there's no right or wrong way to make the most out of your adventure when you hop onboard the best CocoCay cruise.
Unlike other Caribbean islands, there are lots of activities centrally located within a short walk off the ship. From swimming, to the beach, to waterpark, and plenty of food, you've got everything in close proximity and run by Royal Caribbean to ensure there is consistency with the experience across the board.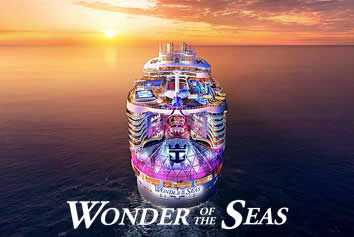 Your Ship - Royal Caribbean's Brand New Wonder of the Seas
The World's Newest Wonder - Wonder of the Seas
The ship class that redefined cruising just got bolder. The world's biggest ship, Wonder of the Seas, brings even bigger adventures to the award-winning Oasis Class. Like eight unique neighborhoods, including the all-new Suite Neighborhood. A totally redesigned pool deck with more ways to soak up the sun — or shade — than ever before.
AquaTheater adds edge-of-your-seat-inducing entertainment to the line-up with stunning ocean views and a dramatic new backdrop. And the all-new Playscape, an underwater world studded with slides, climbing walls and games, where imaginations can soar. Plus returning fan-favorites like the FlowRider® and Ultimate Abyss.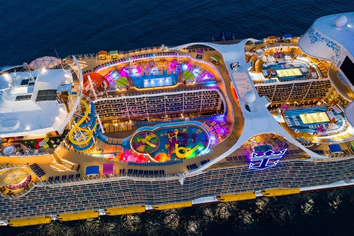 The biggest ship in the world and the first of its class to feature eight unique neighborhoods — including the luxurious new Suite Neighborhood — Wonder of the Seas offers even more room for onboard adventure, palate-pleasing dining and awe-inspiring entertainment.
All Out. All Day.
This isn't just another day at sea. It's way more to see — and do. From fleet favorite thrills, like the FlowRider® surf simulator's 30,000 gallons of rushing awesome, to all-new adventures designed to change the way you play, including a whole new immersive spin on mini golf and a climbable, slidable space that's leagues away from your ordinary playground.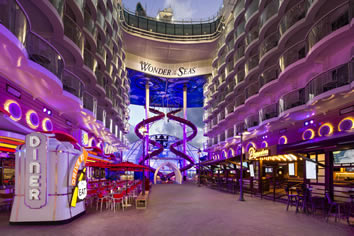 Bold Bites and Endless Delights
The biggest ship in the world is going even bigger on flavor, with limitless options to satisfy every palette. Upscale cuisine? Check. Craveable comforts? Check. Quick but delicious bites you can grab between adventures? It's all on the menu.
Shows Whoas
Vacation is no time for tame — and the new Wonder of the Seas definitely ups the ante on downtime. Whether you're looking for jawdropping feats at the AquaTheater, your own slice of the spotlight at our signature karaoke bar, or cocktails with a view at the all new Vue Bar.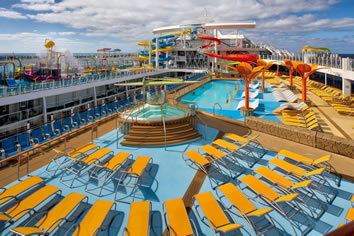 For the Sun Of It
It's all about that vacay wade of life at the redesigned pool deck on the all-new Wonder of the Seas. Soak up the sun, chill in the shade, get your adrenaline fix, or grab a cocktail from the two-story poolside bar The Lime & Coconut. And for the ultimate pool day upgrade, reserve one of our private poolside casitas..
Big Time Playtime
Ditch the same-old neighborhood playground for a whole new way to explore. The all-new Playscape is studded with slides, climbing walls, games and puzzles where adventurers of all ages can discover an underwater world with endless possibilities.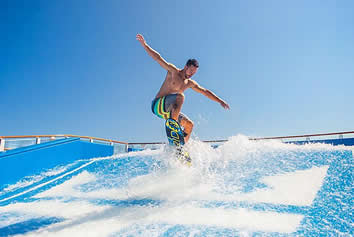 A New Way To Sea Day
Make the most of every moment at sea, with more to see, do, play and conquer. Like the all-new Playscape, an underwater-themed world with endless opportunities to explore. Wonder Dunes, where you can tee up under the sun or stars for an immersive, story-based mini golf journey like nothing you've played before. The fleet-favorite FlowRider surf simulator. And the twisting, turning, fun-drenched thrills of The Perfect Storm waterslide trio.
Only For the Brave
There's a place where only the bold venture and only the bravest return. Step to the edge. Peer into the darkness. There's no turning back once you take the plunge 10 stories down the tallest slide at sea. Are you brave enough — or will you become a permanent resident of the Ultimate Abyss?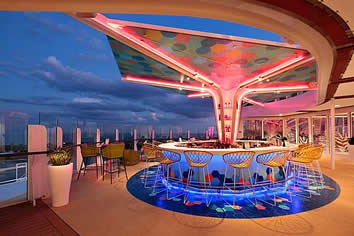 Dialed Up Dishes For Days
Wonder what it's like to dine onboard the biggest ship in the world? Wonder no more — this ship is packed with an abundance of options to please every possible craving. Whether you're dressing up for date night, taking your taste buds on a world tour, or just looking for a quick and easy meal that delivers on big time quality and flavor.
Fine Dining Is Our Speciality
If you're looking to upgrade your already amazing dining experience onboard, specialty restaurants are the move. Snag favorite coastal faves like melt-in-your-mouth lobster rolls at Hooked SeafoodSM. Savor elevated cuisine driven by seasonal ingredients at the elegant 150 Central Park. And dine on dishes that defy the imagination at Wonderland Imaginative Cuisine.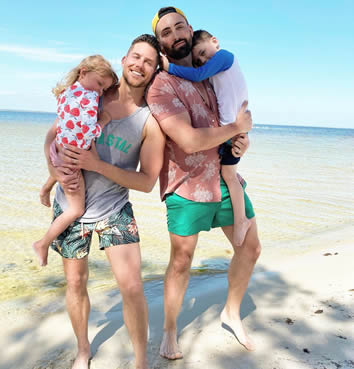 LGBT Family & Friends
rFamily Caribbean Cruise Itinerary


Date

Port

Arrive

Depart

16 Jul
Orlando (Port Canaveral), Florida
4:30 PM
17 Jul
Perfect Day at CocoCay, Bahamas
7 AM
5 PM
18 Jul

A Day at Sea!

19 Jul
Cozumel, Mexico
7 AM
6 PM

20 Jul

Roatan, Honduras
8 AM
5 PM
21 Jul
Puerto Costa Maya, Mexico
7 AM
3 PM

22 Jul

A Day at Sea!

23 Jul
Orlando (Port Canaveral), Florida
6 AM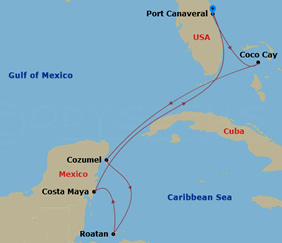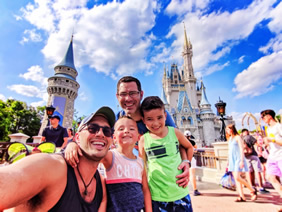 Day 1 - Orlando (Port Canaveral), Florida
As the home of Kennedy Space Center, Cape Canaveral is the launching point for all-out adventure in Central Florida. Its beaches offer a mix of family-friendly shores and secluded swaths of sand. And with Orlando's theme park sprawl only an hour away, you can easily mingle with your favorite characters.
Fly into Orlando early and plan a pre-cruise visit to Brevard zoo, or hit off-the-beaten-path attractions like the Orlando Science Center, Gatorland and the Orlando Eye. In Port Canaveral, climb to the top of Exploration Tower for panoramic views of the port, snap a photo of the sunrise from the sands of Canaveral National Seashore, then grab breakfast at a cozy café in Historic Cocoa Village or spend a day at the Kennedy Space Center.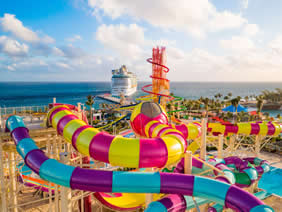 Day 2 - Perfect Day at CocoCay, Bahamas
This isn't vacation days spent. This is bragging rights earned. Enjoy the day in our exclusive R Family/Olivia section of the island of CocoCay (RCCL's own private island). With one-of-a-kind ways to thrill and chill, all in the same day. Like conquering the tallest waterslide in North America and snapping a shot from 400 feet up in a helium balloon. Grab a drink at the swim-up bar and soak up the scene in the largest freshwater pool in The Bahamas. Or get a taste of Bora Bora with your own Overwater Cabana.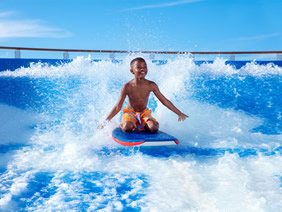 Day 3 - A Day at Sea!
Up for adventure? Make the most of every moment at sea, with more to see, do, play and conquer. Like the all-new Wonder Playscape, an underwater-themed world with endless opportunities for kids to explore. Wonder Dunes, where you can tee up under the sun or stars for an immersive, story-based mini golf journey like nothing you've played before. The fleet-favorite FlowRider surf simulator. And the twisting, turning, fun-drenched thrills of The Perfect Storm waterslide trio.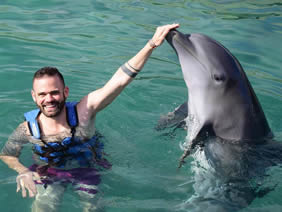 Day 4 - Cozumel, Mexico
With its lively tropical reefs, crystal-clear waters and ancient ruins, Cozumel is ripe for one-of-a-kind adventures. Cruise to Cozumel and head to Chankanaab National Park, where you can snorkel among the colorful reefs and schools of tropical fish that give this island its premier diving status. Or travel back in time on an adventure through the towering Maya ruins of Tulum. When you're done exploring, unwind with a beachside massage at Playa Mia. From culture savoring to soaking up sunshine, you'll find a world of adventure waiting for you in Cozumel.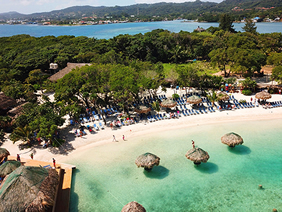 Day 5 - Roatan, Honduras
Roatán's diverse blend of cultures and traditions is enough to charm anyone. But its mangrove forests, dense jungles, and swaths of white-sand beach will make you want to stay forever. Divers and snorkelers from all over the globe flock to the largest of Honduras' Bay Islands every year see to the world's second largest barrier reef firsthand. Roatán cruises provide access to laid-back beach towns and secluded shores. On the Big Island, you can mingle with monkeys and "Jesus" lizards, snorkel with stingrays, and zipline through rainforest canopies.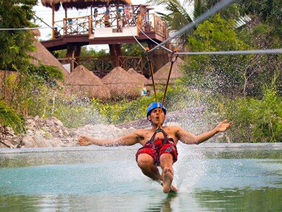 Day 6 - Puerto Costa Maya, Mexico
Past meets present in Costa Maya. Cruise to Costa Maya and find ancient Maya ruins and mysterious jungles just begging to be explored, as well as private beach clubs and trendy restaurants— all in one place. It's 250 square miles of paradise packed with entertainment and history, all just 30 miles south of Cancun. The Great Maya Reef just off the coast is the second largest in the world— it's a must-snorkel spot. Or you can kick back at the port village of Mahahual with an ice-cold michelada— a spicy beer cocktail— in hand. For a culture fix, head to the Kohunlick ruins to see the famous Temple of the Masks.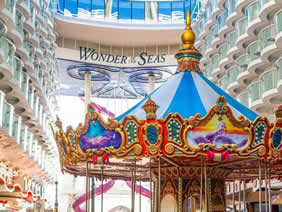 Day 7 - A Day at Sea!
The search for your favorite island bar is over. The Lime and Coconut® turns the vacay vibes way, way up with DJs, live music and two bars serving all your favorite poolside cocktails — including the signature Lime & Coconut. And when the sun goes down, this pool bar just might be the hottest spot onboard.
There's nothing more satisfying than a great slice of pizza — and Royal Caribbean has spent years perfecting the recipe at Sorrento's. Whether you're into classics, like cheese and Margherita, or specialty pies, like the meat-loaded Carnivore or the pineapple, bacon and BBQ-infused Caribbean Dream, Sorrento's serves up perfection in every slice.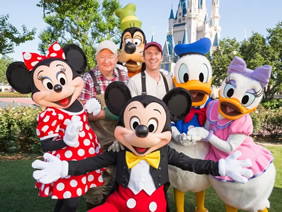 Day 8 - Orlando (Port Canaveral), Florida
Once you dock this morning, either head home or head an hour west to Orlando's theme park heaven to brave thrill rides, catch spectacular shows, and meet a friendly cast of characters. Outside the parks you can browse renowned art museums and lunch along ritzy Park Avenue.