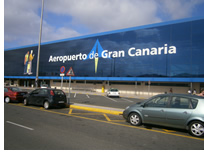 There's a big choice of companies if you want to hire a car for a few days to explore the island. If you're renting at the airport, check prices as they vary between the major companies: when we last checked, Record Rent a Car was one of the cheapest. Make sure you have your driving licence and credit card. It's important that you understand the insurance arrangements (who can drive, the damage waiver etc.) and check the car carefully for damage before you drive away.
If you're renting in Playa del Ingles, you'll find that there's a lot of competition. Maspalomas Aventura are gay-friendly and have a good reputation.
Driving in Gran Canaria can be a challenge. Local drivers tend not to signal as expected, and often drive either at speeds well beyond the limit or at a snail's pace. Spain has just introduced a points system for driving offences, so driving behaviour may improve in time.
While speed limits are frequently ignored, there are speed cameras on the Avenida Maritima in Las Palmas, and the Guardia Civil do use radar traps; fines can be large, and are either paid on the spot, or through the Post Office or bank.
In urban areas, watch road markings carefully, and take special care at roundabouts. People often have a tendency to pull out from the right, even when it is not technically their right of way.
On mountain roads, be prepared for the surprise appearance of a bus or coach round a blind corner. They'll expect you to reverse to let them pass if there isn't sufficient room.
At weekends, late at night, random breath tests are common. Local police and the Guardia Civil can ask to see your documentation at any time, so make sure you carry your licence with you in the car.