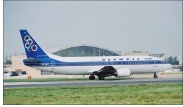 Unless you own your own boat or plane you will need to use somebody else's to get to Mykonos. Mykonos airport (JMK)
is served by international airlines and charters during summer season and by domestic airlines, primarily Aegean and Olympic, during winters. Mykonos Airport is located in Chora, 4 kilometers (2.5 miles) southeast of the town of Mykonos, Greece. The transfer time from Chora to Mykonos airport is about 10 minutes. Mykonos Island National Airport is served by some international airlines and charters. Most of these airlines operate during summer season.
Mykonos is easy to reach from Athens' two ports (Piraeus and Rafina) by boat, especially in summer when ferry companies add to their scheduled journeys.
Make sure to check the rates of all airlines, the prices usually vary considerably.
Low Cost Fligt Options Here ...