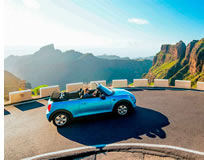 There's a big choice of companies if you want to hire a car for a few days to explore the island. If you're renting at the airport, check prices as they vary between the major companies: when we last checked, GoldCar Car Rental
was one of the cheapest. Make sure you have your driving licence and credit card. It's important that you understand the insurance arrangements (who can drive, the damage waiver etc.) and check the car carefully for damage before you drive away.
Car hire charges, along with accommodation charges and many other holiday costs can vary, depending on the time of year you're staying here. Whilst each company has their fixed prices, quieter months will see various discounts being offered, so ask first for any special prices that may be available, such as "three days for the price of two"...
More Tenerife Car Hire options...