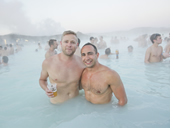 Join us on this spectacular gay group tour to Iceland! Unspoiled, Unexplored, Unbelievable. Superimposed on the rugged terrain of Iceland is a resilient and independent culture, fashioned over the years by the descendants of farmers and warriors who fled the tyranny of mediaeval Scandinavia. In the midst of a landscape both terrifyingly harsh and sublimely beautiful, one finds friendly, hospitable people with a very distinct culture and unique sense of humour.
Iceland is a hot (so to speak), up-and-coming destination for those who crave a bit of adventure, spectacular sights, unique cultures, and cuisines. It's also one of the safest and healthiest places on Earth - they don't even have mosquitos!
Being queer in Iceland is not something that is tolerated; it is something that is celebrated. There are very few places in the world where people from across the spectrums of gender and sexuality receive as much love, and encounter as little hate, as they do in Iceland.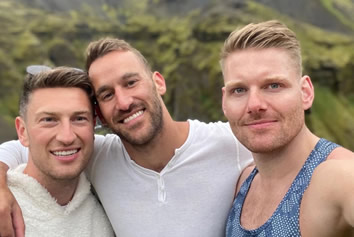 Iceland sits on top of the North American and Eurasian tectonic plates and is slowly being ripped apart. But this geographic placement gives the island its identity and the geothermal phenomenon that is so well known throughout the country. Boiling mud baths, perfectly timed geysers and naturally heated pools can be found across the island and these attractions are what keep people coming back for more. Tack on things like glacier hiking, whale watching or seeing the Northern Lights and it is clear why Iceland is a natural wonder. Heck, being gay friendly is just icing on the cake!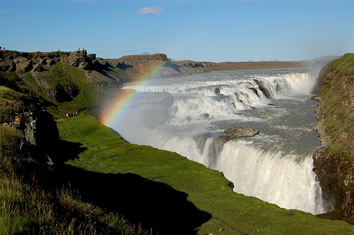 Reykjavik, the capital of Iceland, is known for it's amazing nightlife, and so it should be! Icelanders are rather trendy and fashionable and on weekends it seems that everybody is out on the town. Things start late - bars are crowded after ten and discos and clubs after midnight. They are open until three, four and even five in ther morning and in summer, at least, the streets in the city centre may be full of people until morning. Standing in line can be the best way to meet people so don't let the lines scare you. Bars and clubs in Iceland usually don't have a cover charge.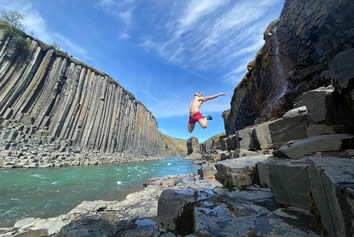 Day 0 - Saturday, July 24, 2021
Depart USA, Canada
Depart the USA, Canada on any regularly scheduled flight to Reykjavik, Iceland. Icelandic Air air offer service from a variety of gateways in the USA & Europe.
Day 1 - Sunday, July 25, 2021
Arrive in Reykjavik, Iceland | South Iceland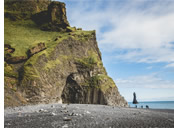 Early morning arrival in Reykjavik, Iceland. You will be met at the airport by the Coda representative. We will coordinate arrival transfers as we expect to travel immediately from the airport to the South of Iceland.
As we travel to the countryside, we will follow a scenic drive passing tiny villages on the coast, stopping at a couple of photogenic spots on the way.
Check in early afternoon at our hotel. This afternoon is reserved for spa time or time to just relax & recharge. Dinner is at the hotel this evening.
Luxury boutique accommodations at 360° Boutique Hotel – 2 nights – At this home away from home, experience a piece of paradise in this, new, stylish superior four-star boutique hotel in South Iceland.
Meals: Lunch & Dinner
Hotel: 360° Hotel & Spa
, South Iceland, 4*
Room: Deluxe Room
Day 2 - Monday, July 26, 2021
South Iceland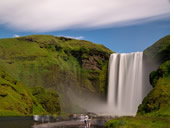 After breakfast, tour the South Shore, one of the country's most scenic regions. Among the stops we make are the gorgeous Seljalandsfoss and Skogafoss waterfalls. Seljalandsfoss is part of the Seljandsá river, which has its origins in Eyjafjallajökull glacier. What makes Seljalandsfoss so famous and interesting is that you can walk behind it. Skógafoss, another famous Icelandic waterfall, is the starting point of the Fimmvörđuháls walk over to Ţórsmörk. The waterfall was also used in the films Thor: The Dark World and The Secret Life of Walter Mitty.
We will also stop at Reynisfjara black sand beach, with the Reynisdrangar rock formations and columnar basalt. It is one of the most spectacular beaches in Iceland.
There will be an opportunity to enjoy an ATV ride on the black beach or a snowmobile ride on the glacier or touring with our expert guide. There will be something for everyone!
Dinner tonight is at the local restaurant, Fjöruborđiđ. Accommodation at 360° Hotel
Meals: Breakfast & Dinner
Hotel: 360° Hotel & Spa
, South Iceland, 4*
Room: Deluxe Room
Day 3 - Tuesday, July 27, 2021
South Iceland | Reykjavik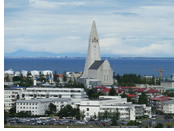 Depart this morning for Reykjavik with sightseeing on the way back. Check in at hotel in Reykjavik.
This afternoon we will take a "City Walking Tour: Reykjavík 101".
We will tour downtown Reykjavík – from bottom to top. Its history and trivia. Discover how and where gay history in Reykjavík began, how the battle for equality has evolved through the years.
See the venues frequented by LGBTQ people and learn about the general history and outlook of the people who built Reykjavík and those who inhabit it today.
Meals: Breakfast
Hotel: Apótek Hotel Reykjavík by Keahotels, Reykjavik, 4*
Room: Superior Room
Day 4 - Wednesday, July 28, 2021
Reykjavik - Golden Circle Tour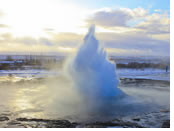 Today we enjoy a full day "Golden Circle Tour".
The Golden Circle Tour allows us to visit some of Iceland's most stunning sights: Geysir geothermal area, the waterfall Gullfoss, and the UNESCO site Ţingvellir National.
Geysir geothermal area is in South Iceland, near Laugarvatn Lake. The area is named after the biggest, and now mostly dormant, geyser – Geysir – and all geysers in the world owe their name to it. The biggest attraction today is the active Strokkur, which shoots up a column of water up to 30 metres (98 ft.) into the air every few minutes.
The UNESCO site Thingvellir National Park is geologically and historically significant. Apart from being the location of the oldest parliament in the world, Alţingi, it is also a place where you can see the Mid-Atlantic ridge above ground. The Eurasian and North-American tectonic plates pull the country apart by a couple of centimeters per year.
Lunch is included at Friđheimar. Dinner on your own this evening. Deluxe 4* Accommodation in Reykjavik Apotek Hotel
Meals: Breakfast & Lunch
Hotel: Apótek Hotel Reykjavík by Keahotels, Reykjavik, 4*
Room: Superior Room
Day 5 - Thursday, July 29, 2021
Reykjavik / Akureyri & Mývatn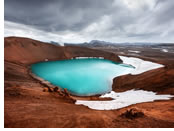 Fly this morning to Akureyri in northeast Iceland, also call "the Capital of the North."
Upon arrival, we proceed on a sightseeing tour to explore Mývatn, a volcanic lake which, along with Gođafoss waterfall, makes up the Diamond Circle.
A visit to Lake Mývatn,and its lunar landscapes,includeslava formations at Dimmuborgir and Skútustađagígar pseudo craters. Dimmuborgir is an incredible lava field, packed with sky-high rock pillars and lava caves. The dramatic expanse formed in a volcanic eruption 2300 years ago.
A short distance away, near Námafjall Mountain, is Hverir, a hot-springs area with boiling mud pots and fumaroles.
After sightseeing, check in to our hotel.
Meals: Breakfast & Dinner
Hotel: Hotel Kea by Keahotels
, Akureyri, 4*
Room: Standard Room
Day 6 - Friday, July 30, 2021
Whale Watching & Husavik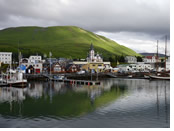 Breakfast at the hotel. This morning we depart on a 3-hour adventure in search of whales, puffins & seabirds!
We race through the Eyjafjörđur fjord between the mountains in our quest, returning to shore for lunch.
In the afternoon, discover the uncontrollable white energy of Dettifoss Waterfall the most powerful waterfall of Europe, the crescent-shaped wonder of Ásbyrgi canyon and Húsavík the buzzing whale capital of Iceland with the deep blue seas ahead.
Meals: Breakfast, Lunch & Dinner
Hotel: Hotel Kea by Keahotels
, Akureyri, 4*
Room: Standard Room
Day 7 - Saturday, July 31, 2021
Akureyri | Reykjavik | Blue Lagoon | Departure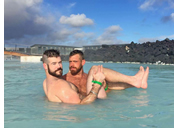 Return flight to Reykjavik, arriving approximately 9:30am. Proceed to lunch.
After lunch, we have time for a relaxing dip at the Blue Lagoon. Home to one of 25 wonders of the world, Blue Lagoon Iceland is a place where the powers of geothermal seawater create transformational spa journeys. The Blue Lagoon Iceland is the best-known spa in Iceland and also one of the most enchanting ones.
Late in the afternoon, transfer to the airport for flights back home.
Meals: Breakfast & Lunch