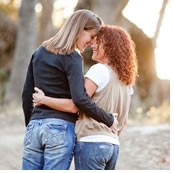 Spend 5 days relaxing, rejuvenating & exploring! Staying in the beautiful Spa Hotel Royal Tunbridge Wells, Kent, "The Garden of England". During your stay we will visit Sissinghurst Castle, the home of poet and writer Vita Sackville-West, boasting one of the most famous gardens in England. Then we visit Charleston, home of Vanessa Bell, the famous Bloomsbury modernist painter and sister of Virginia Woolf. Plus a guided walking tour of Royal Tunbridge Wells & a relaxing group spa day including your spa treatment & afternoon tea with use of the leisure facilities & indoor pool. All included during your stay, plus more!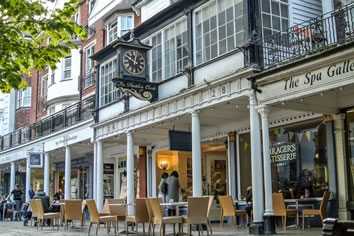 Day 1 - Sunday, August 20, 2023
Arrive in Royal Tunbridge Wells, Kent, England
Arrive at the beautiful spa town of Royal Tunbridge Wells at your leisure and join your hosts Jen & Caron and your fellow guests for an afternoon drink in the bar.
When you have settled in and unpacked you will have the remainder of the afternoon to enjoy a dip in the indoor heated swimming pool or there's always the two gyms to work up a sweat before heading to the steam room and individual male & female saunas.
If you fancy something outside (weather permitting) you can take to the floodlit, outdoor tennis court or take a stroll to the famous Pantiles, just a short walk away.
In the evening we will all meet for a hosted group 3 course dinner in the hotel restaurant (dinner and welcome drink included in your price) A great way to meet your fellow guests.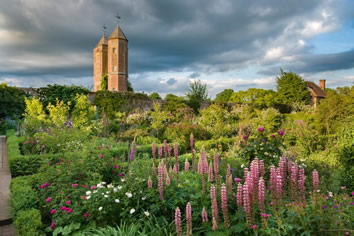 Day 2 - Monday, August 21, 2023
Sissinghurst Castle & Gardens Tour
After a relaxing breakfast, your private coach will transfer our group to Sissinghurst Castle, the home of Vita Sackville-West and husband Harold Nicholson. The coupled bought the house which dates back to the 1500's in 1930. Over the next 30 years they transformed the neglected farm and buildings into one of the world's most famous and influential gardens in England.
The gardens are full of internationally respected plant collections including an abundance of roses which is considered to be one of the finest collections in the world. During our visit there will be plenty of time to explore the grounds, have some lunch and see Vita's writing room in her tower - and don't miss the vast panoramtic views from the tope of the tower too. (Entry and coach to Sissinghurst Castle is included in your price)
After returning to the hotel there will be time to relax before heading out for our group meal in a local restaurant ( payable locally).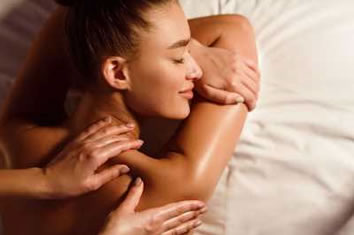 Day 3 - Tuesday, August 22, 2023
Spa Day
After a relaxing breakfast you will have a relaxing day! This is our group spa day where you will have the opportunity to have your chosen spa treatments as well as enjoy the indoor pool and sauna. This is a lovely way to spend group time while rejuvenating and unwinding.
During the afternoon we will be served afternoon tea of scones, cakes and a selection of sandwiches (all included in your spa day). We will have our group dinner in local restaurant (payable locally).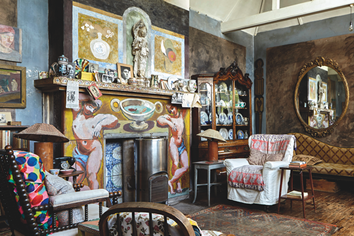 Day 4 - Wednesday, August 23, 2023
Charleston House Tour
After breakfast your private coach will transfer our group to Charleston House, home of Vanessa Bell and Duncan Grant whose bohemian house was visited by the famous Bloomsbury group who included some of the 20th centuries most pioneering artists, writers and thinkers including Vanessa Bell, sister of Virginia Woolf.
We start our visit with a private guided tour of this unique house where the presence of the Bloomsbury set can be felt and seen in every room. You will then have time to enjoy the beautiful garden of Charleston. There is the new Barn Cafe on site to enjoy an afternoon beveridge.
On our return we'll have our group evening meal in a local pub or restaurant. (Entry & guided tour of Charleston and return coach is included in your price)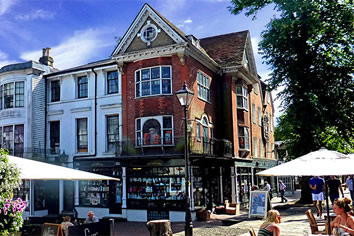 Day 5 - Thursday, August 24, 2023
Royal Tunbridge Wells Tour
After breakfast we will be taken on a 1 1/2 hour walking tour of Royal Tunbridge Wells. Learn all about the historic spa town on a guided stroll through the Pantiles and the historic heart of the town. Discover its 400-year history and hear about the many famous visitors including Queen Victoria and Samuel Pepys who made Tunbridge Wells the place to see and be seen. We will conclude our tour with lunch in town (payable locally).
Spend the afternoon at your leisure, shopping and exploring more of this beautiful historic town. We will meet you in one of the quaint tea rooms in the Pantiles for aternoon tea and scones. (Guided walking tour, tea & scones included in your price)
Spend the evening relaxing either in the hotel, take a wander across Tunbridge Wells common famous for its unique geology and stunning rock formations or please feel free to join Jen & Caron for a drink and light bite in the Mount Edgcumbe Pub, dating back to the 1700's (Tunbridge Wells Common and the Pub are both opposite the hotel)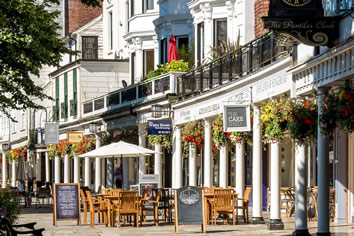 Day 6 - Friday, August 25, 2023
Royal Tunbridge Wells Departure
After a relaxing breakfast it's time to say our farewells. You can always stay on and take some more time to explore Tunbridge Wells, go shopping or visit some of the quaint Kent towns and villages and historic places right on your doorstep.
For our overseas guests we can arrange a bespoke 3 night stay in London, or UK tour.