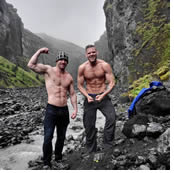 A Gay Travel Iceland Adventure Tour. Join this gay tour and witness the extremes of Iceland: friendly Viking descendants; unspoiled lush wilderness; fuming volcanic craters, geysers, and natural hot springs; rainbow-festooned waterfalls; playful puffins; and a rich history including some of folklore's strangest sagas. And of course, come early to enjoy Reykjavik and Pride in the Arctic!
During our gay Iceland adventure week explore many of the country's natural wonders and its unique Nordic history and culture. We'll take day hikes through the amazingly green countryside, across steaming rivers, around waterfalls, into volcanic craters, on top of icy glaciers, and even through rift valleys, not to mention ferry boat rides and natural hot springs! Optional activities on your free day include horseback riding, arctic rafting, and whale watching.
Consider beginning your holiday week by arriving a day or two early to join Reykjavik's Pride parade and celebrations. Opening ceremonies begin Thursday evening. The Pride parade usually begins at 2 pm Saturday, followed by an outdoor festival and midnight dance parties. At the end of our tour, we've allowed time to enjoy the nightlife of gay-friendly Reykjavik.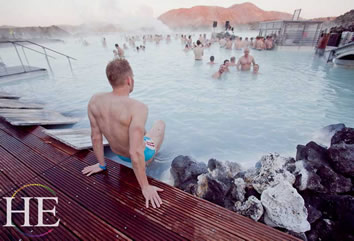 • Hike up lava flows to the top of a volcanic crater, deep into a lava tube, and along the top of dramatic sea-cliffs to see nesting puffins.
• Enjoy a short ferry ride to the Westman Islands, among the earth's newest places, where the island of Surtsey emerged from the sea in 1963.
• Visit the ruins of Pompeii of the North, a town half-covered in lava and ash.
• Experience a glacier hike across the ever-changing terrain of rivers of ice flowing from frosty summits toward the sea.
• Explore the raw, geologic beauty of the national reserve Landmannalaugar.
• Trek to the edge of the America tectonic plate, then through the rugged chasm where the European plate is ripped away from it.
• Stroll across a landscape so moonlike that NASA sent astronauts for practice walks before the first Apollo moon landing.
• Swim in natural hot springs dotted across the Icelandic wilderness.
• Climb around, behind, and into a variety of waterfall wonderlands.
• Savor delicious seafood, lamb, and even that Icelandic delicacy, Hákarl, putrid shark!
• For those with extra time, come a day or two early to experience the fabulous Reykjavik Pride Festival!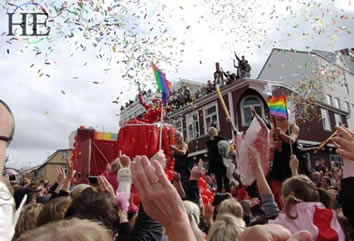 The small island of Iceland offers enormous contrasts and variety: unspoiled landscapes, uncrowded parks, and unique geology. Iceland has a small, friendly gay and lesbian community in the capital, but you'll find few signs of gay life outside Reykjavik. In true Scandinavian tradition, people don't feel it's any big deal whether you're gay or straight.
If you have a little extra time, consider adding a day or two BEFORE your trip to join Reykjavik's gay pride celebrations. These begin with opening ceremonies Thursday evening and conclude in the early hours on Sunday. The Pride parade is usually on Saturday, around 2 PM, followed by an outdoor festival and midnight dance parties.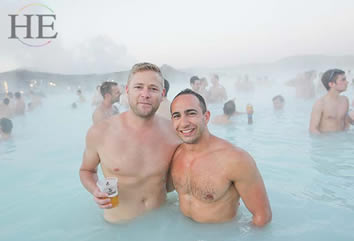 Day 1 - Volcanic Craters and Welcome Dinner
We start the tour this morning exploring the area around Iceland's newest volcano, Fagradalsfjall, and other interesting geologic sites and geothermal areas on the Reykjanes peninsula.
And we can't miss one of Iceland's most unique hot spots, the much-famed Blue Lagoon! Enjoy this sprawling outdoor pool, naturally contained in a lava flow on the Reykjanes Peninsula. It is the perfect antidote to jet-lag and a great welcome to Iceland with a long soak and a therapeutic swim. Immerse yourself for a soothing soak in the geothermally-heated waters, which are naturally blue from heavy mineral content, as steam fills the air.
Then it is on to Reykjavik, the capital, for our welcome dinner this evening and a one-night stay.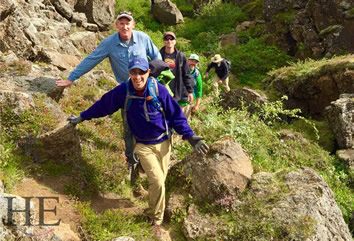 Day 2 - Where the Continents Divide, Geysers Erupt, and Mighty Waters Fall
Today we're off to explore some amazing geology:
• See where the North American tectonic plate is pulling away from the European tectonic plate, creating rifts in the earth's crust – sheer cliffs pulling from each other, creating gorges and canyons that get wider each year. We'll hike in between these tectonic plates through a rift valley.
• Visit "Geysir," the original spouter, whose name is now used around the world as a generic term for all geysers. Next to it, at "Strokkur", we'll see the pool repeatedly rise and fall, as if panting hard. Then the water surface swells like a giant blue egg emerging from the earth, and finally, hot water spews, bursts, and jets into the sky.
• Marvel at waterfalls galore this week, beginning today with huge Gullfoss("goden falls"), a huge double-decker that entices us into its misty veil.
And lunch in one of Iceland's geothermal grown houses, we'll learn a bit about Viking history and politics, too:
• High up in the hills along the shores of the Oxara River we find Iceland's most historic spot: Thingvellir (Parliament Plains). This is where the rowdy Vikings formed the world's oldest true parliament, in A.D. 930.
After an exhilarating day, we head for two nights to a lovely country guesthouse in southern Iclenad, with a hot pool to relax and soak in while enjoying the late-setting sun.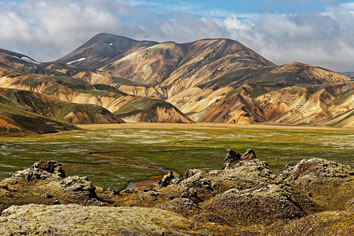 Day 3 - Highlands of Iceland: Landmannalaugar and Thjorsardalur Valley
After breakfast, we will have a magnificent drive across at first barren lands — all white with pumice, then suddenly brittle black rock strewn everywhere by the might volcano Hekla nearby. It's a scene out of the film Prometheus, filmed here a few years ago.
But things brighten and begin to green as we approach the beautifully-sited national reserve known as Landmannalaugar, mysterious land of multi-hued volcanic mountains yellow, white, red, green, gray, and black. We have an excellent hike of 2-3 hours. Half chaos, half Garden of Eden, it's an amazing land with an eerie mystical bent, made even more so by multiple steam vents and the occasional whiff of sulfur coming from deep within the Earth.
Later, we explore more of the pristine Highlands region, with hikes through native Icelandic forests and farm ruins, and a bevy of amazing waterfalls in the Thorsa river valley.
We'll enjoy a beautiful, towering set of twin falls, 400+ feet high, in a side tributary before working our way downriver to the idyllic naturescape of Gjáin, with its series of springs and waterfalls sprouting from all sides, before wandering down to the Viking farm ruins Stöng, which was pummeled by the Hekla volcano in 1103.
And soon afterward, we visit the modern replica of that 11th century Viking long-house, called Pjodveldisbear (you may have seen it in a few scenes of the Game of Thrones). Afterward, we will return to our country hotel for another night.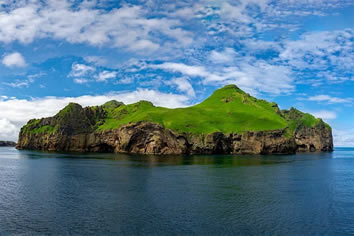 Day 4 - Puffins, Glacier Hike and Pompeii of the North on the Westman Islands
This morning we have a 30-minute ferry ride to Heimaey, the main town of the Westman Islands. We will offer a variety of things to see and do in the Westman Islands, depending on time, weather, and ability. These include:
• Tour of the various natural sites around the island and the amazing effects of the Eldfell volcanic eruption that buried half the town of Heimaey in 1973.
• Visit the buried section of town and their excellent museum "Pompeii of the North"
• Hike up the Eldfell cinder cone to its still-warm summit.
• Look for puffins nesting at Storhofdi and hear about puffin traditions.
Next, we return to the mainland and visit the waterfall, Seljalandsfoss, before we continue around the great volcano that disrupted so much of Europe's air traffic in 2010, Eyjafjallajökull, and on to our next country lodge.
The day continues with a visit to one of Iceland's most picturesque waterfalls, Kirkjufellsfoss, a beautiful area with a backdrop of the famous mountain Kirkjufell, which you may recognize from the Game of Thrones. We will end our day in the quaint village of Sykkisholmur, located on Breiðafjörður Bay, surrounded by wonderful views of the innumerable islands.
Day 5 - Glacier Lagoon and Diamond Beach
From Vik, we travel east today past Skaftafell National Park to one of the lagoons sometimes found at the foot of retreating glaciers. These lagoons or lakes occur naturally where the great weight of thousands of feet of ice scoured the ground, leaving a depression that filled with meltwater from the retreating glacier. While many of the world's glaciers have retreated much higher in the mountains, here we find the glacier extending almost to the sea, calving off icebergs into the lake. We will enjoy a zodiac boat ride in the lake as we learn more and celebrate the power and beauty of glacial ice.
On our return to Vik, we stop for a few walks at an almost fairytale-like canyon, Fjaðrárgljúfur, that was carved about 9,000 years ago, yet another idyllic Lord of the Rings.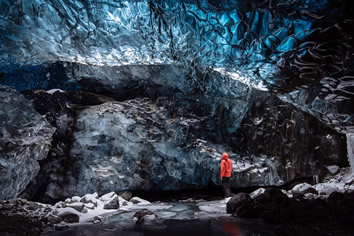 Day 6 - Glacier Hiking and more Waterfalls
This morning we meet our mighty Viking glacier guide who outfit us in our glacier hiking gear and then instruct us how to walk on ice before taking us to explore the terrain on the glacier, sometimes smooth and other times rough–and–tumble, caused by a constantly moving and eroding glacier. The cerulean blue of the dense ice is revealed in its crevasses, ice caves, and towering seracs, some of which we hope to explore.
Afterward, we continue east, stopping at the powerful Skogarfoss waterfall, walking to another, seeing interesting rock formations, and hearing tales of their formation. Several towering rocks that were formed as trolls were turned to stone by the rising morning sunlight. There is a deep culture in Iceland involving the hidden folk, including trolls and elves. During our tour this week, we will learn more about how locals respect certain rocks where trolls live. And even re-route roads and highways to avoid disturbing a troll's rocky home.
This evening, we arrive back in Reykjavik for two nights.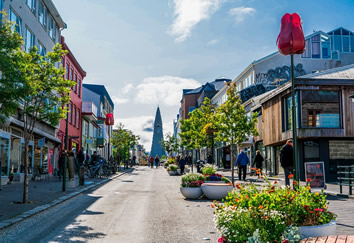 Day 7 - A Day in Reykjavik
Explore Reykjavik, the northernmost capital city of Europe, and perhaps the most eclectic. It's a working harbor and a cultural center; you can fish for salmon right here in town, or dine on salmon at a fine restaurant. (Likewise, and perhaps more discomfiting to some: you can see puffins at the zoo, from a boat – or eat them at a fine restaurant.)
It's easy to fill a whole day strolling the streets, plazas, and waterfront of Reykjavik. While many imported items are expensive, travelers with a yen for shopping can find several bargains, most notably the strikingly-patterned wool sweaters. You can rent a bike to explore on your own or join a two-to-three-hour city tour or a longer mountain biking tour just outside the city.
Reykjavik's museums, galleries, and cultural sites are within an easy walk from our hotel, as is the Phallological Museum, which houses the world's largest collection of penises and phallobelia, from whales to man, and even an exhibit for Iceland's hidden folk, from trolls to mermen. Yes, mermen!
This afternoon we will relax, soak, and reflect on our week in Iceland at the lovely new oceanside spa, located on the outskirts of town. And tonight, as honorary Vikings, we gorge on a gourmet dinner to celebrate our adventures and experiences this past week here in geologically wild and wonderful Iceland.
Tonight, our last evening together, a wonderful dinner awaits our whole group. As always, there are alternatives for vegetarians and those with special dietary requirements.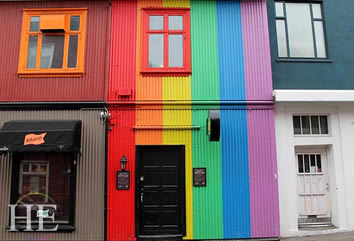 Day 8 - Departure
The hardest thing about our trips is saying goodbye to a wonderful group of new friends, and the magic of Iceland. But you've seen parts of Iceland that many travelers miss; you've interacted with the country and its people in ways that give you an extra appreciation for it.
We'll bet you've made some new friends. Thank you for joining us — and we hope to see you again!