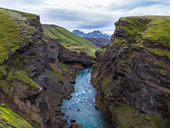 Join this gay tour and witness the extremes of Iceland: friendly Viking descendants; unspoiled lush wilderness; fuming volcanic craters, geysers and natural hot springs; rainbow-festooned waterfalls; playful puffins, and a rich history including some of folklore's strangest sagas.
During our gay Iceland adventure week explore many of the country's natural wonders and its unique Nordic history and culture. We'll immerse ourselves in the country and hear its lore of sagas. We'll take day hikes through the amazingly green countryside, across steaming rivers, around waterfalls, into volcanic craters, on top of icy glaciers, and even through rift valleys, not to mention ferry boat rides and natural hot springs! Optional activities on your free day include horseback riding, arctic rafting, and whale watching.
You can begin your holiday week by arriving a day or two early to join Reykjavik's gay pride parade and celebrations on Saturday, followed by an outdoor festival and midnight dance parties. At the end of our tour, we've allowed time to enjoy the nightlife of gay-friendly Reykjavik.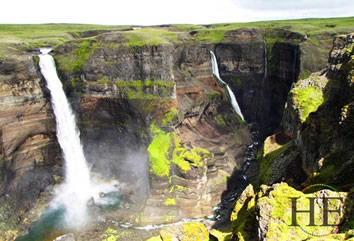 • Hike up lava flows to the top of a volcanic crater, deep into a lava tube, and along the top of dramatic sea cliffs to see nesting puffins.
• Enjoy a short ferry ride to the Westman Islands, among the earth's newest places, where the island of Surtsey emerged from the sea in 1963.
• Visit the ruins of Pompeii of the North, a town half-covered in lava and ash.
• Experience a glacier hike across the ever-changing terrain of rivers of ice flowing from frosty summits towards the sea.
• Explore the raw, geologic beauty of the national reserve Landmannalaugar.
• Trek to the edge of the America tectonic plate, then through the rugged chasm where the European plate is ripped away from it.
• Stroll across a landscape so moonlike that NASA sent astronauts for practice walks before the first Apollo moon landing.
• Swim in natural hot springs dotted across the Icelandic wilderness.
• Climb around, behind, and into a variety of waterfall wonderlands.
• Savor delicious seafood, lamb, and even that Icelandic delicacy, Hákarl, putrid shark!
• For those with extra time, come a couple of days early to experience the fabulous Reykjavik Pride Festival!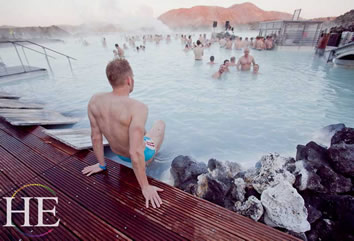 The small island of Iceland offers enormous contrasts and variety: unspoiled landscapes, uncrowded parks and unique geology. Iceland has a small, friendly gay and lesbian community in the capital, but you'll find few signs of gay life outside Reykjavik. In true Scandinavian tradition, people don't feel it's any big deal whether you're gay or straight.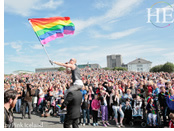 If you have a little extra time, consider adding a day or two BEFORE your trip to join Reykjavik's gay pride celebrations. These begin with opening ceremonies Thursday evening and conclude in the early hours on Sunday. The Pride parade is usually on Saturday around 2 PM, followed by an outdoor festival and midnight dance parties.
Day 1 - Volcanic Craters & Lava Tubes

If you are arriving on the first tour day, plan for an early morning arrival in Iceland so that you can join our a pre-tour, two-hour guided walk of Reykjavik's main sights. After lunch, we're off for deep lava on an afternoon tour to the Reykjanes Peninsula, including spelunking through a lava tube and a relaxing soak in the wonders of a geothermal spa located on top of a lava flow.
The most convenient way to get to our hotel in downtown Reykjavik is with one of the shuttle buses. They will take you to a central location on a large bus, but as part of the same ticket, you'll switch to a smaller van for dropoff at our hotel, but some may deliver you directly to our central hotel.
We'll start our exploration of Iceland this morning by meeting in the hotel lobby in mid-morning, since rooms may not be ready until later in the day. Be ready for a hike up a volcanic crater, followed by a lava tube hike, led by our Icelandic guide for the week, who is a native Icelander and descendant of the Vikings, with an infectious love of his homeland.
Volcano Hike: after a beautiful drive through suburban Reykjavik and Hafnarfjordur we hike across lava flows then up to their source at the Burfell Volcano Crater, created about 7,000 years ago. The hike will take about 1.5 hours. It is not too strenuous, as we have a fairly easy hike into and up a former lava river bed. We will see unique formations created as the lava flowed as a river down from the crater to create much of the land on which Hafnarfjordur now sits. Sweet heather fills the air as its pink blossoms delight in the long summer rays. We will be able to enjoy wonderful views from the top edge of this crater all the way to the North Atlantic Ocean.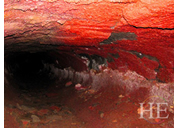 Lava Tube Leidarendi: we will hike on a 1-hour loop that includes an often-low lava tube. For those reluctant to bend over too much or who may be claustrophobic, it can be a simple out-and-back the same tube, seeing the wonders created by swift running lava that left this tube hollow as it ran out the other end. For those up to a challenge: bend halfway down for twenty feet or so to get into a side tube, then follow it, wrapping around through yet more unworldly shapes, and then a tighter squeeze as you pop out into day light bedside the entrance! Between our hikes we will enjoy a picnic lunch.
And we can't miss one of Iceland's most unique hot spots, the much famed Blue Lagoon! No, don't look for naked boys and girls and a dolphin or two — that's a different travel package and a different Blue Lagoon. But this sprawling outdoor pool on the Reykjanes Peninsula does offer a vivid reminder that we aren't in Kansas anymore! Immerse yourself in the waters, naturally heated and naturally blue from a heavy mineral content, as steam fills the air.
And don't be deceived by the nearby power plant, which merely converts some of this heat into electrical energy for Reykjavik. The water here is naturally blue, from a heavy mineral content that's also touted for its therapeutic value. And the water is naturally heated, from 6,000 feet below you.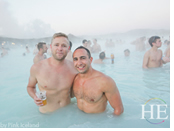 In fact, it would be hard to find a water heater anywhere in Iceland. Don't feel guilty about taking a long shower every morning — the hot water is piped right from the earth, and there's plenty more where it came from.We will return to our hotel in the afternoon, and have our welcome dinner this evening. Before dinner, or on our return visit to Reykjavik later in the tour, there are many things to do in the city.
On a long walk you could see a salmon stream running right through town, a stylized Viking ship sculpture (or is it a jungle gym?) on the harbor, and a giant relief map of Iceland in City Hall that makes it easier to visualize the week's itinerary.
You can also visit the outdoor Arbaer Museum, where some of Iceland's oldest surviving homes have been relocated.. The Arbaer Museum's buildings showcase an assortment of artifacts and household items from the past. Our favorite: Shoes made from fish, one of the three commodities of which Iceland has never had a shortage (the other two: Ice, and hot water). Or visit the world's original Philological Museum with over 215 penises and penile parts belonging to virtually all of Iceland's various mammals inhabiting Iceland and its shores.
Day 2 - Where the Continents Divide, Geysers Erupt, and Mighty Waters Fall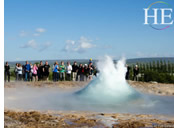 Volcanic geology is the main creative force for the wonderlands we'll explore this week. We will see where the North American tectonic plate is pulling away from the European tectonic plate, creating rifts in the earth's crust – sheer cliffs pulling from each other creating gorges and canyons that get wider each year. And we'll also see how water flows, falls, and gushes across such a varied landscape, with yet more and larger waterfalls, sparkling clear rushing streams, turbulent glacier rivers, steam and mud pots and geysers.
One stop today will be at a beguiling geyser basin, home of "Geysir," the original spouter, whose name is now used generically for its cousins in Yellowstone and elsewhere around the world. But we won't have the crowds of Yellowstone as we walk amongst the steaming pools and geysers of this park. Nor do we have long to wait for a show: Stand in front of the geyser known as Strokkur, "The Churn", and soon you'll see the placid water rise and fall, as if panting hard. Then the surface swells like a giant blue egg emerging from the earth, and finally it spews up, in a performance repeated every five to ten minutes.
We'll also visit the famed, huge waterfall on the Hvita River called Gullfoss, a double-decker monster that entices us close and into its misty veil. From our upper viewing stop, we can see the great ice field that provides these mighty waters, colored a milkly white from the glacial scouring up river.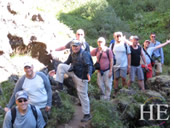 High up in the hills between the Highlands and Reykjavik lies Thingvallavatn, Iceland's largest lake. Thingvallavatn is fed by the river Oxara, and along the shores of the Oxara we find Iceland's most historic spot: Thingvellir (Parliament Plains).
As you'll hear, it was here at Thingvellir that the rowdy Vikings formed the world's oldest true parliament, in A.D. 930. It was at Thingvellir that Iceland voted to embrace Christianity in AD 1000, just as fellow Viking son Leif Ericson was first setting foot on North American soil.
Thingvellir's history isn't all pretty. A fissure here creates Drekkingarhylur (the drowning pool). In 16th-century Iceland, men sentenced to death for crimes such as murder were beheaded. Women convicted of adultery or perjury got a slower fate: they were stuffed into a bag and drowned in the waters of Drekkingarhylur.
Unbeknownst to those early parliamentarians and bag-stuffers, Thingvellir is noteworthy in another respect. This long chasm is the spot where the continental plates of America and Europe meet — or, more precisely, are coming apart. You can literally stand on a high cliff at the end of the American plate and watch Europe recede.
Hiking trails criss-cross the park and we'll take you down one our favorite rift canyons. You'll be able to stretch across from one tectonic plate to another. Alpine cinquefoils decorate tundra that barely conceals the lava fields below. Afterward, we head back to our hotel in Reykjavik for the night.
Day 3 - Fire and Ice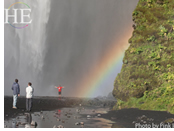 After we depart Reykjavik today, we enjoy a longer hike, this time into an area that is active with geologic faulting and tremors as well as hot spots, hot springs, fumaroles, mud pots, and steaming rivers. We will reward ourselves half-way through the hike with a soak in a much less commercialized hot spot, where a hot spring river merges with cooler one, so you can find just the temperature you wish.
After our hike, we'll journey across southern Iceland, swinging underneath the great volcano that disrupted so much of Europe's air traffic several years ago, Eyjafjallajökull, and then to the base of one of its nearby glaciers, the Sólheimajökull. There we meet our mighty Viking glacier guides who outfit us in our glacier gear and then instruct us how to walk on ice before taking us to explore the rough and tumble terrain of a constantly moving and eroding glacier. The cerulean blue of the ancient ice is revealed in the crevasses, ice caves, and even towering seracs we'll pass. That evening we stay at a small hotel nearby, but before unloading, we'll enjoy another mighty waterfall, Skogarfoss, which drops a couple of hundred feet in a mass of water. And for those with remaining energy, we might have a late night hike to Iceland's oldest swimming pool hidden in the wilderness nearby.
Day 4 - Pompeii and Puffins on the Westman Islands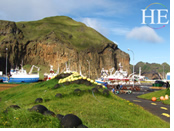 This morning we have a short ride the 45-minute ferry to Heimaey, the main town of the Westman Islands. We will offer a variety of things to see and do in the Westman Islands, depending on time, weather, and ability. These include:
• Tour of the various natural sites around the island and the amazing effects of the Eldfell volcanic eruption that buried half the town of Heimaey in 1973.
• Visit the Natural History Museum: one of Iceland's best.
• Visit the buried section of town and the new museum "Pompeii of the North"
• Hike up Heimaklettur (283m), with amazing views of the island, lava flows, and even the cove of Klettsvik, former home to Keiko the whale.
• Look for puffins nesting at Storhofdi and hear about puffin traditions: puffin hunting; and the egg hunting tradition known at Sprangan (collectors would dangle themselves from long ropes over cliffs, swinging from side to side as they gathered eggs). And also the annual Puffin Patrol, usually mid-August, when baby puffins wander aimlessly into town, following the night lights, instead of heading to sea. The locals collect, weigh, and feed the babies, then release them the next morning, into the sea.
After our touring, we'll return to the mainland, and, surprise, visit another pair of waterfalls, this time with the evening sun perfectly angled to allow for fantastic views and pictures. The main waterfall, Seljalandsfoss, is special because you can actually walk behind it and revel in its mist. Afterward, we continue to our next wilderness lodge where we'll stay for two nights.
Day 5 - Exploring Colorful Landmannalaugar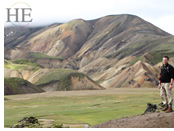 After breakfast, we will have a magnificent drive across at first barren lands — all white with pumice, then suddenly brittle black rock strewn everywhere by the might volcano Hekla nearby. It's a scene out of the film Prometheus, filmed here a few years ago. But things brighten and begin to green as we approach the beautifully-sited national reserve known as Landmannalaugar, a mysterious land of multi-hued mountains of yellow, white, red, green, gray, and black. These too, of course, have their own volcanic creation, but are much different from anything we've seen this week. And we'll delight in a day of hiking in the area. Half hell, half Garden of Eden, it's an amazing land with an eerie mystical bent, made even more so by multiple steam vents and the occasional whiff of sulphur coming from deep within the Earth.
We'll have hikes of varying lengths and reward ourselves with a wonderful soak in one of Iceland's best natural hot springs, with fantastic views.
Day 6 - Wonderfalls, Ruins, and the Central Highlands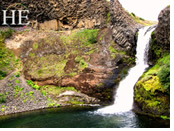 Today we explore more of the pristine secrets of the Highlands region, with hikes through native Icelandic forests and farm ruins, and a bevy of amazing waterfalls in the Thorsa river valley. We'll enjoy a a beautiful, towering set of twin falls 400+ feet high in a side tributary before working our way downriver to the idyllic naturescape of Gjain, with its series of springs and falls from all sides, before wandering down to the Viking ruin of 1103 at Stöng. And soon afterward, the modern replica of that 11th century Viking long-house, called Pjodveldisbear (you may have seen it in a few scenes of the Game of Thones).
Afterward, we'll enjoy another double waterfall before we work our way back to the bright lights and energy of Reykjavik, where we'll stay for two nights.
Day 7 - Free Day in Reykjavik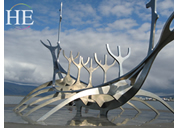 Explore Reykjavik, the northernmost capital city of Europe, and perhaps the most eclectic. It's a working harbor, and a cultural center; you can fish for salmon right here in town, or dine on salmon at a fine restaurant. (Likewise, and perhaps more discomfiting to some: you can see puffins at the zoo, from a boat – or eat them at a fine restaurant.)
It's easy to fill a whole day strolling the streets, plazas, and waterfront of Reykjavik. While many imported items are expensive, travelers with a yen for shopping can find several bargains, most notably the strikingly-patterned wool sweaters. You can rent a bike to explore on your own or join a two-to-three hour city tour or a longer mountain biking tour just outside the city.
Reykjavik has several outdoor, naturally-heated pool complexes that are a mainstay of Icelandic social life, which provide a tempting way to relax. More impressive yet, they have a warm-water beach where they've pumped the geothermal water in to warm the cooler North Atlantic waters in a crescent-shaped, golden sand beach. Whale-watching trips are another option as is returning to the countryside to scuba dive in one of the tectonic rifts or try for a horseback ride. Hop onto a handsome palomino, a purebred descendant of the horses that arrived with the Vikings. This is the only horse in the world able to achieve the remarkably smooth, yet fast, 5th gait known as the tolt.
Tonight, our last evening together, a wonderful dinner awaits our whole group. As always, there are alternatives for vegetarians and those with special dietary requirements. Then, Reykjavik's gay disco awaits those who still have some energy!
Day 8 - Departure
The hardest thing about our trips is saying goodbye to a wonderful group of new friends, and the magic of Iceland. But you've seen parts of Iceland that most travelers miss; you've interacted with the country and its people in ways that give you an extra appreciation for it.
We'll bet you've made some new friends. Thank you for joining us — and we hope to see you again!