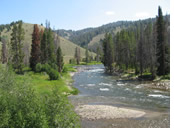 The remote Middle Fork of the Salmon River runs cold, clear, and quick, past soaring cliffs and soothing hot springs. Join us for more than 90 miles exhilarating gay whitewater rafting adventure. Camp on large sandy beaches and and explore burbling side creeks and quiet hiking trails.
Our gay rafting adventure begins near the Sawtooth Mountains of Idaho. The Main Salmon River is known as the "River of No Return", and runs cold and clear through vast, deep canyons and forests. Witness fascinating remnants of western mining culture and pioneer history. Perfect for all interests and abilities, the Main Salmon has friendly, deep pool-drop rapids. Experience America's unmatched beauty, wildness, and adventure in an unforgettable way.
Enjoy nature at it's best! The sage-covered hills are frequently dotted with moose, black bear, bighorn sheep, and the sky is filled with herons, cranes and golden eagles. This unspoiled wilderness was once home to the Sheepeater Indians but few others have called this remote landscape home.
Take a suspenseful plunge through wild rapids, then relax in the afternoon, fishing for the native west slope cutthroat trout. Wind down with a bracing dip into a "cold tub" of some of the clearest water you'll ever see, then after a gourmet dinner, fall asleep under a rich canopy of stars.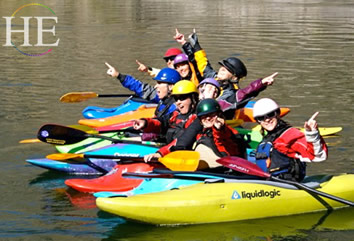 • Plunge through whitewater rapids on your choice of kayak, oar raft, or while riding in the gear raft with the guides.
• Enjoy gourmet meals made from locally sourced foods.
• Cool off in a cascading waterfalls.
• Warm up in riverside hot springs.
• Hike to extraordinarily beautiful Indian ruins, petroglyphs, and amazing vistas.
• Swim in the crystal clear waters of the Middle Fork of the Salmon River.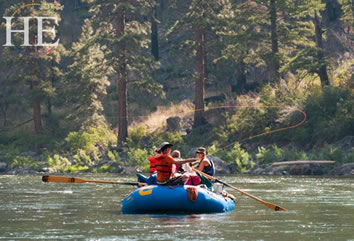 Day 1 - Welcome to Boise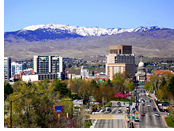 Our tour starts in the late afternoon with a meet and greet gathering at the hotel. Tonight's included lodging will be in a comfortable bed at one of Boise's boutique style accommodations. If you have any extra time, make sure to head downtown to enjoy some of Boise's vibrant night life. Downtown Boise is the cultural center, and has a variety of shopping and dining choices. Centrally located, 8th Street contains a pedestrian zone with sidewalk cafes and restaurants. This area is also known as the Basque District, which gives visitors to the Boise a rare chance to learn about and enjoy the city's Basque heritage.
Day 2 - Fly to the River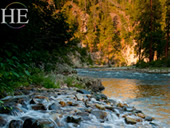 This morning we will take a small charter plane, then shuttle bus, to our put-in location. Before we launch, we'll have thorough orientation, demonstrating kayak safety, raft safety and general river safety. Each day, guests are given the option of paddling an inflatable kayak, paddling with a team in a paddle raft, or just relaxing and accompanying a guide on one of the gear rafts.
Days 3 - 6 - Clear Water, Blue Skies, Peace and Quiet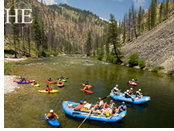 Your day on the river begins with a hearty breakfast. After breaking camp, we will travel about 15 miles each day. Generally, we are on the water between 9 and 10 am, stopping for a mid-morning break to stretch, followed by lunch and a mid-afternoon snack break.
For those who want to kick back and relax, the oar rig might be the craft of choice. More adventurous types might tackle the rapids in a paddle raft, or a "ducky" (inflatable kayak). Experienced whitewater canoeists and kayakers with the appropriate skill level may choose to bring their own boat or paddle one of ours. Heading down the river, there's a lot to see: pictographs, abandoned miners' cabins, waterfalls, and wildlife. Mid-day lunch stops may also include a scenic hike or beach volleyball. Each day offers new opportunities, including hot springs, short hikes to see artifacts and pictographs, waterfalls and amazing vistas.
We typically pull into camp between 4 and 5 pm. While hors d'oeuvres and dinner are being prepared, there's always time for a hike or a chance to hook a trophy fish. And of course, as night falls, campfire stories abound and river tales get taller.
Day 7 - Fly Back to Boise

When we reach the end of our river run, we will fly back to Boise together from the small regional airport of McCall. We'll check back into our hotel in Boise in the late afternoon. Dinner tonight is on your own, but we won't be surprised if you've made many new friends this week, and you're ready to hit the town together!
Day 8 - Farewell Idaho
Most travelers will catch flights from Boise International Airport to begin their journeys home.