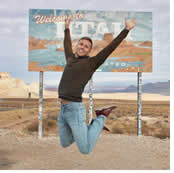 Our gay biking & adventure tour of Salt Lake City provides days of adventure. Ride along the Jordan River Parkway Trail, & up several canyons. Learn local Mormon folklore. Soak in hot springs, ride the Alpine Slide & tour historic Park City. End the days among SLC's vibrant gay nightlife. When most people think of Salt Lake, a progressive queer scene probably isn't the first… or second... or, um, even third thing that comes to mind. But almost any LGBTQ visitor who's been here before, and nearly every LGBTQ local who calls the city home, will tell you, it's an inclusive urban destination with tons of super gay stuff going on.
A gay Salt Lake City bike tour? Why? Two words: Mormon Missionaries. The Mormon Church sends young men from Salt Lake City all over the world to preach from their bikes. Ever had a set of them on your front porch? Cute right? But where do these strapping young boys come from?
In 2012, the Advocate Magazine rated Salt Lake City the gayest city in America. We are sending a group of gay folks to Utah to see why.
We'll ride two by two up the mountains, over the hills and through the bushes that surround this desert Oasis in Northern Utah. We'll tour Temple Square, headquarters of the Mormon Church, and see firsthand what those adorable Mormon boys were trying to tell us. Then we'll wash it all down with a cocktail at a local gay bar (yes, Utah has both gay bars and liquor).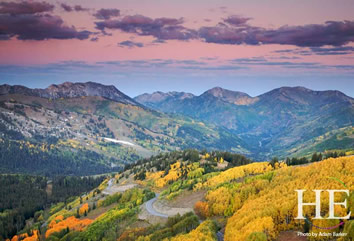 Opposition to the strict Mormon lifestyle has given rise to one of the most fascinating counter-culture communities in America. Salt Lake City has a vibrant gay community, a wild nightlife, and a slew of local breweries producing delicious, and uniquely named, beer (Polygamy Porter-Why Have Just One?).
Each day of riding will feature a different viewpoint of the Salt Lake Valley. We'll ride up canyons with houses, other canyons with undeveloped watersheds, and along the Jordan River; a riparian zone that bisects the Salt Lake Valley draining Utah Lake into the Great Salt Lake.
On our last day, we'll head up to Park City, Utah, home of the Sundance Film Festival. We'll ride the Alpine Slide, tour the historic city center, and soak our troubles away in "The Crater"- a secluded hot spring.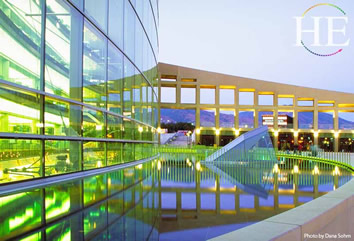 • Explore several winding canyons and creeks above Salt Lake City while riding a fast, efficient road bike.
• Uncover the fascinating history of this charming capital city, nestled at the base of the gorgeous Wasatch Mountains.
• Find out why the Advocate named Salt Lake City one of the gayest in America in 2012.
• Follow the Jordan River Parkway, a dedicated trail through woods and wetlands (with parks, bridges, and gardens along the way).
• Soak and snorkel in The Crater, a geothermal hot spring inside a rock dome, near Park City.
• Hike to the rocky outcroppings of Antelope Island.
• Glide above the treetops in a chairlift to the Alpine Slide, then ZOOM down the mountainside on your own thrill ride!
• Stroll and shop the galleries and gourmet bistros along Park City's Main Street.
Day 1 - Welcome to Utah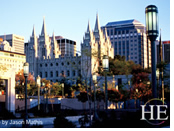 Our trip begins with an orientation at our hotel before walking to a downtown restaurant for our welcome dinner. Travelers flying into the Salt Lake Valley during daylight hours will have great views of the Oquirrh and Wasatch Mountains, the Great Salt Lake and Utah Lake, and Kennecott Copper Mine, a man-made feature with dramatic visual impact. Even at this time of year, the mountains may still have snow on their highest peaks.
It's Saturday night, we're heading out on the town! Salt Lake City has a large, fun, and friendly gay population, and we know where to go!
Day 2 - City Creek Ride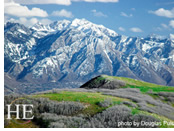 We'll have a leisurely morning before hopping on the bikes to ride up City Creek Canyon, just north of the city. The paved road is reserved for cyclists and pedestrians today, so we'll be able to ride comfortably up the canyon. The trail parallels a burbling brook, where happy hikers (and their pooches) soak their feet in the icy cold creek. The hot summer air cools dramatically as you ride through the shaded, secluded canyon, and its always fun to meet new riders along this route.
A casual lunch downtown is in order, before taking a walking tour of the city and learning more about the diverse populations that make this a very interesting political, artistic, and social scene.
Dinner tonight will be at one of downtown Salt Lake City's thriving brewpubs (handcrafted beers are wildly popular in this state with a reputation for strict beliefs about alcohol consumption)!
Day 3 - The Jordan River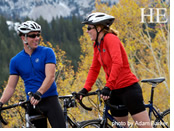 After riding our bikes to the downtown light-rail station, we'll hop aboard the train for a journey to the southern part of the Salt Lake Valley. Our long bike ride starts early, but trends gradually downhill, following the Jordan River as it drains the freshwater of Utah Lake northward into the Great Salt Lake. This beautiful and relaxing ride takes us through woods and wetlands, fields of tall grass and thick Cottonwood groves. The majority of this paved trail is part of a "greenbelt" through the urban valley and bypasses vehicle traffic. We'll pack a picnic lunch to enjoy along the way.
Tonight we'll visit one of your host's favorite Mexican restaurants, Red Iguana, famous for its Oaxacan mole sauce, colorful decor, and long lines snaking out the door!
Day 4 - Salt Lake City Gay Pride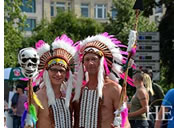 We will kick the day off with the Salt Lake City Pride Parade! Enjoy a morning of pure entertainment as the community comes together and celebrates.
We will spend the afternoon enjoying the festival, full of a broad spectrum of activities and entertainment.
NOTE: due to local circumstances, our anticipated date for the Pride events sometimes changes after we announce this tour. If Pride is not on this date, we will add another fun adventure to see more of this fascinating region.
Day 5 - Antelope Island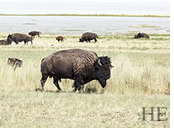 Today we will head to Antelope Island for some hiking, BBQing and beach time. This state park is home to free-ranging bison, mule deer, bighorn sheep and many other desert animals. The Great Salt Lake also attracts millions of birds that congregate along the shores surrounding the island.
Enjoy an easy hike to the top of Buffalo Point; well known for its amazing 360 views. Afterward, we will meander down to the water and enjoy a BBQ and some beach time for the afternoon.
Day 6 - This is the Place! (approx. 10 miles)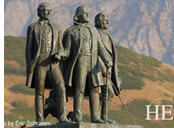 After breakfast, we'll gear up and head east to the foothills and to Emigration Canyon, where "it all began", so to speak. When Mormon Pioneers arrived and laid eyes on the wide and fertile Salt Lake Valley in 1847, Brigham Young declared "This is the right place, drive on."
Bicyclists may stop for a visit to "This is the Place Heritage Park", a State Park dedicated to preserving the early history of the valley.
We'll continue our ride up the shade-dappled canyon, an 8-mile stretch popular with local cyclists for its great workout, beautiful views at the summit, and speedy descent back to the city.
After our ride, we'll have the rest of the day free to explore the city, with its sometimes surprising architecture and multi-ethnic cuisine.
Day 7 - Park City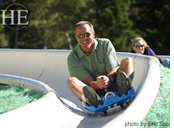 We're done bicycling, so let's drive up through the curving mountain pass to Park City, home of the Sundance Film Festival, and many events of the 2002 Winter Olympics. A fun race down the Alpine Slide, a mountainside handcart ride, is a silly thrill, and gets us breathing that crisp mountain air. We'll have time to walk through downtown Park City and browse the shops and galleries that make the town so charming. Lunch is on our own today.
This afternoon we'll drive eastward a little bit more to a charming small town with a bizarre natural feature. "The Crater" is a geothermal hot spring inside of a dome of limestone with a hole at its peak. It's the perfect spot to soak away the exertion of our days in the saddle. Donning a snorkel, swimmers will discover a deep hole, where local scuba divers practice and enjoy the cave-like conditions.
We'll head back to downtown Salt Lake City for our farewell dinner this evening at one of the city's award-winning restaurants.
Day 8 - Farewell
There are no activities scheduled today, so you may arrange flights as needed.