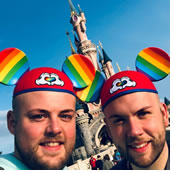 Live your best life and shine with the joy of diversity at Magical Pride, a dazzling party lighting up Disneyland Paris on 15th June 2024. Dress like a dream, feel fabulous and experience Walt Disney Studios Park like never before - loud, proud and alive with all the colours of the rainbow. Discover the enchantment of Disney with the Sparkle of Pride!
Join us for this celebration of Pride at the place where dreams come true. Primarily attracting people from the LGBT community and their friends and families, Magical Pride warmly welcomes anyone and everyone. Come and party, play and stay at Disneyland® Paris during this unique event – Taking place in June 2024.
In 2019, for the first time ever, Disneyland Paris made Magical Pride a signature event on their annual calendar with a private Pride party that took place at Walt Disney Studios Park featuring live performances, a March of Diversity Parade, Disney Character Meet 'n' Greets, access to selected attractions and much more!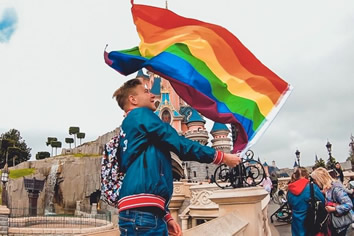 Here's a sneak peek at some of the incredible things we have lined up, ready to make Magical Pride a truly unforgettable experience.
• A brand new parade illuminating the streets of Walt Disney Studios Park with a vibrant Pride atmosphere
• Disney Characters out and about, excited to share a special moment with you
• The rare chance to ride our thrilling attractions late into the night, in Walt Disney Studios Park
• A stunning dance party featuring some artists dropping some banging beats
• And many more magical surprises!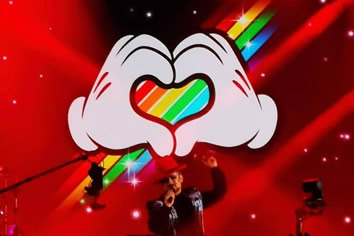 Day 1 - Thursday, June 13, 2024
Just Like a Dream...
• Independent arrival to your hotel.
• Grab your passports, suitcase and Mickey ears and make your way to Disneyland® Paris by air, sea or rail.
• Check in to your selected Disney Hotel and collect your Welcome Pack from your Magical Pride representatives.
Rainbow Tips: We can provide you Private Transfers with special prices!
Rainbow Tips: Want to arrive earlier? Enquire about extra nights! *Subject to availability.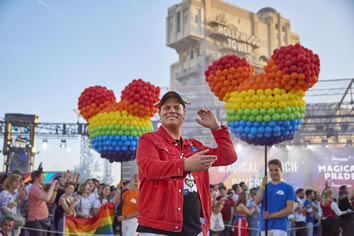 Day 2 - Friday, June 14, 2024
Disneyland Paris - Explore the Magic
• Rise early to take advantage of Extra Magic Time, where selected attractions in both Disney Parks open one hour earlier exclusively for onsite Disney Hotel guests.
• The perfect time to get that selfie in front of Sleeping Beauty Castle!
• With your 2-day Disneyland Paris Park Hopper Ticket, you'll have plenty of time to explore all the magic the two Disney Parks have to offer.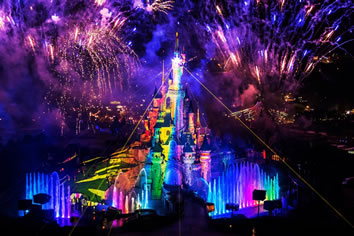 Day 3 - Saturday, June 17, 2024
Disneyland Paris - Magical Pride
• Zoom through the galaxy, brave a ghostly mansion, embark on a high seas adventure, and then plunge 13 unlucky floors into The Twilight Zone.
• The Walt Disney Studios Park will be privatised for a special Pride Party from 8pm to 2am on Saturday 15th June 2024 with a selection of attractions open as well as Character Meet 'n' Greets and much more!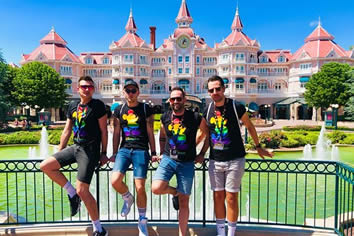 Day 4 - Sunday, June 16, 2024
Au Revoir Paris!
• It's time to say Au Revoir to another successful Magical Pride and bon voyage as you make the journey back home.
• For those of you who have a few spare hours after your breakfast before the return journey, why not head in to Paris to catch a glimpse of the famous city?
• Central Paris is only a short 45 minute train journey away for you to sample the sights and delights of the French Capital.
Rainbow Tips: Want to stay longer? Enquire about extra nights! *Subject to availability.