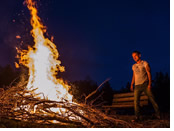 Rainbow Midsummer Celebration 2020! For Midsummer 2020 we have reserved the entire Kalevala hotel in Finland's Wild Taiga for you to spend a holiday you will certainly remember! In celtic shamanic times the term Alban Hefin was used for the summer solstice. It was a 12 day long celebration during a warm summer. The Goddes of Earth was pregnant, everything on Earth was glooming and growing. It was the best time of the year considering how hard life was back then. At that time of the year you could smell and taste the nature and enjoy it's products as much as you can.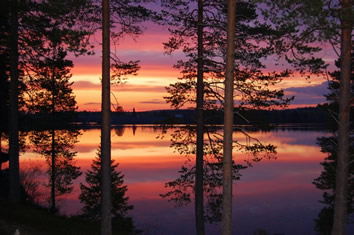 There was everything in profuse amounts - also joy and love. It was a time of happiness and gratefullness. Women brewed herb beer which has aphrodisiac (ecstatic, sexual potency lifting) effect. Everyone danced naked around the bonfire.
Chatolic church didn't approve this heathen celebration and forbidded it. Forbiddance was ignored and celebrations continued in secret. Church decided to change the name and meaning of the celebrations and today we know the day as St. John's Day .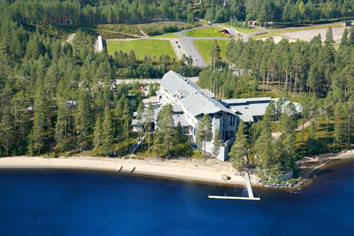 • Plenty of exciting activities in the gorgeous Finnish summer landscape, like midnight sun canoeing, bear watching safari and husky trekking
• Nightless night weekend when sun doesn't set
• Finnish saunas, indoor and outdoor jacuzzis and special Midsummer sauna treatments, building the bonfire
• Finnish delicasies, like elk, reindeer, salmon...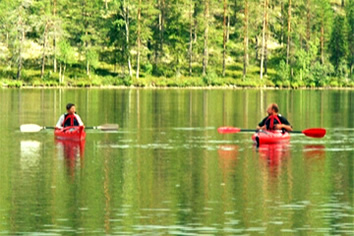 Day 1 - Wednesday, June 17, 2020
Arrival Day
• Transfer from Kajaani airport (KAJ).
• Welcome drink in front of a blazing open fire.
• Welcome dinner at "kota" teepee on the beach; including delicacies from our Karelian cuisine.
Rainbow Tips: Want to arrive earlier? Enquire about extra nights! You can book an extra night at the start of the programme. Prices start from 79 €/p.p. incl. dinner and breakfast. *Subject to availability.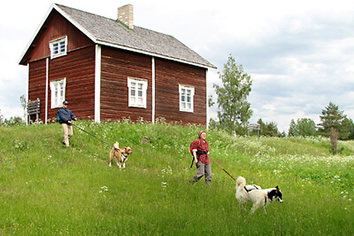 Day 2 - Thursday, June 18, 2020
Husky Trekking & Midnight Canoeing
• After breakfast it's time to start husky trekking day tour. Every hiker will get an own dog to get familiar with. You will be provided with special husky trekking gear. When the dogs have their harnesses on we are ready to go and explore the nature.
• Sauna time
• Dinner is served at the hotel and includes traditional, fresh from nature, tastes of Kuhmo.
• Just before midnight 2 hour canoe tour on lake. Enjoy the nightless night on water.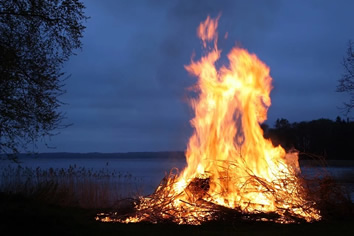 Day 3 - Friday, June 19, 2020
Midsummer Eve
• In Finland the Midsummer celebration starts on Midsummer Eve.
• First you build a bonfire for the night together with a guide.
• Afterwards you will seek and pick wild herbs and birch branches together with our sauna therapist. From the branches tie a birch whisk for the traditional cleansing ritual.
• After Midsummer dinner the bonfire is lit.
• Evening continues with DJ Tero through the nightless night.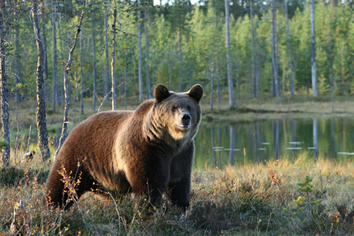 Day 4 - Saturday, June 20, 2020
Midsummer Day
• Brunch.
• Time to rest or book optional activities.
• In the afternoon transfer close to Russian borderline for bear watching evening. On the arrival to the main lodge, information about the hides and bears and also other animals which are possible to observe. Short walk from bear centre to a brand new Bear House. Please notice that smoking, alcohol and making noise are not allowed during the night.
• Back to the hotel, late dinner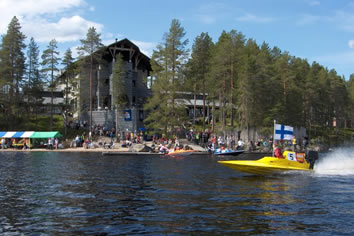 Day 5 - Sunday, June 21, 2020
Relaxing and Optional Activities
• After breakfast time for optional activities or resting.
• We recommend rafting down the rapids tour or hiking tours beautiful Finnish forests.
• Sauna time, possibility to try Finnish smoke sauna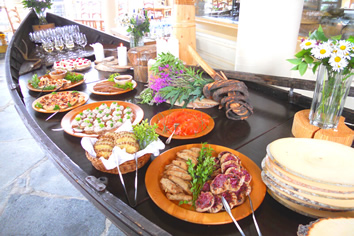 Day 6 - Monday, June 22, 2020
Good Bye Finland
• After breakfast transfer back to Kajaani airport (KAJ).