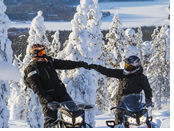 Rainbow Winter Days just for our gay guests in Hotel Kalevala, Kuhmo, Finland. From 28th March - 4 th April 2020 we have reserved the entire hotel for you to spend a week you will certainly remember! Welcome to Kuhmo, a small town in north east Finland. Surrounded by ancient forests and crystal clear lakes, this is a winter wonderland nestled in some of the deepest snow in Finland. With nothing but unspoilt nature as far as the eye can see, Kuhmo isperfect for wilderness and activity adventures. Hotel Kalevala provides a unique experience from beginning to end for any holiday. As soon as you arrive you are invited into a mythical world and the adventures of the Wild Taiga. Be welcome at Hotel Kalevala and enjoy your Finland gay adventure!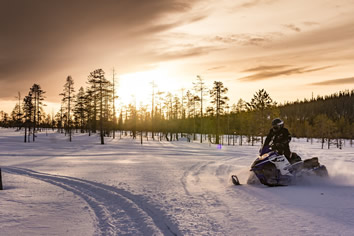 • Plenty of exciting activities in the gorgeous Finnish winter landscape, like snowshoeing, snowmobile and husky safari tours;
• Full board including Finnish delicacies like reindeer, bear and elk meat*;
• Finnish saunas, indoor and outdoor jacuzzis and special sauna treatments;
• Mystical magic evening, eating like back in the olden days, experiencing the local culture
* Vegetarians are also welcome. Please inform us when booking.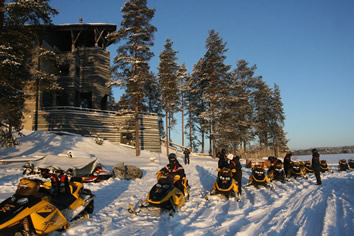 Day 1 - Saturday, March 28, 2020
Arrival Day
• Transfer from Kajaani airport (KAJ).
• Welcome drink at the fireplace.
• Welcome dinner including the Finnish delicacy elk meat.
Day 2 - Sunday, March 29, 2020
Enjoy the Snow!
• Full board.
• Winter survival games. You will be competing in teams!
• Sauna time. Possibility to try peat sauna.
• Dinner with local salmon as main course.
• After dinner, DJ Tero will guide through the evening.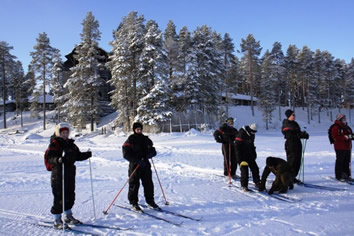 Day 3 - Monday, March 30, 2020
Snowmobile Safari & Kota Evening
• Full board
• After late breakfast guided 2 hour snowmobile safari along the taiga forest, 2 persons per snowmobile.
• Afternoon for relaxing
• Dinner in "Kota" teepee at the hotel shore. Enjoy a tasty reindeer meat dish around the open fire.
• Late evening saunas & jacuzzis. You'll get a Finnish sauna treatment with birch branches
Day 4 - Tuesday, March 31, 2020
Husky Sleigh Tour
• Full board.
• Transfer to a husky farm. Husky sleigh tour. Everyone will get the chance to drive a husky sleigh, 2 persons/sleigh. Picnic lunch at the farm.
• Sauna time!
• Dinner including traditional tastes of Kuhmo.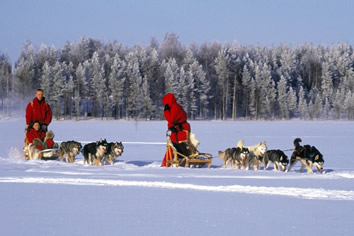 Day 5 - Wednesday, April 01, 2020
Snowshoeing, Winter Fishing and Mystical Magic
• Full board.
• 3 hours guided snowshoe & winter fishing tour starting at the hotel.
• Time for sauna and relaxing in the afternoon.
• In the evening "Finnish Mystical Magic". A fortune teller or shaman is waiting for you deep in the forest. We will make our way there with snowshoes or by foot, depending on the snow level. She will offer you love potions and Deer Antler Velvet and she will predict your future.
• The main course of the dinner will be a special delicacy: bear meat!
• Karaoke evening at the hotel restaurant.
Day 6 - Thursday, April 02, 2020
Cross Country Skiing
• After breakfast cross-country ski school; learn the national sport of Finland.
• In the afternoon you will have some free time to continue skiing; easy tracks at Kalevala Ski-centre and on the lake side aresuitable for beginners. Ski tracks for persons with more experience are available, too.
• Sauna time
• Karelian cuisine dinner.
• The evening will continue with DJ Tero and dancing till the early hours.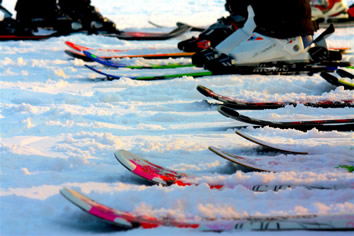 Day 7 - Friday, April 03, 2020
Day for Relaxing & Olden Days Dinner
• Full board with late breakfast
• Day for leisure: possibility to book optional activities, wellness treatments, enjoy the snow fun or just relax.
• In the evening "Olden Days Dinner": forget about etiquette, white tablecloths and fancy eating. Eat with your fingers or wooden spoon and enjoy the dinner like in the olden days.
Day 8 - Saturday, April 04, 2020
Good Bye Finland
• After breakfast transfer to Kajaani airport (KAJ).