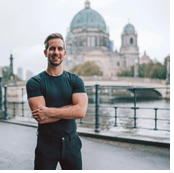 Berlin, the capital city of Germany, is renowned for its exceptional range of landmarks, vibrant cultural scene and way of life that's somehow all go yet relaxed. Berlin has an active LGBT community with a long history. Berlin has many LGBTIQ+ friendly districts, though the borough of Schöneberg (where you will stay) is widely viewed both locally and by visitors as Berlin's gayborhood. Berlin is considered one of the greatest gay cities in the world and one of the most open-minded ones.
Berlin is best known for its striking contrasts. Historical buildings stand alongside modern architecture as the past and present intermingle. The sights Berlin has to offer, from the Brandenburg Gate to the Chancellor's Office, bear witness to the history of an entire nation. Germany's capital is home to all the main government buildings, including the historical Reichstag building as the seat of the German parliament.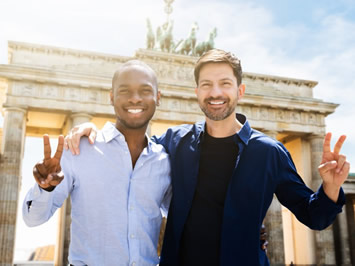 Berlin is the city of art, artists and museums. With sprawling parks, wooded areas and lakes, Berlin is Germany's greenest city. During the summer months, everyone moves outside. The sunshine and balmy evenings are best enjoyed in the beach bars, cafés and open-air cinemas and theatres, after all.
Berlin consistently tops the list of the most gay-friendly cities in Europe and is an LGBT destination not to be missed. With a lively nightlife with all kinds of gay bars and gay clubs you can imagine, there are also many cafes, gay saunas, gay sex shops, and gay sex clubs. The offer is varied and for everyone. Berlin is the city where anything is possible!
Here you also have the first gay museum in the world. On this 'SOFT' gay group tour you will have 5 days to discover this fantastic city that has so much to offer and we will be with you.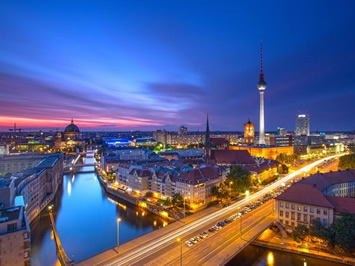 Day 1
Arrival in Berlin, Germany
Welcome to the fantastic and cosmopolitan city of Berlin.
Upon arrival at Berlin Airport (BER), you'll have a transfer waiting for you that will take you directly to the hotel with maximum comfort. This is where we will be waiting for you and it will be the group's meeting point.
On our first night we'll have our first group dinner, to introduce ourselves/get to know and socialize.
Included: • Transfer from Berlin airport • Welcome Gift • Group dinner • Hotel in Berlin centre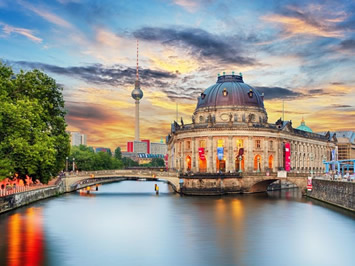 Day 2
Berlin, Germany
Good morning and let's have a fantastic breakfast at the hotel.
This morning, at a time to be agreed, you will get to know the fantastic city of Berlin on a walking tour with a professional guide lasting around 3h30.
Discover the best of Berlin on a tour that contains everything you should know about Berlin. You'll embark on an exciting tour of discovery to the most famous sights of the city, rounded off by interesting facts.
We will visit the Brandenburg Gate, the Reichstag, Hitler's Bunker, the Berlin Wall, Checkpoint Charlie, the Holocaust Memorial… and many more!
When this visit is over, it's time for lunch and you have the rest of the afternoon free to visit whatever you want. We can continue as a group or not, it's up to each one.
And today is Friday. And on a Friday night in Berlin, you really need to go out for a beer or a cocktail in one of the many gay bars in the area where we're staying. The night out is optional and then we arrange it as a group or not.
Included: • Breakfast • Discover Berlin tour with the most famous sights of the city • Hotel in Berlin centre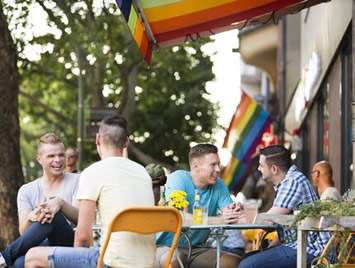 Day 3
Gay Berlin
Depending on what time you went to bed yesterday, you'll have your fantastic breakfast and have the rest of the day to continue discovering the city of Berlin.
And there's so much more to see. We will have several suggestions for activities, experiences and optional visits for you. You decide what you want to do and when. With the group or alone.
You can go on a food tour, or even a brewery tour and tasting. You also have boat trips, or even go up to the TV Tower. Visit one or more of the many museums the city has to offer, depending on your interests. Or you can simply walk around the city, shop in some of the gay stores that exist (many with fantastic underwear) and relax on a terrace drinking a beer and eating Currywurst (who doesn't love a good German sausage?!).
And today is Saturday! Yeah, that's right: Saturday night! For those who want, it's optional, we can all arrange a night out, dinner and a drink and for those who want to extend: finish at a gay club!
It's Berlin: there are gay bars, gay clubs and also gay saunas for all tastes and styles.
Included: • Breakfast • Hotel in Berlin centre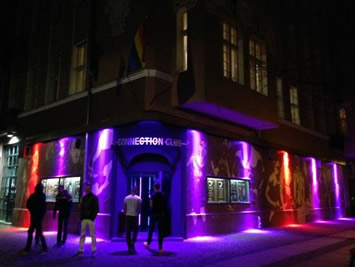 Day 4
Free Day in Berlin
It's Sunday and the weekend is ending! Did you go out on Friday and Saturday night? Today maybe you will have breakfast later, but don't miss it to have strength for this day.
Today we are also going to advise you on different visits, activities and experiences that you might want to do. You have the day off to do that last bit of shopping, try that food you've been craving or simply relax and walk around the city.
We are always there to advise and support you!
This being our last group day, we can't say goodbye without our last group dinner. We will remember these last days we spent together and maybe start planning the next ones. You will certainly have new friends and lots of memories.
Included: • Breakfast • Dinner • Hotel in Berlin centre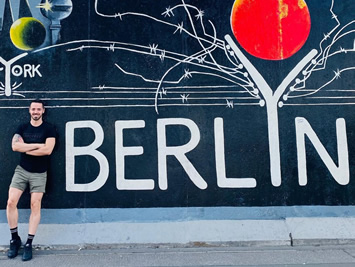 Day 5
Berlin Departure
Today is the day to say goodbye. After breakfast we leave our hotel and each one will leave for their next destination or home.
If you need a transfer to the airport, or another location, let us know and if you want we can help. If you want to stay longer in Berlin and need help we can also help.
Included: • Breakfast