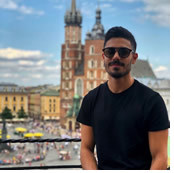 We will take you on a 5-day gay group tour of Krakow. Krakow is probably the most beautiful city in Poland: romantic and inspiring, a fairytale setting. The largest medieval square in Europe in the heart of Krakow is surrounded by magnificent Gothic, Renaissance, Baroque and Art Nouveau buildings. A castle that appears in lists of the most beautiful castles in Europe. A century-old salt mine that is a work of art for chambers and galleries.
A historic center where horse-drawn carriages share the cobbled streets with the population. Krakow is also an excellent base for visiting the Nazi concentration camp at Auschwitz-Birkenau.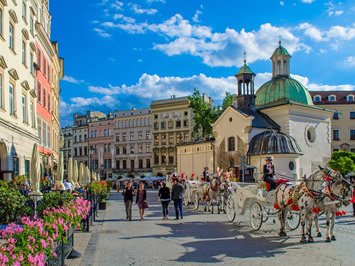 The city is very old, yes, but not frozen in time. Krakow perfectly combines its past with modern dynamism. The historic neighborhoods have trendy cafes and bars that share space with century-old buildings and typical dairy shops. The growing student population both energizes cafes and nightclubs and fills concert halls, museums and galleries.
Although small, Krakow also has a fantastic gay night.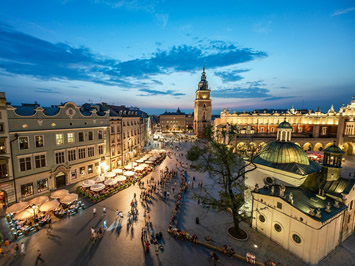 Day 1
Arrival in Krakow, Poland
Hello and welcome to the charming, colorful, historic, lively and cultured city of Krakow!
Upon your arrival at Krakow airport (KRK), you will have a transfer waiting for you that will take you directly to the hotel in maximum comfort. Here we will be waiting for you and it will be the meeting point for the group. Depending on your arrival time, you can still enjoy some free time until dinner time arrives.
On our first night we will have our first group dinner in a typical restaurant, to introduce ourselves/get to know each other and socialize.
Included: • Transfer from Krakow airport • Welcome Gift • Group dinner • Hotel in Krakow centre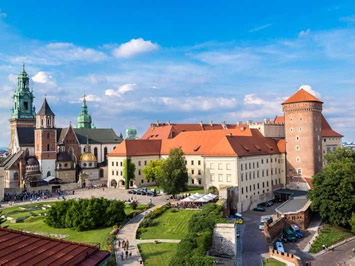 Day 2
Krakow, Poland
We start the day with breakfast and around 10am, we'll meet our local guide and start our adventure exploring the city streets of the fantastic city of Krakow. Stroll through a city that has a thousand years of history and unique charm, as you see some of its most important attractions, such as Wawel Hill, the Royal Castle that are part of one of the first UNESCO World Heritage Sites and the Main Market Square that dates back to the XIII century.
Let's discover the picturesque Royal Route and learn all about Poland's medieval history and explore the enchanting sights of Krakow's Old Town on an exciting walking tour.
Among many other places, we will also visit the Jagiellonian University district, which is home to the oldest university in Poland, Planty Park, one of the largest urban parks in Poland.
After our tour through the streets of the old city, we'll have an optional group lunch and the rest of the afternoon and evening you'll be free to continue exploring the city on your own, in a group or to do some more optional tour such as Krakow food tour, Pierogi-making class (snacks and beer) or discover the Jewish heritage of Krakow.
Included: • Breakfast • 2-hour walking tour of the old town • Local guide • Hotel in Krakow centre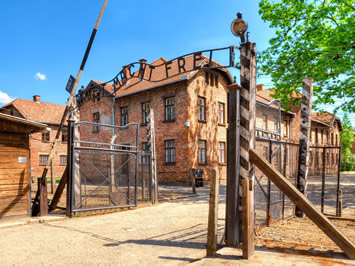 Day 3
Krakow - Auschwitz-Birkenau
Today we wake up a little earlier and after breakfast we go on a full day excursion to Auschwitz-Birkenau. We will visit the Auschwitz-Birkenau Memorial and Museum.
You'll see the original buildings and artifacts on a moving and informative tour with a licensed guide.
After a journey of around 1 hour, we arrive at the Auschwitz I Museum and embark on a walking tour with a certified guide. We'll explore the remains of the Nazi camp's barracks, watchtowers and crematoria.
Here we will hear about the horrible crimes the Nazis committed in the camps and hear stories of the prisoners' everyday lives.
Then we continue the walking tour at the Auschwitz-Birkenau II Memorial. Witness the gas chambers and the remains of the railroad that transported prisoners to the camps.
We'll still have some time to explore on our own before returning to your hotel in Krakow.
After a day full of emotions, at the end of the afternoon, we are back in the city and you will have the rest of the time and dinner at your leisure.
To relax from the heaviest day and being Saturday, join us at night and we'll have a drink, taste the famous vodka (we're in Poland) at one of the city's gay bars, mingle with the locals and maybe dance a little .
Included: • Breakfast • Full day tour to Auschwitz-Birkenau • Transportation + licensed local guide • Entrance ticket • Hotel in Krakow centre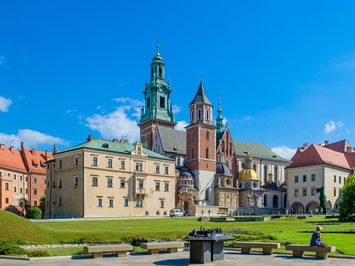 Day 4
Free Day in Krakow
Today is completely free, it will be our last full day together, allowing you ample opportunity to explore the Krakow city. You will have an endless optional list of activities to participate in a group or on your own.
You can take a guided tour of the Wieliczka Salt Mine, a Vodka Tasting Tour, Horse Ridding by the lake, a guided tour of Schindler's factory and the ghetto, a Polish wine tasting in Krakow with a sommelier or simply explore one more the streets of the city of Krakow and take a walk or catch some sun on one of the many terraces next to the river. Enjoy the day!
With the arrival of the night and for us to start saying goodbye, remembering the last days we spent together, laughing and socializing, we will end on a high note with our last official group dinner.
After dinner you will have the rest of your free time and join us for a toast and who knows, planning your next adventure!
Included: • Breakfast • Dinner • Hotel in Krakow centre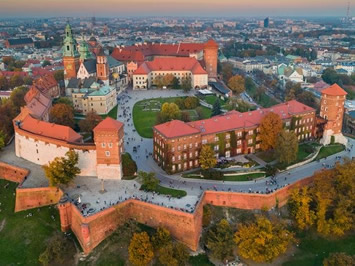 Day 5
Krakow Departure
Today is the day to say goodbye. After breakfast we leave our hotel and each one will leave for their next destination or home.
If you need any transfer to the airport, or another location, let us know that we can help. If you want to stay longer in Krakow or another city in Poland and need help, let us know.
Included: • Breakfast