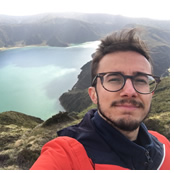 Uncover Portugal's best kept secret on this active adventure. The North Atlantic's Azores, like Hawaii, is a remote volcanic archipelago. Our active gay group adventure explores the crater of Sete Cidades—one of the 7 Wonders of Portugal—bathes you in natural thermal pools, and includes a world-class whale watching excursion. You'll have the opportunity to explore four iconic islands including São Miguel, Faial, Pico and São Jorge.
Want to maximize your time in Portugal? Pair this tour with our Lisbon & Porto Gourmet Foray Gay Tour – a culinary tour of the country's mainland that immediately follows this tour.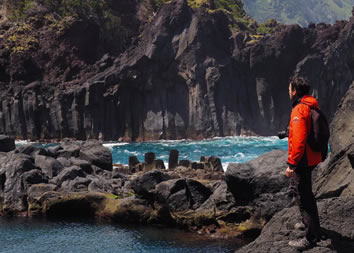 • Explore volcanic sites like Sete Cidades, Capelinhos, and Caldeira do Santo Cristo
• Experience 4 unique islands: São Miguel, Faial, Pico and São Jorge
• Spot over 25 species of whales and dolphins on a special boat excursion
• Skip the whale tour (and save $100) to surmount the Azores' highest peak
• Enjoy an afternoon soak in a thermal pool heated by volcanic vents
• Peddle through a quaint village on São Miguel Island
• Visit Europe's only tea plantation
• Virtually all meals included, along with water and soft drinks. Beer and wine included at dinners.
Day 1 - Ponta Delgada, São Miguel Island (Portugal)
Olá! Welcome to Portugal's Azores Islands! Since most flights arrive in the morning, we've confirmed early check-in at the hotel – have a snooze before our Group Meeting at noon!
We'll venture out to explore Ponta Delgada – capital of the Azores – to sample tapas in the city's celebrated bars and restaurants. We'll also see Portas da Cidade (the town gates), Matriz Church, City Hall, São Bráz Military Fort, and São Francisco Square.
Freshen up before our Welcome Dinner. It's at a slick waterfront restaurant featuring sublime local fare.
Hotel: Hotel do Colégio
, Ponta Delgada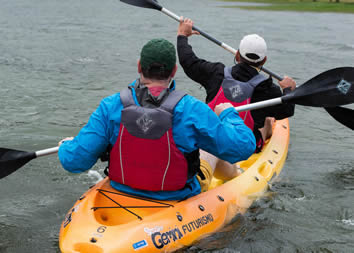 Day 2 - Sete Cidades & Ponta da Ferraria, São Miguel Island
For our first full day we're going to get physical at Sete Cidades, the twin lakes in the crater of a dormant volcano. Kayak, standup paddle board, or bike and hike your way around the volcanic complex.
With appetites worked up, savour a traditional Azorean picnic on shore.
We'll then drive the south coast to visit Ponta da Ferraria, a thermal pool heated by the surrounding volcanic vents, and if the tide permits we'll even have a soak.
The evening is yours to enjoy on your own, or at an optional group dinner.
Hotel: Hotel do Colégio
, Ponta Delgada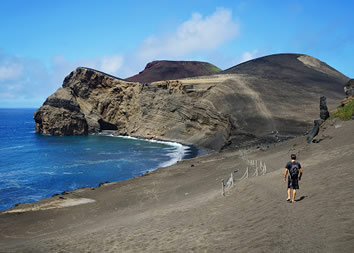 Day 3 - Horta City, Faial Island
This morning we have a short albeit early flight to Faial Island.
After landing we immediately get to business with a hike through Capelinhos Volcano. You'll visit the site of a volcanic eruption, an experience compared to walking on the moon. When we reach the historic lighthouse/modern interpretation centre, we'll see the newest part of the island, born during the eruption of 1957.
A picnic lunch is served in a natural forest reserve, then we continue on to Horta and its famous marina. From here, savour an afternoon gin and tonic at Peter's Café.
Tonight's dinner is at a local restaurant where—if the owner is around—he will regale us with tales of circumnavigating the globe two times by sailboat.
Hotel: Hotel do Canal
, Horta, Faial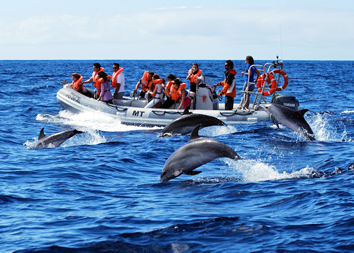 Day 4 - Pico Island
After we take a 30-minute ferry to Pico Island, choose your own adventure!
OPTION ONE:
Enjoy a laid-back whale- and dolphin-watching tour in Lajes do Pico. We can't guarantee cetacean sightings, but look for turtles, seabirds, and other marine mammals. After lunch, we're off to Gruta das Torres, a volcanic formation, followed by a Pico Island cultural tour. The day ends with drinks at a local bar.
PLEASE let us know if you have any back problems, as there are some restrictions on the tour boat.
A minimum of 4 passengers is required for this option.
OPTION TWO:
If you fancy a technical challenge, and don't have knee or ankle problems, hike Portugal's tallest mountain (2,351m/7,713ft)! A picnic lunch is served, with time for cocktails at a local bar.
If you choose this option, you'll also save $100 on the trip.
Both groups then ferry back to Horta.
Dinner is a short walk from the hotel. The menu features fresh fish, local seafood and meat.
Hotel: Hotel do Canal
, Horta, Faial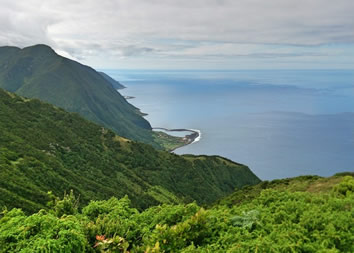 Day 5 - São Jorge Island
Our ferry to the São Jorge Island is just over two hours.
We then transfer to Serra do Topo for a downhill hike of medium difficulty. It covers 10km/6.5mi and should take about 3 hours.
We'll see the astonishing Caldeira do Santo Cristo, clams that grow in a saltwater lagoon, and maybe some surfers on what may be the longest waves in Europe.
Lunch will be served on the terrace of a surf house, and the day wraps with a visit to Fajã dos Cubres – a debris field built by collapsing cliffs.
After we transfer to our hotel and check-in, a group dinner is served.
Hotel: São Jorge Garden Hotel
, Velas, São Jorge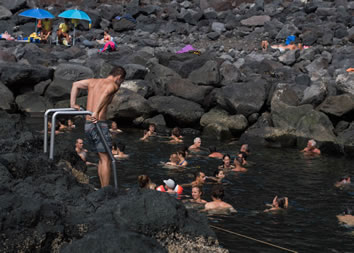 Day 6 - Furnas, São Miguel Island
The day begins with a flight back to São Miguel Island.
Upon landing we head straight to our fabulous hotel which boasts its own thermal pools, and one of the most spectacular gardens in the country.
You'll have the entire day to explore the gardens, pool and village on your own.
An optional guided stroll through town and towards the region's bubbling hot springs will also be available.
Tonight we reconvene for another delicious included dinner.
Hotel: Terra Nostra Garden Hotel
, Furnas, São Miguel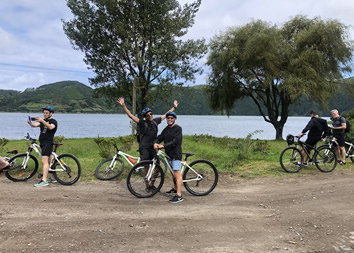 Day 7 - Furnas, São Miguel Island
Today, our Azorean adventure begins with a bike ride from the village to Furnas Lake for a picnic lunch.
From there we'll transfer to Faial da Terra for a 2.5h hiking tour of the island's interior.
Our walk along a steep, narrow road leads to Sanguinho – a village abandoned since the 70's that's in the midst of a restoration. The remainder of the trail goes through woods with short hilly stretches through dense vegetation.
Upon reaching Salto do Prego's waterfall you may opt for a brisk dip (the water's chilly) before we head back along a different route.
Enjoy a refreshment in town and some mingling, then join us for our Farewell Dinner and a hilarious private mixology class.
Hotel: Terra Nostra Garden Hotel
, Furnas, São Miguel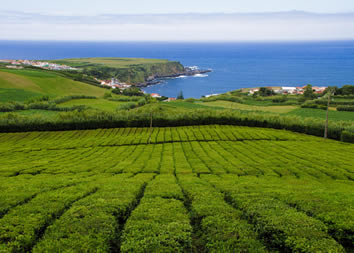 Day 8 - Azores Departure
We have one short activity this morning – a visit to Europe's only tea plantation.
After lunch and some time to shop, you'll be transferred to the airport at 3:45PM, officially ending our Azorean escapade.
You may wish to continue your tour with Out Adventures on our mainland Portugal Lisbon & Porto Gourmet Foray Gay Tour. If not, we wish you safe travels home, and Até à vista!