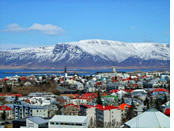 Witness the wonder of the Northern Lights • Experience the famous Golden Circle, most well known for Gullfoss waterfall and the Great Geysir • Get to know locals at an Icelandic house party • Soak and soften up in the Blue Lagoon • Snowmobile on an ice cap covering one of Iceland's largest mountains • Enjoy the best of Icelandic cuisine. Join us this March in the Land of Fire and Ice, better known as Iceland.
Kick off your adventure at an Icelandic house party where you'll get to know each other, and some locals! At night, we'll feast on the best of Icelandic cuisine before heading out in Reykjavik for a few cocktails. We'll spend time soaking in lagoons, we'll traverse an ice cap by way of snowmobile and we'll explore the famous Golden Circle, including Gullfoss Waterfall and the Great Geysir. All said and done, no visit would be complete without a visit to the countryside, so pack your bag as we head to one of the best places to see the Northern Lights in South Iceland. Enjoy our cozy countryside hotel for one night, where we have the chance to relax in the hot tub while we witness the magic that is the Aurora Borealis.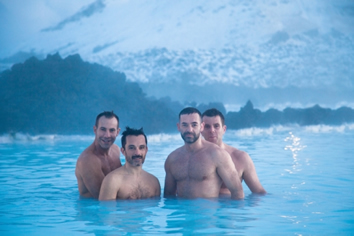 This is a list of included activities on this trip. All other activities are optional and at your own expense. If you choose not to participate in the included activities on this itinerary, the cost will not be refunded.
• Gay group leader
• Breakfast daily
• 1 Dinner
• Arrival airport transfer to joining point hotel
• Departure transfer
• Icelandic house party with open bar
• Snowmobiling adventure
• Blue Lagoon entrance/towel/robe/drink
• Spa access at Frost and Fire Hotel
• Golden Circle tour
• Reykanes Peninsula tour
• Reykjavik walking tour
• South Shore safari day tour
• International airfare
• Meals and activities not outlined in itinerary
• Travel insurance package covering medical, trip interruption & baggage loss.

3 & 4 Star Locally Owned Hotels (4 nights)
We have carefully chosen these gay-welcoming properties with you in mind. They have the right balance of comfort while still being locally owned.
Joining/Finishing Point Hotel
Skuggi Hotel by Keahotels, Reykjavik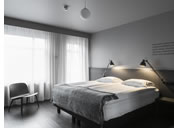 Skuggi Hotel is the perfect choice if you are looking for centrally located hotel in Reykjavik. Timeless, modest and clear-cut design reflects the style of the Hotel.
At Skuggi hotel you will discover all the best that the Reykjavik has to offer, in addition to the exquisite service and excellent location. The hotel features a hundred well designed rooms all equipped with standard amenities for a comfortable stay.
Skuggi Hotel is the perfect place to stay in downtown Reykjavik.
Standard check-in time is between 2PM and 3PM. We are unable to arrange early check ins, however you are able to store your luggage and explore the central area near the hotel while you wait. If you would like a guaranteed early check-in, you will need to reserve a pre-tour night of accommodation.
Physical Rating
Your itinerary includes easy paced walks that are not overly challenging. You don't have to worry about being able to do anything physically demanding, unless you want to.
Culture Shock
The trip includes comfortable accommodation and days of being on the move are well interspersed, communication with the outside world is ever-present and a wide variety of food is commonly available.
Group Size
Maximum of 16 travellers per group. Departure is guaranteed, subject to 4 people travelling.
Budget
Allow $400-$500 USD for meals not included.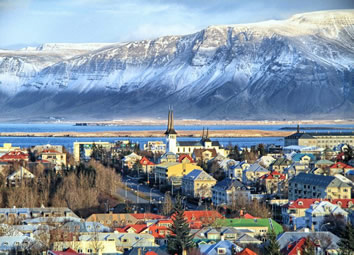 Day 1 - Reykjavik, Iceland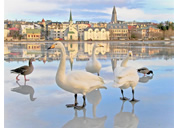 Hallo! Welcome to Iceland.
Meet your fellow travellers and your Icelandic guide, prior to exploring Reykjavik by foot. This evening we'll head out for an optional dinner at one of the best restaurants in Iceland, then we'll head to an Icelandic house party where the guests of honour are... us! If you aren't too jet lagged, we'll also hit the town for some dancing.
You are met on arrival at Keflavķk International airport and transferred to your hotel (please advise flight arrival details at least 15 days prior to departure if you wish to have this transfer provided). Transfer: approximately 55 km.
You can arrive at any time on day 1 as there are no activities planned until the important welcome meeting at 5:30pm. If your flight arrives after this time we recommend that you consider booking a night's accommodation prior to the trip so you can ensure you are able to attend this meeting.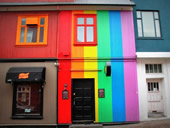 On the way into Reykjavik make sure to take in the breathtaking views of lava fields and mountains in the distance - it has been said that some of the scenery reminds people of the moon. After arriving at our joining point hotel, take some time to get settled in and explore this amazing city.
After our group meeting, we'll go for a walking tour of Reykjavik, followed by an optional dinner and an Icelandic House Party. If you've still got energy after our house party, perhaps you can check out some of the local gay nightlife!
The world's northernmost capital lies just a whisker below the Arctic circle, sees around four hours' sunlight in the depths of winter, but bathes in 22 or more hours of it in summer. Surrounded by gleaming volcanic peaks and crystalline ocean with a vibrant heart that beats with a wild nightlife, Reykjavik's contrasts are utterly beguiling, beautiful and must be touched, tasted and seen to be believed.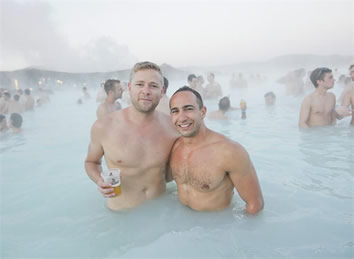 Day 2 - Blue Lagoon / Reykjanes Peninsula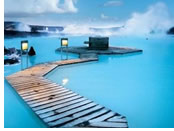 This afternoon we head to the famous Blue Lagoon where we'll relax in this geothermal oasis while sipping on a cocktail. We'll then head to the Reykjanes Peninsula where you can cross a bridge between continents. Talk about being world travellers!
Don't worry if you had a late night, as you have a free morning to enjoy breakfast and sleep in.
This afternoon we head to the famous Blue Lagoon where we'll relax in this geothermal oasis while sipping on a cocktail. We'll then head to the Reykjanes Peninsula where you can cross a bridge between continents. Talk about being world travellers!
Discover a lunar landscape pitted with volcanic and geothermal wonders, a surf-pounded coast where lighthouses outnumber villages, and where arguably the best sunsets in Iceland can be enjoyed. This rugged peninsula of raw natural beauty also boasts abundant wildlife and several top cultural and recreational attractions, including the world famous Blue Lagoon, the Viking Ship Exhibition, Power Plant Earth, and the Leira golfcourse.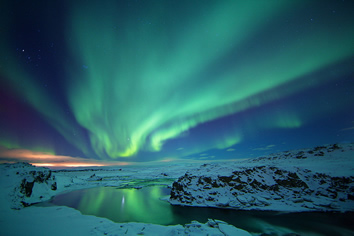 Day 3 - Golden Circle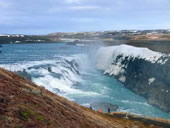 Today we'll pack an overnight bag and hit the road on the famous Golden Circle tour. We'll visit Thingvellir National Park where the tectonic plates are literally pulling apart, then we'll see the beauty and fury of Gullfoss Waterfall, followed by a vist to the Great Geysir. Tonight we'll relax and soak in the geothermal hot tub at our charming country hotel, and hopefully we'll witness the Northern Lights!
Time to pack up your room as this Sunday night will be spent in a lovely countryside hotel in the geothermal town of Hveragerši after a day of exploring some of Iceland's most famous natural wonders. We depart at 10:00AM for the Golden Circle.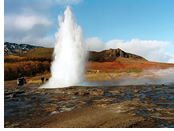 We'll have the chance to walk around the world famous Geysir geothermal area, a geothermal field with hot springs in abundance, an erupting geyser and pools of bubbling mud. This is followed by a visit to the magnificent Gullfoss waterfall where the power of the water can be felt through the air. Žingvellir national park is the site of the oldest parliament in the world where the great Atlantic rift is clearly visible, a rift that is slowly tearing Iceland apart along tectonic plates.
After check-in we'll have an included dinner at the hotel, then a soak in the fantastic hot tubs which lie just beside a warm river & swimming pool. Cross your fingers and maybe we'll enjoy the Northern Lights!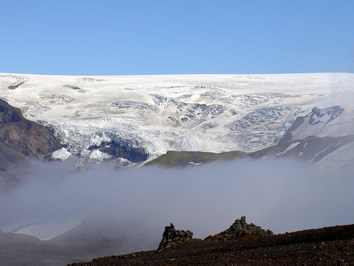 Day 4 - South Shore Safari - Myrdalsjökull Glacier / Reykjavik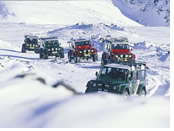 Mid-morning we drive to the South Shore where we'll see black beaches, unbelievable rock formations, beautiful waterfalls and perhaps an Icelandic horse or two. After sightseeing, we head towards Mżrdalsjökull Glacier, an icecap covering one of Iceland's largest mountains. We'll board a monster-style truck that will take us to the top of the glacier where we'll witness spectacular views on an epic snowmobile adventure. After our excursion we'll head back to Rekjavik for our final dinner and night on the town.
We depart our hotel for a South Shore Safari with a snowmobile adventure (2 people per vehicle) on Mżrdalsjökull glacier, an icecap covering one of Iceland's largest mountains, Mt. Katla.
Our adventure doesn't start at the glacier itself, but with a monster truck drive from base-camp which feels like a ride from an action movie. But fear not as the drivers are local experts and know the route like the back of their hand.
After our glacier adventure we'll make our way back to Reykjavik where we have an optional farewell dinner before saying goodbye!
Day 5 - Reykjavik
Today is departure day. You are free to depart at any time. We hope you've enjoyed your time in Iceland with OUT Adventures.