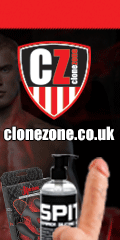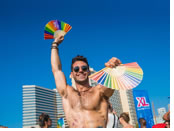 Why not celebrate your pride with us in Israel in one of the proudest Gay cities in the world! A unique way to explore Israel & Jordan whilst also having a glorious Gay Pride Week. This exquisite journey will take you from the antiquity of Jerusalem, and the serenity and haunting beauty of Wadi Rum, to the modern, enrapturing Tel Aviv and its world famous gay scene. Join us and soak in the gay vibe of Tel Aviv in our annual Gay Pride Week! From the golden beaches of Tel Aviv to the Old City of Jerusalem, and from the Crown Jewel of Petra to the spectacular desert of Wadi Rum, Israel & Jordan are countries of incredible contrasts. The countries with the "WOW" factor, and destinations on everyone's must-visit bucket list.

Join gay tourists from all over the world for an amazing group journey this coming June. Enjoy Tel Aviv Gay Pride week and explore all the highlights Israel & Jordan! Fun, Sun, History & Tel Aviv Gay Pride 2022 - Israel has it all! Join us for an unforgetabble time.
Get ready for the one of the hottest gay Pride events in Europe - Tel Aviv Pride 2022 on the beginning of June. It is a well known fact that Tel Aviv has become one of the main gay metropolitans of the world. Tel Aviv Pride keeps getting bigger and better every year. City officials who support the organisation of the event are expecting more than 100,000 people to take part. Gay tourists from all over the World flock their chiseled, toned bodies to celebrate Gay Pride week in Tel Aviv. OUTstanding Travel makes celebrating your Pride as seamless as possible, from exciting tours & accommodations at the best hotels in the city, to insuring your entry to the most exclusive parties and fabulous events taking place during Tel Aviv Gay Pride 2022.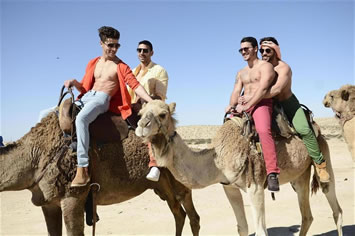 Tel-Aviv is quickly making a name for itself as one of the top Gay destinations in the world. The extravagant and lavish Pride Week takes place annually at the beginning of the summer, when the sun shines brightly on the Tel Aviv shores. This is one unforgettable week, as Gay tourists from all over the world flock their toned, chiseled bodies to get a glistening glimpse of the vibrant nightlife, outrageous parties, a must see-to-believe Pride Parade and of course, a plethora of gorgeously bronzed Israeli men and women.
Our planned group trip gather gay tourists from all around the globe for one unforgettable experience. 12 nights, 13 days, planned from top to bottom, with high-quality service. We will take you through Israel and unfolds its true magic and beauty. We'll place you at the center of it all!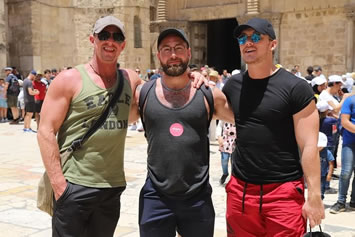 Day 1 - Tuesday, May 31, 2022
Welcome to Israel
Welcome to Israel! The moment you land, our OUTstanding Israel team will meet you at the airport and escort you to your hotel in Jerusalem.
After the tiring flight, you will be served a welcoming dinner, there you will meet your guide for the tour and the fabulous people that will join you on this adventure.
If you are not too tired, you are more than welcome to walk around the city at your leisure. But remember, tomorrow is a new and wonderful day for more exploring!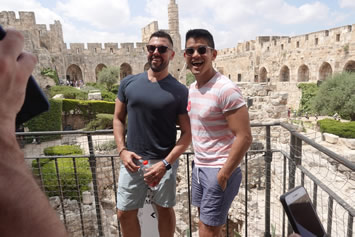 Day 2 - Wednesday, June 01, 2022
Jerusalem
Good morning, Jerusalem!
Starting the day bright and early, after a filling and delicious breakfast, you will be taken on a tour of the Old City of Jerusalem and the Western Wall tunnels. A place that is extremely spectacular and rich in history, truly a once in a lifetime experience, especially with new and great friends!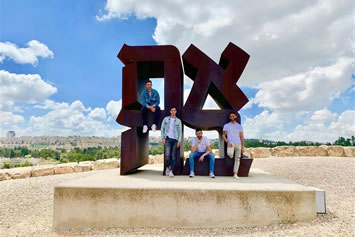 Day 3 - Thursday, June 02, 2022
Jerusalem
Today you will be enjoying the fabulous culinary side of Jerusalem in the Machne Yehuda Market, walking through the alleys, tasting different foods, smelling the spices and soaking in the culture.
The next part of the day is also full of culture, visiting the Museum of Israel, a very important museum, full of amazing art and artifacts ranging from ancient times to modern art.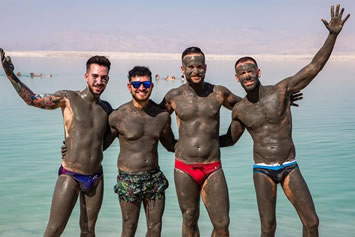 Day 4 - Friday, June 03, 2022
Masada & Dead Sea
Time to move on to the next adventure!
Leaving Jerusalem bright and early in an air-conditioned bus that will take you to the beautiful Masada National Park, there you will be taken on a fabulous tour of Masada and around it.
Later on, you will be crossing over to the Jordanian side where the two countries meet, at the Dead Sea. At this point you will be able to enjoy your free time on the beach of the Dead Sea, soak up the minerals and rejuvenate your skin for the upcoming days. You will be sleeping at a luxurious hotel in the area and preparing for the next day's adventure.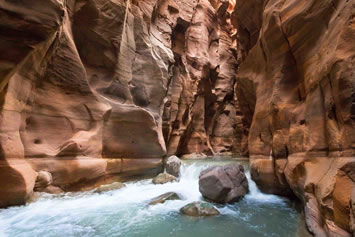 Day 5 - Saturday, June 04, 2022
Wadi Mujib, Jordan
Today you will be going on an amazing tour in Wadi Mujib Reserve, a breathtaking hike between walls and valleys with insane views.
In this Canyon, you will be walking through small paths with flowing water so make sure to put on good hiking shoes and expect to get very wet! What can be better than natural flowing water in the middle of the desert?!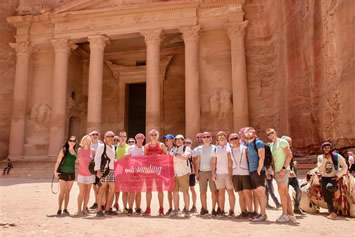 Day 6 - Sunday, June 05, 2022
Petra, Jordan
Today we will be driving down for about 2 hours to beautiful Petra, and the best part is that you are doing it with people that you already got to know and a tour guide that you can ask anything and feel free with. There you will tour, take photos, explore this ancient city and structures.
From Petra, we will drive to Wadi Rum, a gorgeous dessert, and stay there overnight in Martian tents! It truly is out of this world and an amazing experience.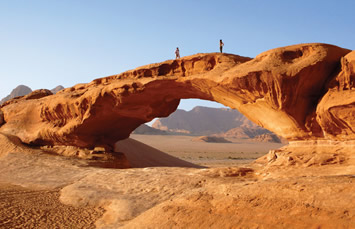 Day 7 - Monday, June 06, 2022
Wadi Rum, Jordan
Today we're taking it a little bit to the extreme, a 4x4 jeep tour in the amazing desert and its views, and after, a more relaxing and traditional camel ride.
After all the crazy rides, we'll drive south to Aqaba and stay there at a gorgeous hotel.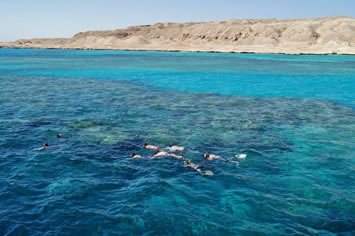 Day 8 - Tuesday, June 07, 2022
Aqaba, Jordan
Time to explore! Today is your free day to explore and soak in the beauty of Aqaba, go snorkeling in the Red Sea, enjoy the local food, shop for souvenirs and basically take some time to yourself and enjoy your time in the Middle East!
Of course, you may consult with our tour guide as to where you should go and what you should see.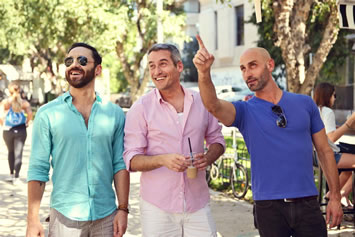 Day 9 - Wednesday, June 08, 2022
Tel Aviv, Israel
After a nice and relaxing personal day in Aqaba, we are crossing back to Israel, of course with all the passes and the hassle on us, so all you need to do is fasten your seat belts and in no time we are back in the Ben Gurion Airport and on our way back to Tel Aviv.
Once you arrive in Tel-Aviv after the short flight, you will be welcomed with a Pride Reception and party!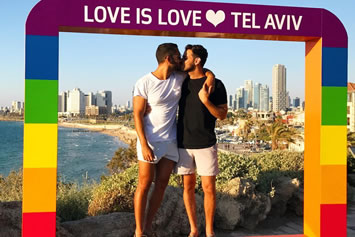 Day 10 - Thursday, June 09, 2022
Tel Aviv & Jaffa
After a good night's sleep and waking up with the beautiful seashore and boardwalk view from the hotel, you will be taken on a city tour of Tel Aviv and Jaffa.
With our tour guide, you will be able to see the most interesting and historical places of Tel Aviv and Jaffa, and there is a lot to see!
Try the amazing food, shop and soak in the calm before the storm, because tomorrow is the PARADE!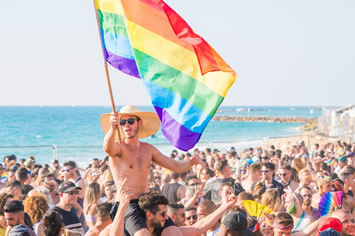 Day 11 - Friday, June 10, 2022
Tel Aviv Gay Pride Parade
PRIDE PARADE IS HERE! The parade starts at noon and goes on until the sunset, fortunately, it will also be under the hotel you are staying in so you can either watch, join from the beginning or hop in when you are ready!
The parade ends at Charles Clore Park where there will be a huge party, live performances, bars, food stands, and sprinklers!
You better be ready for this!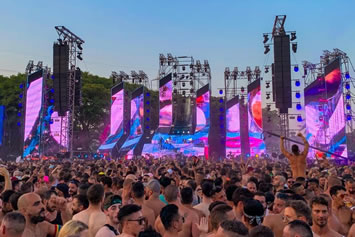 Day 12 - Saturday, June 11, 2022
DJ Offer Nissim Party
Today you can enjoy the beach, take off some stress, relax and unwind right before the biggest pride party in Tel-Aviv with DJ Offer Nissim.
People from all over the country and the world that came to the parade will be joining in this huge celebration in the park with non-stop house music, lights, sexy men and a whole lot more ;)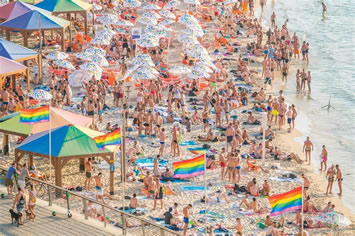 Day 13 - Sunday, June 12, 2022
Shalom & Goodbye
Time to say Shalom and Goodbye, and hope that you had an amazing and outstanding adventure!
Once you are all checked out of the hotel, we will transfer you to the airport and make sure that you leave with a huge smile on your face, feeling proud and hopefully tired, and with a great tan as well! Thank you for choosing to celebrate pride with us and see you next year!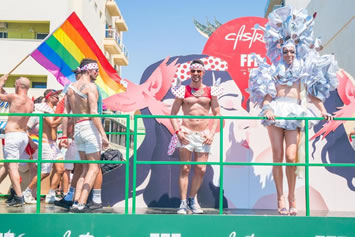 Mamilla Hotel, Jerusalem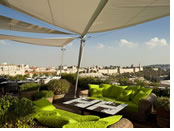 Mamilla Hotel
is a Jerusalem hotel located in the heart of the City, with magnificent views of the Old City walls, the Tower of David, Jaffa Gate, and alongside Jerusalem's new shopping and entertainment experience, the Alrov Mamilla Avenue. Mamilla Hotel is the newest of luxury Jerusalem hotels, which brings world-class superior design and lifestyle hospitality to Jerusalem and Israel.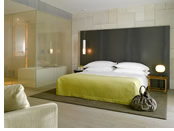 Guests and visitors at the Mamilla Jerusalem Hotel
enjoy exceptional accommodations together with exclusive restaurant and bar venues, a Holistic Wellbeing Center, as well as events and banqueting spaces, that blend sophistication and modern international style with the unique and rich culture of the City.
The Mamilla Jerusalem Hotel is a visually stunning example of intimate, sophisticated contemporary design. The exquisite design was done by, Piero Lissoni, one of the world's renowned designers, and is one the finest Jerusalem hotels.
3 nights, Executive Room
Kempinski Hotel Ishtar Dead Sea, Dead Sea, Jordan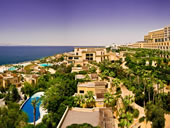 This property is 1 minute walk from the beach. Boasting tree-lined outdoor pools overlooking the waters of the Dead Sea, the 5-star Kempinski features a private stretch of beach and a spa offering sea mud and sea salt treatments.
Home-made pasta, Thai dishes and signature chocolate desserts and watermelon granites are served at Kempinski Ishtar's restaurants. Try a drink at the Babylonian-inspired cocktail bar, or enjoy a whisky and cigar at the lounge bar.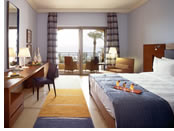 Kempinski Hotel Ishtar Dead Sea
offers rooms set among palm trees and olive groves. All rooms and suites come with a balcony with sea views. They are carved in natural stone complemented by contemporary details.
Guests can refresh in the 9 freshwater pools, or relax in the spa with traditional Thai massages or hammam sessions. The state-of-the-art fitness centre has personal trainers available on request, and yoga and meditation classes are on offer.
2 nights, Standard Room
Aicha Memories Luxury Camp, Wadi Rum, Jordan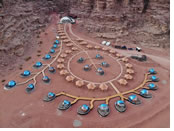 Spend a cosy night under the stars in the panoramic tent. This camp consists of 40 large canvas tents, nestled in the heart of the Wadi Rum. Bordered by rugged mountains and the stunning Arabian desert, this camp lets you wake up in the wild outdoors without compromising an ounce of luxury. Expect the same amenities and facilities as you would have in a top-class hotel. Memories Aicha Luxury Camp has a barbecue, garden and sun terrace.
Each tent is decorated with plush furnishings and a colour-scheme of yellows, oranges and reds inspired by the colourful sands of the desert. Enjoy air-conditioning throughout the tent as well as showers and complimentary wifi.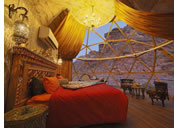 In addition to the elegant sleeping area, some tents also have dining and lounge spaces that are perfect for group of friends. Enjoy on-site facilities such as a library, terrace, restaurant and outdoor barbecue area. Expert chefs prepare a range of delicious meals using fresh local ingredients.
From the camp, head out for long days exploring the incredible Wadi Rum. Located only a five-minute drive from the Wadi Rum visitors centre. Enjoy a jeep-tour of the red desert, sample a traditional Bedouin dinner cooked under the earth or relax beneath the clear night sky and admire hundreds of glittering stars.
1 night, Panoramic Tent
Al Manara, a Luxury Collection Hotel, Saraya Aqaba, Jordan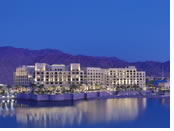 Relish a resort experience unlike any other at Al Manara, a Luxury Collection Hotel, Saraya Aqaba in historic Aqaba, Jordan. Nestled against the Red Sea, we are the first 5-star resort hotel in the ancient port city of Aqaba. Inspired by millennia of history and heritage, our Aqaba resort blends authentic Jordanian tradition with the tastes of the refined global traveler.
Located on the beachfront in Aqaba, Al Manara, a Luxury Collection Hotel, Saraya Aqaba features a private beach area and free WiFi. Boasting a 24-hour front desk, this property also provides guests with an outdoor pool.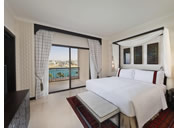 Step into thoughtfully appointed accommodations with luxury Frette linens, unique collectible pieces designed in Aqaban style and terraces overlooking the Red Sea and our private hotel lagoon. Enjoy authentic restaurant experiences, from dynamic Mediterranean and Levantine cuisine to a Zaarb feast on our private beach.
All guest rooms comes with air conditioning, a flat-screen TV with satellite channels, a coffee machine, a bath, free toiletries and a desk. The rooms come with a private bathroom and a bidet, and selected rooms will provide you with a terrace. Guest rooms will provide guests with a wardrobe and a kettle.
2 nights, Classic Room
Royal Beach Hotel, Tel Aviv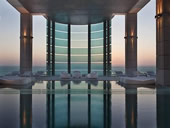 Get the celebrity treatment with world-class service at Royal Beach Hotel Tel Aviv by Isrotel
Exclusive Collection. Royal Beach Hotel Tel Aviv by Isrotel Exclusive Collection is located on the Tayelet Boardwalk, between Hayarkon and Herbert Samuel Street. This modern and luxurious hotel offers an outdoor pool, an à-la-carte restaurant and bar, a Spa and Wellness Area, an Executive Lounge and a fitness centre. Wi-Fi is provided throughout.
All rooms are luxuriously designed and fitted with top quality furniture. They all include a luxurious bathroom with free toiletries, a work area, an LCD TV with connection to Israeli and international channels, a minibar and seating area.
A full Israeli breakfast buffet is served each morning at the restaurant, while the lobby bar offers kosher food and drinks. Room service is available 24 hours a day. Concierge service is available.
The Spa and Fitness Area offers saunas, massages and Turkish baths, while a fitness room is also available. Meeting and banquet facilities are available, as well as car rentals and a shuttle service.
4 nights, Bella Vista Room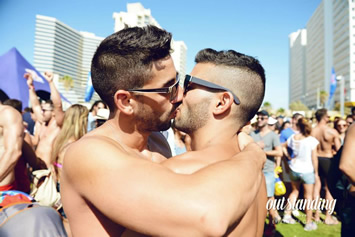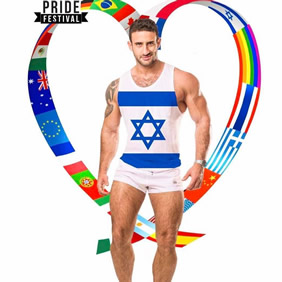 Experience Tel Aviv Gay Pride 2022
Welcome to the hottest place in the Middle East, and we're not talking about the temperature, we are talking about the most exciting, welcoming and gorgeous area of Israel and around it. As you probably already know, the Pride Parade is taking place in Tel-Aviv, Israel's busiest and most modern metropolitan, where hundreds of thousands of people from all over the world and from all types of backgrounds and sexual preferences come together to celebrate the magic and power of pride and life!
Our OUTstanding Israel team built a fabulous and adventurous group package for you and your friends and partners so your stay in Israel will be unforgettable, hassle and worry-free and most importantly, proud as hell!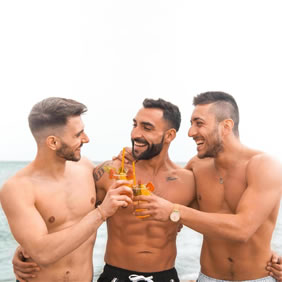 The extended, 13-day package is everything you need and want in a gaycation! The Pride Parade is the main event on June 10th in Tel Aviv, you will be exploring this area of the Middle East before, in the most luxurious way possible and visiting two countries in one amazing tour. Once you land, you will put your worries and planning away, let your mind relax and us to take care of your time here.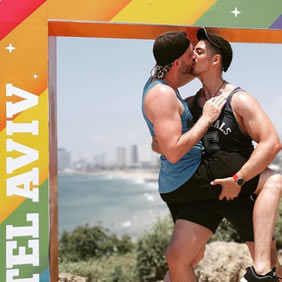 The 13-day tour is divided into 3 parts, starting in the beautiful capital of Israel, Jerusalem. Onward with the tour, you will be exploring the old city of Jerusalem and all of its gifts, traveling on to the amazing Masada and from there crossing to Jordan. You will be enjoying the Jordanian side of the Dead Sea, the beautiful Wadi Rum desert and the breathtaking monument of Petra and the city of Aqaba. All the hassle of crossing borders, bookings and means of travel are taken care of by us.
This package has it all, adventure, luxury, great food, amazing culture, breathtaking views and most importantly, PRIDE!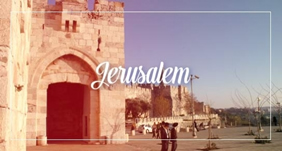 Jerusalem
A Fusion of ancient attractions & modern culture, which Israel is so famous for
Jerusalem, Israel's most populous city and capital, is overflowing with some of the country's most fascinating and fabulous sites. It is the perfect example of the merging of ancient attractions and modern culture which Israel is so famous for. The romantic Old City is the perfect place to learn about three religions that find their home there: Judaism, Christianity, and Islam. Our experienced tour guides know how to uncover the magic of the city and its historical development in the compelling and unique fashion, whether it's retracing the steps of Jesus in the Via Dolorosa or visiting King David's tomb. A stroll in the open market in the Muslim quarter is a wonderful place to buy some perfect cultural wares such as jewelry, spices, and trinkets and absorb the cultural smells and colors. Of course no visit to Jerusalem would be complete without an opportunity to partake in the authentic Middle Eastern cuisine that the city is famous for.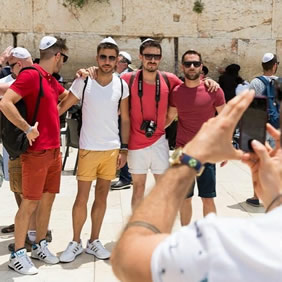 At night, a stunning light and sound show is projected on the walls of the Tower of David, which tells the tale of the history of Jerusalem. The Mamilla Mall, built from reconstructed historical structures, houses interesting boutiques and fine eateries; and is just another example of the harmony between ancient and modern which can be found in this beautiful city. Another important destination is the recently renovated Israel Museum which hosts a wide variety of collections from archaeological finds to contemporary art. Our unique travel itinerary allows you to absorb both the ancient historical significance of this central city and the more recent modern sites. An experience that finds the special balance between religious and secular, tradition and openness, ancient ruins and luxurious boutique pampering that will leave you with a lifetime of memories.
The Dead Sea
An Oasis of luxury in the middle of the colorful sandy Israeli desert
The Dead Sea, the world's largest natural spa, located in the lowest point on earth, has been attracting visitors for thousands of years. Today it has become an oasis of luxury in the middle of the colorful sandy Israeli desert, with its beautiful hotels, spas, and restaurants. The mud there, with its high mineral content, has long been known to be an ideal base for skin treatments and beauty products. In addition to making you gorgeous, scientists have proven that the atmosphere has health benefits that can leave your whole body feeling more youthful and vigorous. In other words, it's the closest thing to the mythological fountain of youth. The high density of the water makes swimming feel more like floating in its crisp clear waters, which gives one a better opportunity to absorb the natural beauty of the surrounding area.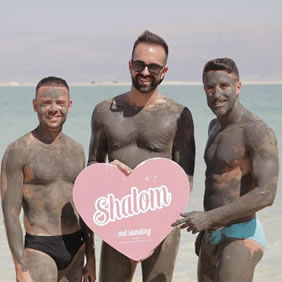 A rich historical center as well, the area affords many glimpses into the developing culture of the area in Antiquity. In nearby Qumran, ancient scrolls of the Hebrew Bible and related texts which were written as far back as 408 BC were found in caves, along with Roman currency. Also nearby, is the famous fortress of Massada which was built by King Herod, where Jewish zealots held out against the Roman legion in 70 CE. No visit is complete without a hike up to the wonderfully preserved remains of Ancient architecture which provides an insight into the long-gone civilization and a wonderful vantage point from which to see the natural beauty of the area.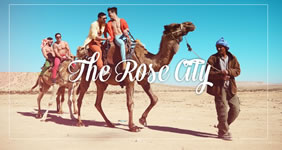 Petra, Jordan
Visitors will be astounded by the sight of the treasury
Renowned for its charm and ancient cultural heritage, Petra marks the achievement of an impressive civilization, the Nabataean Arabs, who perfectly carved the city into its mountains.
It was considered the most important strategic location as a link and point of convergence between the Arabian Peninsula to the south and the Levant in the north, to the far country of China and to the heart of Europe. Petra represents a central convergence of the old trading roads between the Arabian Peninsula, Levant, China and Europe.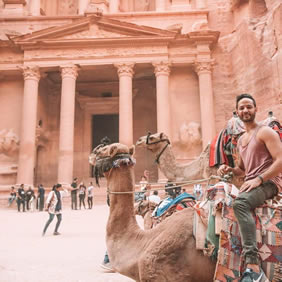 The Siq is the main road that lies between the city's rose colored mountains, which stand at a height of 80m and reach up to 1.2 Km at the end of the Siq. When sightseeing, visitors will be astounded by the sight of the Treasury, which represents the masterpiece of the ancient city with a height of up to 45m and width of 30m, all of which is carved into the mountain.
The city dates back to the first century AD and its design reflects the advance of the Nabataean civilization.
On July 7, 2007 Petra was announced as one of the new Seven Wonders of the World and has become the perfect and best tourist destination for many leaders and celebrities around the world.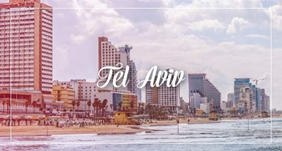 Tel Aviv
The setting of the sun welcomes the vibrant night life.
Tel Aviv, Israel's central urban hub that never sleeps, offers an array of various sites, smells, and experiences. In the past few years it has developed into the Gay capital of the Middle East according to OUT Magazine, with thousands of people coming for the OUTstanding Pride Week and all year. Upon entering the city one is greeted with concrete, glass, and lights of modern skyscrapers. The center of the city is spotted with the eclectic classically and modern-inspired architectural styles and the Bauhaus buildings which Tel Aviv is famous for. The serenity of the beaches, with year-round temperate weather, crystal water, and vast expanses of sand, infused exquisitely with the happening and trendy city scene which includes updated fashion and contemporary art galleries.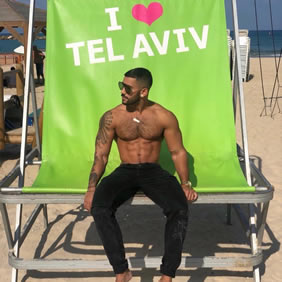 The neighboring Jaffa offers all the romance of an ancient port city, good for a late night stroll with a loved one or a daytime hunt for antiques. A culinary connoisseur will be happy to find a vast array of international cuisine to feast on. And, of course, the setting of the sun welcomes the vibrant night life. You can dance the night away in any one of the happening Gay clubs and bars to the music of some of the most talented DJs in the world. Once you leave the club, at the early morning hours, you can still experience the wonders of the city that never sleeps. Restaurants, boulevard cafes, and almost everything else will still be open when you are ready to tuck yourself into bed.
We've got an intimate knowledge of some of the city's best kept secrets. From which clubs play the best live music to which beaches are the most happening, we've been everywhere and seen it all. Even as the city continues to grow and develop to service the large local gay community and tourists, we make sure to stay updated and informed.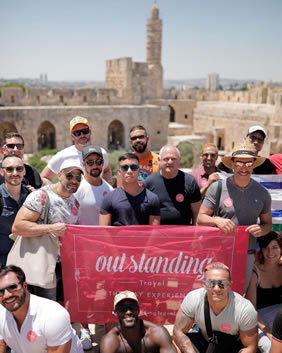 • Greet & assist at Ben Gurion Airport upon arrival
• Arrival and departure transfers from/to Ben Gurion Airport
• Porterage service at hotels
• 12 overnights at the mentioned hotels
• 5 days sightseeing as per your program below with English speaking tour guide
• Transfer from your hotel in Tel Aviv to Ben Gurion Airport
• Domestic flight Eilat - Tel Aviv
• Luxury air-conditioned vehicle in Israel & Jordan
• Meal arrangements:
- Bed and Breakfast at the Hotels, including full buffet breakfast at hotels daily,
- 2 lunches and 2 dinners as mentioned:
- Welcome Dinner in Tel Aviv
- Lunch in Petra
- Dinner at the Camp in Wadi Rum
- Lunch in Wadi Rum
• Entrance fees as per program:
- Tower of David Lookout, The Israel Museum, Wadi Rum National Park, Jeep Tour in Wadi Rum, Camel Ride in Wadi Rum, Petra National Park, all sites on the group tours.
• Border Tax and Visa Fee for Jordan
• Entrance to 3 Gay Parties on Pride weekend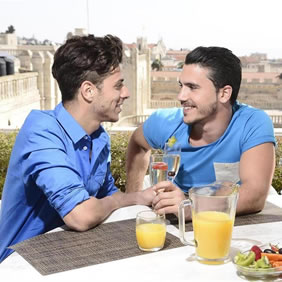 • Flights from/to Tel Aviv
• Visa expenses
• Expenses of a personal nature
• Meals throughout the entire tour other than mentioned
• Spa Treatments at the Dead Sea
• Tips to driver, guide and restaurant staff
• Any other item not mentioned above