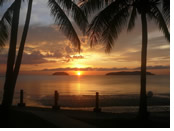 Mount Kinabalu is the highest mountain in Malaysia. It lies in the forest state of Sabah on the North West tip of Borneo. The majestic peak of Mt Kinabalu reaches up out of the surrounding forest to a height of 4095m. Due to the accessible location of this craggy peak and the surrounding wildlife reserves it has become a trekkers paradise.
During our Borneo trek you will ascend through steamy rainforest , alpine meadows and desolate rockscapes on this three night trek to Mount Kinabalu's summit. After a relaxing afternoon at the famous Poring hot springs we then visit the famous reserves of Sepilok and Kinabatangan. These wildlife reserves are famous for spotting orang-utans, monkeys and huge crocodiles.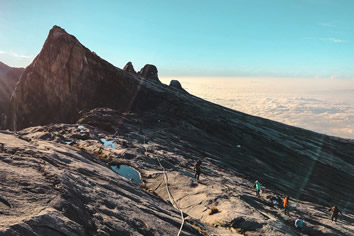 Sabah is a former British Colony and the turquoise waters of its palm fringed beaches are well known for their marine diversity. After the expedition we will spend a few days relaxing by the beach in Kota Kinabalu and exploring the desert islands off the coast of this island state.
The price of this Malaysian gay expedition includes all accommodation and transport and visits to the wildlife reserves of Sepilok and Kinabatangan. It also includes local guides and all food whilst trekking and in the wildlife reserves.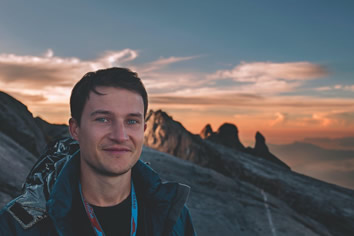 Day 1 - Arrive in Kota Kinabalu, Borneo, Malaysia
Please arrive into Kota Kinabalu (BKI), Sabah, Malaysia. This is the start of the drier season in Sabah. There is little variation in the warmth and humidity in Borneo but Feb to August tend to be drier.
This bustling waterfront city is surrounded by nature with offshore coral islands, forest covered hills, scenic rivers. Explore its street markets, dine on popular local and international cuisine, and enjoy one of the best sunsets in Borneo.
Pickup upon arrival. No meals included
Day 2 - Free day in Kota Kinabalu
Enjoy the day by the pool or on the beach recovering from your flights. Don't miss the chance to explore this busy bustling city.
No meals included
Day 3 - Kinabalu Park
We will be picked up from your hotel for a 2.5-hour scenic drive to Kinabalu Park, stopping by a local market for a quick break. After registering into the park the rest of the afternoon will be spent exploring the nature trails and botanical gardens near the entrance.
Meals included
Day 4 - Entrance to Laban Rata 8km +1500m 4hrs
After breakfast we proceed by minibus to Timpohon Gate to start our climb. For the most part, the trail is a series of steps cut into the mountain side with a shelter at every kilometre to rest until you reach Laban Rata mountain hut for your overnight stay. Laban Rata is at 3,300m so it can be chilly at night.
Meals included
Day 5 - Laban Rata –Summit – Poring Hot Springs 18km +800m -2200m 9hrs
Our push to the summit starts at 2:00am with ropes to help you over the steeper rocky sections and a scramble over some large boulders to get to the top. We start early to catch the beautiful sunrise over the majestic rocky spires of Kinabalu. We retrace our steps back to Laban Rata for breakfast and back down to Park Headquarters before soaking in a tub filled with steaming spring water at Poring Hot Springs.
Meals included
Day 6 - Sandakan
After a relaxing morning we transfer to Sandakan. The gateway to some of Sabah's richest wildlife areas that boasts of elephants, orang utans, sun bears, proboscis monkeys and myriad species of birds. Sandakan is also a culinary paradise with amazing seafood and local delicacies unique to the cultural hodgepodge of people who have settled here over the centuries.
Meals included
Day 7 - Sepilok
We will walk to Sepilok Orang-Utan Rehabilitation Centre and Sun Bear Conservation Centre. This includes a guided boardwalk that will lead you to the feeding platform, a chance for you to explore the lowland rainforest trees and witness the feeding of the orang-utan. In the afternoon, we will visit the rainforest discovery centre with its impressive canopy walk that is perfect for bird watching. The Rainforest Discovery Centre is situated within the famous Kabili-Sepilok Forest Reserve.
Meals included
Day 8 - Kinabatangan
The 560km long Kinabatangan River flows through a floodplain that is teeming with wildlife that includes large mammals, primates, birds, reptiles and insects. We take a river boat cruise up-river which makes light work of wildlife spotting and bird watching. We will spend the next few days in the reserve staying in a fully catered forest lodge.
Meals included
Day 9 - Kinabatangan
The Kinabatangan wildlife includes rarities such as the Borneon gibbon, Borneo pygmy elephant, orang utan and proboscis monkey. There are many species of birds and monkeys that will keep you glued to your binoculars during our early morning and evening river cruises. There is an optional night cruise or night walk around the resort to spot nocturnal creatures.
Meals included
Day 10 - Sepilok to Kota Kinabalu (internal flight)
Today we fly back to Kota Kinabalu and upon arrival, transfer for another 40 minutes to a comfortable beach resort to spend the day relaxing in the turquoise waters.
Breakfast included
Day 11 - Kota Kinabalu
Today is a rest and relaxation day by the beach to enjoy the sunshine and have a well-deserved rest. You can choose to visit some of the famous tropical islands, go on a snorkelling excursion or just relax.
No meals included
Day 12 - Kota Kinabalu Departure
There are no activities planned for the final day and you can depart the accommodation at any time.